Waqar Younis is a right-arm fast bowler who is a Pakistani cricketer, Coach, and Commentator. Waqar is known for his bowling. He also has captained the Pakistan side and played for Pakistan from 1989-2003. He has many bowling records to his name. Waqar is known for his Yorkers and swing bowling in the cricketing world. Currently, he is working as a bowling coach in Pakistan's national team. This article has all the information about Younis, including Waqar Younis Biography.
| Title | Description |
| --- | --- |
| Personal | |
| Name: | Waqar Younis |
| In Urdu: | وقار یونس |
| Famous As: | Sultan of Swing |
| Nationality: | Pakistan |
| Residence: | Vehari, Australia |
| Education: | Government college Vehari |
| Religion: | Islam |
| Profession: | Cricketer |
| Height: | 6 ft 0 in (1.83 m) |
| Website: | https://twitter.com/waqyounis99 |
| Born | |
| Date: | 16th November 1971 |
| Place: | Vehari |
| Family | |
| Spouse: | Faryal Waqar Younis |
| Children: | Mariam Waqar, Maira Waqar and Azaan Waqar |
| Siblings : | Faisal Younis |
| Career | |
| National Side: | Pakistan |
| Years Active: | 1989-2003 |
| Team Role: | Bowler, Coach |
| Bowling Style: | Right-arm fast |
| Batting Style: | Right-hand bat |
| Test Debut: | 15 November 1989 |
| ODI Debut: | 14 October 1989 |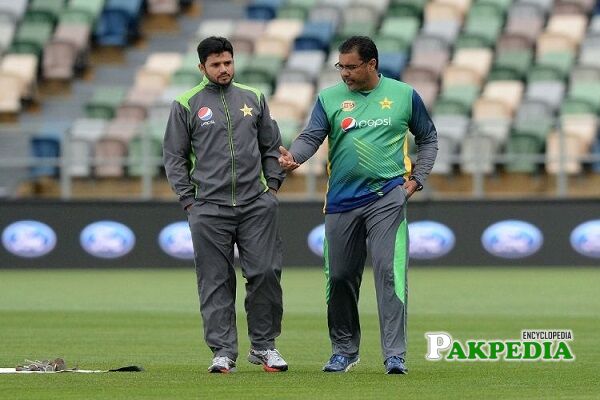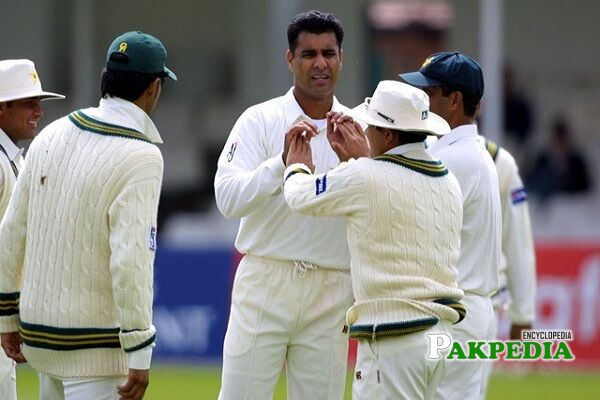 Waqar Younis Biography
Waqar was a new ball bowler with a sharp pace and swing. He was a talented, skillful bowler who could swing the ball both ways and had a lot of variations in his bowling. Waqar played in 87 tests for Pakistan and picked up 373 Test wickets. His bowling average in test cricket was 23.56. Like his bowling average, Waqar's bowling strike-rate was also phenomenal. He had a strike-rate of 43.4 in 154 innings. He took five wickets in a Test match for 22 times and also has taken five ten-wicket hauls in his Test career.
Younis also had a long One Day International career who played 262 ODIs and claimed 416 wickets. His ODI average is 23.84 who took 13 fifers in One Day International for Pakistan. His bowling records are among the world's all-time best players list. Waqar managed to win many matches for Pakistan while his bowling partnerships with Wasim Akram was so destructive.
He and Wasim used to take all the opposition wickets whenever the condition suited their bowling. Waqar holds the record of the youngest bowler in the world to take 400 ODI wickets.
Waqar date of Birth
Waqar opened his eyes on 16 Nov 1971 at Vehari, Punjab. Currently, he is living in Australia with his family.
Education of Waqar
Waqar studied at Bahawalpur in Sadiq Public School. Then he went to Sharjah, where Waqar's father was a contract worker. He studied at Pakistan Islamia Higher Secondary School. Then he also studied at the government college Vehari.
Waqar Younis Family
Waqar got married to Faryal Waqar in the year 2000. She is a Pakistani Australian. Waqar has a son named Azaan Waqar and two daughters Mariam Waqar and Maira Waqar. Waqar and his family currently live in Belleville, Australia.
Cricket Career
Initial Career
Waqar used to go to the Burrewala area of Punjab from his hometown to play cricket at his young age. This gave him the nickname "Burrewala Express." He started playing first-class cricket from 1987-88. He got an injury in his early days when he injured his little finger on the left hand. He soon retrieved from this injury and again continued his cricket. Waqar had just played 6 first-class matches when he was observed by former Pakistani legend cricketer and current Prime Minister Imran Khan. He was given a call in the national team.
He did his international debut by playing a Test match against India on 16 Nov 1989. It was the same match when Sachin Tendulkar played his first match for India. Waqar got the wicket of Tendulkar and took four wickets in that match. He proved his selection right from the start.
Domestic Career
Younis played for different teams in his domestic career. He played domestic cricket in Pakistan, and he also played for English county. Moreover he played for Rawalpindi, Lahore, Multan and Karachi teams. Waqar also played for National Bank Pakistan, United Bank Limited, Redco Pakistan. He played in the county for Surrey, Warwickshire, and Glamorgan teams. Waqar's performance in domestic was as good as of international.
He appeared in 228 First-class games and claimed 956 wickets at an average of 22.33. He took 63 five-wicket hauls, and 14 times he took ten wickets in his first-class career. Waqar also had a long List-A career where he played in 411 matches and got 674 wickets. He had a bowling average of 22.37 in List-A. He also claimed 17 five-wicket hauls there. Waqar also played in seven T20s in English county and took five wickets overall.
International Career and Achievements
Waqar was an outstanding bowler who got six men of the match awards in tests, 15 MOMs in ODIs, and One MOM in World Cup. He had an ODI hat-trick in 1994 against New-Zealand as well. He was also known as a Toe-Crusher, as he used to bowl a lot of deadly Yorkers. Waqar used to bowl the Yorkers at a speed of over 150 kph, which was a severe pace. That is why his Yorkers were so successful against any batsman in the world.
He had a successful career, but it had a few controversies in it. Due to those controversies, he could not play regularly in the national team and was banned or left out of the team on several occasions. During the early 2000s, Waqar opted to stay away from Playing for Pakistan due to a conflict with Wasim Akram. Waqar came into the side as Pakistan's captain, and in July 2000 he was finned 50% of his match fee and was banned for an international match over ball-tampering allegations against him.
Cricket World Cup
Waqar was also the captain of the Pakistan team in the 2003 world cup. In a game against Australia, Waqar bowled a beamer to Australian batsman Andrew Symonds and was removed from the bowling attack by the match officials. This world cup did not go well with Waqar Younis and Pakistan's side as they were out of the tournament after group matches played. He soon announced his retirement from international cricket in April 2004. Waqar captained Pakistan in 17 games and won 10 games.
As a Commentator
Waqar worked as a commentator for Australian Channel nine and UAE's Ten Sports. He was appointed as the bowling coach in 2006 for Pakistan but resigned in 2007 to work as a commentator. Then again, Waqar was made Pakistan's bowling and fielding coach in March 2010 and soon promoted as a head coach. He resigned from the post after Pakistan's exit in the semi-final of world cup 2011. In 2013 he coached in the Indian Premier League for Sun Riser Hyderabad team. Currently, Waqar is working as Pakistan's bowling coach.
Social Media Handles
His social media accounts include