Multan is a district and the seventh-largest city of Pakistan, located on the River Chenab's bank in Punjab. It serves as the capital of Division Multan and considered the main economic and cultural center of Punjab. It covers a total area of 3720 square kilometers with a total population of 4 million, while the division has a population of 19 million.
Furthermore, it contains a number of industries including textile mills, sugar mills, ghee mills, and many more which contribute to the country's economy. Moreover, it is famous for its different varieties of mangoes which are consumed in the country as well as exported to countries abroad.
The region is also called "The City of Saints" and has a number the shrines of its Sufi Saints that date back to the Medieval Age. In addition to that, the region has a diversified and ancient culture that is traced back to Alexander and Aryans in 4 AD. This article comprises all the information including Multan History.
| Title | Description |
| --- | --- |
| Information | |
| Location: | Pakistan |
| City Council: | Government of Punjab |
| Nickname: | Multan |
| In Urdu: | ملتان |
| Type: | Its capital is the city of Multan |
| Local Language Name: | Urdu, English, Punjabi |
| Province: | Punjab |
| Coordinates : | 30°11 52 N 71°28 11 E |
| District: | Multan District |
| Region: | Punjab |
| Elevation: | 122 m (400 ft) |
| Website: | www.multan.gov.pk |
| Union councils: | 4 |
| Language | |
| Official Language: | Urdu |
| Native Language: | Punjabi |
| Other Languages: | Saraiki, Punjabi, Urdu |
| Government | |
| Government Type: | Municipal Corporation |
| District Coordination Officer: | Zahid Saleem Gondal |
| Mayor: | Chaudhry Naveed Arain |
| Deputy Mayor: | Munawar Ehsan Qureshi and Saeed Ahmad |
| Area | |
| City: | 133 km2 (51 sq mi |
| Total Area: | 3,721 km2 (1,437 sq mi) |
| Population | |
| City District / Divisional Capital: | 3,117,000 |
| Urban: | 2,050,000 |
| Total Population: | 3,116,851 |
| Time zone | |
| Time zone: | PST (UTC+5) |
| Codes | |
| Postal code: | 60000 |
| Dialing code: | 061 |
| Vehicle registration: | Three letters beginning with M and random four numbers |

Multan History
Initial History
The history of the region goes back 2000 years ago when some of the inhabitants used to live here. Some researchers claim the grandson of NOAH founded the region while Hindus claim that Kasha – yap, a Hindu sage founded Multan and remained the capital of Kingdom Trigarta. The region remained a home of the worshippers of the sun.
Furthermore, Sultan Mehmood Ghaznavi invaded Multan in 712 and ruled the region for many years which resulted in the conversion of Hindus into Islam. After Ghaznavid Dynasty, the region was occupied by Sikhs, Hindu Shahis, and Gurids.
Tughlauq Dynasty
After Gurds, the Tughluq dynasty ruled the region followed by Timurid, Sultanate of Langah, and a Pashtoon King Sher Shah Sure. The road from Multan to Lahore was constructed in his dynasty. After Sher Shah Suri, Mughals occupied the region followed by Sikhs and finally British Raj.
British Rule
British Rulers conquered Sikh Rulers in 1849 and laid a net of canals in the region. They also constructed a number of villages but exploited it at the same time by exporting its crops and minerals on a huge basis to the countries in Europe and all over the world. After the independence of Pakistan in 1947, Multan became a part of Pakistan.
Location
The district is located on the Bank of River Chenab with the coordination of29'56' in the north and 71'22' in the east.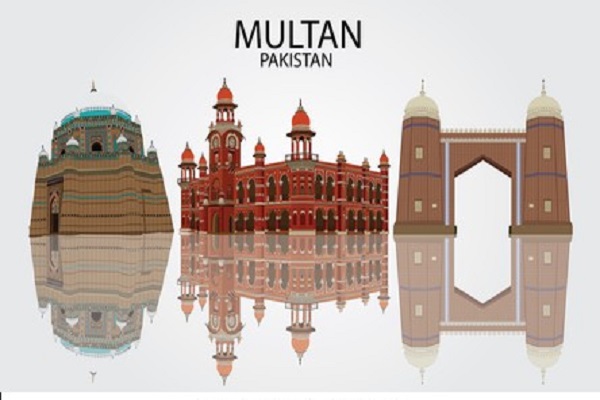 Administration
The district is administratively subdivided into four tehsils and governed by the district commissioner and tehsildars. The current district Commissioner of Multan is Ali Shahzad while the list of Tehsils of the district is given below.
Multan City
Shujabad
Jalalpur Pirwala
Multan Saddar
Population
According to the 2017 census of Pakistan, the district had a population of 4, 745,110 inhabitants.
Language
Saraiki is the most widespread language of the district, spoken by 61 percent of the entire population. Other languages include Urdu, spoken by 16 percent of the population, and Punjabi, spoken by 22 percent of the population.
Climate
The climate of the district is hot – deserted with a rainfall of 7.3 inches per annum. Multan is having its hottest weather in the summer season at 52 degrees centigrade while the recorded lowest temperature in the season of winter is -1 degrees centigrade.
Education
The district is serving as a home of education for the people as it offers primary, secondary, and higher education opportunities to the students. It is ranked in 16th position out of all other districts in Punjab with a literacy rate of 43 percent among which 68 percent are boys and 48 percent are girls literacy. Some of the main institutions of the district include the following.
Bahauddin Zakariya University
Air University Multan
Women University Multan
Nishtar Medical University
Multan Medical and Dental College
NFC Institute of Engineering and Technology
Institute of Southern Punjab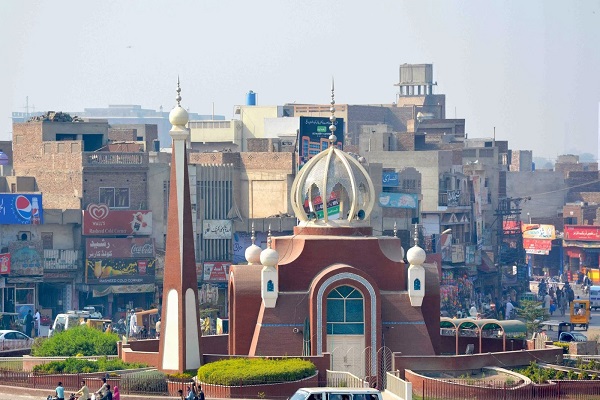 Transportation
The region is covered by a number of transportation services including Roads, Railways, and airlines. Transportation of the region includes the following.
1- Road Links
The region is connected through motorways and other local roads with major cities of Pakistan including Peshawar, Lahore, Karachi, and Islamabad while the minor roads connect the internal regions of the district. Furthermore, Multan Metro Bus also connects the local areas which provide fast journey within a short time through rapid transit lines.
2- Railways
The region is connected with all other cities of Pakistan through Main Line – 1. The railway station cantonment connects Lahore, Peshawar, and Quetta while links the local areas include Khanewal, Muzaffargarh, and Lodhran.
3- Air – Transport
International Airport provides air transportation services, located at a distance of 10 kilometers from Multan City. It offers travel services to national and international destinations including UAE, Saudi Arabia, Kuwait, Qatar, Oman, USA, China, Bangladesh, and many other countries through national and international airlines.
Agriculture
More than eighty percent of the population's income is from agriculture. It produces many crops including rice, wheat, maize, sunflower, cotton, mustard, sugarcane, pulses, and rapeseed. While fruits and vegetables of the region are as follow:
Fruits
Mangoes
Grapes
Citrus
Jujubi
Guava
Banana
Pomegranate
Date – Palm
Strawberry
Vegetables
Arum
Brinjal
Bitter Gourd
Cabbage
Cauliflower
Bottle Gourd
Carrot
Coriander
Garlic
Cucumber
Celery
Ginger
Mint
Hot Peppers
Mustard
Onion
Potato
Okra
Spinach
Turnip
Radish
Livestock
Industries
There are many industries that contain the following.
Cotton Industries
Textile Mills
Agricultural Industries
Sugar Mills
Flour Mills
Ghee Mills
Dal Factories
Rice Factories
Oil Mills
Food Industries
Steel Mills
Sports
A number of games are played by the people of the region including cricket, hockey, volleyball, football, kabaddi, snooker, table tennis. The region has a cricket team of its own under the name of Multan – Sultan which participates in the Pakistan Super League (PSL) while the domestic team is named as Multan Tigers.
The region contains many cricket stadiums including Ibn –e– Qasim BAGH Stadium and Multan Cricket Stadium. Furthermore, the most famous cricketer, Inzamam –ul – Haq also belongs to this district.
Places of Attraction
A number of attractive places are situated here which includes the following:
Multan Museum
Multan Fort
Mausoleums
Shrine of Yusuf Gardezi
Fort Kohna
Ghanta Ghar
Shah Shams Park
Notable Personalities
Mazhar Kaleem
Syed Yousuf Raza Gillani
Shah Mehmood Quraishi
Javed Hashmi
Ahmad Shah Durrani
Farid –ud –din Ganshakkar
Social Media Handle
https://www.facebook.com/MultanCity/