Shoaib Malik is a Pakistani batting all-rounder who bats with right-hand and bowls right-arm Off-Spin. He has been playing for Pakistan for the last two decades and is only Pakistani to be in the national team who started his career in the 90s. Shoaib has contributed to numerous wins for Pakistan and is still doing so. Currently, he represents the national team only in limited-overs cricket as he has retired from test cricket. This article has all the information about Shoaib, including Shoaib Malik Biography.
| Title | Description |
| --- | --- |
| Personal | |
| Name: | Shoaib Malik |
| In Urdu: | شعیب ملک |
| Famous As: | Off spin action |
| Nationality: | Pakistani |
| Residence: | Sialkot |
| Education: | Not Known |
| Religion: | Islam |
| Profession: | Cricketer |
| Height: | 6 ft 0 in (1.83 m) |
| Website: | https://twitter.com/realshoaibmalik |
| Born | |
| Date: | 1st February 1982 |
| Place: | Sialkot |
| Family | |
| Spouse: | Sania Mirza |
| Children: | Izhaan Malik |
| Parents: | Malik Saleem Hussain, Sultana Malik |
| Siblings : | Adeel Malik |
| Career | |
| National Side: | Pakistan |
| Team Role: | All-rounder |
| Bowling Style: | Right-arm off-break |
| Batting Style: | Right-hand bat |
| Matches: | 35 in Tests , 232 in ODIs , 81in T20s, 329 in LA |
| Wickets : | 32 in Tests, 151 in ODIs, 251in T20s, 290 in LA |
| Bowling Average: | 47.46 in Tests, 37.02 in ODIs, 22.16 in T20s |
| Batting Average: | 35.14 in Tests, 34.43 in ODIs, 26.87in T20s |
| 5 wickets in Innings : | 0 in Tests, 0 in ODIs, 0 in T20s |
| 10 wickets in Match: | 0 in Tests, n/a in ODIs, 0 in T20s |
| Best Bowling: | 4/33 in Tests, 4/19 in ODIs, 2/7 in T20s |
| Test Debut: | 29 August 2001 v Bangladesh |
| Test Last: | 1 November 2015 v England |
| ODI Debut: | 14 October 1999 v West Indies |
| ODI Last: | 2 October 2016 v West Indies |
| ODI Shirt Number: | 18 |
| T20 Debut : | 28 August 2006 v England |
| T20 Last: | 24 September 2016 v West Indies |
| First-Class Debut: | Oct 14, 1999 |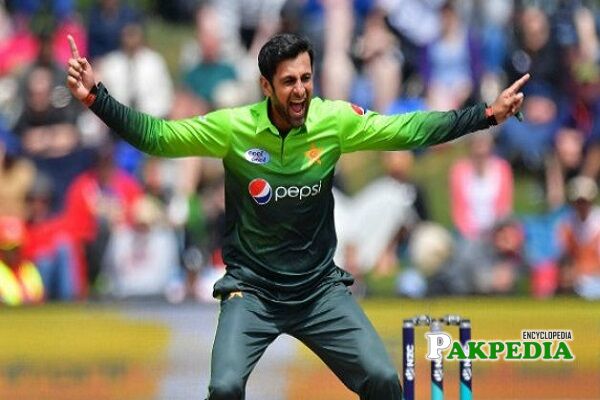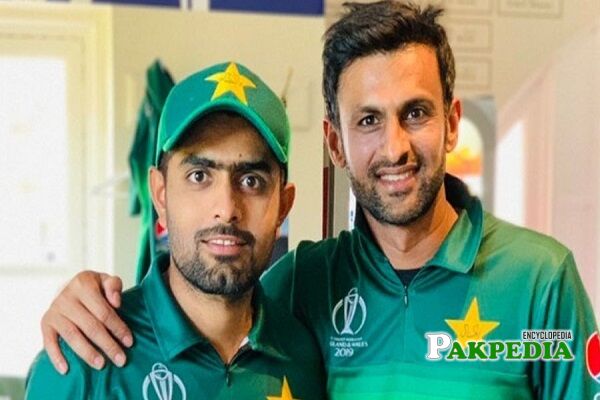 Shoaib Malik Biography
Shoaib is part of the national team for a long time who has been contributing with the ball, bat as well as with field throughout his career. He has featured in 35 Test matches for the national team and has scored a total of 1898 runs with a batting average of 35.14. He has hit three centuries and eight half-centuries in the red-ball career. While in bowling, he has claimed 32 wickets in overall 43 test innings.
He has also played in One Day Internationals for Pakistan, wherein 287 matches he has 7534 runs into his account with an average of 34.55. His batting stats in the limited-overs format also include nine hundred and 44 fifties. His best score in this format is 143. While with the ball, he has taken a total of 158 wickets. His best bowling figures in ODIs is 4/19. Shoaib has also featured in T20 international matches for the Pakistan team.
In 113 T20 games, he has scored 2321 runs at an average and strike-rate of 31.36 and 124.18, respectively. He also has registered eight half-centuries in his T20 career. His highest individual T20I score is 75. With the ball, Shoaib has dismissed 28 batsmen and has a bowling average of 23.53. His best bowling figures in the shorter formats are 2/7.
Shoaib date of Birth
He was born on 1st Feb 1982 at Sialkot, Punjab.
Shoaib Malik Family
Shoaib is a resident of Sialkot who is married to a famous Indian tennis player Sania Mirza. They are blessed with a son Azhaan Malik.
Cricket Career
Initial Career
Shoaib started playing tape-ball cricket as a child in the streets of his hometown. Then in 1993-94, he started playing cricket as his profession and attended Imran Khan's coaching clinics. He began as batsmen but later developed his bowling skills gradually. Malik gave under-15s trials in 1996 for the under-15 world cup. He got selected in the team for his bowling.
Domestic Career
Throughout his cricketing career, Malik has represented many teams besides Pakistan. The teams for which he has played include Asia XI, ICC World XI, Pakistan Under-19s, Pakistan under-15s, Central Punjab XI, Gujranwala XI, Karachi Whites, Sialkot XI, PIA, PCB XI, KPK Fighters, Zarai Taraqiati Bank Limited, Punjab Badshahs, Peshawar Zalmi, Karachi Kings, Multan Sultans, SSGC, Warwickshire, Chittagong Vikings, Gloucestershire, Delhi Daredevils, Comilla Victorians, Hobart Hurricanes, Guyana Amazon Warriors and the rest.  
His track record in the first-class is excellent who made 6599 runs and 260 wickets in 126 matches. His batting and bowling averages in first-class are 37.26 and 28.61, respectively. He has registered 17 hundred and 30 fifties with bat and has taken a ten-wickets haul, and nine five-wickets haul in the meantime. He has featured in a massive total of 405 List-A matches and has 11447 runs as well as 309 wickets into his account. While he averages 38.54 and 33.16 with bat and ball, his List-A stats also include 16 centuries and 71 half-centuries with bat and a fifer with the ball.
Shoaib has been part of 386 T20 matches so far; very few players have played that many games in this format. He has 9892 runs at an average of 37.46 and has 147 wickets at an average of 27.08. Malik has 61 fifties, and two five-wickets haul yet in his T20 career. He has played in various leagues including in Big Bash League, Indian Premier League, Bangladesh Premier League, Caribbean Premier League, Mzansi Super League, Pakistan Super League, and the rest.
Pakistan Super League
Shoaib is playing in PSL from its inaugural season. So far, he has represented the Peshawar Zalmi team, Multan Sultans team, and now he is part of Karachi Kings. He has been batting very well in the PSL and occasionally bowls as well.
International Career and Achievements
Test Career
Shoaib made his test debut in the year 2001 against Bangladesh. The match took place on 29th Aug, Malik did not bat in the game, but he got a couple of wickets. Then he scored his first fifty at Faisalabad against Sri-Lanka and took q wicket as well. On 26th Mar 2006, Shoaib Malik hit his first century in tests and made unbeaten 148 runs as the match got drawn. He also made his second century against the same opposition in 2009.
He made his highest Test score against England at Abu Dhabi in 2015; he made 245 runs in an innings, the match drawn. Currently, Shoaib no longer plays Test cricket for Pakistan as he has announced his retirement.
One Day Internationals
His success story is his performance in white-ball cricket. He started his international journey in ODIs in the year 1999. He has won many matches for the national team; his ODI stats show that 19 times he has been player of the game for Pakistan. That explains his efforts for his team. The first time he played a leading role for the national side in a match against West-Indies on 15th Feb 2002 at Sharjah. He made an unbeaten 111 runs in the game.
Shortly after this match, Shoaib made another splendid performance at Lahore against New-Zealand. He made 115 runs and took three wickets to get the victory and claim the player of the match award once again. In 2003 he hit three match-winning half-centuries against Kenya, New-Zealand, and South Africa. His dream performance in 50-overs matches came against Hong-Kong when Malik scored a hundred and grasped four wickets to get another award of player of the game.
Only a week later that match on 25th Jul 2004, he repeated his performance this time against India, where he made a century along with two wickets to his name, also claiming one more award of the match. Besides this, his plenty of more performances, including few very recent ones against Afghanistan, Sri-Lanka, and West-Indies during 2017-18 ODIs.
Captaincy Records
After Pakistan's poor show in the World-Cup 2007, Inzamam Ul Haq stepped down from captaincy and 19th Apr 2007, Shoaib Malik named new Captain at the age of 25. He became the fourth-youngest Pakistan captain. He won his very first series in ODIs against Sri-Lanka by 2-1. But next, he lost to South-Africa in tests and ODIs and then against India in an ODI series by 3-2. In the final match, India Malik scored 89 runs and took three wickets, and Pakistan won the game in the end.
He could only lead the team for two years and got replaced by Younus Khan. Malik has led Pakistan in three tests losing two and drawing one. While in his 36 ODIs as leader of the team, he has 24 wins to his name. While out of 17 T20Is as captain, he has 12 wins into his account.
T20 International Career
Shoaib has been in the T20 side of the national team since 2006 and continues to play with determination. He has been part of 113 T20I matches for Pakistan, which is a considerable number. He made his T20 debut against England on 28th Aug 2006 at Bristol. He scored 16 runs in the match as Pakistan won that match. Shoaib is doing very well in the shorter format and has played a vital role in Pakistan's wins. He has won five-man of the matches so far.
The first time he played fine innings of unbeaten 42 runs along with taking a wicket against Sri-Lanka on 11th Oct 2008. His all-round performance won the match for his team. Then in another match against England, Malik scored 75 runs and took a wicket to claim another win for Pakistan on 30th Nov 2015. On another occasion, he made 63 not out against UAE and won another match for the country. He made a match-winning half-century against Sri-Lanka on 29th Oct 2017.
Recently he has played fine innings of 58 runs against Bangladesh on 24th Jan 2020 to claim another player of the match award. Shoaib has been playing the role of a senior player in the current team of Pakistan alongside Muhammad Hafeez. He is helping the younger players improve their skills as he is an all-rounder so he can be a good teacher in all cricket departments.
Social Media Handles
His social media accounts include