Hyderabad is second largest city of Sindh Province. It has over 6 Millions population. The city has one of the most interesting bazaar of the country, The Resham Gali Bazaar which is known to be the longest bazaar in Asia. There are two very well arranged ethnological museums in the city One is The Sindh Museum and the other is Institute of Sindhology Museum. Both museums present an excellent portrait of cultural and tribal life of Sindh. The city is transit point for the tours from Karachi to the interior of Sindh A visit to Kalhora Monuments close to the city gate is worth a visit , Mausoleums are beautifully decorated with glazed tiles and frescos. There are also two forts from 18th & 19th century to see here.[1] www.travel –   culture.com
| Title | Description |
| --- | --- |
| Information | |
| Location: | Sindh Pakistan |
| Towns: | 5 |
| Nickname: | Hyderabad |
| Name Urdu: | حیدرآباد |
| Type: | 4th largest city in Pakistan |
| Area: | 319 km2 (123 sq mi) |
| Number of Union councils: | 20 |
| Local Language Name: | Urdu, Sindhi, Punjabi, Siraiki, Pashto |
| Province: | Sindh |
| Coordinates : | 25°22′45″N 68°22′06″E |
| District: | Hyderabad District |
| Region: | Sindh |
| Founded by: | Muhammad Quli Qutb Shah |
| Elevation: | 13 m (43 ft) |
| Website: | www.hyderabad.gov.pk |
| Autonomous towns: | 5 |
| Union councils: | 20 |
| Highest elevation: | 13 m |
| Language | |
| Official Language: | Urdu |
| Native Language: | Punjabi |
| Other Languages: | Punjabi ,Urdu, Sindhi |
| Government | |
| Government Type: | Municipal Corporation |
| Capital City Police Chief: | M Mahender Reddy |
| Mayor: | Tayyab Hussain |
| Deputy Mayor: | Syed Suhail Mehmood Mashadi |
| Area | |
| Total Area: | 3,198 km2 (1,235 sq mi) |
| Population | |
| Rank: | 4th |
| Density: | 10,477/km2 |
| Metro: | 10,477/km2 |
| Total Population: | 3,429,471 |
| Time zone | |
| Time zone: | PKT (UTC+5) |
| Summer (DST): | PDT (UTC+6) |
| Codes | |
| Postal code: | 71000 |
| Dialing code: | +92 221 |
| Vehicle registration: | Three letters beginning with H and random four numbers |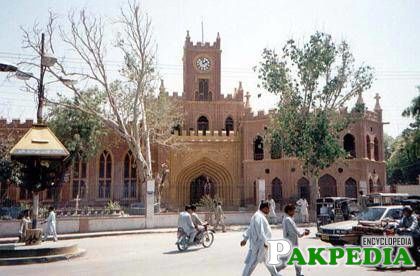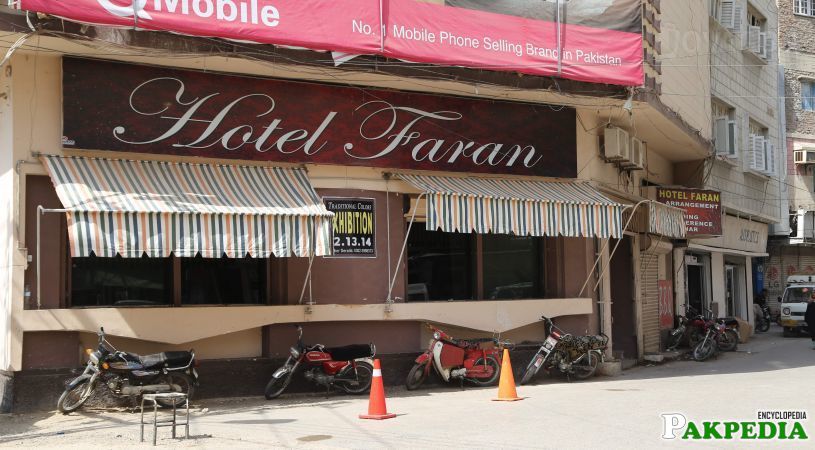 About
History
Hyderabad is a city built on three hillocks cascading over each other. Mian Ghulam Shah Kalhoro of the Kalhora Dynasty founded the city in 1768 over the ruins of Neroon Kot (Nerun or Nerun Kot meaning the place of Neroon), a small fishing village on the banks of Indus River named after its ruler Neroon. A formal concept for the city was laid out by his son, Sarfraz Khan in 1782. When the foundations were laid, the city obtained the nickname Heart of the Mehran as the ruler Mian Ghulam Shah himself was said to have fallen in love with the city. In 1768 he ordered a fort to be built on one of the three hills of Hyderabad to house and defend his people. The fort was built using fire-baked bricks, on account of which it was named Pacco Qillo meaning the strong fort.[2] Hyderabad  abbasi – kalhora.com The City of Hyderabad served as the capital of Sindh province, From 1947 to 1955, which was later dissolved and one unit was formed named West PakistanCity also served as capital.[3] About History of – Hyderabad
Climate
Hyderabad has a relatively mountainous climate somehow better from other parts of Central Sindh throughout the year. Hyderabad has two main seasons; summer and winter, while spring and autumn are very short. The period from mid-April to late June is the hottest time of the year as temperate rises to as high as 48.5 °C whereas winters are usually warm and so best time to visit the city. Temperate remains around 25 °C during day time and often drop below 10 °C at night. The highest ever recorded temperature in Hyderabad is 48.5°C in 1991 while the lowest is 1°C in 2012.[4] Climate
Hotels
City Gate Hyderabad
Hyderabad City Gate Hyderabad
Hotel Indus Hyderabad
Hotel Faran Hyderabad
Get in
By Car
Hyderabad is connected with rest of Pakistan through National Highways # N-5 and # N-55 (the Indus Highway). Travellers coming from the north of Pakistan, usually prefer to come via the N-5, whereas travellers coming from the north-west of Pakistan prefer to use the N-55. Hyderabad is connected with Karachi both via a highway and motorway but travel by the M-9 motorway (Super Highway) is preferred. It's 150km long and the journey take about two hours.
By Bus
Plenty of air-conditioned and non-aircondioned buses and vans run Hyderabad from major cities of Pakistan and Sindh. A journey from Karachi cost around Rs 200 in non air-conditioned and Rs 250 in air-conditioned bus whereas from Sukkur Rs 500 on non air-conditioned and Rs 700 in air-conditioned bus.
By Train
Hyderabad is served by Hyderabad junction station as well as nearby Kotri railway station and has railway connections with almost all the major Pakistani cities and towns. The majority of the trains are both air-conditioned and non air-conditioned travelling between Karachi and rest of the country and only making a brief stop at Hyderabad railway station (which is a major railway junction).its is next largest and busiest station in Pakistan Railways next to Karachi,
If you're travelling from northern Punjab with both speed and comfort as a priority, the Karakoram Express is one of the best choices. This train runs daily non-stop between Lahore and Karachi and is faster than other trains, taking less than 20 hours travel time, because it makes only a few stops, whereas other trains make stops at every major station along the route and are usually delayed as well. The Karakoram Express has both economy and air-con class accommodation. A ticket (berth) on the Karakoram Express in air-con class will cost not more than Rs 5,000.
Other than that, plenty of trains (both economy and air-conditioned class) run from Lahore as well other major big cities such as Peshawar, Faisalabad, Multan, Qetta, and Rawalpindi on a daily basis but expect them to be slower as they make stops at every railway station along the way. Tezgam or Shalimar Express have air-conditioned class so are best preferred for travellers from Punjab; other air-conditioned class trains are Khyber Mail for travellers from the north-western city of Peshawar while the Bolan Mail is recommended for travellers from western city of Quetta although this train calls at nearby Kotri railway station.
all most all train stops herelike green line exp,night coach exp,shalimar exp,karakorum exp,pakistan exp,fareed exp,zikriya exp,millat exp,hazara exp,khyber mail,awam exp,karachi exp,badin exp,saman sarkar exp,thr exp and many more.
Get Around
One can go to different parts of the city by self driven cars, taxis as well rickshaws. Within Hyderabad, rickshaws provide cheap and quick transportation for going from one place to another or for city tour and are perfectly fine. Opposed to nearby metropolitan city of Karachi, unfortunately black and white taxis do not operate in Hyderabad. Taxis are generally private cars and operated by taxi companies so they cannot be hailed on streets since distinguishing between a taxi and a private car may be difficult. You can ask at a hotels to arrange a taxi as well one can be get calling at their offices. These taxis are usually air-conditioned, modern and clean fleet which makes them the most comfortable, luxurious way to navigate around the city of Hyderabad especially in the blistering hot weather of Summer. Shared rickshaws albeit a little different from a traditional motorcycle rickshaw are yet another means of transport within city limits.
soon hyderabad metero bus and train project is coming to hyderabad.
Famous Historical Places
Pakka Qila
Pakka Qila (Hyderabad Fort), Makki Shah Rd. Pakka Qila translates as strong fort was built on one of the three hills on which the city was built by the Kalhoro ruler Mian Ghulam Shah Kalhoro to keep out invaders during the 17th century and to house and defend his people. Though today the massive historic fort is not well maintained and in worst condition due to negligence, but still it is the best landmark of the Hyderabad and something one must not miss to see from outside at the least. Most of the area inside the compound has been inhabited by people who migrated from India in mass exchange of populations in 1947. The construction of the fort was begin in 1766 AD and completed by 1768 AD. Later, the Talpur rulers defeated and conquered Hyderabad and settled inside the fort until they were defeated by the Britishers in the battle of Miani in 1843 AD. The main gate of the fort is still there for visitors to see and take photographs. The fort was built using fire-baked bricks giving it the name of the strong fort.
Kacha Qila
Kacha Qila, Makki Shah Rd. At some distance from Pakka Qila is Kacha Qila, translates as the weak fort but some call it Maki Shah Qila as there's a shrine inside the fort. This is small as compare to Pakka Qila, was made of mud and is now in very desolated state. The fort was built by the same Kalhoro ruler who built Pakka Qila in the year 1768 AD. The fort was made for the same reason the Pakka Qila was made but by using unbaked clay bricks as opposed to fired baked bricks which were used for the construction of Pakka Qila. Today, most people head to the fort to pay a visit to shrine of Makki Shah built on the hill of the fort. Both the Pakka Qila and Kacha Qila is deteriorated and in very desolated state now but they shows a good example of early modern fortifications.
Rani Bagh
(Hyderabad Zoo), Qasimabad. This most popular and popular recreation spot for the people of Hyderabad was built during British colonial period in 1861 and named after Queen Victoria of England of that time. Rani in Sindhi stands for "Queen" and Bagh for garden. The bagh is divided into four parts comprises of Eidgah, an open-air mosque with beautiful pink minarets to perform the annual Eid prayers, a Park, zoo and lawns, children parks, jogging tracks, as well a place with many eateries and food kiosks. The zoo containing indigenous and exotic animals, as well a large fishing pond.
Institute of Sindhology Museum
Institute of Sindhology Museum, University of Sindh, Jamshoro. founded in 1962, it is one of the major resources on the history of Sindh and was the first research institution of its kind, and brought Sindhology to the forefront of international research. It has dioramas which display many aspects of Sindhi history, heritage, music and culture. Some very interesting dioramas depict the lifestyles of the desert tribes of Thar and Kohistan. The museum has been divided into various sections named as general, coins, archaeological, ethnological, ethno-musical, photographic, and Indus-painting galleries respectively while artefacts on display in the museum represent the history and demography of the region. The collections contain archaeological material, wood-work, thread-work, metal-work, leather-work, pottery, jewellery, coins, armaments, photographs, and paintings that have been collected since the 1970s. There's a special galleries devoted where portraits of prominent personalities are placed.
Sindh Museum
Sindh Museum, Qasimabad. 10AM-5PM, closed on Wednesdays. A quite large museum has many nice items on display in large halls which depict the history and heritage of Sindh and Indus Valley Civilization. Items and artefacts from various ruling periods of Sindh, including Sama, Soomra, Kalhora and Talpur periods are showcased in the museum. Museum have plenty of galleries where replicas of people belong to different occupations placed showing their daily life. Rs 10 local and Rs 200 for foreigner.
Tomb of the Kalhoro ruler Mian Ghulam Nabi Kalhoro
Tomb of the Kalhoro ruler Mian Ghulam Nabi Kalhoro. The giant, beautiful and impressive tomb of Kalhora chief Mian Ghulam Nabi Kalhoro decorated with tiles is one of the finest and well preserved structure, although its dome collapsed and has now been replaced by a flat roof. The Kalhora dynasty ruled Sindh from 1701 to 1783 CE.
Tombs of Talpur Mirs
Tombs of Talpur Mirs, Hirabad. A complex houses numerous royal and impressive tombs of ruling Talpur dynasty who conquered and ruled over Sindh as well some other parts of present-day Pakistan from 1784 AD to 1843 AD and later, were then defeated and overthrown by the British East India Company in 1843 at the Battle of Miani led by General Charles James Napier. [5] Famous Historical Places
Buy
Hyderabad is one of the largest bangle producer in the world.
Shahi Bazaar
Shahi Bazaar. The visitor of Hyderabad must go to see and shop in the several kilometre long narrow lane bazaar . The word Shahi is derived from the word 'Shah' which means 'kings'. This bazaar is known as Shahi Bazaar because it was first established by Kalhora ruler who, when changed the capital of Sindh from Khudabad to Hyderabad, persuaded many traders to come and start trading at this bazaar. It starts from the very gate of the Packo Qilo Fort and extends up to the Naval Rai Clock Tower. Plenty of souvenirs, handicraft, embroidery and jewellery shops can be found in Shahi Bazaars where you can hunt down for wide variety of different quality of handicrafts and souvenirs at very reasonable prices. You can find here plenty of shops sell Ajrak and Sindhi caps. An attraction in the bazaar is a tall structure of Navalrai Market Clock Tower built in 1914 at the one end of bazaar. Resham Gali, a lateral extension of Shahi Bazaar known for large variety of clothes, glass bangles, Sindhi 'Kundan' gold jewellery as well as imitation jewellery.
New Hala Handicrafts
New Hala Handicrafts, City Gate, ☎ +92 22 2613096. A large shop dedicated to quality handicrafts and souvenirs of Sindh especially Ajrak and Sindhi cap at affordable prices.
Others Areas for Shopping are:
boulevard mal hyderabad,
auto bhan road,
jama cloth 8 no hyderabad.
gala and sabzi mandi hyderabad.
A View of Clock Tower Known as Ghanta Gaher
Eat and drink
Western food franchises such as KFC, McDonald's and Pizza Hut exist in Hyderabad.
Royal Taj Restaurant
Autobhan Rd, ☎ +92 22 381202, toll-free: +92 22 111-555-825. An upscale restaurant with nice ambience. Menu consist of Pakistani, Bar B Q, Chinese and Continental dishes.
De Gravity
De Gravity, Main Autobhan Road, Latifabad,, ☎ +92 22 3821349. A fine dining sophisticated restaurant cum cafe with some very elegant menu consist of continental main courses. Popular with youngster especially during weekends and on especial occasions.
Midway Hill Restaurant
Midway Hill Restaurant, National Highway (Opposite Central Jail), ☎ +92 22 2610205. A economical restaurant serve some delicious Pakistani food.
Others Food Resturants
shama tikka rssturant 1 and 2,
hyderabad darbar hotel,
desi hut,
piato
village hotel,
sabzazar hotel,
roof top hotel,
Bombay bakery,
shah latif bakery,
al rahim resturant hotel,and many more[6] Eat and Drinks
Hotels For Saty
Budget
There are many cheap lodgings and hotels at affordable charges scattered outside and near the Hyderabad train station.
Hotel Paradise, ☎ +92 22-2731772, +92 22 2731773. Has free WiFi and only non-airconditioned rooms. 400 (single) and 700 (double).
Al-Zaib Hotel, ☎ +92 22 231833. Has both non-airconditioned and air-conditioned rooms. 550 (single), 800 (double) and 2,000 for air-conditioned double room.
Al-Sadaat Hotel, Station Rd, ☎ +92 22 2731739, +92 22 2731811. Has both non-airconditioned and air-conditioned rooms as well Free Wifi in rooms. 800 non-airconditioned and 1,800 air-conditioned.
Taj Hotel, ☎ +92 22 2731706, +92 22 2731840. Has only non-airconditioned rooms. 500 (double).
Hotel Rainbow, ☎ +92 22 2731936. Has only non-airconditioned rooms. 600 (double).
Hyderabad Hotel, ☎ +92 22 2731857. Has both non-airconditioned and air-conditioned rooms. 800 non-airconditioned and 2,000 air-conditioned.
Mid-Range
Hotel Faran, Saddar, ☎ +92 22 2780194. hotel with some 40 rooms. Rooms are equipped with air-condition, cable T/V , fridge and other basic amenities. 2,500 (single).
Hotel City Gate, National Highway, Jail Road, ☎ +92 22 2611677, +92 22 2611744, +92 22 2611197. A centrally air-conditioned hotel with some 25 rooms. Rooms are equipped with air-condition, cable T/V , fridge and other basic amenities. 3,000 (single), 3,800 (double) and 6,000 deluxe.
Hotel Ritz, Sadder. hotel with some 10 rooms. Rooms are equipped with air-condition, cable T/V , fridge and other basic amenities.
Splurge
Distance From Hyderabad
Hyderabad to Karachi
160 Kilometer super highway is the fastest way to go to Karachi from Hyderabad or vice versa. Condition of the road is very good but there is a lot of traffic of trucks and public transport. You can leave at any time it takes about 3 Hours.Second option is 200 Kilometer National Highway Via Thatta There are quite a few archeological sites to see on the way. You will leave in the morning on the way to Thatta stop at Sonda a cemetery of 15th century, Keenjher lake one of the largest man made lakes in Asia in winter you can spot many Siberian birds in this lake continue to Thatta in Thatta visit Shahjehan Mosque an excellent master piece of Moghul architecture, completely decorated with blue glazed tiles, Makli is the largest Muslim cemetery in the world with over half a million graves. Visit some mausoleums in the cemetery. On the way to Karachi you can also stop at Banbhore archeological site of Daibal excavated in 1962, is the site where Alexander established a town in 325BC and then the first Muslim conqueror in South East Asia came in 711AD. Beautiful site with a small museum Also visit Chaukundi. 15 – 18th century tombs scattered on a large area. Each tomb is unique in it design and motifs. Rich carved sandstone depicting the relation of the local tribes with the neighboring Iran, central Asia and Turkey. reach Karachi in about 8 Hours.[8] Distance from other – Cities
Hyderabad to Sehwan Sharief
200 Kms. you will need to cross the river Indus and tak right Turn before Sindh University on the Indus Highway Usually Direct drive take 3 – 4 Hrs but it is recommended to take an excursion to the Rani Kot fort largest Fort in the world.[9] world-airport  – codes.com
Hyderabad to Sukkur
330 Kms. The road is wide and there re many villages and towns on the way. The main stops on the way are the Shrine of Sufi Saint & poet Shah Abdul Latif Hala and Kot DG fort.
Hyderabad to Mithi
Drive to Mirpurkhas 160 KMs via beautiful green Mango farms and villages at Mirpurkhas you will have a short stop to see a typical oriental Bazaar . Later drive further 80 KMs to Umerkot and continue to Mithi another 70 Kms.