Islamabad is the capital and 9th largest city of Pakistan, located between the provinces of Khyber Pakhtunkhwa and Punjab. The city has a total population of 4.2 million inhabitants while the total area of the region is 220 square kilometers. It has the 3rd largest Rawalpindi-Islamabad metropolitan area of the country.
It is administered by the federal government of Pakistan and is famous for safety, greenery, and high standards of living. The city was built in 1960 as a planned city when the capital of Pakistan was announced to move from Karachi to Islamabad.
The region is divided into 8 zones which include educational sectors, commercial areas, administrative zone, rural and residential areas. This article comprises all the information including Islamabad History.
| Title | Description |
| --- | --- |
| Information | |
| Location: | Pakistan |
| In Urdu: | اسلام آباد |
| City Council: | Islamabad Metropolitan Corporation and Capital Development Authority (CDA) |
| Type: | Capital of Pakistan |
| Local Language Name: | Urdu, English, Arabic |
| Province: | None |
| Coordinates : | 33°43'N 73°04'E |
| First settled: | 1960 |
| Website: | www.islamabad.gov.pk |
| Union councils: | 50 |
| Highest elevation: | 620 m (2,000 ft) |
| Lowest elevation: | 490 m (1,610 ft) |
| Language | |
| Official Language: | Urdu, English |
| Native Language: | Urdu |
| Other Languages: | Urdu, Pothohari, Pashtu, Punjabi, English |
| Government | |
| Government Type: | Federal Government of Pakistan. |
| Capital City Police Chief: | Inspector General of Police – Tariq Masood Yasin |
| Mayor: | Sheikh Ansar Aziz Political party PML-N |
| Area | |
| City: | 906.00 km2 (349.81 sq mi) |
| Land: | 906.00 km2 (349.81 sq mi) |
| Population | |
| Rank: | 10 |
| City: | 1.9 million |
| Metro: | 2.2 million |
| Urban: | 1,829,180 |
| Time zone | |
| Time zone: | PKT (UTC+5) |
| Codes | |
| Postal code: | 44000 |
| Dialing code: | 051 |
| Vehicle registration: | IS |

Islamabad History
Islamabad is one of the earliest human- settlement regions and the history of the region id traced back to the stone age about 1 to 5 million years ago. The artifacts of the Stone Age have been founded in the region. The region went through many invaders including Alexander, Zahir ud din Babar, Ahmad Shah Durrani, Genghis Khan, Sikhs, and Timur of the Mughals.
Moreover, the region was the area of Punjab which was constructed by the government of Pakistan. The capital was moved here from Karachi in 1960, due to some reasons. One of the reasons was that Karachi is near to the Arabian Sea and can be easily attacked and the government wanted a suitable place for its capital and commerce.
In addition to that, the name Islamabad means "Cultivated Place of Islam" and was proposed by a school teacher named Mohammad Ismail Zabeeh.
Language
Punjabi is the most widely spoken language of the region, spoken by 55% of the population, 15% of the population speak Potohari while the rest of 30% speaks Pashtu, Sindhi, and English.
Islamabad Religion
Islam is the most dominant religion of the people of the area, followed by 95.5% of the entire population while 4.5% of the population other religions including Christianity and Hinduism.
Construction
The construction and planning of the region were carried out by IMC (Islamabad Metropolitan Area) while involving CDA (Capital Development Authority). A total number of 8 zones were constructed here and named Zone I, II, III, IV, V, VI, VII, and Zone VIII. Each zone covers a total of 4 square kilometers.
Zone I contain a residential area, Zone II is an underdeveloped area of the city. More zones contain educational sectors, administrative sectors, commercial and industrial sectors.
Design
The master plan of the city's design was presented by Konstantinos Apostolos Doxiadis, the Greek Firm of Architects.
Islamabad Weather
The region has a subtropical humid climate containing five seasons which include winter, summer, autumn, spring, and rainy monsoon. The highest recorded temperature of the region is 38 degrees centigrade in the season of summer while the lowest recorded temperature of the region is -6 degrees centigrade in the season of winter.
Administration
The city is officially administered by the federal government of Pakistan and divided into 8 zones as described above.
Sectors
Sectors of Islamabad include a number of Alphabets as A, B, C, D, E, F, G, and H Sectors. Among these sectors, some are fully developed while some are underdeveloped. For instance, Sector D2 is fully developed while the remaining in D Sector is underdeveloped.
Furthermore, these sectors contain shopping malls, medical complex, Jinnah Park, educational institutions including universities, red mosque, Faisal Mosque, and Centaurus Complex while zone V contain rural areas.
Islamabad Education
The region has the highest literacy rate (88%) of the country among which 5.3% have done masters, 11% have done bachelors while 10% have done intermediate. Furthermore, the unemployment rate of the region is 15%.
The city consists of 913 institutions among which 26 are degree colleges, 367 primary schools 250 high schools, 162 middle schools, and 75 higher secondary schools while 2 are religious institutions. All of these institutions are recognized by the government of Pakistan. The list of Universities is given below.
National University of Modern Languages
Allama Iqbal Open University
COMSATS
Bahria University
Pakistan Institute of Engineering and Applied Sciences
Capital University of Science and Technology
Bahria University
Hamdard University
Center for Advanced Studies in Engineering
Air University
The National University of Computer and Emerging Science
Federal Urdu University of Arts
International Islamic University
National Defense University
Virtual University of Pakistan
Abasyn University
Shifa Tameer Millat University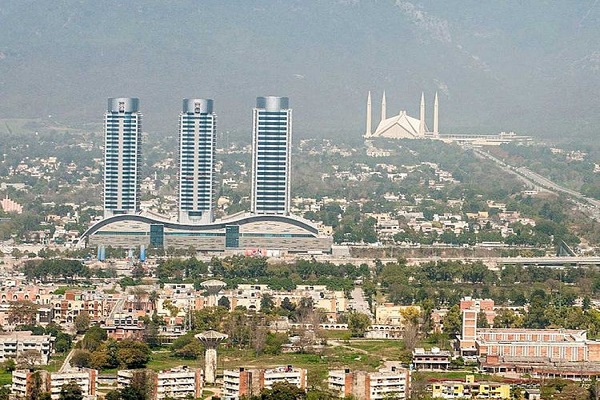 Economy
The city contributes 1 percent to the country's GDP while the total population of the region is 0.8% of all. The Stock Exchange of Islamabad is the 3rd largest Stock Exchange of Pakistan. It exchanges about one million shares on daily basis.
Furthermore, there are a number of IT Parks and a vast expansion was seen in ICT companies which rose to 36 and 29 Trust House companies which contribute to the economy of Pakistan. The city is also responsible for collecting 370 billion rupees of tax revenue per year which is 20% of the total GDP of Pakistan.
Traveling
The city is connected with all other cities of Pakistan and international locations through Airlines, roads, railway lines, and metro buses.
Roads
Local roads of the city connect all of the zones and some of the nearest cities including Rawalpindi and Haripur. Further, Motorways of the region connect the city with other cities including Peshawar, Rawalpindi, Lahore, Sindh, D I Khan, D G Khan, Haripur, Attock, and many others.
Metro
The city has an advanced Metro Bus traveling system which facilitates the inhabitants to travel in the local areas including all of the zones.
Railway
It is also connected by the Railway track with all major cities of Pakistan including Karachi, Rawalpindi, Peshawar, and Quetta.
Airport
Islamabad International Airport provides air–traveling services to local and international destinations including UK, USA, KSA, UAE, Oman, Kuwait, Dubai, Afghanistan, Turkey, China, and many others.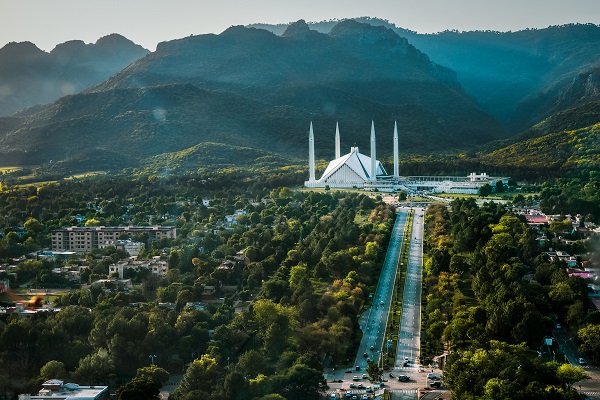 Tourism
Islamabad is famous for its tourist sites which attract national and international tourists. Some of the tourist's sites of the region are as follow:
Faisal Mosque
Pakistan Monument
Lok Virsa Museum
Shrine of Meher Ali Shah
National Art Gallery
Margalla Hills
Sports
A number of stadiums and clubs are constructed for indoor and outdoor games for cricket, hockey, football, Gulf, boxing, squash, and Kabaddi. The city has also its own cricket team under the name of Islamabad Unite who participates in the Pakistan Super League every year.
Notable People
A list of some of the notable people are given below:
Syed Yousaf Raza Gillani
Wasim Sajjad
Shoaib Akhtar
Amad Waseem
Usman Khwaja
Adnan Saleem
Hamza Ali Abbasi
Umair Jaswal
Usman Mukhtar
Saleem Safi
Marvi Sirmad
Sadr ud din Hashwani