Faisalabad International Airport (IATA: LYP, ICAO: OPFA) is an international airport and standby Pakistan Air Force military base situated on Jhang Road, 10 kilometres (6.2 mi) south west from the city centre of Faisalabad, in the Punjab province of Pakistan.It serves the population of Faisalabad and several local cities such as Tandlianwala, Kamalia, Jaranwala, Jhang, Chiniot, Gojra, Dijkot, Samundri, Khurrianwala, Sangla Hill, Toba Tek Singh, Chenab Nagar, Sargodha, Bhawana, Pir Mahal, Chak Jhumra, Khichian, Jahangir Klan, and Lalian. With a large diaspora of Faisalabadis living abroad, the Pakistan Civil Aviation Authority has signed a new open policy to allow more airlines to operate from the city.The airport is home to two flying schools who use the airfield for regular training for new cadets and aviation enthusiasts. Due to an influx of international airlines operating into the airport, the Faisalabad Chamber of Commerce and Industries have disclosed a new international airport is to be built near the motorway. With a new open policy agreement with the United Arab Emirates it is expected that the airport will handle more traffic in the future.
| Title | Description |
| --- | --- |
| Information | |
| Location: | Faisalabad, in the Punjab province of Pakistan |
| IATA code: | LYP |
| ICAO code: | OPFA |
| Nickname: | Faisalabad Airport |
| Type: | Public |
| Local Language Name: | فیصل آباد بین الاقوامی ہوائی اڈا |
| Coordinates : | 31°21′54″N 072°59′41″E |
| Owner : | Government of Pakistan |
| Operator : | Pakistan Civil Aviation Authority |
| Serves : | Faisalabad, Tandlianwala, Jaranwala, Jhang, Chiniot, Gojra, Samundri, Okara, Hafizabad, Sahiwal, Toba Tek Singh, Pir Mahal |
| Elevation AMSL: | 607 ft / 185 m |
| Passengers: | 718,308 (Increase 61.0%) |
| Aircraft movements: | 5,894 |
| detail | |
| city: | Faisalabad |
| Cargo handled : | 676 M. Tons |
| Source: | World Aero Data DAFIF |
| Runways Direction : | 03/21 |
| Runways Length: | 2,826 (m) & 9,272 (ft) |
| Runways Surface: | Concrete |
| Access: | Car, Taxi, Bus, Rickshaw |
| Cargo: | Star Air Aviation , TCS Courier |
| Maintenance services: | Pakistan International Airlines (PIA) and Shaheen Airport Services (SAPS) |
| Air field System: | Category-I |
| Runway Capable of handlin: | Boeing 767 & Airbus A300 |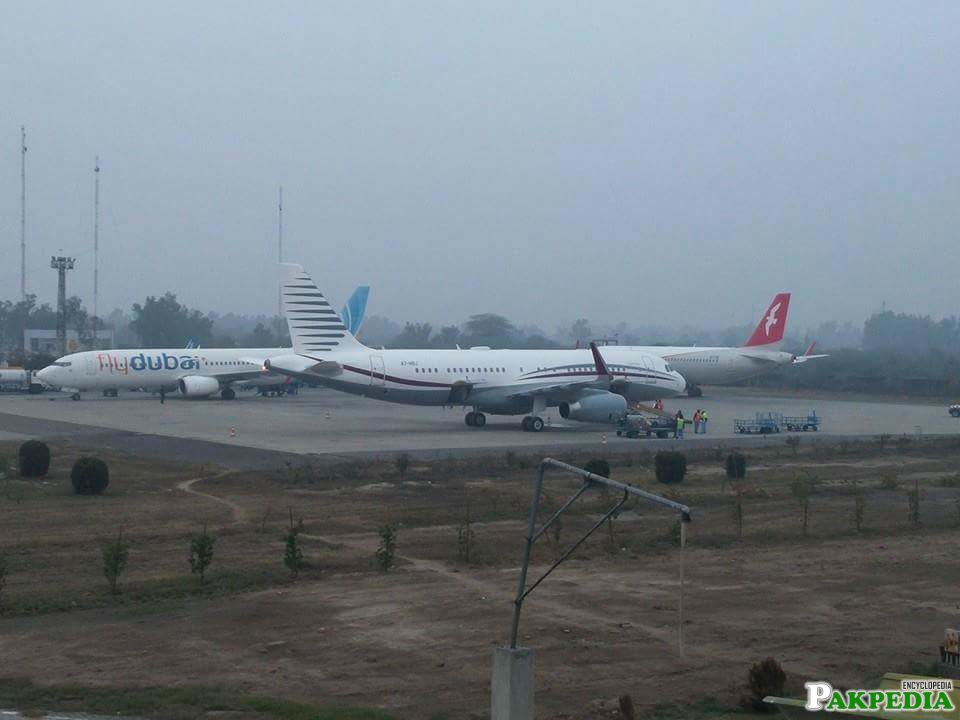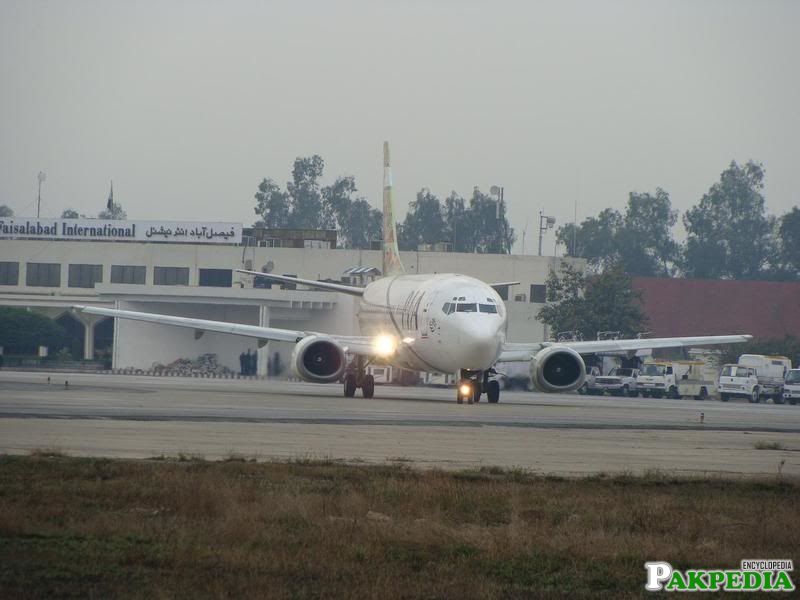 About
Early History
The airport traces into origins not too far into the past. The founder of the city decided that Faisalabad had a strategic position within the British empire. In 1942, the local government gave permission for the construction of a bricked strip measuring 5000′ by 100′. Various regional aircraft used the strip for a short time however as technology progressed the airstrip became quite out-dated. [1] The airport traces into origins – not too far
Post Independence
The national flag carrier, Pakistan International Airlines (PIA) began domestic operations in 1958 operating various flights from Karachi to expand on exports and imports from the city. It was not until 1965, the bricked airstrip was re-built to meet standards at that time. The surface was built using bitumen and the length of the runway increased to 9000′ by 100′ to allow the airport to handle larger jet fuelled aircraft. During 1966–1967 the construction of an airport terminal and an apron to handle prop aircraft such as the Fokker f-27 friendship was constructed.
In 1972
In 1972 a new parallel runway with dimensions 9000 feet by 100 feet was constructed west of the existing runway, since the existing runway had deteriorated quite significantly. The new runway was designed to handle even larger aircraft such as the boeing 737. In 1974 a jet apron, taxiway-b, air traffic control building and met offices were constructed. A premium lounge and ils were installed in 1985. In 1986 the terminal building was extended to accommodate greater number of passengers and meet future growth in air travel for the city. In 1991, the old runway was widened, strengthened and extended reaching dimensions of 9270′ by 150′ with surface bitumen to accommodate airbus aircraft such as airbus 310s. In 1993, cip lounge was constructed and terminal building was extended to accommodate greater travel growth. In 1998, direct hajj operations were started from the airport annually, allowing more flights and traffic growth for the airport.
Upgrade Expansion Plans
Due to more flights and greater estimates of passenger growth of the airport. Faisalabad international airport is expected to be re-developed to meet the to meet the growth patterns for the next decade. The airport was inspected by Shujaat Azeem, Aviation Advisor to the Prime Minister as well as the Director General of Pakistan Civil Aviation Authority on the 9th April 2015. It was disclosed that the airport will be upgraded to international standards of the IATA/ICAO. The plans are for the following: 
Extension of the current passenger terminal
Construction of a new cargo complex 
Extension & upgrading of the current runway to handle larger aircraft
Renovation of the aircraft stands (apron)
Renovation of the arrivals/departure/business class lounges.
Renovation of the airport approach road (including lighting)
Airlines and Destinations
The airport connects Faisalabad with a number of domestic and international destinations. The list below is up to date as of April 2017:
 Airlines
Destinations 
 Terminal
 Air Arabia
 Sharjah
 International
 Flydubai
 Dubai-International
 International
 Gulf Air
 Bahrain
 International
 Pakistan International Airlines
 Karachi
Seasonal: Lahore, Multan
 Domestic
 Pakistan International Airlines
 Jeddah, Medina
 International
 Qatar Airways
 Doha 
 International
 Serene Air
 Karachi
 Domestic
 Shaheen Air
 Karachi(On Hold)
Seasonal: Multan
 Domestic
 Shaheen Air
 Jeddah(On Hold), Sharjah(On Hold), Riyadh(On Hold)
Seasonal: Medina
 International
|  Airlines |  Destinations | Terminal  |
| --- | --- | --- |
|  TCS Courier |  Dubai-International, Karachi |  Domestic |
|  Star Air Aviation |  Karachi, Lahore |  Domestic |
Lounges
Faisalabad International Airport has a briefing & concourse Hall, Departure, Arrival, CIP & Executive Lounges are available in the Terminal building for both Domestic and International Operation. The seating capacity of each is as under.
Concourse Hall           64 Seats
Briefing Hall                10 Seats
Arrival Lounge            16 Seats
Departure Lounge       270 Seats
Executive Lounge       20 Seats
CIP Lounge                24 Seats
All the lounges are equipped with Air-conditioners, water coolers, Toilets for ladies and gents & separate prayer areas etc. Porter Service along with Rent-a-Car Service are available at the Airport. 325 Passenger trolleys are available in the terminal building. TV Network is available in the entire terminal building. Two refreshment counters, one in departure and one in concourse hall. One Canteen in the Parking Area. Car parking having a capacity of 200 Cars is available. ATM facility is available by M/S Allied Bank Limited. Bank facility is also available during Int'l Flights. [2] Lounges Lounges
Facilities
Refreshment counters
Snack and gift shops
Porter Service
Separate prayer areas
Currency exchange
Passenger trolleys
TV Network
Internet Wi-Fi facilities
Executive lounge
CIP lounge
Briefing & Concourse Hall
Wheelchair Access     [3] Facilities Facilities
Access
Faisalabad is accessible by the airport approach road located just off Jhang Road, 10 km from the city centre.[4] Faisalabad is accessible by – airport approach There is a drop off lane at the front of the terminal as well as a car park which has a capacity of 200+ cars.A tender was issued on 1 April 2015 to automate the car park to international standards. Car rental services are also available which have to be booked online on the Hertz car rental website or by speaking to a member of staff at the Serena Hotel counter.
The airport can be reached from Faisalabad up to Sargodha by bus. After that, one has to take a taxi. There is an air-conditioned CNG bus service from the airport to Jhang, Toba Tek Singh, Chiniot, and Sangla Hill.
Traditional CNG powered rickshaws at the airport road entrance are quite popular amongst the local community.
Prime Cab Limited and Metro Cabs operate directly from the airport and there is a counter on the landside of the terminal building for making bookings. In partnership with Hertz, Serena Hotels Pearl Continental offer a pick and drop service that is available from the landside terminal.
Operations
Security is provided by Airports Security Force since its establishment in 1976. Following the incident at Karachi airport, the airport has a "Security Action Plan" in place which is re-evaluated regularly by the ASF, Pakistan Air Force, CAA and police to check for vulnerable points and reaction times. Roads leading to the airport are also monitored by the Elite Police.
Faisalabad airport's control tower stands at the centre of the airfield. It was built soon after the jet aircraft flights were inaugurated at the airport in 1974. Pakistan's airspace is split into two FIR regions, Karachi and Lahore. The airport falls under Lahore's Flight Information Region. Air traffic control is provided by the Civil Aviation Authority of Pakistan (CAA) and is governed by the Lahore Area Control Centre. Faisalabad airport also has its own aerodome and approach control radar systems providing services to both civilian and military aircraft. Navigation aid facilities include Non Directional Beacon (NDB), Distance Measuring Equipment (DME) and Instrument Landing System (ILS) which are all in operation at the airport.
The main runway at the airport was inaugurated in 1972 which was built to handle jet aircraft such as the Boeing 737. As PIA acquired larger aircraft, the CAA decided to strengthen the runway in 1991 so the airport could handle wide body aircraft such as Airbus A300, Airbus A310 and Boeing 767-200ER. The current length of the runway is 9,272 ft x 151 ft (2,826 x 46 m). The runway is numbered 03 Coordinates: N31°21.30′ / E72°59.21′, Elevation: 587 and Runway Heading: 034° whilst 21 Coordinates: N31°22.53′ / E73°0.26′, Elevation: 591 and Runway Heading 214°. The runway is expected to renovated in late 2015 to make it Boeing 777 compatible. The runway is inspected by the CAA Runway Inspection Team several times a day during daily operations.The former runway was closed several year later after the opening of 03/21. The runway is not numbered as per International Civil Aviation Organization (ICAO) standards but it is parallel to the main runway. The runway has been marked with several white crosses to inform landing aircraft that the runway is no longer operational. The runway is still however used by the general aviation and military aircraft for taxing to the main runway.
In 1976, the CAA decided to build a cargo complex at the airport. The building is located on the righthand side of the passenger terminal and is used to handle goods imported and exported by air. The building is currently leased to Pakistan International Airlines. Most of the cargo is handled at the main PIA booking office in the city where it is collected and then transported to the airport. In 2015, the CAA decided to build a new cargo complex for cargo operations closer to the apron.
Important Contact Numbers
CAA Complaint Cell
CAA Exchange
Ph:- 041- 9201595, 9201598, 9200129, 9200130, 9200131, 2577842, 2577843
Airport Manager
Ph:- 041-9201616 Fax :- 041-9201617 
Email Address :- apm.faisalabad@caapakistan.com.pk
Senior Air Traffic Control Office
Ph:- 041-9201595 Extension 204 Fax :- 041-9201617 
Email Address :- satco.fsd@caapakistan.com.pk
Senior HR Commercial Office
Ph:- 041-9201585 , 041-9201595 Extension:- 209 
Email Address :- mehmood.s@caapakistan.com.pk
Chief Technical Office
Ph:- 041-9201588 Extension:- 203 
Email Address :- usama.yousuf@caapakistan.com.pk
Important Contact Number of Airlines other agencies
Pakistan International Airlines
UAN :- 11-11-46387 Ph:- 041-2414510-4
Inauguration of Faisalabad Airport
Prime Minister Shahid Khaqan Abbasi inaugurated the expansion project of Faisalabad International Airport,increasing the number of the facilitation counters and handling capacity of domestic and international passengers. The prime minister was accompanied by Adviser on Aviation Affairs Sardar Mehtab Ahmed Khan, Minister for Health Saira Afzal Tarar, Minister of State for Finance Rana Muhammad Afzal and Minister of State for Power Abid Sher Ali and senior officials of the Civil Aviation Authority (CAA). The CAA has completed the project that has increased the covered area of the airport from 36,000 square feet to 73,000 square feet.  [5] Inauguration of fsd airport