Faisalabad International Airport is a Faisalabad-based international airport and a standby PAF (Pakistan Air Force) army base located on Jhang Road, ten km south-west of the center of the city of Faisalabad in Punjab. Two flying institutions use the airfield on a daily basis to train aviation enthusiasts and new cadets.
The airport is serving the populace of Lalian, Jahangir Klan, Khichian, Chak Jhumra, Pir Mahal, Bhawana, Sargodha, Chenab Nagar, Toba Tek Singh, Sangla Hill, Khurrianwala, Samundri, Dijkot, Gojra, Chiniot, Jhang, Jaranwala, Kamalia, and Tandlianwala. This article has all the details about the airport, including Faisalabad International Airport History.
| Title | Description |
| --- | --- |
| Information | |
| Location: | Faisalabad |
| IATA code: | LYP |
| ICAO code: | OPFA |
| Nickname: | Faisalabad Airport |
| Type: | Public |
| Local Language Name: | فیصل آباد بین الاقوامی ہوائی اڈا |
| Coordinates : | 31°21′54″N 072°59′41″E |
| Owner : | Government of Pakistan |
| Operator : | Pakistan Civil Aviation Authority |
| Serves : | Faisalabad, Tandlianwala, Jaranwala, Jhang, Chiniot, Gojra, Samundri, Okara, Hafizabad, Sahiwal, Toba Tek Singh, Pir Mahal |
| Elevation AMSL: | 607 ft / 185 m |
| Passengers: | 718,308 (Increase 61.0%) |
| Aircraft movements: | 5,894 |
| detail | |
| city: | Faisalabad |
| Cargo handled : | 676 M. Tons |
| Source: | World Aero Data DAFIF |
| Runways Direction : | 03/21 |
| Runways Length: | 2,826 (m) & 9,272 (ft) |
| Runways Surface: | Concrete |
| Access: | Car, Taxi, Bus, Rickshaw |
| Cargo: | Star Air Aviation, TCS Courier |
| Maintenance services: | Pakistan International Airlines (PIA) and Shaheen Airport Services (SAPS) |
| Airfield System: | Category-I |
| Runway Capable of handling: | Boeing 767 & Airbus A300 |

Faisalabad International Airport History
Initial Years
The airport can be traced back to British Rule. Faisalabad's administration decided that this city held a significant position in British Empire and South Asia. The local government granted approval for the building of a 5000′ by 100′ bricked strip in 1942. The strip was used by regional aircraft.
It was named 'Lyallpur Airfield' and was known by this name until 1979. Later its name was changed to Faisalabad to honor Saudi Arabia's late King Faisal. The airport was renamed Faisalabad Airport, and the IATA (International Air Transport Association) code LYP was retained.
After Partition
Pakistan International Airlines (PIA), the nation's flag carrier, started domestic flights in 1958, with many flights operating from Karachi. The bricked airstrip was reconstructed in 1965 to meet existing standards. The surface was made of bitumen, and the runway length was extended by 100 feet to 9000 feet, allowing the airport to accommodate larger planes.
Construction of a New Runway
Construction for an apron and terminal started in 1966-1967 to manage propeller aircraft like 'Fokker F-27 Friendship.' Since the old runway had significantly damaged greatly, a new runway having the dimensions of nine-thousand feet by hundred feet was built in 1972.
This runway was built to manage jet-fueled aircraft like Boeing 737. Taxiway-B, jet apron, met office, and the Air Traffic Control tower was built in 1974.
Building Extension
In 1985, a luxury lounge and the ILS (Instrument Landing System) were installed. The terminal building's extension was made in 1986 to handle more passengers. The previously existing runway was extended, upgraded, and widened in 1991 to dimensions of 9270′ by 150′ to handle Airbus aircraft like the Airbus 310. Direct Hajj flights started in 1998 from this airport to Saudi Arabia.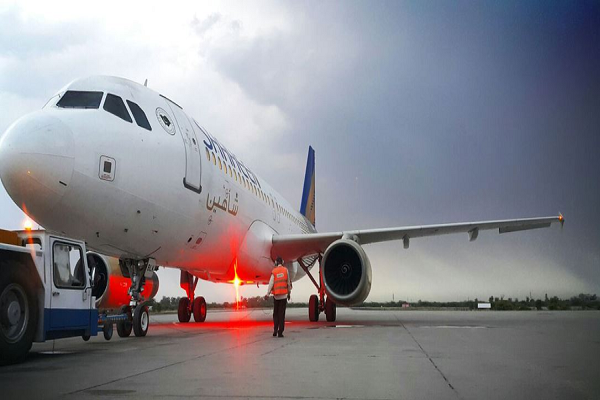 Increased in Number of Flights
On 20th Dec 2003, Aero Asia started two flights per week from LYP to Dubai, and the number of Karachi flights was increased to three times weekly. PIA began flights direct from Glasgow, Scotland's capital, to LYP in 2005, using Airbus A310 aircraft. In December of that year, the airline introduced an e-ticketing facility from the airport.
Flight Operations
PIA started operating flights from LYP to Sialkot International Airport in 2008, but the service was soon discontinued.  PIA began its operations from LYP to Rahim Yar Khan & Abu Dhabi in 2009. Bahawalpur was linked to the city by PIA in 2010. Shaheen Air was granted permission in 2011 to conduct seasonal Hajj flights from the city of Faisalabad to Jeddah.
In that year, Etihad Airways introduced a passenger coach service from Faisalabad city to Lahore Airport. PIA stopped its flight to Multan, Dubai, and Abu Dhabi in June 2013 due to the aircraft's non-availability. Shaheen Air started flights to Dubai in Oct of that same year. Air Indus started its flight service to Karachi in 2014 through the use of Boeing 737-300.
Expansion Plans
Aviation advisor to PM Shujaat Azeem announced on 2nd Feb 2015 on his Twitter page that Faisalabad airport would be updated to meet international standards and there would be an increase in the number of international flights.
Qatar Airways announced on 5th March 2015 that it would launch its services three days a week connecting Doha to Faisalabad.
Inspection of Airport
Shujaat Azeem, Rana Muhammad Afzal (MNA), Engineer Rizwan (President of FCCI) Muhammad Yousaf (DG of Pakistan Civil Aviation Authority) inspected the airport on 9th April 2015. PCAA announced that the following work would be done in the airport:
Renovation of business/departure/arrival lounges
Establishment of a cargo complex
Renovation of the aprons
Extension of the passenger terminal
Renovation of the airport approach road
The establishment of a taxiway
Upgrading and extension of the runway to manage larger aircraft
Announcements by Flydubai
Air Arabia announced on 1st June 2015 that it would launch its services three days a week from Sharjah and Faisalabad from 18th Sep 2015. Faisalabad became the 8th city to which this airline operates in the country.
Flydubai announced on 15th June 2015 that it would start its daily flights from 10th July 2015, increasing the number of flights to nine days a week from 3rd Aug.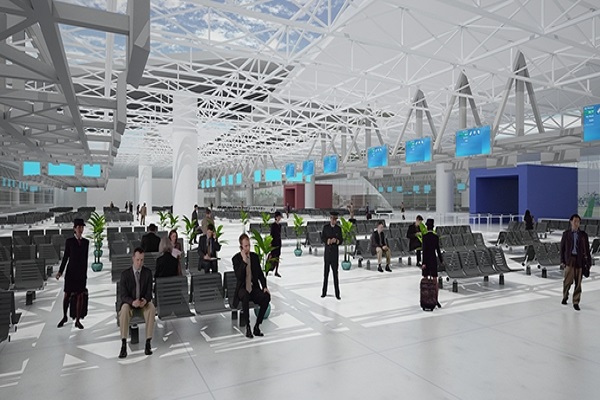 Flight Operations by Different Airlines
Shaheen Air started its Hajj flights on 20th Aug 2015 by using Airbus A320. Gulf Air announced on 7th Oct 2015 that it would conduct three weekly flights from the Kingdom of Bahrain to Faisalabad beginning on 22nd Dec 2015. Turkish Airlines inspected this airport on 6th Nov 2015 and decided to construct a new business-class lounge.
PIA announced its weekly flights to Medina and Jeddah on 2nd Dec 2015. The Jeddah flights were conducted via Airbus A310 from 8th Jan 2016, while flights to Medina were conducted through A320 on 22nd Dec 2015. The foundation stone for the airport's redesign and expansion was laid on 24th Dec 2015.
PIA resumed Multan and Islamabad as domestic flights and also increased flights to Jeddah from two to three times per week. Serene Air started three flights per week from Faisalabad to Karachi & back on 20th April 2017.
Shaheen Air's Flight Operations
Shaheen Air launched 1st flight from FSD to Sharjah on 31st October 2017 and used an Airbus A319. The newly extended terminal was inaugurated by Pakistan's Prime Minister on 20th Jan 2018. Shaheen Air reported the 1st direct flights from FSD to Muscat, Oman's capital, on 27th March 2018, with flights starting on 15th April 2018.
On 30th Oct 2019, PIA restarted its twice-weekly flights from FSD to Dubai through the use of the Airbus A320.
Structure
LYP is fully equipped for both international and domestic flights. As of Oct 2015, the data below is accurate.
Lounges
1-State Lounge for VIP /diplomatic guests
Free access to WI-FI
Prayer Area
Free WIFI internet powered by Wateen Telecom & CAA
1-business class lounge available for VIP passengers
Separate international and domestic economy-class lounges with a capacity of eight-hundred passengers
Apron
ADELTE installed two passenger jet bridges
Four narrow-body planes like Boeing 767-300ER/A310/Airbus A300
Airfield system of lighting
Runway
9,271 feet long (Instrument Landing System) NDB (Non-Directional Beacon) equipped runway at the height of six-hundred and seven feet with 25-inch shoulders on every side.
Instrumental Landing System (ILS) Category-One
Capable of managing Airbus A300 and Boeing 767
Faisalabad International Airport Services
PSO is responsible for the provision of fuel to all airlines
Rescue & fire-fighting services
ATM service provided by ABL (Allied Bank Ltd)
Availability of NDB operations 24/7
Immigration & custom for international/foreign flights
Availability of language wrapping and CAA Porter facilities
Counter for money exchange
Airport Masjid situated outside the terminal
Ground-Handling Agents
Gerry's Dnata
RAS (Royal Airport Services)
PIA (Pakistan International Airlines)
Cargo Complex
Availability of domestic and international freight services via PIA and other international airlines
New Cargo Complex constructed to manage cargo aircraft freight.
Booking of cargo at booking office of PIA situated in the center of the city
Flying School Institutions
Air Academy Pvt Limited
Other Facilities
Availability of generators for 24/7
Counters of Serena Hotels
Reservation and ticketing offices
Assistance office and flight information
Operations
Runways
In 1972 the main airport runway was inaugurated, which was constructed to accommodate jet aircraft like the Boeing 737. When PIA obtained bigger aircraft, the CAA agreed to upgrade the runway in 1991 so that the airport would handle larger aircraft like Airbus A300, Boeing 767-200ER, and Airbus A310.
Currently, the runway is 9,272 feet*151 feet long. It was expected that the runway would be renovated in 2015 to make it compatible with Boeing 777. CAA inspected the runway several times a day.
Control Tower
The control tower of Faisalabad airport is located at the airfield's center and was constructed soon after the inauguration of aircraft flights in 1974. The airspace of Pakistan is divided into 2-FIR zones Lahore and Karachi.
This airport is under FIR (Flight Information Region) of Lahore. CAA (Civil Aviation Authority) provides air traffic control, and the Control Center of the Lahore area governs it.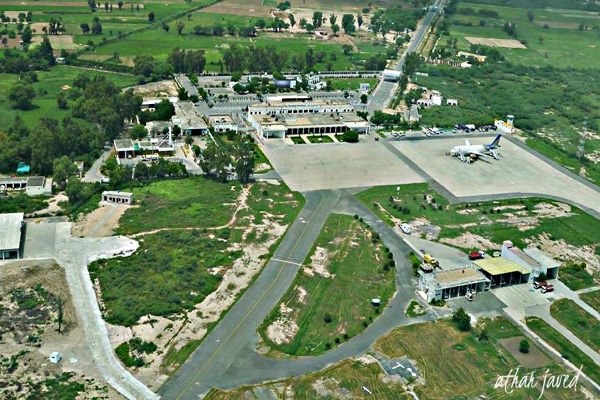 Maintenance of the Airport
PIA has undertaken the line maintenance service. There are several PAF and general aviation hangars that are situated at the airport for base and line maintenance.
Security at Airport
ASF (Airports Security Force) is providing security since its foundation in 1976. After the incident happened at Jinnah International Airport, the security action-plan of the airport is regularly re-evaluated by PAF, ASF, police, and CAA to inspect the vulnerable spots. Elite Police monitors all roads heading to the airport.
Cargo complex
The CAA planned to construct a cargo complex in 1976 at the airport, and the building is constructed on the right side of the passenger terminal. It is used for handling imported goods. The majority of the cargo/freight is handled at the main booking office of PIA. CAA decided on the construction of a new cargo building for cargo tasks in proximity to the apron.
Accidents & Incidents Happened at FSD Airport
PIA Fokker F-27 Friendship struck trees 800 meters short of the runway on 28th May 1973. All travelers and crew survived the crash, but the plane was scrapped because it was destroyed beyond repair.
PIA Boeing 737-300 took off from the airport on 20th April 2012 when it deemed it necessary to turn off the engine. The aircraft fled to Lahore and landed safely.
Recognitions
Aero, a top airline analysis and news website honored Faisalabad Airport for production of the Best Arch of Victory, more publicly recognized as Water Salute, on 10th July 2015 on 1st FlyDubai flight departed from Dubai International Airport.
Captain Ayesha became the 1st Pakistani female to command a Boeing 737 passenger flight on 10th Feb 2008. PIA PK-341 from Faisalabad to Karachi and PK340 from Karachi to Faisalabad was her 1st flight.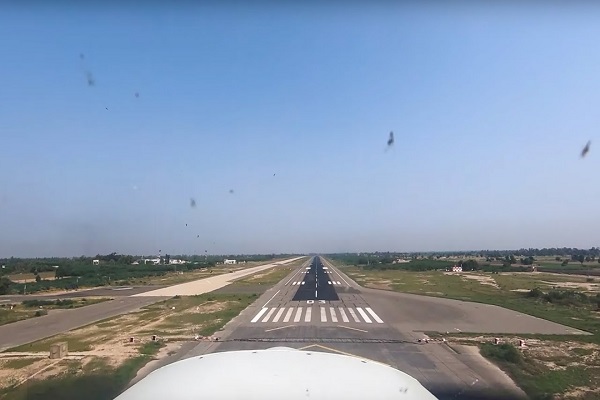 Social Media Handles
http://www.faisalabadairport.com.pk/