The Export Triangle of Pakistan comprising Gujrat, Sialkot and Gujranwala is internationally famous for producing and exporting Sports Goods, Gloves, Surgical instruments, Sports Wears, Cutlery, Ceramics, and Leather Garments etc. The Air cargo for the area was sent to Lahore, Islamabad & Karachi Airports via Sambrial Dry Port. It was a tough exercise indeed as it involved extra expenses and time apart from other difficulties faced by the exporters. More over, the customers from abroad were hesitant and reluctant to travel to Sialkot, Wazirabad and Gujrat due to security reasons and it has been a matter of great in-convenience for the exporters of this very region. Due to these logistic problems, full export potential of these cities was not being realized. Hence, the demand for an Airport in Gujranwala Division was voiced by the Traders, Businessmen, exporters and general public especially the Overseas Pakistanis of this area since long time.The exporters of Sialkot had exhibited a strong will and spirit in the recent past by establishing the Sambrial Dry Port Trust on self help basis and operating it successfully. While accepting the challenging task again, they took the initiative and Sialkot Chamber of Commerce & Industry pleaded the case of Airport with the Government of Pakistan but due to financial constrains, the Govt. expressed its in-ability to this effect. The dedicated and highly motivated exporters of Sialkot equipped with strong driving force and determination ultimately succeeded in their mission. During the presentation made by SCCI on 2nd Feb. 2001, the President of Pakistan very graciously gave approval in principle for the construction of an International Airport at Sialkot on Build, Own & Operate (BOO) basis and a Memorandum of Understanding (MOU) was signed between Sialkot Chamber of Commerce & Industry and Ministry of Defence through Civil Aviation Authority.[1] exporters of Sialkot had exhibited – strong will [2] construction of International Airport – at Sialkot
| Title | Description |
| --- | --- |
| Information | |
| Location: | Sambrial, Sialkot Punjab,Pakistan |
| Type: | Public |
| Local Language Name: | سیالکوٹ بین الاقوامی ہوائی اڈا |
| Coordinates : | 32°32′08″N 74°21′50″E |
| Website: | www.sial.com.pk |
| detail | |
| city: | Sialkot |
| Parking: | 10 wide-bodied aircraft at a time or 8 Airbus plus 4 ATR-42 aircraft at a time |
| Boarding bridges: | Two boarding bridges recently became operational |
| Operator: | Sialkot International Airport Limited |
| Serves: | Sialkot |
| Elevation AMSL: | 837 ft / 255 m |
| Passengers: | 666,979 (2015) |
| Situated: | 14 km (8.7 mi) west of Sialkot in the Sialkot District of Pakistan |
| Runway: | Having the longest runway in Pakistan |
| Extension project: | Started on October 2, 2010 |
| Completed: | November 30, 2011 |
| Extension Cost: | PKR 180 million |
| Client: | SIAL |
| Consultant: | Nespak |
| Contractor: | Habib Construction Services Limited |
| Commence: | Domestically and Internationally on November 30, 2007 |
| Services: | Fuel farm & Aircraft ground maintenance services & Catering & Other related services through concessions to private parties |
| Runway: | 3,400-metre long, 45-metre wide with 7.5-metre wide shoulders |
| Link Taxiway: | 263-metre long, 23-metre wide with 10.5-metre shoulders |
| Aprons: | For passenger and cargo, 95,000-sq metre area |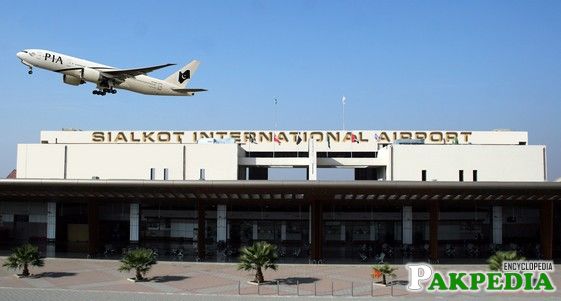 About
Location
From the point of view of business, the Sialkot International Airport project has many plus points. To begin with is its ideal location. The potential for  an international airport in the area has been appreciated for a long time. And over the years, air cargo and passenger needs of the districts that would be using the airport have grown manifold. At present, airports at Lahore and Islamabad provide the facility to the project area, but both of them are too distant for practicality or comfort. For the numerous industrialists sending and receiving cargo to and from destinations around the globe or large number of air-travelers, the benefits of an international airport closer at home are many.        For the business community, the airport will bring an end to long delays, damage to goods or packing due to multiple handling, pilferage, security concerns and other losses. The airport will also be a welcome convenience for local and foreign business executives and other air-travelers who will be saved long road journeys from distant airports. [3] Sialkot International Airport project – plus points
Area
Areas of All Buildings
|  Sr. # | Building  |  Area | Unit  |
| --- | --- | --- | --- |
|  1 |   Cargo Complex   50*40 |  2000 |   M*M |
|  2 |  Cargo Complex Mazanine   16*12 |  192 |  M*M |
|   |   | |   |
|  3 |  Gate House(Ground + 1st floor)    113*11 |  150 |  M*M |
|  4 |  Amenities Block(Ground + 1st floor) |  610 |  M*M |
|  5 |  Wapda Room      5.5*5.5 |  30 |  M*M |
|  6 |  Passenger Terminal |  10000 |  M*M |
|  7 |  ATC Tower (Ground + 1st floor) |  318 |  M*M |
|  8 |  Water Tower(Capacity) |  50000 |  Gallons |
Extension
Extension of Apron at Sialkot International Airport Extension of the apron enabled the airport to accommodate more aircraft. The project was started on October 2, 2010 and was completed on November 30, 2011, incurring a total cost of PKR 180 million as quoted by the contractor of the project.The construction project was awarded to Habib Construction Services which is one of the largest construction companies of Pakistan and have worked on several other mega projects previously.[4] The operation International – Flights started
| Location | Sialkot |
| --- | --- |
| Construction Cost | PKR 180 Million |
| Client | SIAL |
| Consultant | Nespak |
| Contractor | Habib Construction Services Limited |
Vision Mission and Objectives
Mission Statement
"To build, own and operate a business oriented airport in a safe, efficient, and fiscally responsible manner and provide superior standards of customer service and excellence, while maintaining the highest levels of safety, convenience and efficiency".[5] business oriented airport in – safe, efficient
Vision Statement
Sialkot International Airport, a World class airport, to become world's number one for services to airlines and passengers; an international gateway; and airport of choice for customers.[6] Sialkot International Airport, a –   World class
Values Goals
To comply with federal, provincial, and local regulations, with special emphasis on safety, environmental protection, public service, community involvement  and equity.
To empower every member of the team to provide value to processes, products and services.
To embrace and nurture quality culture in order to achieve continuous improvement.
To maximize level of proficiency, performance and productivity of the organization.
To identify opportunities in augmenting fiscal options to enhance capital investment, operating and maintenance projects through public-private partnerships.
To develop and maintain a world class airport that will serve as a gateway to Pakistan and a hub of commercial activity for the local community.[7] provide value to processes – products & services
Airport Facilities
Restaurants
There is a restaurants for staff and for both international,domestic lounges for the convenience of travelers. At both international and domestic levels, these eating facilities serve tasteful hygiene food and beverages to passengers waiting for their flights[8] There is a restaurants for staff – and for both
Metro Radio Cab
There is Metro Radio Cab air-conditioned taxis available round-the-clock to take you to the city. These are located immediately outside the airport terminals. Along with a 24 hour taxi stand, rent a car provides an added facility to passengers to hire private transportation to facilitate their stay in the city   …
Porters
Porter Services are available for all Arriving/Departing Passengers on Payment. Porters can help with luggage from DROP-LANE to CHECK-IN counters and from BAGGAGE CLAIM to PICK-UP LANE. Porter Service Charges are as follows.
Rs. 100.00 for Domestic Passengers.
Rs. 200.00 for International Passengers.
Lost Baggage
As soon as you notice that your baggage are mishandled or has not arrived on the same flight.  Please contact Airline Baggage Lost and found services. A separate room is provided to placed lost & found baggage to airline as well as SIAL Facilitation.[9] As soon  you notice your baggage – mishandled
Cargo Terminal
SIAL CARGO is providing cargo and related services to its regular carriers, non-schedule carriers, and Cargo Freighters from SIALKOT. We intend to grow and expand our position in national and international Air Cargo Handling Services. A strong team of experts and the will to persistently rethink and renew our processes will support us to professionally fulfill cliental needs and offer innovative solutions in future.The SIAL cargo was first established in Sialkot in September, 2007 and has come of age in a short span of less than a year.In order to ensure higher safety standards, better quality, leading edge of technology and enhanced customer services, SIAL has now constructed state of the art facilities at Sialkot which are fully computerized including the PRAL system. Fully equipped with state of the art facilities and allied equipment the sections at these stations are managed by experienced team of highly trained professionals fully equipped to handle all kinds of exports and imports.The SIAL Cargo Complex is located at the Sialkot International Airport. It has the most modern and unique design to facilitate the working, storage and handling of cargo, ensuring its safety and custody. The Import works from 0900 to 1800 hrs, where as the export is 24/7.The import Section has a cold room with a capability of – 8 degrees temperature, area for Un-Accompanied Baggage, Immediate Clearance Goods, and Storage for Valuable items (Strong Room), Dangerous Goods Storage, Cargo Examination Section and Air Freight Unit. It also has offices for SIAL, Custom officials, and Airline staff.[10] The import Section has cold room – capability
Scanning Technology
A SMITH Hi-Scan 145180 and Hi-Scan 145180-2is scanning machine is installed in export section for scanning of cargo, through which all cargo is scanned. Cargo accepted for exporting is scanned under the strict supervision of SIAL CARGO Scanning staff, for safety and security purposes. Who were trained/Certified from ASF academy.[11] scanning machine is installed – export section
A Sbaer 5000 Explosive / Narcotics trace detector is used for security and safety of Cargo.
Custom Bonded Trucking
Sialkot International Airport Limited recognizes that domestic bonded road transport (Airport to Airport) is a vital step in integrated and thematic (supply chain) management and SIAL has experience and professional knowledge in road interconnectivity in Pakistan as well as deliver accurate and efficient trucking services in the most cost-effective manners.Bonded Trucking section help out to server export oriented goods from Sialkot Airport to Lahore/Islamabad/Peshawar for time efficient and cost saving purposes for exporters.Always try to find new ways to improve work services and intend to invite more and more product diversification for hiring SIAL services in handling of cargo.To achieve the objective Bonded Trucking Cargo remains open on round the clock base in alternate three shifts 08 hours tenure of duty.Our custom bonded services for the following cities from Sialkot Airport:-[12] Our custom bonded services for – many cities
Head Office
Sialkot International Airport Limited 6-KM from Sambrial, Sialkot, Pakistan
TEL: +92 – 52-6633001 – 4
FAX: +92 – 52 – 6633023 – 24
FLIGHT INQUIRY: +92 – 52-6633017 – 18
Registration Number: L 10674 of 2000-2001
National Tax Number: 1362828-3