Sialkot International Airport is located Fourteen km west of Sialkot in the district of Sialkot, Pakistan, and has the honor of becoming Pakistan's 1st privately run a public airport. It was founded by the Sialkot business community through their own dedication and efforts.
About 1,000,000 passengers from Sialkot and neighboring regions are supposed to have benefited from this airport every year. This article has all the information about the airport, including Sialkot International Airport History.
| Title | Description |
| --- | --- |
| Information | |
| Location: | Sambrial, Sialkot Punjab, Pakistan |
| Type: | Public |
| Local Language Name: | سیالکوٹ بین الاقوامی ہوائی اڈا |
| Coordinates : | 32°32′08″N 74°21′50″E |
| Website: | www.sial.com.pk |
| detail | |
| city: | Sialkot |
| Parking: | 10 wide-bodied aircraft at a time or 8 Airbus plus 4 ATR-42 aircraft at a time |
| Boarding bridges: | Two boarding bridges recently became operational |
| Operator: | Sialkot International Airport Limited |
| Serves: | Sialkot |
| Elevation AMSL: | 837 ft / 255 m |
| Passengers: | 666,979 (2015) |
| Situated: | 14 km (8.7 mi) west of Sialkot in the Sialkot District of Pakistan |
| Runway: | Having the longest runway in Pakistan |
| Extension project: | Started on October 2, 2010 |
| Completed: | November 30, 2011 |
| Extension Cost: | PKR 180 million |
| Client: | SIAL |
| Consultant: | Nespak |
| Contractor: | Habib Construction Services Limited |
| Commence: | Domestically and Internationally on November 30, 2007 |
| Services: | Fuel farm & Aircraft ground maintenance services & Catering & Other related services through concessions to private parties |
| | |
| | |
| Aprons: | For passenger and cargo, 95,000-sq meter area |

Sialkot International Airport History
Pakistan's Export and Trade Triangle includes Gujranwala, Gujrat, and Sialkot and is globally renowned for making and exporting sports items, surgical instruments, cutlery, leather garments, ceramics, gloves, and sportswear, etc. Air cargo was sent to Islamabad, Karachi & Lahore Airports through the Sambrial Dry Port.
It was also a challenging exercise, as it required additional time and cost besides other challenges faced by sellers and exporters.
The hesitation of Foreign Buyers
Moreover, foreign buyers were reluctant and hesitant to come to Sialkot, Gujrat, and Wazirabad because of security issues, and this situation was creating restlessness among exporters of that region. Especially due to such logistical challenges, the full export capability of all these cities was not realized.
Demand for Airport
As a result, exporters, businessmen, traders, and the general population, in particular, the overseas Pakistanis in this region, voiced the need for the construction of an airport in Gujranwala. In the past years, Sialkot exporters have shown strong spirit and will by founding the 'Sambrial Dry-Port Trust' on their own and successfully running it.
Sialkot International Airport Location
The airport is 14 km west of the Airport Road of Sialkot.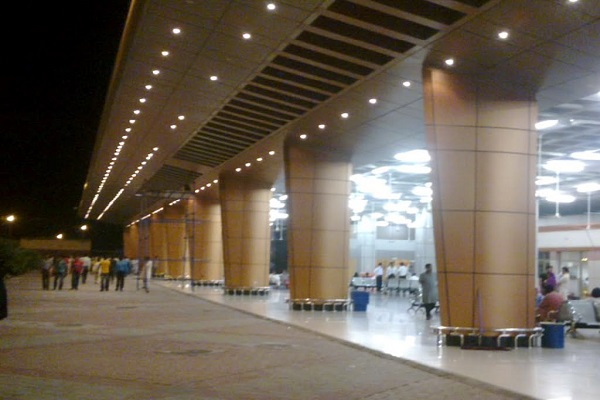 Efforts for Construction of Airport
Though accepting the difficult challenge again, they started the process, and the SCCI (Sialkot Chamber of Commerce & Industry) presented the Airport case with the Pakistan government, but due to financial reasons, the Government told its incapability to do so.
The highly motivated and dedicated Sialkot exporters, armed with powerful driving energy and persistence, eventually managed to succeed in their purpose. On 2nd Feb 2001, during the report presented by SCCI, the President graciously approved the establishment of an International Airport in Sialkot on a BOO (Build, Own, and Operate) basis.
Signed MOU
An MOU (Memorandum of Understanding) between the SCCI and the Defense Ministry was signed through the CAA (Civil Aviation Authority). The private sector promoters were asked to join this grand project Sialkot International Airport Ltd., a public company that was founded and registered. The total expense of this International Airport is approximately Rs. four billion.
Vision
To be the world's leading airport for passenger and airline services, an international entryway, and an airport of preference for travelers.
Mission
To construct, own and administer a business-oriented airport and provide excellent customer service while ensuring the highest degree of safety, comfort, and performance.
Values
To follow local, provincial, and federal regulations, especially focusing on public service, environmental protection, community equity, and safety.
To equip every team member to give value to services. Products and processes
To nurture and embrace the quality culture to get success.
Increase the level of productivity, performance, and proficiency of the organization.
To maintain and construct and world-class airport that would function as a gateway to the hub of commercial activity.
Management Team
Mian Naeem Javaid-Chairperson
Muhammad Afzal Shaheen-Vice-Chairperson
Amjad Ali-CEO
Jahangeer Khan-Company Secretary
Basheer Ahmad-Chief Financial Officer
Nisar Ahmed-Airport Manager
Engineer Ameer-Project Director
Syed Ali Amir-Cargo Terminal Manager
Amir Yaqoob-Manager Business Development
Saleem Akhtar-Manager IT
Syed Nadeem Abbas-Manager Internal Audit
Rizwan Saleem-Manager Electronics
Nadeem Shehzad-Manager HR
Miss Sidra-Aerodrome Safety Manager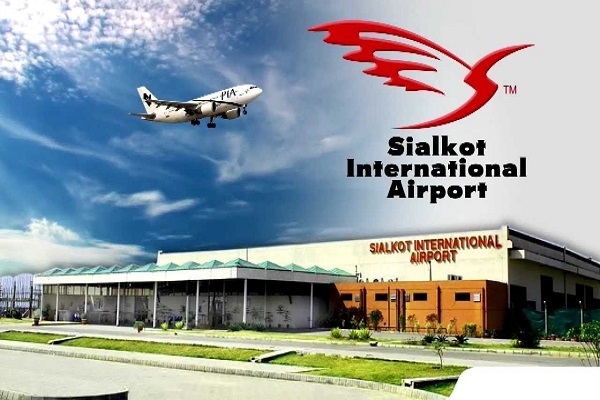 Sialkot International Airport Airlines
Emirates
AIRSIAL
Fly Dubai
Air Arabia
Qatar Airways
Salam Air
Gulf Air
Saudi Gulf
Traveling Information
Health
To inspect and maintain the sanitation inside and outside the airport.
Provision of First Aid (in case of a medical emergency or other disaster situation).
Medical Officer is available 24 hours a day to tackle all kinds of medical emergencies.
Visa and Passport
The holders of official or diplomatic passports of the states will remain excluded from entry visa requirements as stated under the visa-abolition agreement made with their governing bodies.
All foreign nationals coming to Pakistan require a valid passport, and Pakistan Missions overseas are allowed to issue a Visit Visa for a period of 3-months. All foreign nationals coming to Pakistan require a valid passport.
Liquor Import
The liquor import is not permitted; however, if anyone brings a quantity of liquor by mistake, she/he should handover it to the customs agent who shall take the alcohol against receipt, returning it to the visitor on her/his departure. Non-Muslim international tourists/visitors could purchase liquor from an approved supplier in Pakistan on the basis of a permit.
Custom Rules
Tax-Free Allowance for Personal Items
Personal Wearing Attires
Electric shavers and toilet requisites
Prizes, medals, and trophies awarded upon a traveler
Mobile phone, hairdryer, electric iron, and wristwatch
Fifty or two-hundred cigarettes
Laptop and computer in use
Free Trolleys
Trolleys are provided to all departing/arriving travelers to carry their luggage without any fare/charges.
Porter Service
Porter Services are provided to all Departing/Arriving travelers on fare. Porters can assist with baggage from baggage claim to pick-up and drop-lane to check-in. The charges for the Porter Service are: for domestic passengers, Rs. 100 and for International Passengers, Rs. 200.
Prayer Rooms
There is a private space inside the terminal building, where one might find peace. The Prayer Room is open round the clock and is located separately in the Domestic and International lounges for men and women with ablution place.  The area is beautifully decorated to provide the correct atmosphere for Muslim prayers.
Lost Baggage
As soon as one discovers that his/her luggage has been mishandled or that it hasn't reached on the same flight, he/she should call Airline Luggage Lost & find services. A specific space is given to place lost & found luggage to airlines.
Cargo and Logistic
SIAL Cargo
SIAL CARGO provides freight and relevant services and facilities to its regular airlines, non-scheduled airlines, and SIALKOT Cargo Freighters. They intend to expand and strengthen their presence in both domestic and foreign air cargo services.
A large team of professionals and a willingness to constantly rethink and refresh the procedures would help to meet customer demands in a professional manner and deliver creative solutions.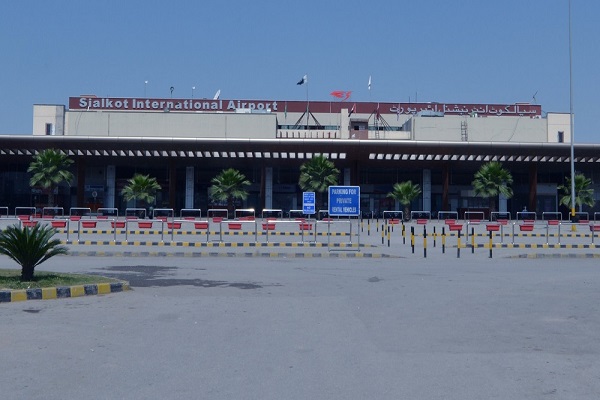 Scanning Technology
SMITH 'Hi-Scan 145180-2is' and 'Hi-Scan 145180′ scanning machines are placed in the export area for cargo scanning from which all freight is scanned. Cargo approved for export is inspected for security and safety purposes under the close and strict monitoring of airport CARGO Scanning Personnel.
Export Cargo Facilities
SIAL strives to provide airport users with "highest value" facilities in the most reliable and efficient manner. To maximize land use and permit economies of scale in support of airports and associated cargo services, a cargo terminal was designed to handle twenty-thousand tons of cargo each year.
Import Cargo Facilities
The Import Clearance Facility situated on the airport premises was built to centralize government agencies at a point, saving the freight community precious time and resources by offering a clearance facility at a one-step for documentation.
Sialkot International Airport Facilities
ATM Counters
Restaurants
Duty-Free Shops
Cars Availability on Rent
Banks
Access to Airport
Car
Passengers from Sialkot arrive at the airport by heading west on the Wazirabad-Sialkot Dual Carriageway, moving towards the right side at Sambrial-Airport Road, and going straight for Five kilometers to enter the airport.
Bus
Passengers could reach Sialkot airport from Sialkot-Sambrial through the bus. AC CNG buses are available from the airport to Gujranwala, Wazirabad, Sialkot, and Daska.
Train
Sambrial is the closest rail station, and that's Five kilometers from the airport. It is serviced by rickshaw and taxi.
Sialkot International Airport Contact Number
Flight Inquiry: 114
E-mail: [email protected]
Website: www.sial.com.pk
Social Media Handle