PIA is a Pakistan International Airline and flag carrier under the administration of the Aviation Secretary of Pakistan. It was established in the year of 1946. Jinnah International Airport in Karachi is considered to be the central hub of PIA, while the international airport of Islamabad and Jinnah International airport of Karachi operated as PIA's secondary hubs.
It provides travel services to fifty-six countries throughout the globe and serves as the country's biggest airline. Furthermore, it offers many services including cargo service, charter service, and Hajj and Umrah Services. The offices exist in almost every city of Pakistan.
Whereas the headquarters of the airline is located in Karachi and the passengers of the country prefer traveling in PIA due to its comfort and facilities. This article comprises all the information about the airline including PIA History.
| Title | Description |
| --- | --- |
| Details | |
| Type: | Airline |
| Founded: | 1946 |
| Headquarter: | Jinnah International Airport Karachi, Pakistan |
| Key People: | Irfan Elahi (Acting Chairman) Bernd Hildenbrand (Acting CEO/COO) |
| Revenue: | Rs. 69.24 billion PKR (Third Quarter Report 2015 |
| Destinations: | 50 |
| Chief Financial Officer: | Nayyar Hayat |
| Operating income: | Rs2.83 billion in the first quarter |
| Profit: | Rs. 20.55 billion PKR (Third Quarter Report 2015) |
| Total assets: | Rs 2 billion to Rs 126 billion in 2014 from Rs 124 billion in 2013 |
| Subsidiaries: | Roosevelt Hotel Skyrooms (Pvt) Limited PIA Investments Limited |

PIA History
Initial Start
The history traces back to the end of British Rule in 1945 when Quaid –e- Azam Mohammad Ali Jinnah requested Adamjee Haji Dawood and Mirza Ahmad Ispahani for financial help for the establishment of a flag carrier. As a result, this airline was established and registered under the name of Orient Airways in the year of 1946.
It is considered to be the 1st Muslim airline under the rule of the British. PIA got a flying license after buying three Douglas aircraft and started functioning in 1947 before the partition of the subcontinent.
Post Pakistan Independence
After the independence of Pakistan, it started in 1947 and initiated relief operations, and started traveling to East Pakistan, present Bangladesh. Furthermore, to provide traveling service to Dhaka, Dehli, and Culcutta, the airline gained 3 Convair aircraft. While in 1955 Orient Airlines was renamed as PIA under the authority of Pakistan Civil Aviation and bought 3 Lockheed aircraft costing twenty-five million Pakistani Rupees.
First International Service
It launched its first international traveling service from Karachi to London through Rome and Cairo in the year of 1955. Moreover, it gained Boeing aircraft from the USA in 1960 for commercial operations. In 1965, it provided transport and logistics services by the armed forces of Pakistan during the India Pakistan war.
Moreover, it introduced its Cargo facility in 1975 while the AirBus system was introduced in 1981. Furthermore, the service of Night – Coach was introduced in 1984 for domestic flight services.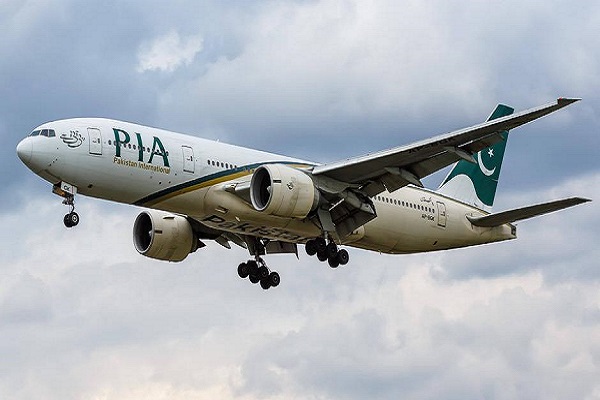 Downfall
The services were affected during the Afghan – USSR and Afghan – USA war as the flight services for Afghanistan were closed but it gained its progress in 2001 again. In the year of 2006, a PIA flight was crashed and a total of forty-five people were killed in the incident. Its operation was banned by European Commission which was resumed in 2007.
Due to the rise of oil prices, overstaff, mismanagement, and high competition of airline services, the revenue was decreased which resulted in the lease of Boeing Aircrafts in 2014. In 2020, it launched its first relief flights during Covid-19 from Lahore to Australia.
Structure
Pakistan International Airlines is structured under the authority of Aviation, Government of Pakistan, owned by eighty-six percent by government and fourteen percent by stakeholders. It is administered by the Board of Du=irectors and Chief Executive Officer. The board contains 4 committees and 9 independent members. Committees of the board are as follow:
Finance Committee
Adult Committee
Human Resources Committee
Brand and Advertising Committee
PIA Departments
There are many departments among which seven out of ten are situated in Islamabad, Capital of Pakistan, which are as follow:
Department of Procedure Bureau
Department of Human Resources
Department of Marketing
Department of Central Reservation Control
Department of Security and Vigilance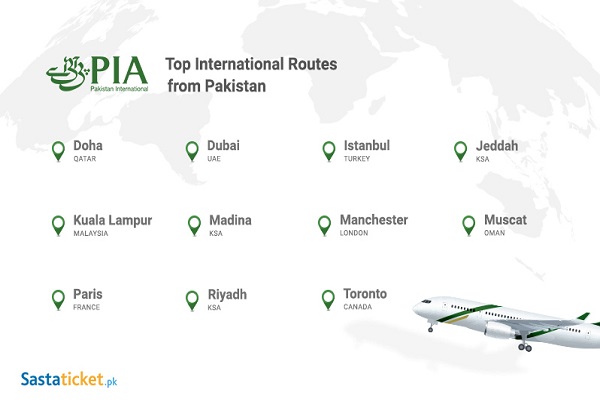 PIA Services
It provides many services of traveling including special, Charter and Hajj & Umrah services.
1- Special Services
The airline is used for almost all special services including the transport of Government officials as well as the president and prime minister of Pakistan. The governments of Nawaz Sharif and Bhutto used it widely for transportation services. Furthermore, the aircraft of Boeing 777 and Airbus were widely used for official visits.
2- Charter-Services
PIA uses ATR aircraft for charter flights for gas and oil companies to Sindh and other regions of the country. Peacekeeping troops of the United Nations are also transported through the PIA Charter service to the European and African countries including Afghanistan, Korea, Tajikistan, and many other countries.
3- Services of Hajj and Umrah
The transport service for Hajj and Umrah is always conducted by Pakistan International Airlines while using twenty-five aircrafts every year. Furthermore, about a hundred thousand pilgrims are transported to Saudi Arabia each year which is reduced to 70 thousand pilgrims by the government.
4- Cargo Service
It offers cargo services throughout the world to a number of destinations. The services of cargo include transportation of the following.
Meat
Textile
Laboratory Equipments
Vegetables
Postal Mails
Paper Products
PIA Facilities
It provides a number of facilities to its passengers which include the following.
Online ticketing Facility
Cabin (Economy, Business and Executive Economy Classes)
Catering Facility
Humsafar Magazine for Passengers
Internet Facility
Washroom Facility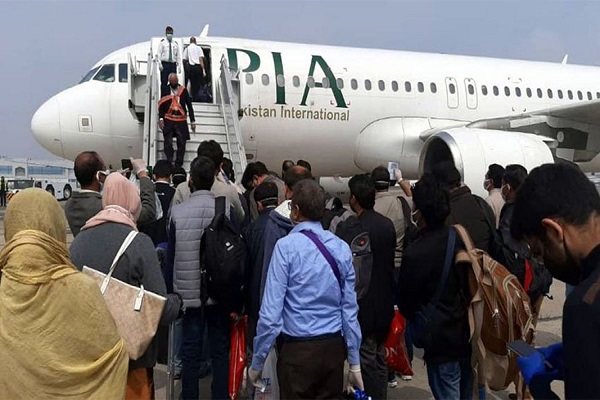 PIA Township
A residential gated community for the employees of Pakistan International Airlines has been established in 1960 which contained 1180 flats. The Township is located in Karachi, near Jinnah International Airport. Furthermore, a secondary school for the children of employees in 1980 provides quality education at a low cost.
PIA Incidents
PIA faced a lot of accidents starting from 1956 till 2020 which resulted in the death of thousands of passengers, officials, and employees. The dates of some of the major incidents are given below.
1965 – Boeing 705 was crashed at Cairo International Airport
1972 – Fokker F27 was crashed in Gilgit Baltistan
1979 – Boeing 707 was crashed after taking off from Jedda International Airport
1986 – Fokker F27 was crashed in Gilgit Baltistan
1992 – A300 Airbus was crashed in Katmandu.
2006 – Fokker F27 was crashed in Multan
2016 – ATR 42-500 was crashed in Chitral
2020 – Airbus A320 was in Malir, Karachi
PIA Booking
There are many offices of PIA which provide ticket booking facility to passengers, which include Islamabad, Peshawar, Rawalpindi, Karachi, Quetta, Sindh, Lahore, and Gilgit. It also offers an online ticketing facility to passengers globally through its website https://www.piac.com.pk or https://[email protected].
One can easily access these websites and can book tickets for any national or international destination by paying through their bank accounts online and can get a printable copy of their tickets.
Furthermore, due to the pandemic of COVID – 19, the prices of the tickets vary from time to time. Passengers can also get more information about PIA traveling through their website and helpline which are stated below.
Social Media Handle
https://www.facebook.com/PakistanIntAirlines/