Founder of Pakistan People's Party, Zulfikar Ali Bhutto was a prominent politician, who brought about numerous reforms and changes in the governance of Pakistan, thereby taking it from a presidentially-led country to a parliamentary-led one. It was under his democratic premiership that the country witnessed the declaration of Pakistan's third 1973 constitution. Furthermore, Bhutto led Pakistan's nuclear weapon programme, despite several shortcomings in the form of limited financial resources and strong western oppositions and is thus regarded as the Father of Nuclear Weapons Program in Pakistan. It was his strong personality clubbed with his aggressive nature and immense determination that made him the country's greatest civilian leader, with him dominating almost the entire decade of the 70s. Born in a political environment, he rose to prominence as a leader soon enough. He served two important positions for the country, that of the 4th President from 1971 until 1973 and 9th Prime Minister from 1973 to 1977. Till date, he remains one of most controversial leaders of the country. In the following lines, we have provided detailed information about the childhood, life, profile and political pursuits of Zulfikar Ali Bhutto[1]Pakistan People's Party Zulfikar Ali Bhutto
| Title | Description |
| --- | --- |
| Personal | |
| Name: | Zulfikar Ali Bhutto |
| In Urdu: | ذوالفقار علی بھٹو |
| Nick Name: | Zulfikar |
| Famous As: | Politician |
| Nationality: | British Indian (1928-1947) Pakistani (1947-1979) |
| Religion: | Islam |
| Political Party: | Pakistan People's Party |
| Relations: | Bhutto family, Zardari family |
| Alma mater : | University of California Christ Church, Oxford Inns of Court School of Law |
| Profession: | Lawyer, politician |
| 9th Prime Minister of Pakistan In office: | 14 August 1973 – 5 July 1977 |
| 9th Prime Minister of Pakistan President: | Fazal Ilahi Chaudhry |
| 9th Prime Minister of Pakistan Preceded by: | Nurul Amin |
| 9th Prime Minister of Pakistan Succeeded by: | Muhammad Khan Junejo |
| 4th President of Pakistan In office: | 20 December 1971 – 13 August 1973 |
| 4th President of PakistanVice President: | Nurul Amin |
| 4th President of Pakistan Preceded by: | Yahya Khan |
| 4th President of Pakistan Succeeded by: | Fazal Ilahi Chaudhry |
| Minister of Foreign Affairs In office: | 15 June 1963 – 31 August 1966 |
| Minister of Foreign Affairs President: | Ayub Khan |
| Minister of Foreign Affairs Preceded by: | Muhammad Ali Bogra |
| Minister of Foreign Affairs Succeeded by: | Sharifuddin Pirzada |
| Speaker of the National Assembly In office: | 14 April 1972 – 15 August 1972 |
| Speaker of the National Assembly Deputy: | Muhammad Hanif Khan |
| Speaker of the National Assembly Preceded by: | Abdul Jabbar Khan |
| Nuclear weapons program: | Zulfiqar Ali Bhutto was the founder of Pakistan's atomic bomb programme, and due to his administrative and aggressive leadership to lead this nuclear deterrence programme, Bhutto is often known as Father of Nuclear deterrence programme. Bhutto's interest in nuclear technology was said to have begun during his college years in the United States when Bhutto attended a course in political science, discussing political impact of U.S.'s first nuclear test, Trinity, on Global politics. While at Berkeley, Bhutto witnessed the public panic when the Soviet Union first exploded the bomb, codename First Lightning in 1949, prompting the U.S. government to famously launch the research on Hydrogen bombs. |
| Born | |
| Date: | 5 January 1928 |
| Place: | Larkana Pakistan |
| Family | |
| Spouse: | Nusrat Bhutto (m. 1951–1979), Shireen Amir Begum (m. 1943–1945) |
| Children: | Benazir, Murtaza, Sanam, Shahnawaz |
| Parents: | Shah Nawaz Bhutto, Khursheed Begum Bhutto |
| Died | |
| Date: | 4 April 1979 |
| Resting place: | Garhi Khuda Bakhsh, Sindh, Pakistan |
| Rest Place: | Rawalpindi |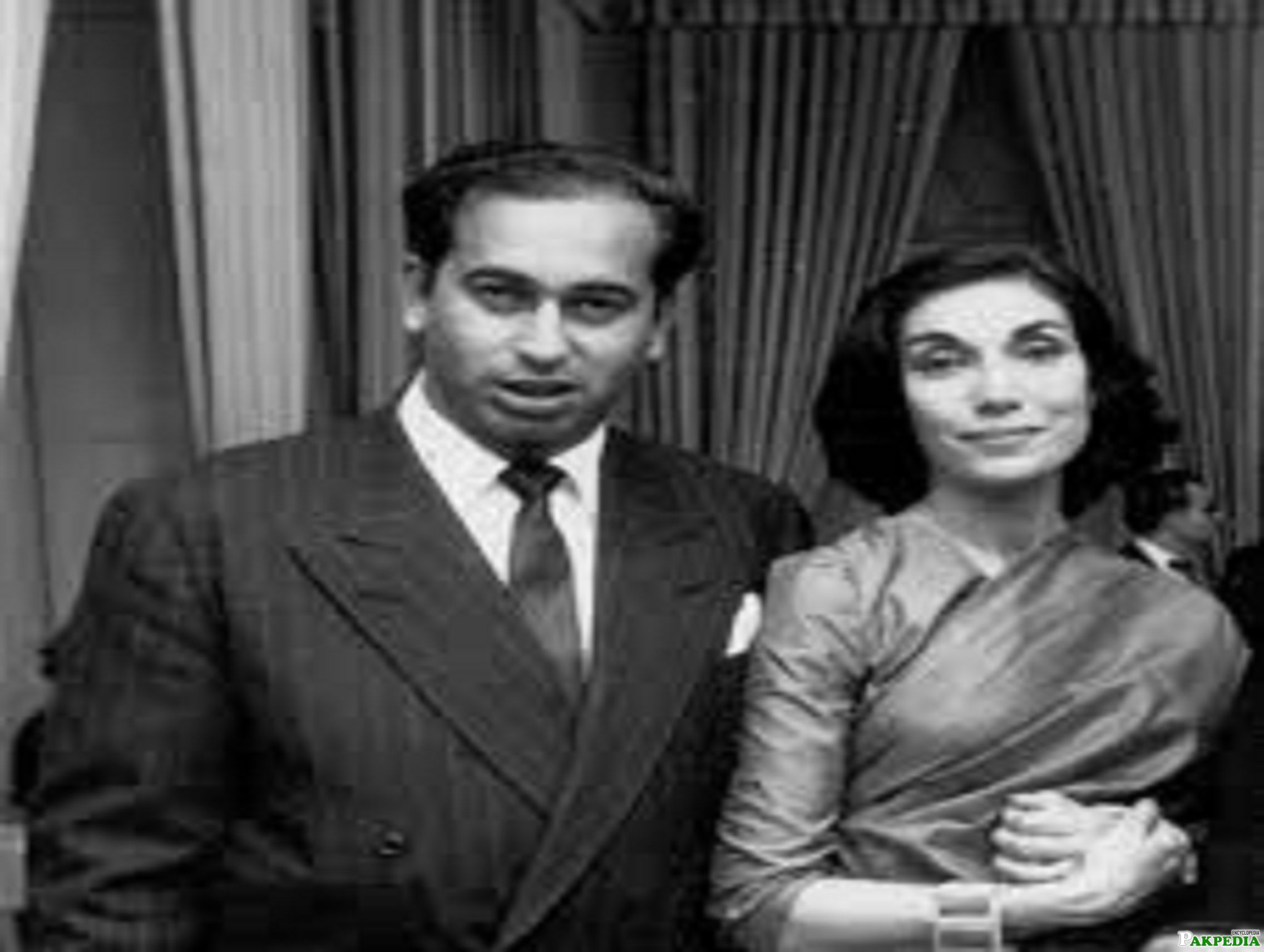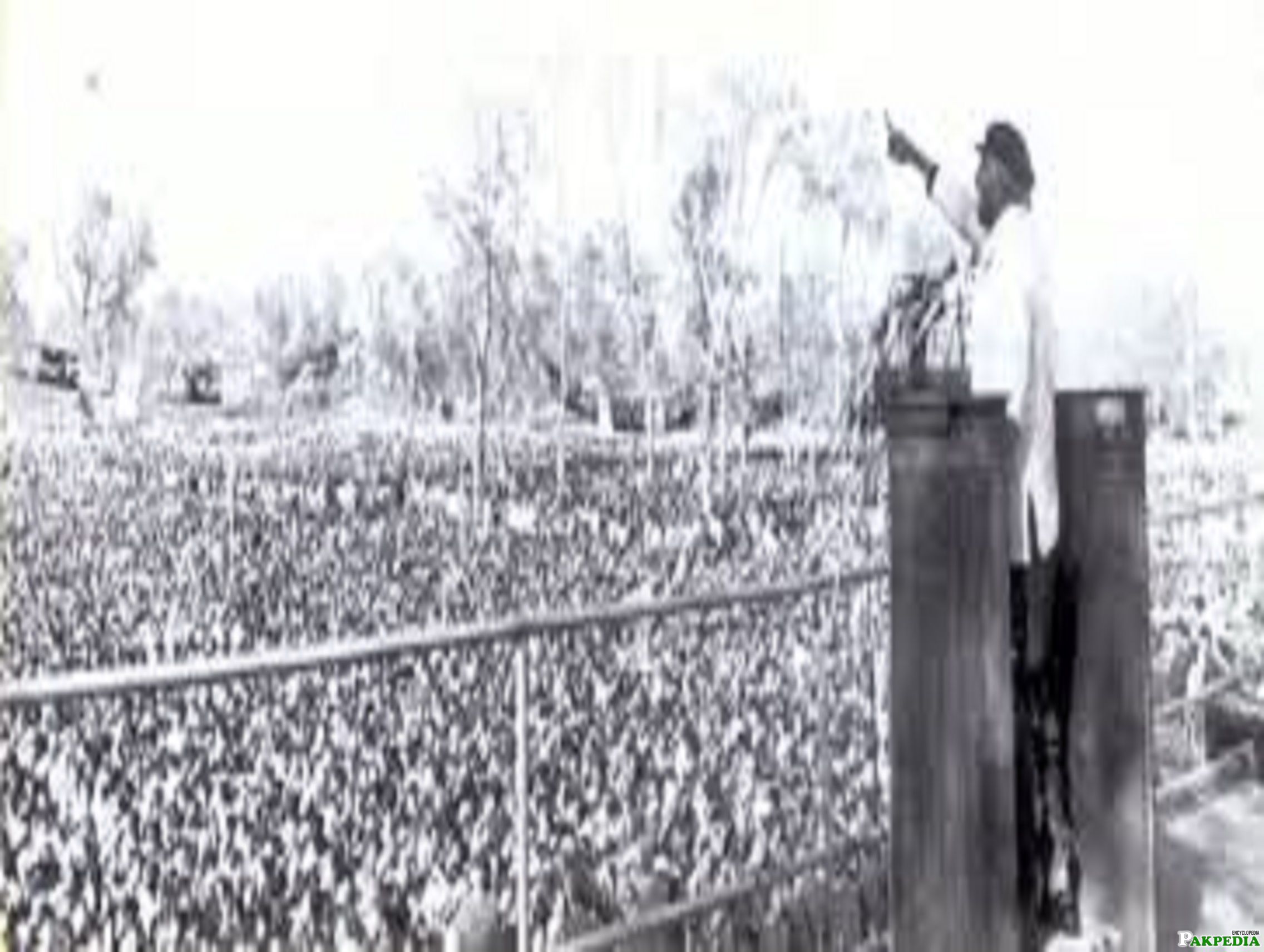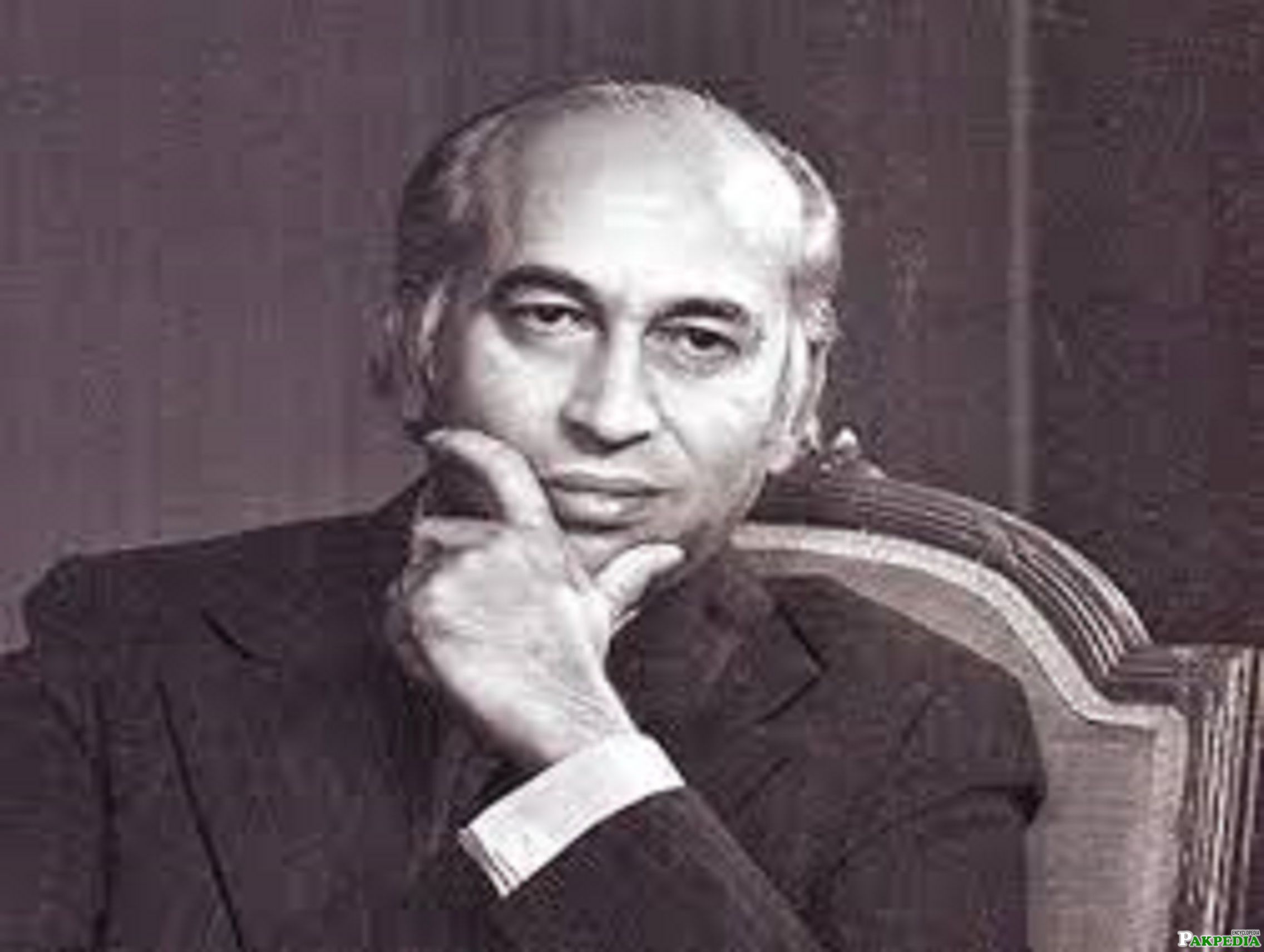 Synopsis
Zulfikar Ali Bhutto was born on January 5, 1928, in Larkana, Pakistan. In 1967, he founded the Pakistan People's Party. He was president of Pakistan 1971–1973 and prime minister 1973–1977. In 1971 he refused to give East Pakistan autonomy, resulting in a civil war and the forming of Bangladesh. On April 4, 1979, he was executed in Punjab, Pakistan, after being overthrown by General Zia's military coup.[2] Zulfiqar ali bhutto  Synopsis 
Creation of Pakistan Peoples Party
Zulfiqar Ali Bhutto soon decided to come back to Pakistan after some consultations with foreign friends. On 10th December 1967, the foundation of PPP was laid in a meeting at the house of one of the Bhutto's political friend Dr.Mubashar Hassan in Gulberg Lahore.
Bhutto was a feudal lord from background but his politics was centered on socialism. He based his party manifesto on four things:
Islam is our religion
Socialism is our economy
Democracy is our politics
Sovereignty belongs to people in this world
The model of this political party, more or less, matched the manifesto of Chinese Communist party.
Bhutto gave one slogan "Roti, Kapraa aur Makaan" that gained much support for PPP in elections 1970.[3]Creation of  Pakistan People's Party 
Political career
In 1957, Zulfikar Ali Bhutto became the youngest member of Pakistan's delegation to the United Nations. He addressed the United Nations Sixth Committee on Aggression on 25 October 1957 and led Pakistan's delegation to the first United Nations Conference on the Law of the Sea in 1958. That same year, Bhutto became the youngest Pakistan cabinet minister, on appointment to theMinistry of Water and Power by President Field Marshal Ayub Khan, who had seized power and declared martial law in a successful coup d'état. In 1960, he was promoted to Minister of theMinistry of Commerce, the Ministry of Communications, and the Ministry of Industry. Bhutto became a close and trusted political advisor to Field Marshal Ayub Khan, rising in influence and power despite his youth and relative inexperience in politics. Bhutto aided Ayub Khan in negotiating the Indus Water Treaty in India in 1960. In 1961, Bhutto negotiated an oil exploration agreement with the Soviet Union, which agreed to provide economic and technical aid to Pakistan.[4] Political career of zulfiqar ali bhutto
President of Pakistan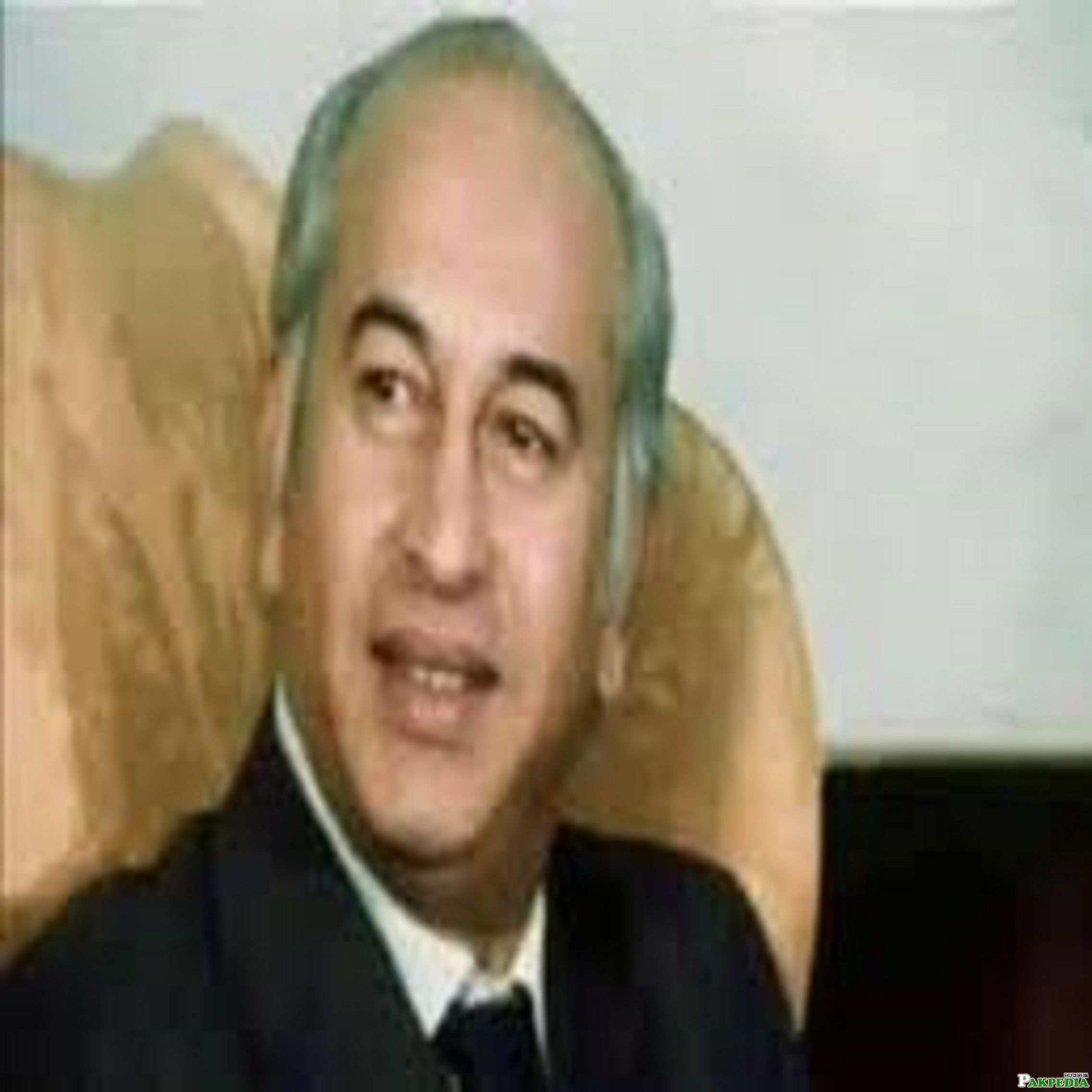 A Pakistan International Airlines flight was sent to fetch Bhutto from New York, who at that time was presenting Pakistan's case before the United Nations Security Council on the East Pakistan Crises. Bhutto returned home on 18 December 1971. On 20 December, he was taken to the President House in Rawalpindi where he took over two positions from Yahya Khan, one as President and the other as first civilian Chief Martial Law Administrator, thus he was the first civilian Chief Martial Law Administrator of the dismembered Pakistan.
The new President inherited a disheartened war-weary nation. In this dark hour, he addressed the nation and promised to fight back. Bhutto's intentions to restore national confidence were in several shapes. He spoke about democracy, a new Constitution, and a modified federal and parliamentary system. He reached out to opposition leaders Abdul Wali Khan and Mufti Mahmud, signing an agreement regarding lifting the emergency and allowing opposition governments to be formed. He took steps to stabilise the situation by successfully negotiating the return of the 93,000 prisoners of war and a peaceful settlement with India. He took steps to ameliorate poverty and to revitalise the economy, industry and agriculture.
He gave the third Constitution to the country and established civilian authority over the armed forces in the political setup. In early 1972, Bhutto nationalised ten categories of major industries and withdrew Pakistan from the Commonwealth of Nations and S.E.A.T.O. On 1 March, he introduced extensive land reforms. On 2 July 1972, he signed the Simla Agreement with India outmanoeuvring the Indian Delegation and secured the exchange of the occupied territories and release of Prisoners of War.
After the 1973 Constitution was promulgated, Pakistan changed from a presidential system to a parliamentary one. Bhutto was duly elected by the House to be the Prime Minister, and he was sworn in on 14 August 1973.[5]President of  Pakistan Zulfiqar ali bhutto
Bhuttos reforms
New health policy
The doctors had been instructed that they would write a prescription instead of giving medicine and receive their fee.
Names and prices of all the medicines had been changed.
4-10 medical colleges were established in the country and the quantity of students was increased.
New educational reforms
All the colleges and schools were taken under government's custody from 1st September and 1st October, consecutively.
University grants commission was established which provided fund to the universities.
Education became free up to metric, from October, 1974.
National book foundation was established to unify the course in provinces
Industrial reforms
On 2 Jan, 1972 all the industries were took under government's custody by an ordinance.
The industries which were established by foreign investment were not took under government custody.
There was a great loss to the national industry by this action.
Banking and bema policy
On 9 March, 1972 all the bema companies were taken under government's custody by an ordinance.
Estate Life Insurance Corporation was established to improve the economic condition in Pakistan
All the private banks were taken under government's custody.
Agriculture reforms
150-500 acre canal land and 300-1000 acre rainy land, was fixed for ownership limit.
Extra lands were divided in cultivators free of cast, by withdrawer from the landlords.
The government had divided official land in cultivators.
The land was confiscated whose land was on the defense line.
100 acre land limit was fixed, which was given after the retirement.
The cultivators had given the right to sale their land.
It decided the duty of owner to provide seeds.
Practically, these reforms were neither applicable for the Bhutto family nor for the feudal lords of Sindh.
Labor reforms
Trade union was established.
Bonus was given to the workers.
Monthly salary was fixed.
Social security was given.
Residential flats were given.
Funds were announced for workers.
500 rupees were fixed for the burial of worker.
Devalue of currency
The foreign investment was increased in Bhutto regime.
As a result, inflation rate also increased in the country.[6] Bhutto reforms new health policy and  industrial and educational reforms 
Betrayal And Assassination
General Elections were held on March 7, 1977. PPP emerged as the victorious Party. At the behest of General Zia-Ul-Haq, PNA accused government of so-called rigging in the elections. Negotiations with PNA resumed. An Agreement was reached on June 8, 1977 for holding Fresh Elections on October 8, 1977.
On July 5, 1977 COAS General Ziaul Haq imposed Martial Law unilaterally. The National Assembly, the Senate and Provincial Assemblies were dissolved and Constitution held in abeyance.
Zia's Military Junta established a dummy government of PNA with CMLA as President. Zulfikar Ali Bhutto arrested on July, 5, 1977 and released on July 28, 1977.
Re-arrested on September 3, 1977 from Clifton, Karachi, on the charges of a fabricated murder case; again released on September 13, 1977 against Lahore High Court bail. Re-arrested at Larkana on September 17, 1977.
On September, 1977 the Chief Justice of Pakistan, Mr. Justice Yakub Ali Khan was suspended from service because he had admitted Mrs. Nusrat Bhuto's Petition challenging imposition of martial law.
On October 9, 1977, Maulvi Mushtaq, Chief Justice, Lahore High Court, cancelled the bail already granted to Zulfikar Ali Bhutto by LHC.
Mercilessly and despicably murdered on April 4, 1979. 
The legacy of Zulfiqar Ali Bhutto

 
As a member of Pakistan's delegation to the United Nation in 1957, at the age of 29 years, Zulfikar Ali Bhutto addressed the Sixth Conference of the United Nations on "The Definition of Aggression", a speech which is still regarded as one of the best on the subject. As a participant at the International Conference in Geneva, Switzerland in March, 1958 Zulfikar Ali Bhutto spoke for mankind with the bold declaration: "The High Seas are free to all." He was the youngest Federal Cabinet member in the history of Pakistan, at the age of 30. Zulfikar Ali Bhutto held the key portfolios of Minister of Commerce, Minister of Information, Minister of National Reconstruction, Minister of Fuel, Power and Natural Resources before becoming the Foreign Minister. As Minister of Fuel, Power and Natural Resources, he signed a path breaking agreement for exploration of oil and gas with Russia in 1960. He set up a Gas and Mineral Development Corporation in 1961 and Pakistan's first refinery in 1962 at Karachi.
Bhutto emerged on the world stage
Bhutto emerged on the world stage as Leader of the Pakistan Delegation to the UN in 1959. To muster the support for Kashmir issue he successfully toured China, Britain, Egypt and Ireland. He also held a series of talks with the Indian Foreign Minister Swaran Singh. He was appointed Foreign Minister in 1963 and remained at that post until his resignation in June 1966. Bhutto made indelible imprints on world community by his inimitable oratorical skills in United Nation's General Assembly and the Security Council. He had the vision to build a strategic relationship with China at a time when it was isolated. Zulfikar Ali Bhutto believed in an independent Foreign Policy which had hitherto been the hand maiden of the Western Powers. During his tenure as Foreign Minister, Pakistan and Iran cemented a special relationship. His opposition to the Tashkent accord between India and Pakistan led to his resignation from the government. Zulfikar Ali Bhutto believed in a Foreign Policy of bilateralism in which no state would be entitled to interfere in Pakistan's relations with other states.
During his student days Zulfikar Ali Bhutto
During his student days, Zulfikar Ali Bhutto had acquired an anti-Imperialist view of the world. He was a firm believer in economic self reliance and political independence themes he expounded in his famous book "Myth of Independence". Bhutto's finest hour came in the reconstruction of Pakistan after the traumatic dismemberment of Pakistan upon the fall of Dhaka on 16th December, 1971. He successfully put the derailed nation back on the track by rebuilding national institutions. His lasting achievement was the unanimous adoption of the Constitution in 1973. He established the Pakistan Steel Mills, Heavy Mechanical Complex Taxila, Port Qasim Authority, Quaid-e-Azam University, Allama Iqbal Open University, Karachi Nuclear Power Plant; thus, fortifying the prosperity, integrity and security of Pakistan. Using his experience as Foreign Minister, Bhutto cemented Pakistan's relation with Afro-Asian and Islamic countries and by 1976 had emerged as the Leader of the Third World. As an author, he brilliantly advocated the cause of hewers of wood and drawers of water of the Third World.
Bhutto was the founder of Pakistans Nuclear Program
Bhutto was the founder of Pakistan's Nuclear Program. Under his guidance and leadership as Minister for Fuel, Power and Natural Resources, President and Prime Minister, Pakistan developed into the unique Muslim State with a nuclear capability for which he paid with his life. In his book "If I am Assassinated" written from the Death Cell, Zulfikar Ali Bhutto revealed how Kissinger had said "We will make an example of you".
The Pakistan People's Party won the elections held in 1977 with a large majority; but the conspirators soon joined hands with Ziaul Haq at the behest of foreign powers who feared Bhutto's capacity of uniting the Third World countries and sought to punish him for developing Pakistan's nuclear capacity, and imposed Martial Law upon the country on 5th July, 1977. Soon afterwards, Bhutto was arrested and on 18th March, 1978, was sentenced to death in a politically motivated murder trial. The majority of original Court was for acquittal but was whittled down to a 4-3 verdict by the retirement of two judges. Despite appeals of clemency from several world leaders, Bhutto was executed on 4th April, 1979. The great leader of downtrodden masses and a visionary of unparalleled charisma will forever be remembered by his countrymen as Quaid-e-Awam (Leader of the Masses).[7] Legacy of Zulfiqar ali bhutto
Foreign policy

 
After assuming power, Bhutto sought to diversify Pakistan's relations away from the United States and, soon Pakistan left CENTO and SEATO. Bhutto developed close and strengthened the Arab relations, and Sino-Pak relations. Bhutto in believed an independent Foreign Policy which had hitherto been the hand maiden of the Western Power, particularly independent from the United States' sphere of influence. With Bhutto as Foreign minister, and Prime minister, Pakistan and Iran had cemented a special relationship, as Iran had provided military assistance to Pakistan.The Sino-Pak relations were immensely improved, and Pakistan, under Bhutto, had built a strategic relationship with People's Republic of China, when PRC was isolated. In 1974, Bhutto hosted the second Organisation of the Islamic Conference (OIC) in 1974 where he delegated and invited leaders from the Muslim world to Lahore, Punjab Province of Pakistan. Bhutto was a strong advocate of Afro-Asian Solidarity and had cemented ties with Afro-Asian and Islamic countries and by 1976 had emerged as the Leader of the Third World Bhutto sought a peace agreement—Simla Agreement—with Indira Gandhi, Premier of India, and brought back 93,000 P.O.Ws to Pakistan and secured 5,000 sq mi (13,000 km2) held by India with out compromising on Kashmir stance or recognising Bangladesh which were the key Indian demands.
Dismembered the country
Negotiating with a power that has dismembered the country was an open-challenge to Bhutto who smoothly convinced India to return the territory and the POWs back to Pakistan.Before this conference, Bhutto and his colleagues did the comprehensive homework as Bhutto had realised that Arabs have still not succeeded in regaining territory lost in the 1967 war with Israel. Therefore, capturing of land does not cry out for international attention the same way as the prisoners do. According to Benazir Bhutto, Bhutto demanded the control of the territory in the first stage of the Agreement which surprised and shocked the Indian delegation. In Bhutto's point of view, the POW problem was more of a humanitarian problem that could be tackled at any time, but the territorial problem was something that could be integrated in India as time elapses. Indian Premier Gandhi was stunned and astonished at Bhutto's demand and reacted immediately by refusing Bhutto's demand. However, Bhutto calmed her and negotiated with economic packages dealt with Gandhi. Bhutto's knowledge and his intellectualism impressed Gandhi personally that Gandhi agreed to give the territory back to Bhutto in a first stage of the agreement. Signing of this agreement with Pakistan paying small price is still considered Bhutto's one of the huge diplomatic success.
Conclusion
Bhutto got important place in the history of Pakistan. His party lost a charismatic leader but still, Bhutto lies in the heart of every political worker of PPP. He had given two important things to Pakistan,  
The start nuclear program  
The unanimously approved constitution of Pakistan which is the salient foundation of constitution of Pakistan.
Even after the execution of Bhutto. PPP still existed under his wife and then was led by his daughter Benazir Bhutto. Today, PPP is as an important political party in Pakistan's politics. PPP has been able to participate 3 times in Pakistani government and is currently the most influential political party with government in federation and elected representatives in almost all the provincesIn the end it can be asserted that the blood of Bhutto family played a major role in giving life to PPP. Bhutto also gave voice to the poor people of Pakistan and helped them to raise their voice in front of feudal Lords. But remember, Bhutto itself was a feudal Lord of Larkana.[8] Zulfiqar ali bhutto conclusion