Asif Ali Zardari is considered one of the sharpest politicians in the history of Pakistan. He has served as 11th President of the country Pakistan and the first president born after partition. During the worst political and economic crises in the country, he successfully managed to complete his tenure as a president from 2008 to 2013. He is now a member of the National Assembly. Zardari got married to late Benazir Bhutto. This article has all the information about Zardari, including Asif Ali Zardari Biography and Asif Ali Zardari Family.
| Title | Description |
| --- | --- |
| Personal | |
| Name: | Asif Ali Zardari |
| In Urdu: | آصف علی زرداری |
| Famous As: | Politician |
| Nationality: | Pakistani |
| Residence: | Karachi |
| Education: | Bachelors |
| Alma Mater: | London School of Business |
| Religion: | Islam |
| Profession: | Politician and Businessman |
| Website: | https://twitter.com/aalizardari |
| Born | |
| Date: | 26th July 1955 |
| Place: | Karachi |
| Family | |
| Spouse: | Benazir Bhutto |
| Children: | Bilawal Bhutto,Bakhtawar Butto and Asifa Bhutto |
| Parents: | Hakim Ali Zardari and Ara Zardari |
| Siblings : | Faryal Talpur, Azra Fazal Pechuho and Fouzia Zardari |
| Relatives: | Zulfiqar Ali Bhutto |
| Career | |
| Political Party: | Pakistan People's Party |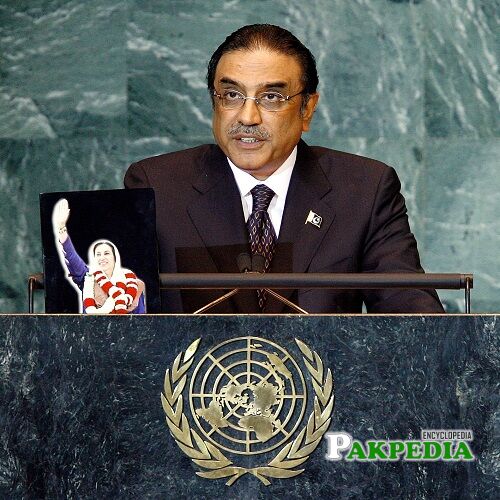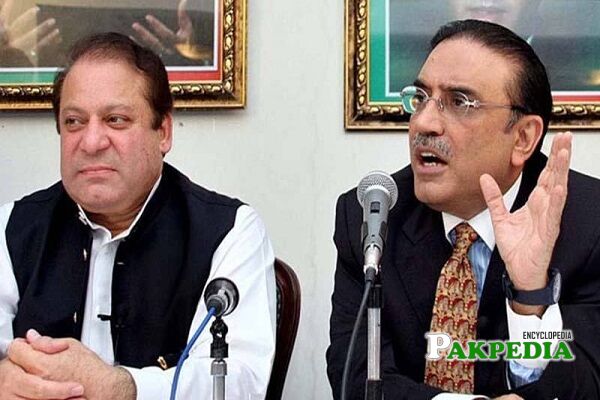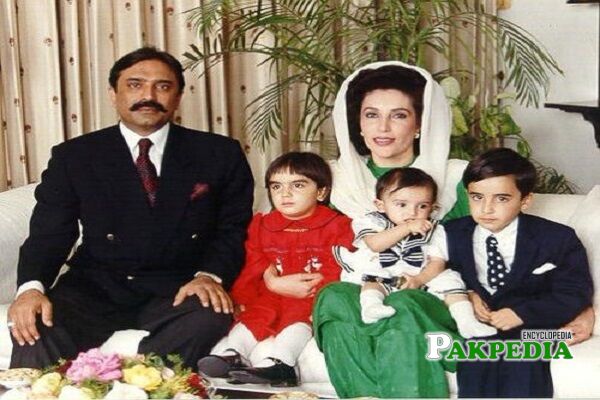 Asif Ali Zardari Biography
Zardari spent his early life as a playboy and enjoyed Polo leading a Polo team Zardari Four. He also played boxing. The unsuccessful start to his political career got a sudden rise after he married Benazir Bhutto. It gave him rise in politics on the national level. His relation with Benazir also made him suffer a lot by the opposition of the Benazir government. He was often put behind bars in politically driven cases of corruption. 
Not only was he jailed but also tortured physically and mentally that created immense effects on his health. He was also arrested in the case of Murtaza Bhutto, Benazir's brother. Though he spent many years in jail but the allegations on him never proved. After the assassination of Benazir in 2007, he became the co-chairman of the party and later elected as the president of Pakistan. Zardari was one of an important ally of America in the War on Terror.
Zardari date of Birth
He was born on 26th July 1955 in Karachi, Sindh.
Asif Ali Zardari Family
Zardari was born to Bilquis Sultan and Hakim Ali Zardari in the Sindhi-Baloch Zardari Tribe. In 1988, he married Benazir Bhutto, who was two times elected as Prime Minister of Pakistan. Benazir was assassinated in Rawalpindi n 2007. His sisters are Faryal Talpur and Azra Paleecho. His son Bilawal Bhutto Zardari is the Chairman of Pakistan People's party, while his daughters Asifa Bhutto and Bakhtawar Bhutto are not part of politics. His son Bilawal is also a member of the National Assembly. His father in law Zulfiqar Ali Bhutto also served as the Prime Minister of Pakistan.
Education of Zardari
He did his schooling from Karachi Grammar School and high education from St Patrick's High School Karachi. Later he did graduation from Cadet College. According to his official biography, he attended the London School of Business studies for a bachelor's degree.
Political Career
Initial Career
Zardari started his political career with an unsuccessful election of District Council in 1983 in Nawab Shah, but he was lucky that his marriage with Benazir proved lucky for him that introduced him on the National level but he agreed on the condition with his wife that he would not enter politics. Despite the agreement, he was a key figure in the party and the government. In the 1993 government of Benazir, he was elected to the National Assembly and became the Federal Minister of Investment and Chairperson of the Pakistan Environmental Protection Council. 
He also served as the chief of the Intelligence Bureau and the Head of FIA. He was accused of corruption scandals that severely damaged the reputation of Benazir's government, but the accusation never proved. In the second government of Benazir, he was elected as the Member of Senate. He was jailed in several cases and was flown to Islamabad in tight security to take the oath.
As a Chairman
In 2007, Benazir was assassinated and Zardari became the co-chairman of the party. He could not contest the election as he had not submitted the papers when Benazir was alive. It can also be said that that he had no political ambitions before his wife's assassination. But after that, he had the whole responsibility of the party. After winning the elections and getting majority seats he formed a government in alliance with Muslim League Nawaz and later with other parties. 
He had the opportunity to contest a by-election and become the prime minister but soon, he announced Yousaf Raza Gilani, the Prime Minister. Musharraf was still the president who then resigned to avoid impeachment. Few weeks after Musharraf's resignation, Zardari was elected as the 11th President of Pakistan on 6th September 2008. He received 481 votes out of 702
As a President
His competence as a president of the country was questioned by everyone but he was smart enough to tackle some of the serious issues that would have taken the country down. Soon after his election, he met with the Afghan President. The cooperation against the insurgencies in Afghanistan and the tribal areas was agreed upon. His first speech in the parliament was dominated by Marriot bomb Blast.
Policies
The policies that he initiated were not expected from him as he had never administered the country before. He also had no experience as he was kept away from politics by his wife but he showed maturity and dexterously handle the issues. One of the main challenges that he faced was economic. The country was going to default and had no source to pay the payments. He soon visited different countries for assistance to ease the economic pressure.
Foreign Policy
As he had never administered the country, he had no relations that he could use. He asked China for aid but was refused. China only agreed to provide some assistance by business investment in the future which was not the immediate remedy. He also asked Saudi Arab but was not trusted. It was later revealed in the Wiki leaks that Saudi trusted Nawaz Sharif and not Zardari. United Kingdom and UAE were also approached but in vain. 
Later he asked IMF for a bailout package tom increase the foreign reserves and received a loan of 11.3 billion. The loan was given on the condition of economic reforms in the country. After a few years, he found another challenge when MQM, its ally pulled off from the government but their economic proposals were later accepted. For economic stability, he also Minimize the cabinet from 60 to 22 ministers.
Though Zardari wished friendly relations with India but was not maintained due to the Mumbai attacks. Soon Pakistan was accused of doing the terrorist attack in India. In response, his government showed a responsible attitude to the situation and took action against the militant group, Lashkar-e Taiba which was alleged for the attack. Due to his policies about the banned organizations, his government was cleared by India of not having any direct collaboration in the attack and demanded 20 Pakistanis who were alleged. 
Aid
After one year of the attack, he did meeting with the Indian Prime Minister Manmohan Singh in the Shangai Cooperation Organization in Russia. He also improved relations with America and Afghanistan after he promised strong and cooperative diplomatic relations. It helped to get a civilian aid of 7.5 billion from America. Obama also trusted him and started tri-nation dialogue with Pakistan and Afghanistan in Washington. England also promised an aid of one billion and later90 million developmental aid was granted by the European Union.
2010 Flood
The flood started in 2010 and affected 20 million people. It was one of the nation's worst crises. Soon he visited the affected areas and canceled the 14 august celebrations and visited Noushehra which was one of the most affected areas. Due to the International Aid and policies of the government, the displaced persons were given financial aid and other facilities.
Swat Operation
In 2009, the Zardari government signed an agreement that made Sharia a part of Law in Swat. Though he hesitated to sign the agreement as he strongly opposed the extremists in any form but the pressure from the parliament forced him to have a deal with the militants.  The deal later collapsed as the militants did not follow the agreement and resulted in a military operation by Pak Army.
CPEC
During his government, agreement and memoranda of understanding were signed to ensure the long term plane of CPEC. The two governments also signed agreements of cooperation in several areas. The agreements were signed at Aiwan-e-Sadar
Reduction of Power
In 2010, he fulfilled his promise of reducing the power of the president as the constitution had full power to the Prime Minister. After the 18th amendment, the president became just the head of the state. He could no longer dissolve the assembly or appoint the military chiefs. He also strengthened the judiciary by given them more power and reduced the chances of any clash among the institutions. His term ended in 2013. He was the first to complete his tenure.
Asif Zardari Imprisonment
After the dismissal of each government of Benazir, Zardari was accused of corruption charges. He was also accused of misusing the power in the government of Benazir. For the first time, he was arrested in a case of kidnapping a British businessman. He was also accused of killing the opposition members, bank fraud, and many more cases that never proved. In the second government of Benazir, he along with his wife was accused of the persecution of Benazir's brother Murtaza Bhutto who was killed in Karachi by police. 
Based on such allegations, the government was dismissed by President Laghari and Zardari was arrested in Lahore. He was also convicted in many other corruption charges wand was imprisoned for five years. In 2004, he was arrested and released again and again due to the failure of reconciliation with Musharraf. In the same year, he left Pakistan and went to Dubai.
2018 General election
Zardari was elected to National Assembly in 2018 after 24 years. He had already announced that he and his son Bilawal will participate in the election. He was elected from NA-213. He contested against Sardar Sher Muhammad of Grand Democratic Alliance and received 101362 votes while his opponent got only 54344 votes.
Money Laundering Case
Currently, he and his sister Faryal are accused of Money Laundering case. In June, 2019, he was arrested after his bail was rejected by Islamabad Court.  After a few months of arrest, he was given bail in December 2019 on medical grounds in two cases against him; one Money Laundering and another Park Lane Case.
Social Media Accounts
His social media accounts include