Gujrat is an ancient district of Pakistan located in between two famous rivers, i.e., River Jehlum and River Chenab . Because of it's proximity with the rivers the land is good for cultivation with rice and sugar cane as main crops. It is bounded on the North-East by Jammu and Kashmir , on the North-West by the River Jhelum which separates it from Jhelum district, on the East and South-East by the river Chenab, separating it from the districts of Gujranwala and Sialkot , and on the West by Mandi Bahauddin district. District Gujrat is spread over an area of 3,192 square kilometres and comprises of the three tehsils of: Gujrat Kharian Sarai Alamgir Area and Population .According to 1998 Population and Housing Census, total population of Gujrat district is 20,48,000 persons out of which 10,26,000 are males and 10,22,000 are females. Density of population in the district is 642 persons per square Kilometre. Percentage break-up of the Rural and Urban population is 72.3% and 27.7% respectively. [1] Gujrat – dailydak
| Title | Description |
| --- | --- |
| Information | |
| Location: | Pakistan |
| In Urdu : | گُجرات‎ |
| City Council: | Government of Punjab |
| Type: | Capital of Gujrat District |
| Local Language Name: | Punjabi |
| Province: | Punjab |
| Coordinates : | 32°34'25.67″N 74°4'44.18″E |
| District: | Gujrat District |
| Region: | Punjab |
| Seal: | |
| Language | |
| Official Language: | Urdu |
| Native Language: | Punjabi |
| Other Languages: | Urdu,Punjabi,English |
| Government | |
| Government Type: | Government of Punjab |
| District Administrator: | Rai Ijaz Ahmed |
| District Coordination Officer: | Liaquat Chattha |
| Area | |
| Total Area: | 3,192 km2 (1,232 sq m |
| Population | |
| Density: | 640/km2 (1,700/sq mi) |
| Total Population: | 2,048,008 (1998) |
| Time zone | |
| Time zone: | PST (UTC+5) |
| Codes | |
| Postal code: | 50700 |
| Dialing code: | 053 |
| Vehicle registration: | Three letters beginning with G and random four numbers |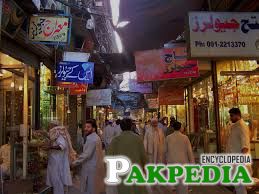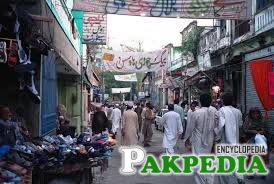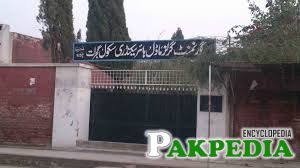 About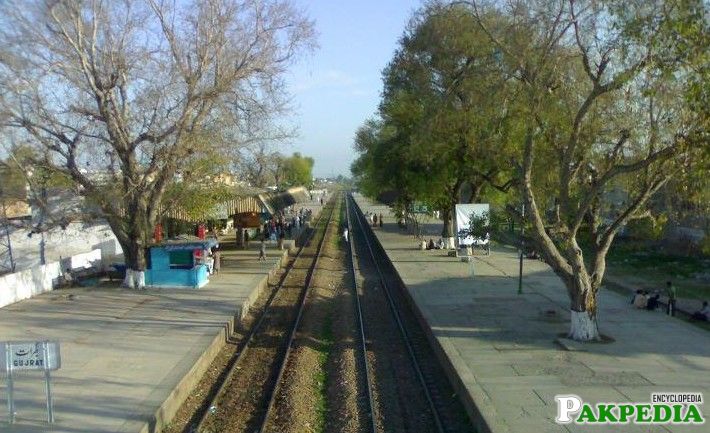 Location
Gujrat is situated on the bank of Chenab River, situated about 120 KM north of Lahore. Prominent nearby locations include Jhelum,Gujranwala, Mandi Bahauddin, Sialkot and Bhimber-Azad Kashmir. The city is surrounded by many villages which supply a significant labor to the local market.[2] Location –  Location 
History of Gujrat according to Hindu Myths
Though the name of this city was different in beginning but there was a city present in this place in the times when Hindus were the ruler of this area. And the city was a part of Hindustan of that time. The history of Gujrat is being mainly with old Hindu civilization and the legends of the Hindu mythology. Raja Jay Dharat was the first who ruled Gujrat. After his death there were several Rajas who ruled Gujrat. One of them was Raja Bachan Lal who built   "Ude-Nagri" (which means the city of greeneries and pleasant smells). He married with Rani Gojran. After his death, Rani Gojran becomes the ruler and she renamed this place as "Gujar Nagar" which by the time has now become the Gujrat.
Alexander the Great Regime
Whatever, is said above are all the Hindu stories. The main history of Gujrat originates from the days of Alexander the Great. Alexander capturing after Egypt, Palestine, Syria, and Babel, reached the territories of south west regions of the India (Now Pakistan Areas) and conquered these areas. He crossed the Jhelum River in the night and defeated Raja Porus in a historical battle. After Alexander's death several others foreign adventurer ruled have also attacked and ruled over Gujrat. After some times Hindus again recaptured Gujrat.[3] Alexander the Great 
Sultan Mehmood Ghaznavi and Gujrat
During Sultan Mehmood Gazanvi regime Muslims came to this region and establish First Muslim Government in Gujrat and other Punjab. India was conquered by Muslims, and Ayub Malik was made Governor of Lahore and also the ruler of Gujrat and Punjab.[4] Sultan Mehmood Ghaznavi
Reconstruction of Gujrat in Moughal Empire
At the time of Moughals Gujrat was included in Moughal Empire. In 1580, when great Moughal Emperor Akbar-e-Azam was passing through Gujrat, he saw the worsening condition of Gujrat and felt pity. So he ordered to reconstruct the city. In those days there were two sects of people, Jats and Gujars, living in the Gujrat. They normally fought with each other. People of Gujrat collected an amount of one and half Lac Rupees. The city of Gujrat was constructed with its all dignity. It remained under Muslim rule till Aurang Zeb Alamgir.[5] Reconstruction of Gujrat 
Sikh Regime and Gujrat
After the death of Aurang Zeb Alamgir the Mughals began to lose their grip over India and Punjab including Gujrat was conquered by Sikhs.
British Rule
After the 1857 war British were became the sole rulers of whole India. This area of Gujrat also became the part of British Indian State.[6] British Rule 
After Independence of Pakistan
With the independence of Pakistan in 1947, city of Gujrat became the part of Pakistan. Gujrat developed in a great way after independence.
Present Gujrat
Now the Gujrat is well established and developed district of Punjab Pakistan. Its literacy rate is very high as compare to other regions of Pakistan. It has a leading name in many industrial and agricultural products. The people of Gujrat are well educated, highly skilled and brave. So they are successful in every field of.[7] Present Gujrat 
Brief History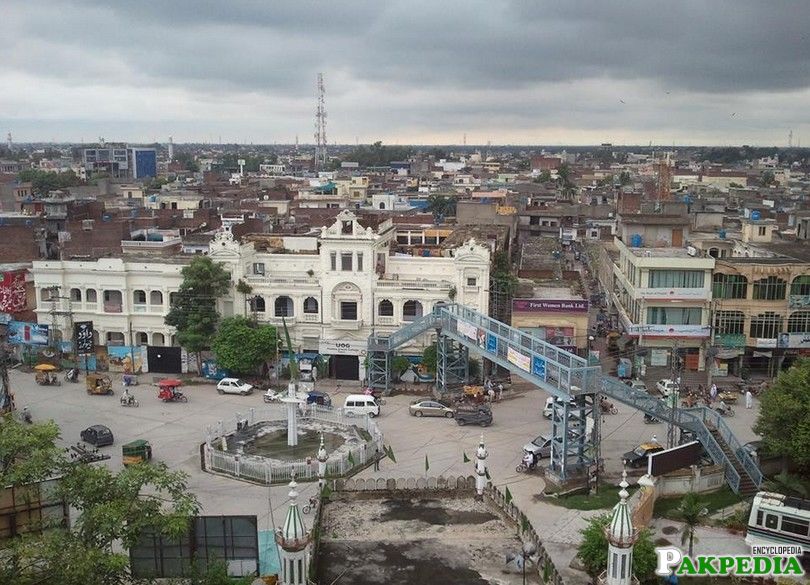 The city was established by Moghul Emperor Akbar, King Jahangir in his memos records the following information on Gujrat:At the time when His Majesty Akbar went to Kashmir, a fort had been built on the bank of that river. Having brought to this fort a body of Gujars who had passed their time in the neighbourhood in thieving and highway robbery, he established them here. As it had become the abode of Gujars, he made it a separate pargana, and gave it the name of Gujrat. Gujrat town itself is a place of some antiquity, and the district bounds in ancient sites.The district formed part of the kingdom of Porus, who was defeated by Alexander, probably in the Karri plain beyond the Jammu border, in July, 326 B.C. ; but four years later was conquered by Chandragupta Maurya in the national rising which took place on the death of Alexander. It remained under the Mauryas until shortly after the death of Ashoka in 231, and about forty years later came under the sway of Demetrius the Graeco-Bactrian. The overthrow of the Bactrians by the Parthians in the latter half of the second century brought another change of rulers, and the coins of the Indo-Parthian Maues (c. 120 B. c.), who is known to local tradition as Raja Moga, have been found at Mong. At the end of the first century A. D., ie whole of the Punjab was conquered by the Yueh-chi. For several hundred years nothing is known of the history of the District, except that between 455 and 540 it must have been exposed to the ravages of the White Huns. Dr. Stein holds that the District formed part of the kingdom of Gurjara, which, according to the Rajatarangini, wasinvaded between 883 and 902 by Sankara Varman of Kashmir, who defeated its king Alakhana. This may be the Ali Khan to whom tradition ascribed the refounding of GUJRAT.[8]Imperial Gazetteer – India
Culture
Gujrat produces low temperature pottery ceramic goods, Hukkas , artistic handicrafts, flower pots, "Changairian" (made from the leaves of palm and date trees), cotton mates and woollen shawls. Sohni Mahiwal is a famous folk tale of the Punjab region. The heroine of the story, named "Sohni" (a Punjabi word, meaning "beautiful"), came from the Gujrat region. She used to meet her lover "Mahinwal" by crossing the Chenab river, sitting on a pitcher. The tale is still told to this day, and is an essential part of Punjabi culture. The anniversary of Kanwan-Wali Sarkar is celebrated with a fair in August every year. The locals have a myth that it rains heavily at the time of fair (but actually the rail falls because of monsoon).[9] Culture –  Culture 
Famous people
Major Raja Aziz Bhatti Shaheed, a recipient of the Nishan-e-Haider (Pakistan's highest Military award) during the India-Pakistan war of 1965 belongs to Laadhian, a village in Gujrat.
Major Muhammad Akram Shaheed, a recipient of the Nishan-e-Haider (Pakistan's highest Military award) during the India-Pakistan war of 1971 belongs to Dinga, a city in Gujrat.
Major Shabir Sharif was another recipient of the Nishan-e-Haider belongs to a near by village of gujrat namely kunjah.
Inayat Hussain Bhatti, (1928-1999) a multidimensional icon of Pakistan. His body of work includes contributions as a singer, actor, producer, director, script writer, social worker, columnist, religious scholar and a protagonist of the development of Punjabi language and literature.
Geography Climate
Gujrat is an ancient city of Pakistan located between two famous rivers, Jhelum River and Chenab River. It is bounded to the northeast by Jammu and Kashmir, to the northwest by the Jhelum River, to the east and southeast by the Chenab River, separating it from the districts of Gujranwala and Sialkot; and to the west by Mandi Bahauddin District.#
This district has moderate climate, which is hot in summer and cold in winter. During Peak Summer, the day temperature shoots up to 45ºC, but the hot spells are comparatively shorter due to proximity of Azad Kashmir Mountains . The winter months are very pleasant and the minimum temperature may fall below 2ºC. The average rain-fall on the Kashmir border is over 100 cm, at Kharian it is 75 cm, at Gujrat 67 cm and at Dinga 50 cm.This district has moderate climate, which is hot in summer and cold in winter. During peak summer, the day temperature shoots up to 50 °C, but the hot spells are comparatively shorter due to proximity of Azad Kashmir Mountains. The winter months are very pleasant and the minimum temperature may fall below 2 °C. The average rainfall on the Kashmir border is over 1000 mm, at Kharian it is 750 mm, at Gujrat 670 mm, and at Dinga 500 mm.[11] Gujrat – dailydak
Industry
Gujrat is also known in the world for it's clay with which Gujratis produce quality pottery since ages. Apart from agriculture and clay the city is well known due to its furniture manufacturing skills . Gujratis have mastered the skills of conditioning the wood and producing world class furniture having immaculate finish. Over last few decades Gujrat has also attained a name in export of electric fans. Gujrat has a unique status throughout the Punjab due to some of its manufacturing capabilities and productions. There are about 1,059 cottage level and small/medium/large scale industrial units operating in the district. Jalalpur is a large town of Gujrat , where several small and large textile industrial unit have been established. There are many other industrial units and factories engaged in manufacturing of electrical goods (Fan), Electric Motors, Earthen Utensils, Shoes, Rubber Tyre Tube, Sanitary Ware ,Rice Cleaning Mills and Furniture. The high quality furniture made here have been used in National and Provincial Assemblies. The story of emergence of electric fan manufacturing industry in Pakistan is one of those heroic efforts made by a few enterprising individuals who. Starting with nothing in early 1940s struggled against all odds and turned this concern into a most efficient industry in Pakistan. This is an industry on which all Pakistanis can rightly be proud of. It does not owe its success to any foreign collaboration or any from the Government, but only to its own people whose constant research for maintaining good quality and devising new methods and techniques of production have now resulted in a product which we can rightfully claim as among the best in the world.There are now over five hundred fan manufacturing units operating in Gujrat, Gujranwala , Lahore and a few other cities. Except for a few, the rest falls into the category of cottage industry. These small units from the real backbone of this industry. They provide employment to a large number of people and all put together account of more than 90 percent of the domestic market.
Transportation Communication
Gujrat, situated beside the grand trunk road and main Railway track is directly connected with the major cities like provincial and central metropolises of the country. The district has a total metalled road-length of 1019 Kilometres . The district is linked with Gujranwala , Jhelum , Mandi Bahauddin districts through metalled roads.The main Peshawar – Karachi railway line passes through Gujrat district. The district is linked with Jhelum and Gujranwala districts through railway network.Probably the most voilent city after Karachi, with a murder rate similar to that of Colombia. A town not to be rivalled with the people in this town are immensley proud and a fierc fighting force. Due to this high rate of violence a lot of parents want their their young male childern to work abroad. In fact nearly 4 out of every 5 of Pakistanis (5% of total norvigen Population) come from this district.