Ghulam Ali is a Pakistan-based ghazal singer who belongs to Patiala Gharana and is most liked as a ghazal singer in his era. He learned ghazal singing from Bade Ghulam Ali and also got training from Ghulam's younger brothers Mubarak Ali and Barkat Ali. He has a unique style that's not matched with any other singer as he merges Hindustani classical melody with his ghazals.
Ghulam is very popular in Bangladesh, Nepal, Afghanistan, India, Pakistan, and among the Southern-Asian diaspora in the UK and USA. His hit ghazals are used in Indian films. In 2015 Shiv Sena's protests at Mumbai led to the cancellation of his concert. This article contains all the information about him, including Ghulam Ali Biography.
| Title | Description |
| --- | --- |
| Personal | |
| Name: | Ghulam Ali |
| Famous As: | Ustad Ghulam Ali |
| Native name: | استاد غلام علی |
| Nationality: | Pakistan |
| Residence: | Sialkot District, Punjab, Pakistan |
| Religion: | Islam |
| Profession: | Singer music composer |
| Awards : | Pride of Performance Award in 1979 by the President of Pakistan & Sitara-i-Imtiaz Award (Star of Excellence) in 2012 by the President of Pakistan |
| Instruments: | Vocals, harmonium |
| Years active: | 1960–present |
| Gharana: | Patiala Gharana |
| Film music credits: | Nikaah, Aaj Ka Boss, Dada, Chand Bujh Gaya, more |
| Started Singing: | For Radio Pakistan, Lahore in 1960 |
| Born | |
| Date: | 5 December 1940 |
| Place: | Kaleki, Sialkot District, Punjab, British India (now in Pakistan) |
| Family | |
| Parents: | Daulat Ali |
| Career | |
| Occupation(s): | Singer |
| Genres: | Hindustani classical music ghazal playback singing |

Ghulam Ali Biography
His popularity as a ghazal singer is not only limited to Pakistan only bit Indians also praise his singing and this popularity led him to work with a renowned Indian playback singer Asha Bhosle. As a child, he got an opportunity to sing in front of prominent singer Ustad Bade Ghulam and this performance made him hi student.
He is lucky enough to have the supervision of Ustad Bade Khan who honed his singing skills. Ali not only sings Urdu ghazals but has equal command of singing Nepali ghazals in the Nepali language. His concert at the Taj Mahal is memorable.
He became 1st person to be awarded Bade Ghulam Khan laurel in Feb 2013. In 2016 he received the 1st Swaralaya Global Legend prize at Trivandrum. He is also the recipient of Pride of Performance and Sitara-e-Imtiaz.
Ali Date of Birth
He opened his eyes on 5th Dec 1940 in Kalekay Nagra, British India. He lives in Lahore with his family.
Education of Ali
He learned ghazal singing under the supervision of his from Bade Ghulam Ali and also got training by Ghulam's younger brothers Mubarak Ali and Barkat Ali.
Ghulam Ali Family
His father gave him the name 'Ghulam Ali' as he was a true fan of Ustad Ghulam Ali Khan. Ghulam Ali met Ustad Bade Ghulam for 1st time in his teenage. Ustad had a tour to Kabul and when he was returning back to India Ghulam's father requested Bade Khan to make his son his student.
Career
Initial Career
In 1960 he began working for Radio, Pakistan in Lahore. Besides singing ghazals he composed music for ghazals and these compositions are Raag based. His work is mostly liked for merging of Gharana-Gayaki into ghazals and this combination touches people's hearts.
Popularity in Pakistan and India
He sang Punjabi music too, and his Punjabi songs are popular as well. His popularity isn't limited to Pakistan only but he is equally popular in India. He made music albums with legendary and renowned Indian singer Asha Bhosle.
Appearance in Indian Cinema
He appeared in Indian cinema with a movie song 'Chupkay Chupkay Raat Din' penned down by poet Syed Fazl-ul-Hassan in Baldev Raj Chopra's movie 'Nikah.' His popular ghazals are 'Awargi' and 'Hungama Hei Kyu Barpa.'
Sang Nepali Ghazals
He also sang Nepali ghazals such as 'Kina Kina Timro Tavir,' 'Gajalu Tee Thulaa Thulaa Ankha,' 'Ke Cha Ra Djun,' and 'Lolaeka Tee Thula' with a renowned Nepali composer Deepak and a popular singer and singer Narayan Gopal. Nepal's King Mahendra wrote these songs.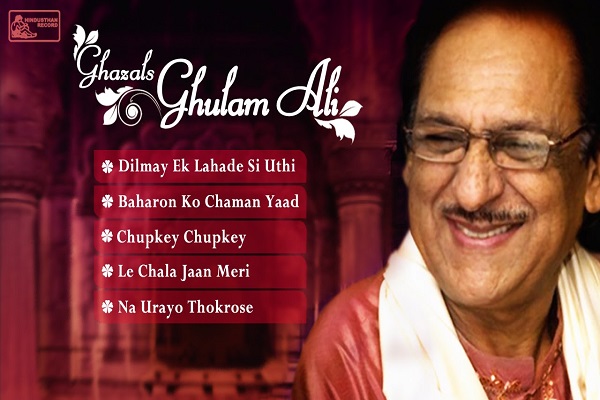 Discography
Teray Shehar Main
Mehtab
Lamha Lamha
Madhosh
Passions
Khushboo
Raba Yar Mila Dey
Sajda
Wisaal
Parchaiyaan
Aabshar
The Enchanter
Awaragi
Husan-e-Ghazal
Khawhish
Haseen Lamhay
Anjuman Behtreen Ghazlain
Dil Lagi
Geet Aur Ghazals
Haseen Lamhay
Hungama Live in Concert-Volume One
Mast Nazrain
Once More
Sadgi
Poems of Love
Suno
Surag
Sougat
Soulful
The Golden Collection
Janay Walay
Chup Kay Chup Kay
Rang Tarang
Kalam-e-Muhabbat
With Love
The Best of Ghulam Ali
Aitbar
Ghulam Ali Volume one & two
Adab Ustad
Moods & Emotions
Aik Ehsas
Meraj-e-Ghazal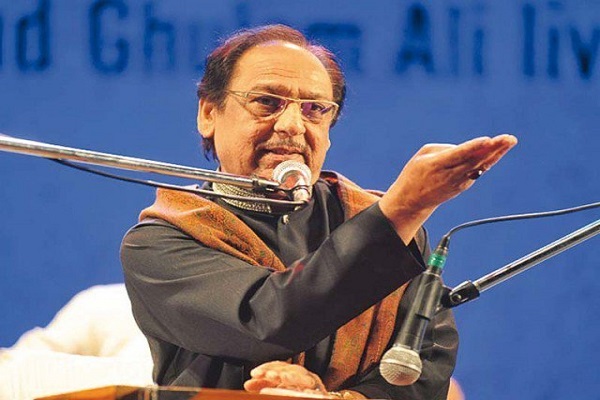 Ghulam Ali Songs
Aah Ko Chahye Ik Umar
Apne Dhun Main Rehta Hun
Aye Husn-e-Beparwah Tujhe Shola Kahoon
Apne Tasveer Ko Ankhon Sey
Awaragi
Arz-e-Gham Se Bh Faida Tu Nahein
Tere Yad Yad
Baharon Ko Chamman
Saaqi Sharab La
Bata Do Tm Hamain
Barsan Laagi Sawan
Bechain Bohat Phirna
Chup Chup Kay Piyo
Chamkatay Hwe Chand Ko Toota Hwa Tara
Dard-e-Dil Dard Ashna Janay
Dil Buk Buk
Dil Main Ik Lehar Se
Dareechay Bey-Sada Koi Nahein Hai
Dil Jala Kay Muskuratay Hain
Dil Dhadaknay Ka Sabbab
Faslay Aisay Bh Hun Ge
Heer
Hadaf-e-Gham Na Kiya
Gajalu Te Thula Thula
Hm Teray Shehar Mein Aye
Hum Tu Kitno Ko Mahzabeen Kehtay Hein
Hm Kis Ke Gham Ney Mara
Hungama Hei Kyun Barpa
Itne Mudat Bad Milay Ho
Jin Kay Honto Pay Hansi
Kache Dewar Hun Thokar Na Lgana
Kese Chali Hei Ab Kay Hawwa
Kal Rat Bazam Mein
Kal Chaudhween Ke Raat Th
Kehtay Hein Mjhse Ishq
Khuli Jo Ankh
Khushbu Gubchay Talash Karte Hei
Jhushbu Jesay Log Milay
Ke Puchday Ho Hal
Kina Kina Timro Tasvir
Kiya Hei Payar Jis Se
Koi Umeed Bar Nahein Ati
Koi Hamnafas Nahein Hai
Mein Nazar Se Pe Raha Hun
Mehfil Main Bar Bar
Meray Shoq Da Nae Eitbar Tenu
Niyyat-e-Shouq Bhar Na Jae Kahein
Ne Chambay Diye Baandh Kaliyay
Pata Lga Menu Hun Ke Judae
Pata Pata Boota Boota
Pehle Waari Aaj Hona
Phr Saawan Rut Ke Pawan Chali
Rah-e-Ishq Ke Inteha Chahta Hun
Phr Kisi Rah Guzar Par Shayad
Ranj Ke Jub Guftugu Honay Lage
Shaug Har Rang
Roya Krain Ge Ap Bh
Tamam Umar Tera Intizar Kiya
Tmhray Khat Main Naya Aik
Ye Batain Jhooti Batain hein
Ye Dil Ye Pagal Dil
Wo Kabhi Mil Jaein Tu
Social Media Handles
His social media account include
https://twitter.com/theghulamali