Pakistan railway is a national railway company and an active member of the International Union of Railways. It was founded in 1861 and the headquarters is located in Lahore. The total railway track lies from Karachi to Torkham is approximately 4841 miles and provide services to passengers all over the country.
Pakistan railways ministry announced to upgrade Pakistan Railway System through Pak – China Economic Corridor. The shares were expected to increase from four to 20 per cent by the year 2026. The total estimated budget to be spent on Pakistan Railways was 5.5 billion American dollars.
The up-gradation included train speed, expansion and performance of passenger service, improvement of rail – track infrastructure and locomotives building. In 2017, the initial phase of the project was completed and the second phase of the project is expected to be completed by the year 2021. The article summarizes all the information about the railway, including Pakistan Railway History.
| Title | Description |
| --- | --- |
| Details | |
| Founded: | 13 May 1861 (155 years ago) |
| Industry: | Rail Transport |
| Type: | State-owned enterprise |
| Predecessor: | North-Western State Railway |
| Headquarters: | Lahore, Pakistan |
| Area served: | Pakistan |
| Key people: | Khawaja Saad Rafique (Minister of Railways, 2013) |
| Services: | Rail Transport, Cargo, Transport, Parcel carrier, Catering |
| Revenue: | Increase 31.9 billion (US$300 million) (2015-16) |
| Operating income: | 64.2 billion (US$610 million) (2015-16) |
| Net income: | 28.0 billion (US$270 million) (2015-16) |
| Owner: | Government of Pakistan |
| Number of employees: | 78,031 (2015) |
| Parent : | Ministry of Railways |
| Divisions: | 6 |
| In Urdu: | پاکستان ریلوے |
| Location: | Pakistan |
| Reporting mark: | PR |
| Dates of operation: | 1861–present |
| Track gauge: | 1,676 mm (5 ft 6 in) 1,000 mm (3 ft 3 3⁄8 in) 762 mm (2 ft 6 in) |
| Length: | 7,791 kilometers (4,841 mi) (route) 11,881 kilometers (7,383 mi) (track) |
| Divisional Data Centers Setup: | Karachi, Quetta, Rawalpindi, Multan, Moghalpura. |
| Pakistan Railways provides: | An important mode of Transportation in the farthest corners of the country |
| Standardized fare system Manages: | passenger reservations and ticketing system |
| Payroll System Generates: | Monthly payslips ( Salary Bills ) from the Railway Headquarters Office Lahore. |
| Website: | https://www.pakrail.gov.pk/ |

Pakistan Railway History
Many private railway companies started operating in Punjab and Sindh, during British rule in 1855. Private companies included Scinde Railway, Dehli Railway, Punjab Railway and Indus Flotilla. Other several railway lines were built including Sind – Sagar Railway, Indus Valley State Railway, Sind – Pishin Railway, Kandahar State Railway, Punjab Northern State Railway and Trans – Balochistan Railway.
All of these railway companies merged with Dehli, Punjab and Scinde Railways to form north – Western State Railway. In 1947, after the independence of Pakistan, most of the northwestern railway infrastructure was in the territory of Pakistan and was renamed as Pakistan Eastern Railway. The railway line of Assam was renamed Pakistan Eastern Railway.
During 1950 – 55, Mashriq – Maghrib Express provided travelling services from Koh -e- Taftan to Chittagong (Bangladesh) while using an Indian route of 1,234 miles between Benapole and Attari. A railway track was extended from Peshawar – Karachi railway line to Charsadda and Mardan. Kashmore – Jacobabad metre gauge was converted after two years to 5.6 feet broad gauge.
During 1969 – 73, an alternate route from Karachi to North Pakistan was built in 1974. The route was called Kotri – Attock Railway line. Pakistan Western Railway was renamed Pakistan Railways in 1974. During the 2000s, all of the narrow gauge tracks were converted to 5.6 feet broad gauges as well as the Raiwand – Lodhran branch line project (double rail) was completed in 2016.
Railway Board
The existed railway board 1959 – 2000 was modified and reconstructed by the executive committee from the 2000s and onwards. The reconstruction of the railway board committee was completed on Feb 20, 2015. The members of the Board are given below.
Chairman of the Railway Board (Federal Secretary Railways)
Federal Secretary Communication
Finance Secretary
Planning and Development Secretary
General Manager Railways (Responsible for operations)
Ministry of Railway (Member Finance)
Division and Units
Pakistan railway has 3 main functional units which include Manufacturing, Special initiatives and operations. The unit of Operations are further subdivided into three departments include communication, signalling and infrastructure department (engineering).
The mechanical department is responsible for electrical engineering, stores, and traffic and passenger facilities. Several other departments which include planning, railway police, public relations, and Pakistan Railway Academy and legal affairs are also railway operational units.
There are 8 territorial operating divisions in Pakistan Railway which include Peshawar, Karachi, Multan, Quetta, Lahore, Sukkar, Rawalpindi and Gawadar. Gwadar is not considered to be an operational unit yet. Other non-operational units include the division of Mughulpura which is used for the maintenance of rolling stock.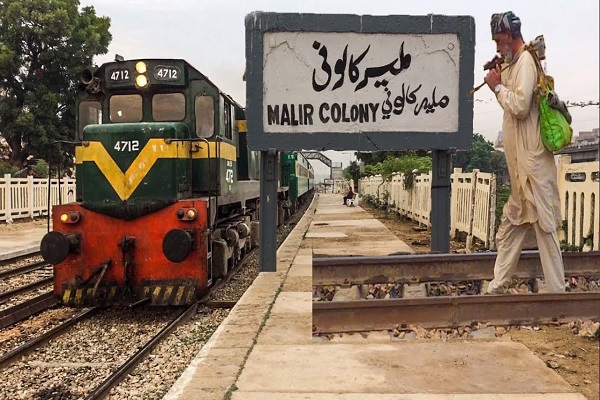 Pakistan Main Railway Lines
Peshawar – Karachi (Main Line 1)
Attock – Kotri (Main Line 2)
Chaman – Rohri (Main Line 3)
Taftan – Quetta (Main Line 4)
Khunjraab – Taxila (Main Line 5)
Pakistan Railway Branch Lines
Badin – Hyderabad
Khokhrapar – Hyderabad
Fort Abbas – Bahawalnagar
Amruka – Samasata
Kot Addu – Sher Shah
Khanewal – Lodhran
Raiwand – Lodhran
Wazirabad – Khanewal
Sheikhupura – Shorkot
Lalamusa – Shorkot
Kohat – Golra Sharif
Dargai – Nowshera
Tank – Bannu
Lakki Marwat – Daud Khel
Khushab – Malakwal
Kundian – Shangla Hill
Wagah – Lahore
Shangla – Shahdara Bagh
Narowal – Wazirabad
Lyallpur – Jaranwala
Locomotives
In 1993, the Pakistan Locomotive factory was built at a cost of 1.4 million dollars (228.4 million rupees). The capacity of the factory on a single shift base is 150 coaches/year. The Moghalpura Railway Workshop is one of the rolling stock repair sites and used to repair, manufacture and overhaul the wagons in 1947.
The Railway has 5 concrete sleeper factories in Kohat, Sukkur, Kotri, Khanewal and Shahinabad. In 1967, the first factory was developed in Sukkur while other factories were established in 1979 – 81.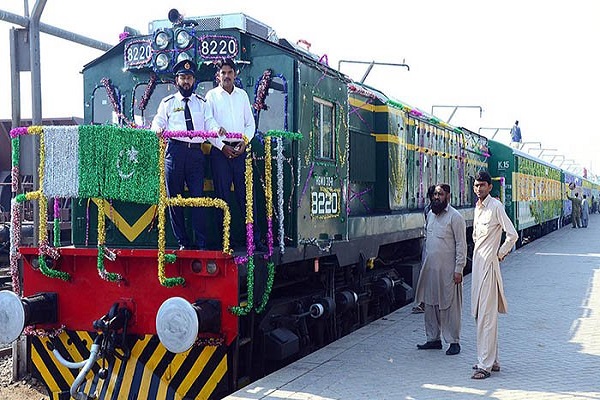 Pakistan Railway links
Pak – Iran Railway Line
Pakistan is connected with Iran at Zahedan through a railway line. Two breaks of gauges existed on Pak –Iran Railway line. One exists in Quetta with a gauge of 5.6 feet and the other is situated in Kerman, Iran with a gauge of 4.8 feet. The railway link between the two countries was completed in 2007.
Pak – Afghan Railway Line
There is no railway link between Pakistan and Afghanistan but Pak-railways have suggested building a rail network with Afghanistan in three phases. In phase one a railway track from Chaman to Spin Boldak will be extended.
Phase 2 will extend the railway track from Spin Boldak to Kandahar while phase 3 will extend the track from Kandahar to Herat and Khushka and Turkemenistan linking the central Asian countries with Pakistan. Another suggestion by Pakistan Railway is an extended Karachi-Peshawar railway track to Kabul through Jalalabad.
Pak – China Railway Line
There is no railway link present between Pakistan and China but a contract was awarded in 2007 for extending the Taxila –Khunjrab Line to China through Khunjrab Pass with a distance of 470 miles.
Pak – Turkey Railway Line
There is no passenger rail service between Pakistan and Turkey but the railway line between Pakistan and Iran had made it possible to build a passenger railway service between Pakistan and Turkey. In 2009, after the container- train trial, Pakistan Railway Minister Ghulam Ahmad Bilour proposed a passenger – train service which will facilitate the Asian people to travel to Turkey and Europe but the proposal has not considered yet.
Pak – India Railway Line
There are two railway lines existed between India and Pakistan and is used for goods and passenger travelling service. The first railway track between Pakistan and India is Thar Express which travels from Jodhpur/Rajasthan to Karachi while the second Railway track is Samjhauta Express which travels from Delhi to Lahore, Pakistan.
Pakistan Railway Contact Number
You can call on 117 for all the latest updates about the Railway. Furthermore, you can mail on [email protected] to get any useful information. You can also do the online booking by heading over to their official website. 
Social Media Handles
https://www.facebook.com/pakrail.gov.pk/