Shifa International Hospital is a health care facility containing 550 quaternary beds providing healthcare facilities to the local and international patients whose age is above twenty-five years. The hospital offers thirty-five plus surgical and medical specialties, outpatient clinics as well as diagnostic facilities through their qualified and trained Surgeons and Physicians.
It provides quality medical care with great compassion and cares to all patients. This article carries all the information about the hospital including Shifa International Hospital History.
| Title | Description |
| --- | --- |
| Details | |
| Type: | Hospital |
| Location: | Islamabad, Faisalabad |
| Website: | http://www.shifa.com.pk/ |
| Organization | |
| Founded : | 1987 |
| Hospital Type: | Public Limited Company |
| Services | |
| Beds: | Clean Bed Sheets |
| Standards: | HIGHER LEVEL |
| Founder: | Dr. Zaheer Ahmad |
| Email: | [email protected] |
| Contact no: | 041 – 8740951 |
| Address: | 11 Kilometer, Jaranwala Road, Faisalabad. – Pakistan |
| Address: | Pitras Bukhari Road, Sector H-8/4,Islamabad,Pakistan |
| Email: | [email protected] |
| Fax: | +92-51-4863182 |
| Contact no: | +92 51 8464646 |
| sector F-8/3 of Islamabad: | Dr. Zaheer Ahmad |

Shifa International Hospital History
The idea of establishing Shifa International hospital was initiated by a Pakistani Doctor, Dr. Zaheer Ahmad along with other five professional doctors in 1985. Dr. Zaheer called a meeting for discussing the idea after completion of his Internal Medical Residency. A meeting was arranged in Brooklyn on July 20, 1985,.
After discussions of two days, the idea was approved by professional doctors including M. Zahid, Manzoor, H.Qazi, Sabir Ali, Doctor Zaheer, and Samiullah Sharif. Dr. Zaheer was told to make an action plan with a feasibility report due to which he came to Islamabad from the USA on Dec 17, 1985, and started working on this project.
After arranging many meetings and discussions, the area of Islamabad was selected for initiating the project and the name SHIFA was given to the hospital due to the belief and culture of the region.
In 1987, a land of eleven acres in Islamabad was allocated for the project which used to be a private company, and the Chief Architect of CRI, New Jersey, William Parker was hired for the development of the plan and design the project of SIH who finished the planning in 1989.
Shifa International Hospital Founder
Dr. Zaheer Ahmad is considered to be the founder of this hospital who was a Pakistani – American medical doctor. He was died due to a Brain Hemorrhage in 2011, at the age of 63 years.
Location
Shifa International Hospital is located at 4 Pitras Bukhari Road, H – 8, Islamabad, Pakistan.
Area
The hospital covers the area of eleven acres in Blue Area, Islamabad. The area contains clinics of outpatients and diagnostic patients.
Capacity
The hospital has a capacity of 550 quaternary care beds and offers medical, cardiac, and surgical facilities to patients all over the world.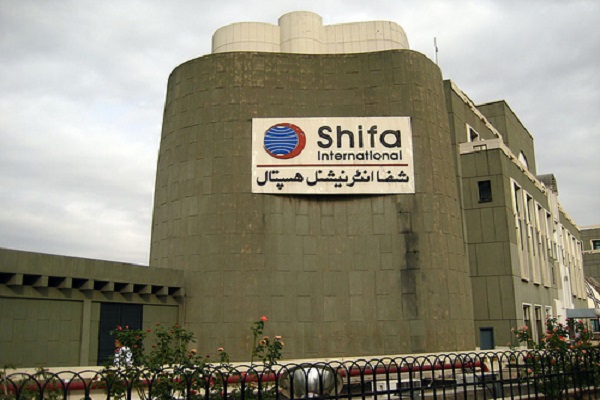 Coordination
The hospital has guaranteed high standards through coordination with national as well as international organizations of quality assurance. Some of these organizations are given below.
College of American Pathologists
Bio-Rad, United States of America
NRL, Australia
NEQAP
AFIP
Specialties
The doctors of the hospital are specialized and serve people in many medical and surgical treatments. The specialties of doctors are given below.
Liver Transplant
Kidney Transplant
Telemedicine Setup
Bone Marrow Transplant
Cardiac Surgery
Hip Bone Replacement
Knee Replacement
ICU (Intensive Care Unit)
The Intensive Care Unit provides about all main healthcare facilities including Surgical, Thoracic, Medical, Cardiac, Neuro, and many other types of healthcare facilities.
Operation Rooms
There are twenty operating rooms in the hospital comprising 4 venues which contain 14 ORs in E2F2, and the other four Ors exist in E-3. Two rooms are allocated for Gyne Operating Services as well as a room is allocated for the patients of foundation. These rooms are allocated for all types of major and minor operations (Surgeries) in the Hospital.
CSSD Service
Shifa International Hospital is facilitated with Central Sterile Service Department (CSSD). It is also called the Central Supply Department. It facilitates healthcare with sterilization and many other medical consumables, equipment, and devices. They help doctors in operation theatres for the aseptic process such as a bandage, catheterization as well as stitching of wounds in pediatric, surgical, or medical wards of a hospital.
Nurse – Patient Ratio
Non-Ventilated Patients = 1:2
Ventilated Patients =          1:1
Nursing Assistant (Expert) = 1:4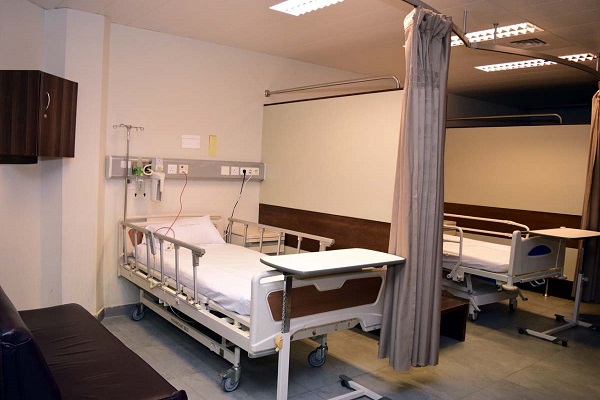 Equipment
Monitoring Facilities
Oximeter + Ventilators
Temperature Pace Makers Glucometers
Med Oximeter Dynamap
IPP Crash Cart
Defibrillator
ECG Machines
Cardiac Monitors
Shifa International Hospital Facilities
The hospital is equipped with many general facilities including telephone service, limited internet service as well as service of television. The patient can call through dialing (9) before any number. Or even the operators of the hospital can assist you in contacting everywhere.
General Ward Facilities
The General Ward of the hospital is facilitated with many types of equipment while considering the conditions of the patients. Some of the facilities of General Ward include;
Beds
Heating Facility
Cooling Facility
Telephone Service
Washroom Facility
Bell System for Calling Nurse
Oxygen Unit
Private Room Facilities
Private rooms contain the facilities of:
Special Beds with Sofas
Cooling Facility
Heating Facility
Washroom Facility
Telephone Service
Television Facility
Oxygen Unit
Bell system for Nurse Call
Refrigerator facility
Semi-Private Room facilities
Semi-Private rooms of hospital are facilitated with the following;
Special Beds Facility
The facility of central cooling and Heating
Telephone
Supply of Oxygen Unit
Television
Washroom
Nurse Call Bell System
Specialties in Out-Patient Services
Internal Medicines
Eye, Nose, Throat (ENT)
Gynecology
Cardiology
General Surgery
Orthopedic
Pediatric
Obstetric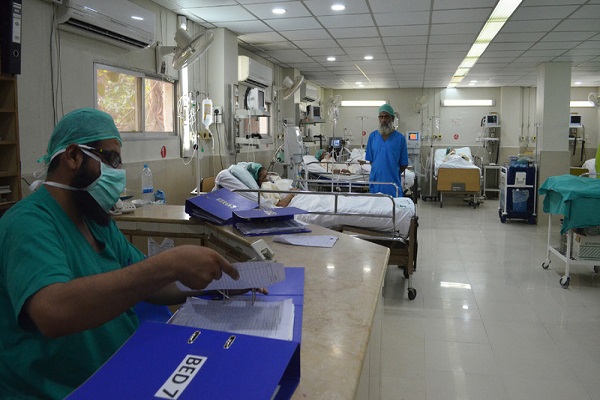 Shifa International Hospital Faisalabad
One of the branches is established in Faisalabad in order to provide the best and advance health facilities to more population of the country. It is connected through an online link with the main branch of this hospital. Furthermore, it is assisted by the experienced doctors of the main branch. The treatment of the doctors in Faisalabad is reviewed by the doctors of Islamabad.
It is constructed on the same basis as Islamabad while providing medical, surgical, and radiological services to greater masses.
Radiological Services of SIH Faisalabad
Radiological services of the hospital include:
MRI
Scan
Ultrasound
X – Rays (Digital and Contrast)
Mammography
Angiography
Contacts
Islamabad
Faisalabad
Shifa Medical Center, Islamabad
F 11 Markaz, Islamabad
Fax # 051 23352992
Telephone # 051 2352983
Representative Office
Office# 06, Office Court Building, Dubai
Mobile # +971 50 7485775
Social Media Handle
https://www.facebook.com/shifa.international.hospital.faisalabad/