Edhi Foundation is a welfare organization in Pakistan that is non-profitable. It was founded by late Abdul Sattar Edhi in 1951. Edhi himself was the head of the organization until he died in 2016. His wife, Bilquis Edhi is a nurse and oversees the adaptation and the maternity service of the Foundation. The headquarter of the foundation is located in Karachi. This article has all the information about Foundation, including Edhi Foundation Founder and Edhi Foundation Services.
| Title | Description |
| --- | --- |
| Details | |
| Founded: | 1951 |
| Founder: | Abdul Sattar Edhi |
| Co-Founder: | Bilquis Edhi |
| Services: | Emergency Services, Orphans, Handicapped Persons, Shelters, Education, Healthcare, International Community Centers, Blood & Drug Bank, Air Ambulance Services, Marine And Coastal Service |
| Location: | Karachi, Sindh, Pakistan |
| Method : | Donations and Grants |
| Area Served: | Social Welfare, Humanitarianism |
| International Offices: | USA United Kingdom Australia |
| International Awards: | Ramon Magsaysay Award Paul Harris Fellow Peace Prize Award Guinness Book of World Records Hamdan Award for Volunteers in Humanitarian Medical Services International Balzan Prize Peace & Harmony Award Peace Award Peace Award Wolf of BhogioPeace Award Gandhi Peace Award 2007 UNESCO Madanjeet Singh Prize 2011 London Peace Award 2008 Peace Award Seoul |
| National Awards: | 2011 Engro Peace Award Shield of Honor Recognition Of Meritorious Nishan-e Imtiaz Human Rights Award Khidmat Award Silver Jubilee Shield The Social Worker of Sub-Continent Pakistan Civic Award Honorary Doctorate Degrees awarded by the Academic Institutions in Pakistan Honorary Degree – Doctor of Social Sciences |
| List of Organisations receiving ambulances as donations from Edhi Foundation: | Ministry of Health, Sindh Ojha TB Sanatorium, Karachi. Civil Hospital, Hyderabad. TB. Centre, Kotri. Liaquat Medical Hospital,'Jamshoro. Trust for Destitute People, Hyderabad. Memon Hospital, Hyderabad. Government Hospital, Shikarpur |
| Website: | www.edhi.org |
| Services | |
| Emergency Department : | Karachi, Lahore, Islamabad, Rawalpindi, Peshawar and Multan. |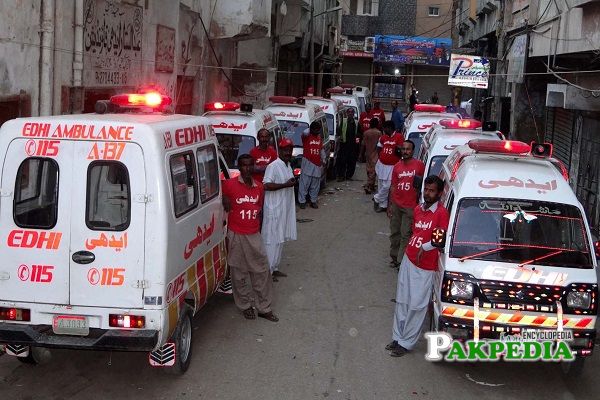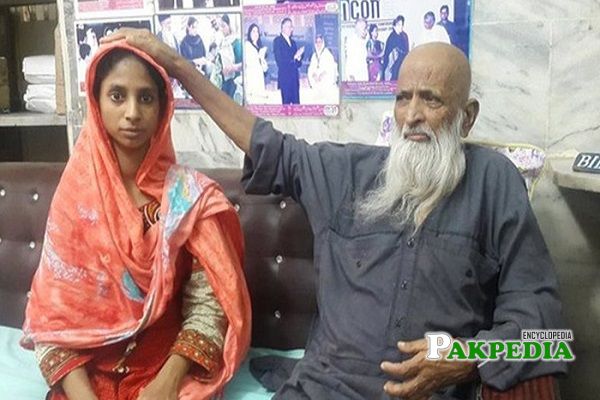 Edhi Foundation
It is one of the largest free ambulance services in the world. Apart from emergency service, it also provides many more facilities to the people incorporating Shelter, Free hospital and medical care, and rehabilitation. Mainly it focuses on emergency service, Orphans, Blood and drug bank, and Air ambulance service. Edhi Foundation works 24 hours without any discrimination of color, race, creed, or religion. For its motto, The foundation has modified the phrase "Live and let live" to "live and help live".
Initial Start
The first welfare center was established in 1957 and later Edhi Trust originated. Today, the Edhi Foundation has more than 300 centers in the whole country. They also have an Air ambulance service. About six thousand volunteers are working in different centers. The foundation runs on donations. Donations are in the form of money, food, clothes, and other things. Currently, The foundation is managed in a centralized form. After Edhi died in 2016 after kidney failure, The son and daughter of Edhi, Faisal Edhi and Kubra Edhi manages the whole Foundation
Edhi Foundation Founder
The founder of this foundation, Abdul Sattar Edhi, was born on 28 February 1928 in Gujarat, India. After the partition, he moved to Karachi and lived there till his death in 2016. He was a philanthropist and humanitarian. After his death, his son Faisal Edhi got the responsibility of the foundation. His death left everyone downhearted, and despite several years, his missing place can't be filled.
Inspiration for Foundation
According to Abdul Sattar, his mother would give him 2 paisas, one for him and others for poor people. But what made him think of an organization was the deteriorating health condition of his mother. After his mother got paralyzed by a stroke, Edhi became a dedicated caretaker of his mother. He would feed her, change her clothes, and take care of her. As he had the responsibility of his mother, he was dropped out of school. In 1947, at the age of 19, Edhi lost her mother. It was the incident that made him realize the pains of the poor people suffering from any illness. It motivated him to establish the Edhi Foundation that later became one of the largest Ambulance networks in the world.
Edhi Foundation Services
The foundation provides emergency and non-emergency support to the general public. It also gives aid to women, missing persons, orphans, unidentified bodies in the time of disaster. The services include:
Ambulance Service
The Foundation has 1800 ambulances across the country. In 2002, the body of Daniel Pearl, an American journalist was picked up by EDhi Ambulance. Not only the ambulance service, but the foundation also owns two private jets and a helicopter to assist the people in times of hardship. Apart from this, 28 boats are owned by the foundations that are functional in situations of flood or shipwreck.
Hospital Service
Edhi Foundation runs several Hospitals located in several cities of Pakistan. They are Outpatient hospitals with additional Medicine facilities. The hospital also has a diabetic center, a nurse training center, blood banks, and an immunization center.
Educational Scheme
The Foundation also provides education. It is different from the traditional education that is based on reading, writing, and teaching. It covers mainly vocational activities that include Driving, Pharmacy, and paramedical training. Such courses are covered only to let the people become independent by having a skill that they can utilize.
Childcare Service
The wife of Bilquis Edhi manages childCare service. She is also the co-head of the Foundation. She is only responsible for services related to women and children. She heads different projects that include the 'JHOOLA project' that is a child adaptation service. JHOOLA is an Urdu word used for the cradle. It refers to the children that are abandoned. Outside most of the centers, there is a cradle for mothers that ask them not to throw their children and put them in the cradle. 
Such children are taken into custody and are brought up by the Foundation. Almost 20000 children have been taken into custody to provide them care.  Edhi himself was an active caretaker of these children. He is known as " Angel of Mercy". Huffington Post claimed " he might be the world's greatest living humanitarian.
International Services
As an organization of high standards, the Edhi Foundation has taken the responsibility to continue its services outside the country as well. Foundation has a set up outside the country for Fundraising and donations. Recently, the foundation donated $200000 to the Iranian government to help them fight against the Corona pandemic.
Edhi International Foundation Australia
The vision of Edhi Foundation Australia is to help people of Pakistan by saving lives, providing shelter, feed the starving, and being a responsible available force in disaster through fundraising in Australia. Mainly, Foundation is focused on working for the people in Pakistan; it also shares the philosophy of Edhi abroad that is serving humanity regardless of religion, race, color, or creed. So far, it has provided relief to refugees in the Us. Canada, Japan, and Bangladesh. In the Gulf War and Earthquake in Iran in 1991, Edhi Foundation provided aid to the victims.
Edhi Foundation Donations
Account Title:     Abdul Sattar Edhi Foundation
Account No:       003179000171-03
Bank Name:       HBL
Swift Code:        HABBPKKAXXX
IBAN:                 PK61HABB0000317900017103