Kohat is situated in KPK Province and is the capital of district Kohat. Several small villages are included in it having their own yet similar cultures displaying extreme similarity of their customs and cultures. Central villages include Qamar, Khushal Garh, and Gumbat and many others.
In starting there were three main tribes that were considered Kohat's main part but over time number of tribes increased, and other tribes like Bangash, Khattak, and Afridi came but later Orakzais, and Shinwari tribe came and settled here. This article has all the information about the city, including Kohat History.
| Title | Description |
| --- | --- |
| Information | |
| Location: | Pakistan |
| City Council: | Government of KPK |
| Type: | City in the Khyber Pakhtunkhwa province |
| Local Language Name: | Urdu,Pashto,English |
| Province: | Khyber Pakhtunkhwa |
| Coordinates : | 33°35″N 71°26″E |
| District: | Kohat District |
| Region: | Khyber Pakhtunkhwa |
| Elevation: | 489 m (1,604 ft) |
| Union councils: | 31 |
| Language | |
| Official Language: | Urdu |
| Native Language: | Pushto |
| Other Languages: | Urdu,Pushto,English |
| Government | |
| Government Type: | Government of KPK |
| Area | |
| Total Area: | 2,545 km2 (983 sq mi) |
| Population | |
| Density: | 221/km2 (570/sq mi) |
| Total Population: | 562,640 (1998) |
| Time zone | |
| Time zone: | PST (UTC+5) |
| Codes | |
| Postal code: | 26000 |
| Dialing code: | +92 922 |
| Vehicle registration: | Three letters beginning with K and random four numbers |

Kohat History
Assumptions About Kohat
Kohat's past is limited to false talks and vaguest traditions with beautiful rumours. People assume that there were two Rajas in Buddhist times named Kohat and Adh settled along Northern-Border of this district. Raja 'Kohat' assigned his name to Town Kohat while Raja 'Adh' to an old fort ruin.
The fort's remains are called as 'Adh-i-Samut' and include memories and ruins. The fort is of great importance because of its situation and location.
Durrani
When the Persian Empire invaded the Mughal Empire in 1730-40s, Kohat escaped invasion as forces of Emperor Nadar Shah took the invasion routes in Peshawar Valley. After the Persian forces departed, Kohat city got absorbed in 1747 in the Durrani Empire.
In 1810 after the fall of Shuja Durrani Kohat came under the Durrani Kingdom's control based in Kabul and Peshawar that led to city's lordship to different chiefs. 1st Kohat Chief was 'Mirza Gianni.' In 1818 Samad Khan took control of Kohat and in 1827 Pir Muhammad took charge of the city.
Sikh
In 1819 armies of Ranjit Singh headed towards Peshawar. In 1832 Sikhs defeated Azam Khan and Peshawar chiefs became Sikh Government's tributaries. Sikh Governor Singh Sandhanwalia captured Kohat in 1834 and became a part of Sikh Empire of Ranjit Singh.
In 1836, Sikhs left Kohat city, and Sultan Muhammad took charge of Kohat. In 2nd Anglo Sikh-War British Resident of Lahore Col. George Lawrence refuged himself in Kohat, but he was prisoned and then moved to Peshawar under the control of Sikh forces.
British
After the British got victory over Sikh Forces in 1848, the British started ruling Kohat. Lieutenant Pollock held the post of 1st Assistant Commissioner of Kohat. In 1848 British authorities started building Kohat Pass road. Despite great opposition and resistance from residents, Kohat Pass completed in 1850.
This pass was temporarily closed in 1853 following the quarrel among tribes. In 1860s British built a Hill-Station at 'Cherat.' In 1874 they established Kohat Cantonment. During Kashmir-War 1947 Pashtun tribes assembled in Kohat before leaving for Kashmir to capture the area for Pakistan.
Attacks on Kohat
From 2008-2014 Kohat faced many attacks during the War on Terrorism and War in North-West Pakistan. Suicide bombs killed almost Thirty-Five citizens in 2009. While bombings pair in 2010 killed Forty-One people. In suicide bombing, 2010 Twenty people killed.
Pakistani Taliban attacked the Kohat Tunnel in 2011 that resulted in the death of five people. In the bomb attack in 2013, two people killed. In 2014 in a roadside blast, twelve people lost their lives while in 2014 attack on the van killed six passengers.
Languages
Not a single dialect is spoken in Kohat, but Hindku and Pushto are mostly spoken in this area. In these regions, Hindku is widely spoken and words and pronunciation of this language changes moving far from the city.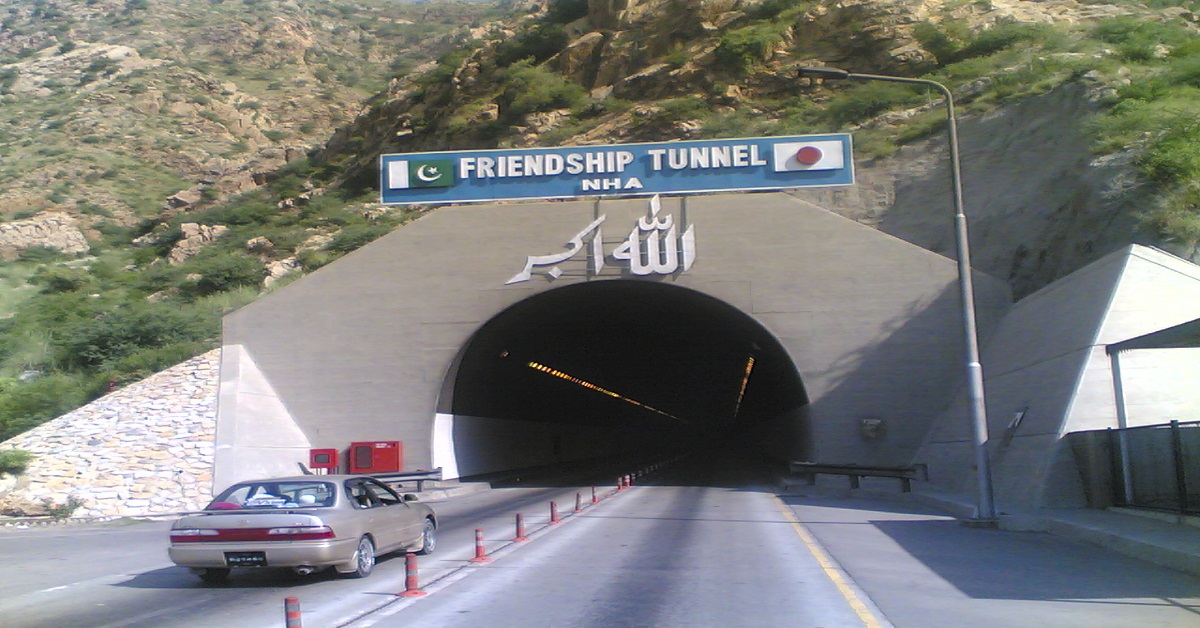 Kohat Developments
Following are some ancient and recent developments in Kohat district:
Tanda Dam
This dam is used for picnic, fisheries and irrigation purposes and is constructed on River Kohat Toi's water. At village Kagazi, the water of the river is directed to 'Tanda Dam.' President Ayub Khan supported the construction of this dam.
Kohat Tunnel
This tunnel is 1.9 Kilometers long and is evidence of Japan and Pakistan friendship. It is also called the Pakistan-Japan Tunnel. In 1999 its construction started and completed in June 2003.
It dramatically lessens the time between Peshawar and Kohat and thus is of great importance for travellers who travel by road. This tunnel has provided two ways that are Kohat Tunnel and Indus Highway. It is also useful for trade purposes.
Topography 
The city is situated at Four-Hundred- and Eighty-Nine-meters altitude. Kohat pass is on Toi River's left bank at such a point that after running East for Fifty miles, it turns towards South. District's total area is 2,545 sq. km.
Kohat Weather  
The climate of Kohat is hot and semi-desert.  
Universities
The universities providing quality education to district residents are Preston and KUST and are contributing their part in the development of this city.
KDA (Kohat Development Authority)
KDA is playing its role in improving the standards of Kohat city by constructing various kinds of Monuments, parks and housing societies to bring their city at a level matching to other developed and significant cities of Pakistan.
Military Importance
Recruitment Centre of ISSB for the new officers for Pak Armed forces is located in Kohat. The PAF airbase having all the latest technology and facilities is also constructed here.
Kohat's people are incredibly motivated and keen towards making their future bright.  CMH Kohat is regarded as a considerable development as every locality requires a working and well-equipped hospital where emergency cases are treated carefully and instantly.
Distinct Features
Some distinct features that promote tourism of this area and generates money are:
Peshawari Chapels
Chapli Kababs
Guavas
Handicrafts
Mud Crafts
Mouthwatering and delicious Chapali Kababs give a purpose to visit Kohat, it is mostly said if anyone visits Kohat he/she should not finish the trip without enjoying delicious chapli kababs.
Peshawari Chapels
Peshawari Chappals made in Kohat are the best item that should be purchased on a trip to Kohat. Residents wear them with National Attire with warm khaddar shawls. This dress code fascinates the people touring Kohat. This dressing is known as this area's culture and is worn to display a superior and presentable look.
Handicrafts
The handicrafts that are considered best are Wooden Beds, Bags, Chairs, and Gold. Caps which women of this area wear are exported to all the corners of the country. Through these handicrafts, the residents respectably earn their livelihood, and their life cycle continues.
Modes of Transport
Railway Station
Construction of Railway-station started in 1897 and ended in 1902.
Air
Bacha Khan International Airport Peshawar is the nearest airport. Kohat Airbase is PAF base that British Governments started building as a run-way. Once PIA used this airport using DHC-6 (de Havilland Canada) Twin Otter via Kohat is not served by the Commercial Services now.
Road
On 'National Highway-55' Kohat links Peshawar to Karachi and NatianalmHighway-80 links Kohat to Islamabad. In 2004 Kohat Tunnel (1.9 Kilometers) was completed and it links the Southern-Districts of KPK to Peshawar. This tunnel that is built in collaboration with Japanese drastically lessened the time across 'Kohat Pass.'
Parks in Kohat
Kotal Pheasantry
Kotal Pheasantry is built-in Wildlife park of Kotal in Kohat district covering an area of One-Kanal aiming to provide and propagate breeding environment to indigenous/exotic wildlife breeds like reeves pheasant, golden pheasant, silver pheasant, and peacock.
Almost twenty to thirty visitors, including the general public and students, visit this pheasantry for recreation and education purposes daily.
Tanda Wildlife Park
This park is situated in Kohat city of proximate. This park is made on an area of Twenty-Eight hundred acres, and it is KPK's largest wildlife park and is wonderfully varied and rich landscape sustains a variety of birds and mammals and also some reptiles. Three villages Tanda Banda, Kaghazi, and Bar, bound the park.
To reach the park Shahpur Bar road and Hangu Kaghazi unpaved road are used. Provincial Government owns this park, and so the residents don't have the right of firewood collection, looping or grazing. Park is a habitat to chinkara, urial, and hog deer. The continuous destruction of habitat disappeared the urial which was abundant in this area in the past.
Dialling and Postal Code
+92 922 is dialling, and 26000 is the postal code of Kohat.
Notable Personalities
Reputed and well-acclaimed Pakistani Poet Ahmad Faraz belongs to Kohat.
Malik Saad
Former KPK Governor Iftikhar Hussein Shah belongs to Kohat.
President and Co-Founder of 'Mazdoor Kisan Party' Afzal Bangash belongs to Kohat.
Media
Kohat Press Club
Radio Pakistan Kohat