Northern Areas of Pakistan consist of administrative territories that share a boundary. These northern regions are famous for their breathtaking scenery, beautiful snow-covered mountain ranges, dense forests, flowing rivers, and other natural attractions.
The holidays hill resorts and tourist destinations in Northern areas of Pakistan are popular for outdoor activities like heli-skiing, rafting, ice-skating, paragliding, skiing, trekking, mountain biking, rock climbing, and mountaineering. The northern areas of Pakistan also called 'The Land of Adventure & Nature' are a perfect place for nature lovers and grab the attention of tourists from all over the world.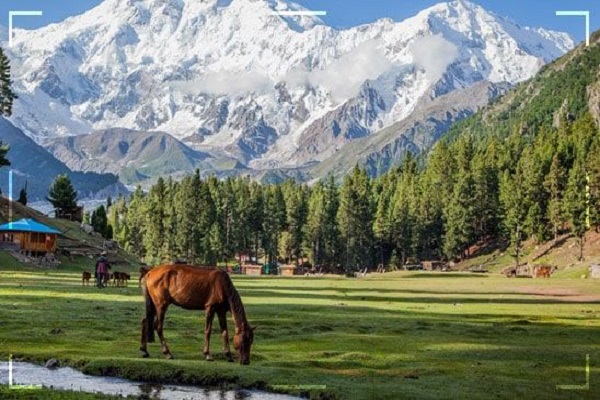 Must-Visit Places in Northern Areas of Pakistan
Travelers from all over the world like to explore these places. Some of the most popular tourist spots here are:
Skardu
Skardu is Baltistan's capital and is one of the worth visiting northern areas of Pakistan. The Balti population is a mixture of Caucasian and Tibetan ancestors and speaks an ancient type of Tibetan called Balti. Baltistan is also called 'Tibet-e-Khurd' (Little Tibet) because its lifestyle, architecture, and culture are similar to Tibet.
The best time to visit Baltistan is in April-October. Temperature falls to -8°C in October. Baltistan's five valleys Kharmang, Rondu, Khaplu, Skardu, and Shigar are known for their delicious pears, apples, apricots, and peaches.
Places worth watching in Skardu
1- Kharpocho Fort
It is a historical fort located in Skardu. It was built by Ali Sher Khan who remained ruler of Baltistan till the end of the sixteenth century.
2- Buddha Rock Carvings
These carvings have been found dating back to the eighth century AD. It is a three-kilometer walk from Skardu and has a large Buddha statue surrounded by tiny Buddhisatvas.
3- Mountain Lakes
Sadpara Lake, Lower Kachura, and Upper Kachura are very popular for boating and fishing.
4- Shigar Valley
This valley is a gateway to the mountain ranges of Karakorams, K-2, and Gasherbrum.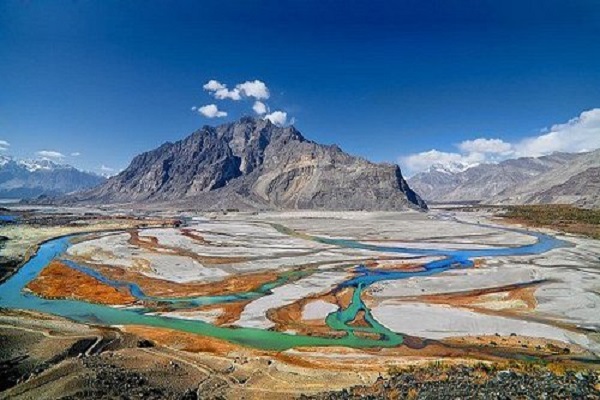 5- Khaplu Valley
It is a heavenly valley of the Shyok River located 103 kilometers east of Skardu. The majority of climbing and trekking expeditions start from Khaplu. Several famous mountain ranges like K-6, K-7, SiaKangri, Saltoro, and Masherbrum are situated here.
6- Chaqchan Mosque
Syed Ali Hamdani is credited with building this mosque in Baltistan (1504 AD).
Gilgit
Gilgit is located along Gilgit River banks at a height of 1,454 meters. It remained the capital of several dynasties for centuries and its history dates back to the sixth century AD.
Places worth watching in Gilgit
1- Gilgit Bridge
This bridge spans the Gilgit River, which is a fast-flowing river. This is one of South Asia's largest suspension bridges (2 meters wide and 182 meters long), with sufficient space for one vehicle at a time to pass.
2- Carved Rock
A majestic standing Buddha statue (locally called Yashini) is engraved on a rock 10 kilometers from Gilgit town. It was built in the seventh century AD. In 1938 and 1956, shrines from the 6th century AD and ruins of a Buddhist monastery were discovered near Nurpur.
3- Independence Monument
This monument was built in 1962 to pay tribute to the heroes of the 1947 to 1948 liberation movement. The victory monument that was constructed seven hundred years ago is situated at a distance of a 30-kilometer jeep drive from the town of Gilgit. This monument was constructed as a reminder of the ruler Taj-ud-din.
4- Sher Qila
The lion's fort once remained the capital of the Punial kingdom. It has an ancient wooden mosque, a one-hundred and fifty years old watchtower adorned with Ibex horns, and a polo ground.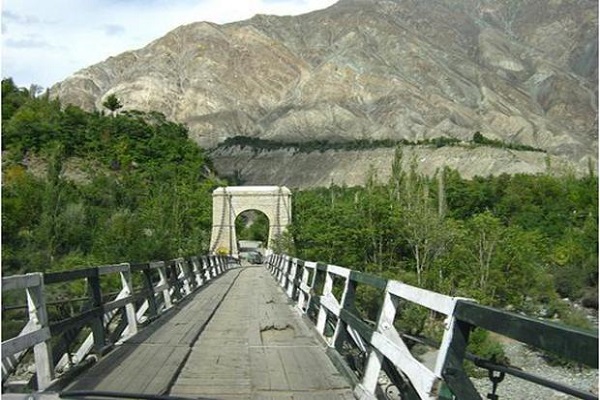 5- Gahkuch Headquarters
These Ghizer District's headquarters are an ideal spot for duck shooting, fishing, and trekking.
Hunza
Hunza valley located in the Northern areas of Pakistan is one of the most attractive destinations to visit. Hunza's rugged charm, fresh air whistling through tall Poplar trees, and the green carpet of wheat fields spread like a green velvety carpet, mountains covered with white snow overwhelm its visitors. the Majority of the people living here are Ismaili Muslims and speak Brushiski.
Places worth watching in Hunza
1- High Peaks
Hunza's former capital mesmerizes the visitors with a breathtaking view of high ranges including Ultar, Diran, Spantik, and Rakaposhi.
2- Baltit Fort
The Baltit Fort is located on the Ultar glacier moraines in Hunza valley, in Gilgit-Baltistan. The Fort is open throughout the year with the aim of becoming a self-dependent cultural hub funded by the sale of souvenirs, entry tickets, and heavy donations from organizations and individuals interested in the preservation and promotion of this region's historical and cultural heritage.
In the past several small autonomous states were found in the Northern Areas of Pakistan. Among those states, Nagar and Hunza were rival states located on the Hunza river's opposite sides. As a symbol of their strength, the kings of these two realms, known as Tham, constructed a number of castles.
The Hunza emperors initially inhabited Altit Fort, but due to a dispute between Ali Khan and Shah Abas the two sons of the ruler, Shaboos moved to the Baltit Fort and made it Hunza's capital. The younger brother died as a result of the succession struggle between the two brothers, and Baltit Fort positioned itself as the Hunza state's seat of power.
3- Altit Fort
Altit Fort is an old fort located in Altit town of Hunza valley. The hereditary kings of the Hunza, known as Mirs, lived here. Altit Fort and particularly Shikari tower has the status of Gilgit-Baltistan's oldest monument dating back about 1100 years. The UNESCO Asia Pacific Heritage Award for Cultural Heritage Conservation was given to the fort in 2011.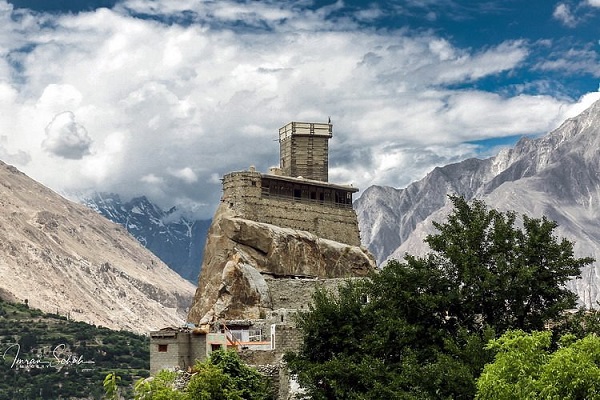 Chitral valley
Chitral valley located at an elevation of 1.128 meters, is a popular destination for trekkers, mountaineers, hunters, anthropologists, and anglers. Afghanistan borders the Chitral district on three sides: west, north, and south.
Places worth watching in Chitral Valley
1- Chitral Town
Chitral Town is located at an altitude of 1.518 meters along the Chitral River. The Mehtar's Fort, Royal Mosque (Shahi Masjid), and the Chitralis' Khowar houses are worth seeing.
2- Garam Chashma Valley
The Hot Springs (Garam Chashma) Valley offers mesmerizing beauty with snow-capped peaks, pastures, and orchards. The hot Sulphur springs, which are known for their healing properties, are the most fascinating features. For the convenience of visitors, 'Hamams' (baths) have been built near the springs.
3- Kalash Valley
One of Chitral's main attractions is Kalash Valley, which is home to the Kalash people. In the summer season, women wear black gowns made of coarse cloth, while in the winter, they wear hand-spun wool that is dyed in black.
Their charming headgear is prepared from black woolen cloth embellished with cowries' buttons, shells, and big colorful feathers. Kalash people are fond of music and dance, especially at their religious festivals.
Swat Valley
The beautiful Swat valley is located high in the mountain peaks of the Northern areas of Pakistan. Swat's lush green valley is ideal for vacationers, with its flowing rivers, icy-cold lakes, flower-covered slopes, and flower-covered slopes.
It is a land of captivating beauty where the Macedonian ruler Alexander fought and won his most important battles. Swat is a historical land where the Muslim rulers Babur of Ferghana, Akbar, and Mahmud of Ghazni fought their wars before the South Asia conquest.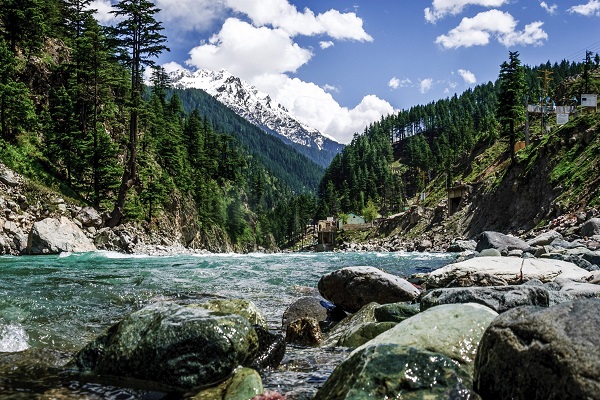 Places worth watching in Swat
1- Swat Museum
The Swat Museum situated in Saidu Sharif houses one of the world's best collections of Gandhara art.
2- Mingora
Mingora, Saidu Sharif's twin city, has yielded remains of stupas and pieces of the Buddhist sculpture.
3- Marghazar
Marghazar, sixteen kilometers from Saidu Sharif, is known for the Sufaid Mahal a white marble mansion built by the former Ruler of Swat.
Azad Jammu and Kashmir
Azad Jammu & Kashmir is a beautiful land with wonderful people, cultures, and languages. Its population consists of people of many races who claim Mongoloid, Semitic, Aryans, Turk, Arabs, and Persian ancestry and speak languages such as Pahari, Kashmiri, Gojri, Pashto, and Punjabi.
Snow-capped peaks, dense forests, flowing rivers, and a temperature that ranges from tropical to arctic all contribute to Azad Jammu & Kashmir's popularity as a tourist destination. The capital of Azad Jammu & Kashmir, Muzaffarabad, is located at the junction of the Neelum and Jhelum Rivers. On opposing sides of the Neelum, there are two forts: Black Fort and Red Fort.
Places worth watching in Azad Jammu and Kashmir
1- Red Fort
This fort is a fantastic location for travel enthusiasts and archaeologists who are interested in learning about the region's history. This location is a work of art in itself. Muzaffarabad Fort is another name for it. This is a popular heritage site in Azad Kashmir that attracts a large number of foreign visitors.
2- Pir Chinasi AJK
Pir Chinasi is located in Muzaffarabad, the capital of Azad Kashmir. It is one of Pakistan's most popular tourist attractions. The road to Pir Chinasi is a little tough to travel, but the adventure lovers enjoy this journey.
3- Ramkot Fort
This beautiful area is surrounded by the River Jehlum. The fort's history dates back to the 5th and 9th centuries, and its ruins were discovered and eliminated by Muslim rulers in the seventeenth century. This is a must-see in Azad Kashmir for anyone interested in exploring places having historical importance.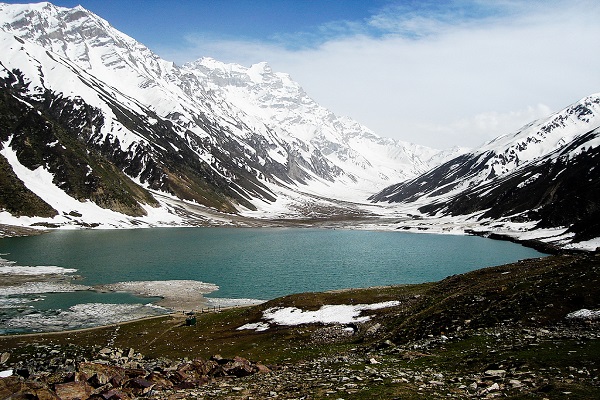 Naran valley
The Naran valley, which is surrounded by Alpine forest, is known as the best tourist spot in the Northern Areas of Pakistan. At an altitude of 7,904 feet, it is located 74 miles from Mansehra city. The distance between Babusar Top and Naran valley is 65 kilometers. Every year, a large number of people visit this lovely spot, including photographers, nature lovers, trekkers, and tourists.
Places worth watching in Naran Valley
1- Ansu Lake
The high-altitude Ansu lake flows alongside Malika Parbat.  It is recommended to visit this tear-shaped lake from June to November because the weather deteriorates during the beginning and end of the season, making it difficult to visit.
2- Jheel Saif-ul-Malook
Saif-ul-Malook is the country's fifth most popular tourist destination. It attracts a great number of tourists from all around the world every year. The best time to visit this beautiful lake is May to September. During the winter, the lake is covered with snow, and snowfall blocks all the roads.
3- Lalazar
Lalazar was once known for its pine trees and vibrant wildflowers. Although potato farming has lessened the natural scenery of this plateau, the breathtaking panorama of lush green meadows and Malika Parbat still make it a must-visit place. People often visit these Northern Areas of Pakistan.
Social Media Handle
http://parepmoscow.com/en/tourism/tourist-attractions/northern-areas/