Maria B Pk
Maria B is a leading clothing brand with its outlets in all provinces of Pakistan. The brand was established by Maria Butt and offers haute couture, ready-to-wear, and unstitched clothes. The brand has worked with popular Pakistani stars like Aima Baig, Samina Ahmad, Urwa Hocane, Mawra Hocane, Mehwish Hayat, Minal Khan, Aiman Khan, Sajal Ali, Maya Ali, Ayeza Khan, and many more for its promotion campaigns.
For its 2021 Campaign, she signed a Turkish star Gulsim Ali along with Pakistani star Ayeza Khan. In 2022 for Maria B new collection, she signed a campaign with another Turkish star and Mahira Khan.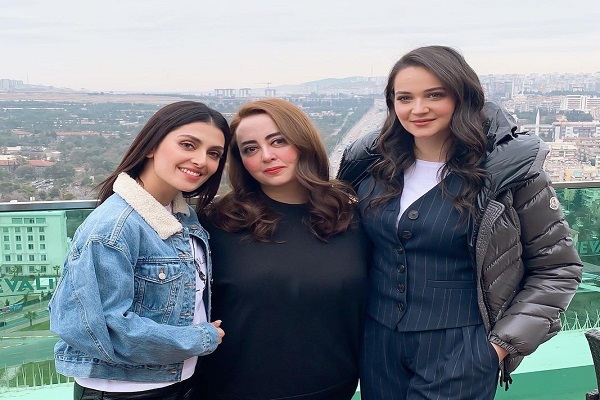 Maria B Brand History
Maria Butt, a graduate of PIFD (Pakistan Institute of Fashion and Design), founded the brand in 1999 in Lahore. She started out with just one store and a few sewing machines. She began her firm with minimal investment, intending to gradually expand the brand. Today Maria B is a leading designer brand of cotton, linen, embroidered clothes, lawn, formal wear, and couture.
The brand has been labeled as Pakistan's "Coco Chanel" by a fashion magazine, indeed the transformation and creativity generated by Maria. B's entrance into the fashion world justifies this comparison.
Maria B Brand Owner
Maria Butt decided to launch her brand in 1998 soon after completing her education. She established her clothing brand named Maria. B in 1999 with an aim to bring vitality and energy to the nearly non-existent fashion retail market.
She is the brightest star in the fashion industry and works with a commitment to provide the best to her clients. She shows her artistic ability in everything she does and considers fashion as a medium for bridging gaps between cultures.
Maria B Brand Team
MARIA.B was Pakistan's 1st design house to hire professionally trained textile artists, production managers, and fashion designers to run the business professionally. Today, the brand owns not only a competent design team but also a general management team and management information system.
Owing to this professional approach thousands of articles are delivered timely to twenty-three stores in Pakistan, and franchises/stockiest throughout the world.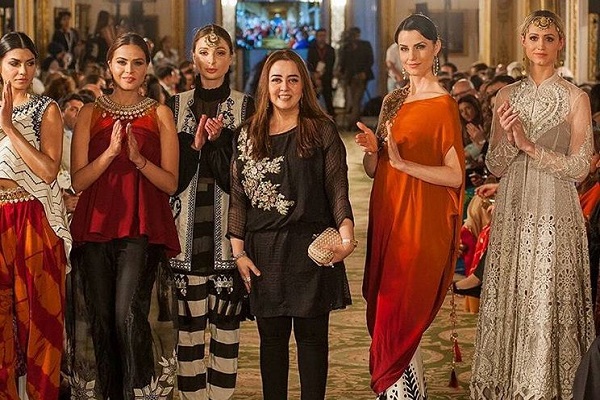 Maria B Collection
Unstitched Fabric
Unstitched fabric collection consists of linen, lawn, velvet, sateen, silk net, Luxe fabrics, Mbroidered, silk net, and M. Prints.
Jewelry
Maria. B also provides its clients with elegant jewelry articles like necklaces, rings, headsets, earrings, wrist wears, and sets.
Perfumes
In addition to trendy outfits and elegant jewelry the brand also offers fragrances for its clients. These fragrances have varying prices.
Eid and Wedding Collection
Embroidered, colorful, trendy, or traditional outfits are available for occasions like Eid and weddings. The wedding collection consists of dresses for all the wedding events like mehndi, nikah, Barat, and Walima. Bridal dresses are a combination of modern aesthetics and real elegance and have heavy price tags.
Maria B Brands
Mkids
Mkids line was launched to fill a gap in the clothing market for high quality, fashionable yet traditional formal and casual outfits for girls (age 2 to 14 years). The kids' collection has a wide range of cuts and colors for little ones.
Evening Wears
Maria. B is 1st designer brand that launched ready to wear party/evening wear line. This collection features a wide range of cuts and color palettes, ranging from traditional to a trendy east & west fusion, from demure to vibrant; ideal for a dinner party or even a wedding.
Cotton
Their debut collection was Pret casuals, which consisted of ready-to-wear stylish outfits made of pure cotton. The goal was to offer the best solution for confident and up-to-date women. This cotton collection could be worn to a formal lunch, informal dinner, get-together, and to the office.
Eid Lawn/Lawn
Maria. B Lawn was launched in 2006 and includes a wide range of fabrics, embroideries, colors, and designs. Every design is created skillfully to provide customers with three-piece suits. The brand's collaboration with Swarovski provides additional value to its customers.
Embroidered
This new addition to this brand has become Pakistan's top embroidered fabric brand. Soon after its launch, it became the most purchased clothing line in the market. Each design, from delicate embroideries to a wide range of colors, from lehengas to saris, offers a world of choices for everyone. The final sparkle is added by Swarovski crystals.
Linen
The linen collection by brand offers high-quality shawls made of a variety of designs and colors that are well-suited for every occasion like winter lunches, brunches, and dinners with family and friends.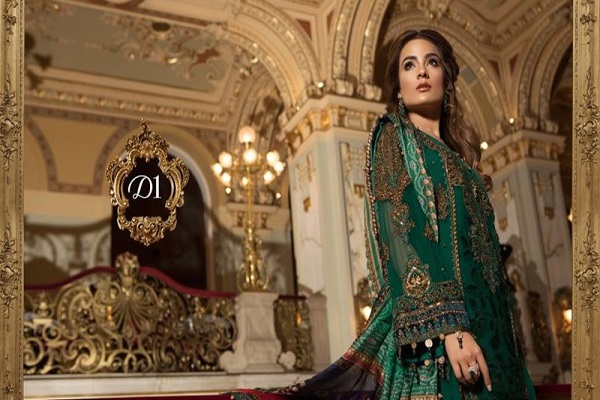 Bridals
The bridal collection provides the clients with every dress they need for wedding occasions like engagement, Barat, mehndi, Mayoun, nikah, and Walima.
Mgirl
Mgirl offers 1-piece Kurtis and trousers perfect for everyday wear.
Maria B Market Campaign
Maria. B launched its marketing campaign with the objective to raise brand awareness in Australia, Canada, the US, and the UK and also to increase sales from the international markets. The brand's popularity and demand were increasing within Pakistan, so it decided to start a Facebook campaign to expand its popularity to the international market.
First of all, the brand ran a video advertisement to create excitement and awareness about the launch of its products for the shopping season. This video ad provided the customers with an option to search for more details about the featured outfit on its website with only a click.
The brand used Facebook Live to generate excitement about upcoming fashion shoots and collections. This Facebook campaign resulted in an increase in international sales by 71%, and an increase in new clients by 36%.
Return & Exchange Policy
The brand doesn't offer any 'Returns' or 'Exchange' for its products.
All articles purchased from their site could be exchanged within seven days if the following conditions are met:
The exchange request is submitted within the specified time limit.
The item is defective or damaged when delivered.
The item received didn't match the original order.
The package doesn't have labels and price tags.
In such situations, claims are only considered if made within seven days of the purchase date.
For exchanging an article customer has to pay all handling, shipping costs.
Discounted articles aren't exchangeable or returnable.
Unstitched articles wouldn't be accepted after stitching.
International Fashion Events
Maria B has displayed its collection at the following international fashion events:
France-Paris (Pret a Porter) in 2001
USA-Chicago in 2001
Thailand-Bangkok International Fashion Fair in 2002
USA-New York in 2002
UK-Birmingham (South-Asian Fashion Mela) in 2002
USA-Los Angeles in 2003
UK-Manchester (Asian Brides Show) in 2004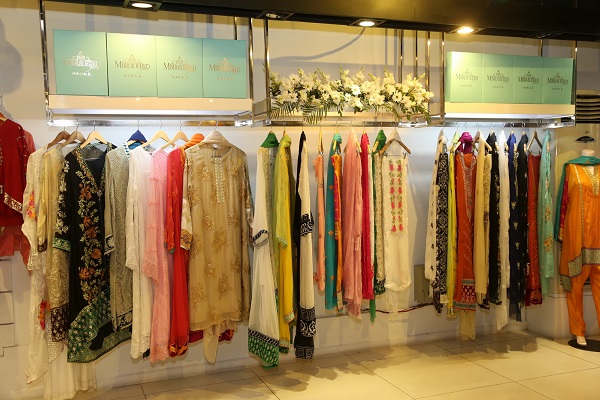 Maria B Store in Pakistan
Maria. B outlets are located in the following cities:
Hyderabad
Karachi
Bahawalpur
Sargodha
Gujranwala
Sialkot
Multan
Rawalpindi
Islamabad
Faisalabad
Lahore
Hyderabad
Karachi
Quetta
Mardan
Peshawar
Contact Information
Telephone # 0321-1224333
E-mail: [email protected]
Social Media Handles