The very famous Hunza is often considered as a 'Heaven on Earth,' wrapped in the great Himalayas and the Karakoram Mountains, which made this place a great center of attraction for tourists for many years. Tighten up your belts as we are about to jump into the colorful journey of the tremendously beautiful land.
This beautiful mountainous valley is situated in the northern part of Pakistan's independent region, "Gilgit Baltistan, "bordering China's Xinjiang region to its northeast and Khyber Pakhtunkhwa to the west. We can't get enough of the beauty of Hunza. 
This valley gives a breathtaking view of the magnificent and sumptuous mountains of the world. This article carries every detail about the valley, including Hunza History.
| Title | Description |
| --- | --- |
| Information | |
| Location: | Pakistan |
| Type: | Mountainous valley in the Gilgit–Baltistan region of Pakistan |
| Local Language Name: | ہنزہ |
| Coordinates : | 36.3167° N, 74.6500° E |
| Details | |
| Province: | The northern part of Pakistan |
| District: | Hunza Nagar District |
| Elevation: | 2,500 metres (8,200 ft) |
| Total Area: | 7,900 kilometres (3,100 sq mi) |
| Population : | Predominantly Muslims |
| Time zone: | PST (UTC+5) |
| Area dialing code: | 14301 |
| Languages: | Burushaski, Urdu, English |

Hunza History
ALEXANDER THE GREAT
The ancient history of this beautiful valley is recorded in Legends. Alexander the Great, who arrived at Hunza in 325 B.C., also discovered the vigorous Karakoram Mountains. Some proofs of the early history are patent on a massive rock near Ganesh Village.
The rulers often called the Mirs of Hunza, who even took the title of "Thum," claimed their lineage from "Alexander the Great." They regarded themselves and the Emperor of China as the most dominant leaders of the world.
BUDDHISM
The antiquity of this beautiful valley can be traced back to the ancient Indian epic Mahabharata. Buddhism was the main religion in this area. We get to know about this by the number of surviving Buddhist archaeological sites such as the "Sacred Rock Of Hunza."
Buddhist missionaries and monks who visited the subcontinent took shelter in this heavenly place. This valley also played a vital role in the transferral of Buddhism all over Asia.
NAGAR SOVEREIGNTY 
Until the 15th century, it was a piece of Nagar Sovereignty. But this dominance soon got split in the 15th century. It was separated into Nagar and Hunza Valleys among two brothers who had conflicts because of their religious beliefs.
The people of Nagar follow the path of Ayatollah Khomeini of Iran and are even known as Shiite Muslims. Whereas on the other hand, Hunzakuts follow Agha Khani belief  
GEOGRAPHY
Geographical coordinates are 36° 18′ 60.00″ N (latitude) and 74° 38′ 59.99″ E (longitude). The territory spreads up to 7 900 square kilometers (3100 sq mi).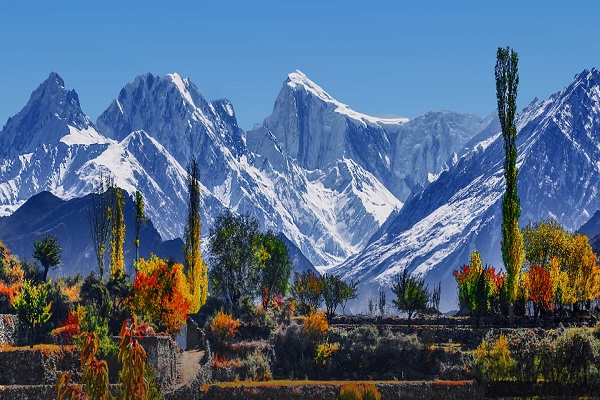 Hunza Climate
In the valley, July is said to be the warmest month having an average temperature of 23.6°C. May is another warm month with an average temperature varying between 29°C (84.2°F) and 11.8°C (53.2°F)
The valley experiences the most rainfall in May; it rains for seven days and accumulates 25.1mm. The coldest month is January, with an average temperature of -3.0°C. It rains for 62 days in the entire year in Gilgit Baltistan and collects up to 132.9mm (5.2″) of precipitation.
Population
According to the Census of 2017, this beautiful valley is a hometown of 243, 324 people having a density of 6.4/km². It covers a total area of 10,000 km²
Hunza Culture
People right here are hospitable, friendly, and generous. There are numerous meals streets withinside the city in which people can experience the flavor of conventional scrumptious meals, i.e., Harissa, Chapshuro, Mamtu, Gyal, Chapshurro (meat pies). People of Haripur cherish and rejoice in traditional and non-secular festivities actively.
By the cease of the year, Hunza Nagar, also acknowledged as "Pakistan's organic village," plans to export around 28 lots of dried apricot to Japan. A traditional festival, the "Ginnai Festival," is celebrated by the localized community with conventions organized in Altit, Baltit, and Aliabad. A new harvesting year is welcomed with joy and happiness.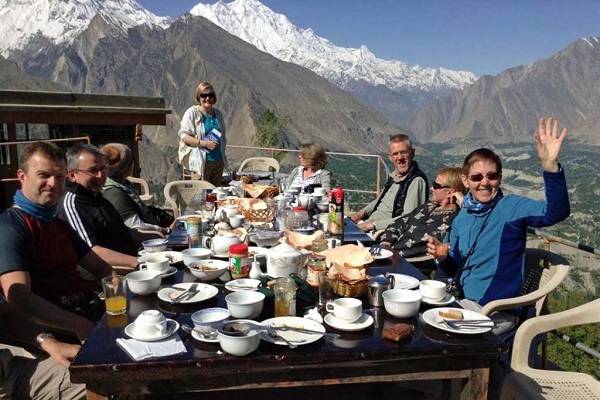 Hunza Education
It is the area with the highest Literacy rate in Pakistan. The literacy rate here is 95%. The female education ratio matches the males in Hunza. Education has always been a top priority for the residents. New public and personal sector educational establishments are growing wide to impart schooling to the younger people.  
Some of the schools are:-

Agha Khan Academy for Girls, HUNZA

Agha Khan Higher Secondary School, HUNZA

Al Amin Model School, HUNZA

Bright Moon Model School & College BAR DAS, Hunza      

Hasegawa Memorial Public School, HUNZA

Hunza Public School & Degree College
SPORTS
Athletics 

Bull-Race 

Cricket

Football 

Judo 

Kabaddi 

Karate 

Marathon Race

Stick-Fight 

Stone-Lifting 

Table Tennis 

Volleyball 

Wrestling
AGRICULTURE
Agriculture here is natural, i.e., withinside the Hunza valley, chemical fertilizers and spray are not used. The soil is enriched through the mineralized glacial water because healthful food is available in an excess amount to the people (it's also said that People are mostly vegetarian.
The three main products of this land are
Fruits:- apricots, peaches, pears, apples, cherries

Vegetables:- potatoes, tomatoes, beans, melons, etc

Grains:- the main one is wheat, the other includes maize, etc.
TOURISM
Its geographical location has a few stunning traveler points of interest and a supply of revenue generation. Tourist preferred spots include:
Baltit Fort

Ultar

Attabad Lake

Khabasi Residence

Sacred Rocks of Hunza

Minapin Glacier

Barpu

Altit Fort

Sangemarmar Sar

Hunza Peak

Lady Finger

Passu
LANGUAGES
The languages being spoken here include:
Urdu

Pashto 

Burushaski

Wakhi 

Shina

English

Punjabi

Balti
TRAVEL
Gilgit Baltistan provides the only ground link for Pakistan to its brotherly country China. For a long time, this "Heaven on Earth" was desperate for international investment. The CPEC project of Pakistan and China is now transforming the distant but spectacular Gilgit Baltistan.
Most people arrive here by road, and it takes virtually 2-3 hours to reach Hunza from Gilgit. The main bus stand is on the KKH Aliabad. There are booking agents in the city for long-distance buses & jeeps on the KKH. The journey from Islamabad will take as long as twenty-four hours. 
Nearest airports are
Gilgit Airport 

Islamabad International Airport
Hunza Postal Code and Area Code
Area code:- 572 
Postal Code:- 15100