Ayaz Samoo is a multi-talented skilled man who is in the industry since 2004. He is a wonderful Pakistani actor, producer, Comedian, model, host, VJ and writer. Other than an actng he is also fond of cricket and is a great wicketkeeper. This article contains all the information about Ayaz Samoo biography and Ayaz Samoo career.
| Title | Description |
| --- | --- |
| Personal | |
| Name: | Ayaz Samoo |
| In Urdu: | ایاز سمو |
| Native Name: | Sajid Billa |
| Famous As: | Actor |
| Nationality: | Pakistani |
| Residence: | Karachi |
| Education: | physicist |
| Religion: | Islam |
| Profession: | Actor, Model, Comedian, Host, Writer and Producer |
| Years Active: | 2004-present |
| Debut Drama: | Chalo Aagay |
| Debut Film : | O21 |
| Height: | 5'6 |
| Website: | https://www.instagram.com/ayazsamoo/ |
| Awards : | Best Actor in a negative role |
| Born | |
| Date: | 11th Feb 1987 |
| Place: | Karachi |
| Family | |
| Spouse: | Married |
| Children: | None |
| Parents: | Abdul Razak Samoo |
| Siblings : | Husnain Samoo |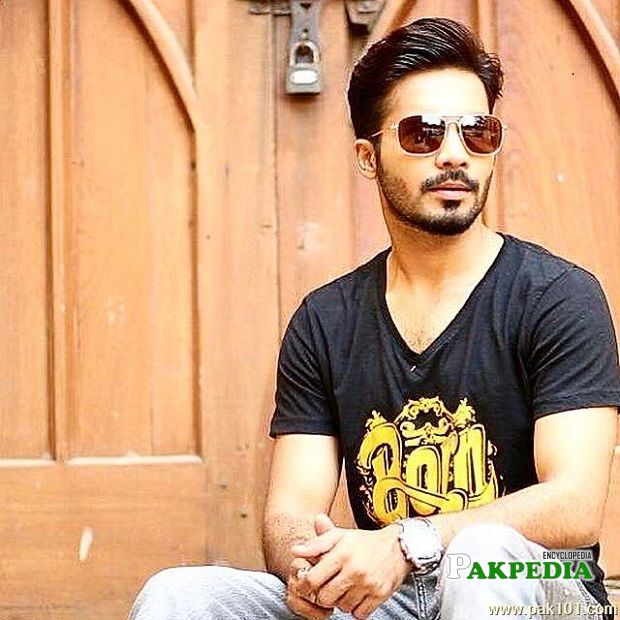 Ayaz samoo biography
This handsome Multi-talented man is a Pakistani actor, producer, comedian, model, host, and writer. There is nothing which this man can't do. He is the most versatile and recognizable man in the industry since 2004 and shares a special bond with Faisal Qureshi. He is fond of cricket since childhood and often played it during his college team. He was an all-around presumed opening batsman and was likewise exceptionally great off-break bowler. Because of his remarkable handling aptitudes, he was additionally a wonderful wicketkeeper.
Ayaz date of birth
He was born on 11th February 1987 in Karachi and still resides there with his family.
Ayaz Samoo career
As a Comedian
He started his professional career with a comedy since his time at the Habib Public School in Karachi. He was chosen to perform in the second period of The Great India Laughter Challenge in India, where he got a chance to represent his country Pakistan. Despite the fact that he didn't win the challenge, his accomplishment in the show drove him to perform in the third period of the show. He was generally alluded to as the 'most youthful hero' on the show. From his initials triumphs in the show, he was approached to take part in another high-quality satire show title Super Karara and he won. He would be called 'Karara King' in the wake of winning the challenge. Later he was seen performing in many shows. He was honored with a title of 'King of comedy'.
As an Actor
He is an adaptable and gifted performer who has performed in excess of 70 distinct characters. He made his little screen debut in 2005 with the TV sequential 'Chalo Aagay' of Geo TV. After that, he showed up in many top-rated TV serials of various channels, for example, 'Saheliyan', 'Khushi Ek Roag' and 'Shadi Mubarak' of ARY Digital, 'Dr. Ejaz Ki Zoja', 'Youngster Kahani' and 'Ghar Aye Mehmaan' of Hum TV, 'Meri Maa' of Geo TV, 'Bhabhi Sambhal Chaabi' of Urdu 1 and some more. He has been a piece of numerous sitcoms also including 'Batashay', 'Gullu Weds Guggi' and 'Band Bajega' of ARY Digital, 'Haseena Chalbaaz' of Express Entertainment and some more. He has worked with many talented artists, for instance, Yumna Zaidi, Farhan Ally Agha, Sami Khan, Komal Aziz, Qavi Khan, and many others.
In Movies
He made his debut in 2014 with a Pakistani film O21 starring Shan Shahid, Aamina Sheikh, Gohar Rasheed, Bilal Ashraf, and many others. He received much appreciation from his debut and soon was seen in another Lolly wood movie 'Moor' in a negative character for which he also got an award in 2nd ARY Film Awards. Soon he will be seen in Aabis Raza's upcoming romantic comedy Maan Jao Naa starring Adeel Chaudhry, Hajra Yamin, Asma Abbas, Ghana Ali, and Asif Raza Mir.
As a Host
He is blessed with a great Hosting skill. He hosted a show on ARY Musik 'Sajid Billa a.k.a. Sajid DVD' from 2009-2013. He also co-hosted 'Good Morning Pakistan' on ARY Digital along with Nida Yasir in 2011. In 2018 he hosted a Ramzan special transmission with the title 'Ehd E Ramadan'.
As a Model
Not only a talent, but this Young man is also blessed with good looks. In 2004 he was shown in a video 'Ae Jawan' in which he did modeling. He has done various photo shoots for huge brands and designers. He also appears in various Television commercials. This man has a long way to go.
Ayaz Filmography
List of Dramas
Chalo Aagay
Ambulance
Zig Zag
800 cc
Gobar Singh
Jhoot Bole Kawa Katai
Gaddi Late Hai
Welay Awards
College
Masti Ki Paatshala
Billu Barbar 2
Dabangg 2
Shadi Mubarak
Topi Drama
Haseena Chalbaz
Khushi Ek Roag
Band Bajega
Bhabhi Sambhal Chaabi
Ghar Aye Mehmaan
Kitni Girhain Baqi Hain
Meri Maa
Teen Kahani
Gullu weds Guggi
Batashay
Dil Harri
Dr Ejaz Ki Zoja
Bhatti & DD
Dulha Mil Gaya
Saheliyan
Eid Hungama
Dosti Kai Side Effects
Mein Aur Tum 2.0
Mein Mehru Hoon
Tere Naal Love Hogaya
Madventures Season 3
Afra Tafrih
Meri Baji
Haasad
List of Movies
O21
Moor
Aksbandh
Maan Jao Na
List of Comedy Shows
Comedy Club
The great Indian Laughter Challenge 2
Super Karara
The great Indian Laughter Challenge 3
Show Man Show
Eid Hungama
Funjabi Chak Dai
Comedy Champions
Comedy Ka King Kaun
Comedy Club
King Is King
Comedy Kings
Comedy Kings – Ek Naya Tamasha
Comedy Kings – Zara Hat Ke
Awami Budget aur Hukumati Budget
Comedy Kings Ka Shahenshah Kon
Laugh India Laugh
List of Shows As Host
Sajid Billa a.k.a. Sajid DvD
Good Morning Pakistan
Indo Pak Festival
Mandi Ka King Kaun
Video On Trial
Dimaagh Ki Ghanti Live
Campus Star
Shan e Ramzan
Ehd E Ramadan
As a Writer
Zig Zag
Mein Aur Tum 2.0
As a VJ
I am Joking
Eid on Demand
Bakra Masti
Mirchi Live – Halaat D Maamay
Qasai says
Guru Hoja Shuru
Bhoot Kahan Hai?
Mr Fraudiye
Musik Trivia
Social Media Handles
His Instagram and Facebook accounts are as follows