Zulfiqar Ali was a Pakistani lawyer and political figure who worked as Pakistan's ninth Prime Minister from 1973-1977 and the country's 4th President from 1971-1973. He also founded and chaired the PPP (Pakistan People's Party) until his hanging in 1979.
His daughter Benazir was elected Prime Minister twice, while his son-in-law Asif Ali Zardari worked as President. He is widely regarded as one of Pakistan's best leaders, and his political party, the PPP, remains one of the country's largest political parties. This article contains all the information about him, including Zulfiqar Ali Bhutto Biography.
| | |
| --- | --- |
|               Title |            Description |
| Name: | Zulfiqar Ali Bhutto |
| Nationality: | Pakistani |
| Education: | M.Sc. (honors) in political science |
| Date of Birth: | 5th Jan 1928 |
| Profession: | Politician |
| Political Party: | Pakistan Peoples Party |
| Family: | |
| Children | Benazir Bhutto, Sanam Bhutto, Murtaza Bhutto, and Shahnawaz Bhutto |
| Relatives: | Asif Ali Zardari (Son in Law), Bilawal Bhutto (Grandson) |
| Death: | 4th April 1978 |
| Place of death: | Adiala Jail |
| Death Cause: | Executed by Supreme Court |

Zulfiqar Ali Bhutto Biography
In Pakistan, Bhutto is still a controversial figure who is frequently discussed. He was roundly chastised for threatening his political opponents, although being praised for his nationalism. After facing a bitter and psychological defeat from its long-time enemy India, Pakistan was isolated, emotionally broken, and demoralized, and at that time, Bhutto took control of Pakistan.
His political opponents said that his socialist policies slowed Pakistan's economic development by causing high costs and low costs. Bhutto and his colleagues replied that they were only tackling the tremendous inequity that had grown during the Ayub Khan years. His international reputation is more positive, calling him a secular internationalist.
Despite the criticism, Bhutto remains Pakistan's most popular leader at home. During his tenure, he was able to bring all of the political parties together to pass the 1973 constitution.
His unwavering commitment to nuclear weapons for his country has earned him the title of "Father of Nuclear Deterrence Project of Pakistan," that he continued despite Pakistan's scarce resources and intense US resistance. He was regarded as populist and demagogic by The Atlantic in 2006, but he remains Pakistan's best civilian leader.
Bhutto Date of Birth
He was born on 5th Jan 1928 in an Araein Muslim family.
Education of Bhutto
He went to Worli Seaface, Bombay, to attend the CACJS (Cathedral and John Connon School), which eventually became St. Xavier's College. He afterward joined the Pakistan Movement as an activist. He got admission to the University of Southern California in 1947 to pursue a degree in political science.
Later, he transferred to the California University, Berkeley, as a sophomore in 1949 and in 1950 completed his graduation in political science. There, he developed an interest in socialist doctrines and gave several lectures on their viability in Islamic countries. He moved to the United Kingdom in June 1950 and got enrolled at Christ Church, Oxford, to study law, where he completed LLB, an LLM in law, and an M.Sc. (honors) in political science.
Zulfiqar Ali Bhutto Family
His mother, Khurshid Begum, and father, Sir Shah Nawaz Bhutto, were dewan of Junagadh and maintained strong ties with British Raj officers. The couple's 1st child Sikandar passed away in 1914 at the age of seven due to pneumonia, and 2nd child, Imdad, passed away in 1953 owing to cirrhosis. He was 39 at that time. Zulfiqar was at 3rd number. His marriage to Shireen Amir Begum was planned in 1943.
His daughter Benazir Bhutto also served as Prime Minister. She was murdered on 27th December 2007. His son-in-law Asif Zardari had been the president in the past.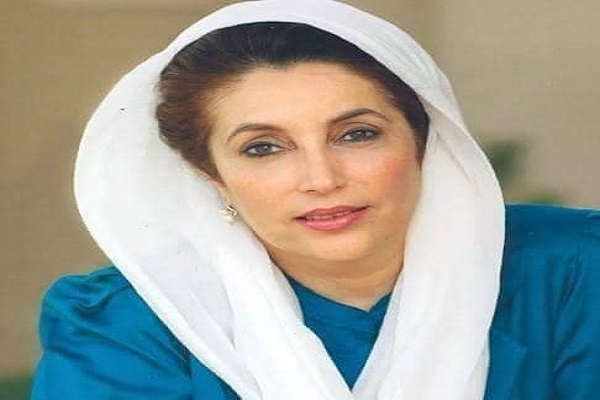 Career
Zulfikar Ali Bhutto was elected in 1957 as the youngest member of the Pakistani delegation to the UN. In Oct of the same year, he spoke before the UN's 6th Committee on Aggression and headed the Pakistani delegation to the inaugural Conference Held on the Law of the Sea.
He became the youngest cabinet minister of Pakistan that year when President Iskander Mirza appointed him to Commerce Ministry in the pre-coup d'état govt. He was appointed Minister of Water & Power, Industry and Communications in 1960. Despite his inexperience & youth, he became Ayub Khan's trusted partner and advisor, growing in power and influence.
As Foreign Minister
He was a socialist and nationalist who had strong opinions about the form of democracy that Pakistan needed. His communist outlook prompted him to establish a close connection with neighboring China when he held foreign ministry in 1963.
At a time when two governments tried to claim to be "China," several other countries acknowledged Taiwan as the actual single govt. of China, Only Pakistan and Albania backed the People's Republic of China after the Soviet Union & its subsidiary governments severed ties with Beijing in 1964 due to ideological differences.
Ties with China
The United States criticized Bhutto for his strong support for strengthening the relationship with China. President Lyndon B. Johnson warned Bhutto in a letter that any more ties with China would risk congressional backing for Pakistani funding. Bhutto used a demagogic tone in his speeches and led the foreign ministry forcefully.
His charismatic leadership style and rapid climb to power earned him national acclaim and admiration. He and his team visited Beijing, China, and were greeted cordially by the Chinese, with Bhutto paying Mao Zedong tremendous respect.
Sino-Pakistan Agreement
On 2nd March 1963, he signed the Sino-Pakistan Agreement, which gave China sovereignty of 750 km2 of Pakistan-Controlled Kashmir. He Bhutto declared his commitment to non-alignment, establishing Pakistan as a powerful member of non-aligned organizations.
Zulfiqar Ali Bhutto believed in pan-Islamic solidarity, developed deeper ties with countries like Saudi Arabia and Indonesia. He had a huge impact on Pakistan's previously pro-Western foreign policy.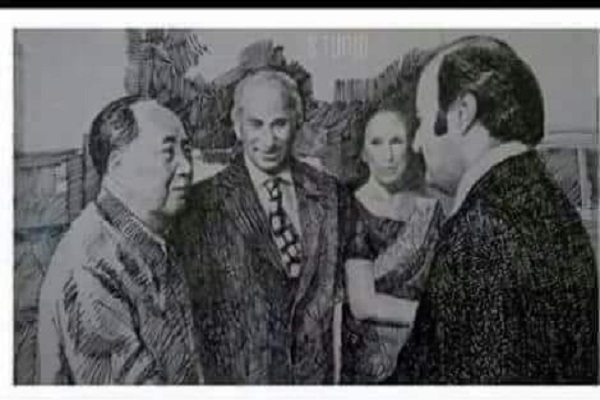 Alliance of Pakistan with Germany
He began advocating a foreign policy path for Pakistan, independent United States influence while maintaining a key role for Pakistan within SEATO (Southeast Asia Treaty Organization) and CENTO (Central Treaty Organization). Meanwhile, he traveled to both East & West Germany, cementing ties between the two governments.
With Germany, he negotiated economic, industrial, military, and technological accords. Bhutto enhanced the strategic alliance of Pakistan with Germany. At the Munich University, he gave a farewell speech in which he emphasized the importance of Pakistan-German relations.
Support for China
As territorial disputes between China and India grew, Beijing planned an invasion of India's northern borders in 1962. Premier Mao and Zhou Enlai asked Pakistan to participate in the operation to free Jammu & Kashmir from Indian control.
Bhutto supported, the idea but Ayub resisted because he was fearful of Indian reaction. Ayub suggested a "joint defense alliance" with India. Such words astounded Bhutto, who believed Ayub Khan was uneducated in international matters.
Criticism of the USA
Despite membership of Pakistan in anti-communist western partnerships, Ali was aware that China had abstained from criticizing Pakistan. The United States assured Pakistan in 1962 that the "Kashmir matters" would be resolved in accordance with Pakistani and 'Kashmiri' interests. As a result, Ayub kept him separate from the Chinese plans.
Ali criticized the United States for offering military assistance to Indians during or after the Sino-Indian War 1962, which he saw as a breach of the Pakistan-US alliance.
Determination about Nuclear Program
He was recognized for pursuing strong international and geostrategic policies towards India throughout his tenure. Munir Ahmed Khan, a friend of Bhutto, briefed him in 1965 about India's nuclear program.
According to reports, Bhutto stated, 'For 1000-years, Pakistan will struggle. If India develops the atom bomb, Pakistan would eat leaves or grass or would even remain hungry, but Pakistan would develop its own bomb. The Pakistani government has no other option.'
Zulfiqar Ali Bhutto Speech
Upon reaching Lahore on 21st June 1967, after his resignation from the post of foreign minister, huge crowds gathered to hear Bhutto's speech. He traveled throughout Pakistan to make political speeches, expressing his anger against Ayub. He made his new party's principles apparent in October 1966 'Our faith is Islam, our policy is a democracy, and the economy is our socialism.
Support of Mubashir Hassan
Mubashir Hassan, an engineering professor at the University of Engineering and Technology in Lahore, was the mastermind and unseen hand behind Bhutto's rise to power. The PPP became a member of the pro-democracy movement comprising other political parties from around Pakistan under Bhutto's leadership and Hassan's guidance. PPP activists held major strikes and protests around the country, putting more pressure on Khan to step down.
Bhutto's Refusal to Support Ayub
The arrests of Bhutto and Dr. Hassan on 12th Nov 1969 triggered even more political unrest. Bhutto participated in the Round Table Conference organized by Ayub in Rawalpindi after his release, accompanied by major PPP officials, but refused to support Ayub's stay in office and Sheikh Mujib-ur-Rehman's Six Point Campaign for Regional Independence.
Since 1958, Bhutto has served as the country's 1st civilian chief military rule administrator and also its 1st civilian president. Democratic and leftists socialists entered into Pakistani politics after Bhutto assumed control and later rose as dominant players in Pakistani politics.
For the 1st time in Pakistan's history, democratic and leftists socialists were given the opportunity to govern the country with a popular vote and a largely recognized sole mandate provided to them by the population of the West in the 1970s elections.
Services as President
As president, he faced both foreign and internal challenges. In Pakistan, the trauma was extreme, resulting in an emotional breakdown and psychological setback. The two-nation doctrine, which was the theoretical foundation for Pakistan's creation, was discredited, and the country's foreign policy failed when no moral backing could be found, including all the long-standing friends such as the United States & China.
Pashtun, Punjabi, Sindhi, and Baloch nationals were at their pinnacle on the domestic front, pushing for their independence from Pakistan. Bhutto initiated full-fledged military and intelligence operations to wipe out any separatist activities after finding it impossible to keep Pakistan unified. Pakistani Armed Forces severely suppressed these nationalist organizations by the end of 1978.
Efforts for Mujib-ur-Rehman
Bhutto put Yahya Khan under home detention right away, arranged a cease-fire, and directed the release of Mujib-ur-Rehman, who had been taken prisoner by the Pakistan Military. To do so, Bhutto overturned Mujib's prior court-martial verdict, which had sentenced him to death by Gen.
Rahim-ud-din Khan. Lieutenant-Gen Gul Hassan was named COAS (Chief of Army Staff) by Bhutto when he created a new cabinet. Bhutto said on 2nd Jan 1972 that all-important industries, including steel and iron, heavy engineering, petrochemicals, heavy electrical, cement, and public goods, would be nationalized.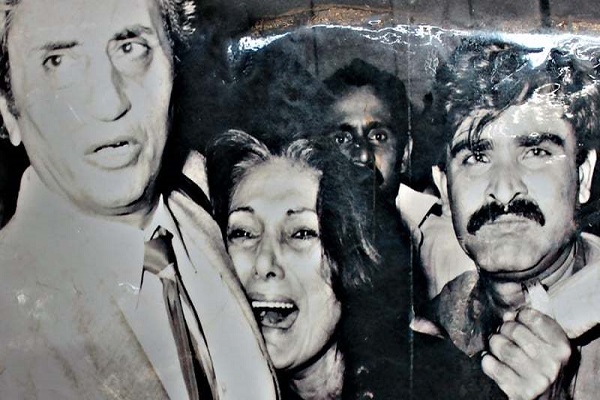 Efforts for Labors
A new labor strategy was introduced, strengthening workers' rights and trade union power. Despite coming from a feudal family, Bhutto announced land reforms, including a government takeover of over a million acres to distribute to landless peasants. More than 2,000 federal workers were fired due to allegations of wrongdoing.
On 3rd March, Bhutto fired the military chiefs after they refused to obey orders to put down a large police strike in the Province of Punjab. In March 1972, he named Gen Tikka Khan as the new COAS believing that the general would not meddle in political concerns and instead focus on repairing the Pakistan Army.
Arrest
The army, led by Gen.  Zia-ul-Haq, attempted a coup on 5th July 1977. PM Bhutto was ousted by Zia and imprisoned for a month. In ninety days, Zia promised, new polls would be held. He kept delaying the elections, openly retorting that if the electoral process were held in Bhutto's presence, his party would lose power.
The Army detained him again on 3rd Sep on accusations of ordering the assassination of a political rival in 1974. Ahmed Raza Kasuri, a thirty-five-year-old politician, and his family were attacked, with Kasuri's father, Ahmed Khan, dead. Kasuri stated that he was the intended target of the attack and accused Bhutto of planning this attack.
He later stated that fifteen assassination attempts had been made against him. Nusrat Bhutto gathered a team of prominent Pakistani lawyers, led by Yahya Bakhtiar, Abdul Hafiz Pirzada, and Fakhruddin G. Ebrahim, to defend her husband. As Justice KMA Samdani considered the evidence incomplete and contradictory' Bhutto was released ten days after his imprisonment.
Resultantly, Justice Samdani was dismissed from the bench and moved under the law ministry's control. Bhutto was detained again three days later on the same allegations, 'martial law.' When the Pakistan People's Party (PPP) organized rallies among supporters of Bhutto, Zia called off the elections.
Zulfiqar Ali Bhutto Death
The murder charge was not proved on Bhutto but was given the death penalty on 18th March 1978. Abdul Hafiz Pirzada, his former Legal Minister, petitioned the Supreme Court for Mubashir Hassan's release, and also a reconsideration of the death sentence of Bhutto centered on the split decision.  Hassan's release was denied by the Supreme Court due to his detention by Military Police; however, the court consented to hear arguments.
The Supreme Court of Pakistan decided after twelve days of hearings that the President of Pakistan has the authority to commute a death sentence to life imprisonment. Pirzada applied to the Chief Martial Law Administrator. General Zia-ul-Haq, on the other hand, did not act promptly.
The appeal was denied by the Supreme Court on 24th March March 1979. Zia maintained the death penalty. On 4th April 1979, Bhutto was hanged at Rawalpindi's Central Jail and buried in Garhi Khuda Baksh.