On 11 April 1971, General Yahya Khan appointed his loyal general Tikka Khan as the Governor General and the Chief Martial Law administrator of Bangladesh. At that time he was the highest authority on both civil and military administrations.     
| Title | Description |
| --- | --- |
| Personal | |
| Name: | Tikka Khan |
| In Urdu: | ٹِکّا خان |
| Famous As: | Army general |
| Nationality: | Pakistani |
| Education: | Graduate from the Indian Military Academy Dera Doon |
| Religion: | Islam |
| Profession: | Army general |
| Awards : | Hilal-i-Quaid-e-Azam, Sitara-e-Pakistan ,Nishan-e-Imtiaz Ribbon,Hilal-i-Imtiaz |
| Born | |
| Date: | 10 February 1915 |
| Place: | Kallar Syedan, Rawalpindi District, Punjab, British India |
| Died | |
| Date: | 28 March 2002 |
| Aged: | 87 |
| Rest Place: | Westridge cemetery |
| Details | |
| Service/branch: | British Indian Army (1935–1947), Pakistan Army (1947–1976) |
| Years of service: | 1935–1976 |
| Rank: | General |
| Unit: | 2nd Field Regiment, Regiment of Artillery |
| Commands: | Eastern Command IV Corps II Strike Corps 8th Infantry Division, Rann of Kutch 15th Infantry Division, Sialkot |
| Battles/wars: | World War II Indo-Pakistani War of 1965 (Battle of Rann of Kutch, Battle of Chawinda ) Indo-Pakistani War of 1971 (Bangladesh Liberation War ,Operation Searchlight) |
| Awards: | Hilal-i-Jurat (HJ) |
| Service No: | PA-124 |
| In Office | |
| Preceded by: | S.J. Qureshi |
| President: | Ghulam Ishaq Khan |
| Prime minister: | Benazir Bhutto |
| Date: | 9 December 1988 – 6 August 1990 |
| Role: | Governor of Punjab |
| Succeeded by : | Muhammad Azhar |
| In Office 2 | |
| Preceded by: | Ghulam Omar |
| Succeeded by : | Rao Farman Ali |
| Date: | 1 March 1976 – 4 July 1977 |
| Role: | National Security Advisor |
| President: | Fazal Ilahi Chaudhry |
| Prime inister: | Zulfiqar Ali Bhutto |
| In Office: | 3 March 1972 – 1 March 1976 |
| Role: | 1st Chief of Army Staff |
| Preceded by: | Lt. Gen. Gul Hassan (as C-in-C of the army) |
| Succeeded by: | Gen. Zia-ul-Haq |
| In Office: | 6 April 1971 – 31 August 1971 |
| Role: | Governor of East Pakistan |
| President: | Yahya Khan |
| Preceded by: | Sahabzada Yaqub Khan |
| Succeeded by: | Abdul Motaleb Malik |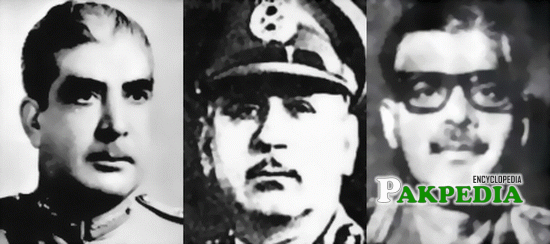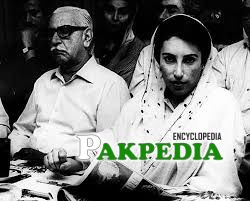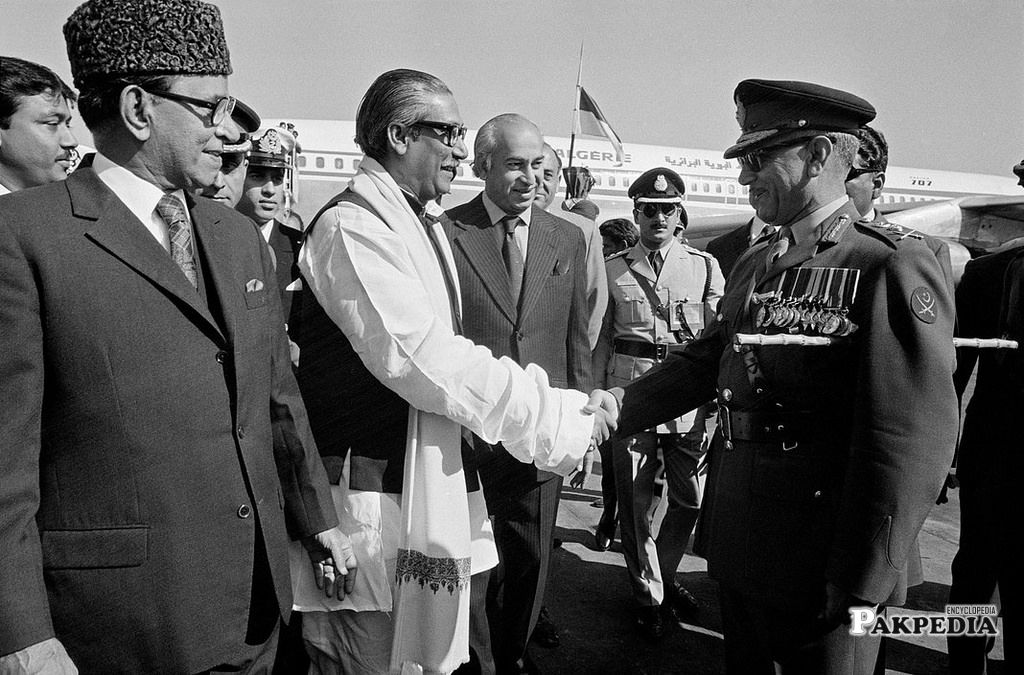 Profile
Raja Tikka Khan was born in the village of Jochha Mamdot in Kahuta Tehsil near Rawalpindi, in 1915 (in what was then British India). He was a graduate of the Indian Military Academy at Dehradun and was commissioned in 1939. During his military career, he served on various staff, command and instructional positions. General Tikka Khan also had the unique distinction of serving his country in major moments of crises. He fought the enemies of Pakistan in Rann of Katch and surrounded more than 40,000 Indian Army.
Military career
He participated in World War II and fought with the 2nd Field Regiment, Regiment of Artillery in Libya against Afrika Korps led by German Field Marshal Erwin Rommel in 1940. He was captured by the German troops and held as POW in Libya for more than a year. After making his successful escape, he saw military action in Burma front against Japan in 1945 where he was wounded and hospitalised for sometime. In 1946, he was posted in different parts of India such as Deolali, Mathura, and Kalyan as an army officer. During the same time, he served as an infantry instructor at the Indian Military Academy at Dehradun. His British superiors had sneak suspicion that Captain Tikka Khan who was in the Academy not by merit but by favouritism. At the GHQ India, Tikka Khan was often subjected to jokes by his British officers.
After partition
After the partition that followed the independence of Pakistan, Tikka Khan opted for Pakistan and joined the Pakistan Army as a Major where he was the only artillery officer in the Pakistan Army's Regiment of Artillery in 1947. His military career progressed well and got accelerated promotions in the army.
 In 1949, he was promoted as Lieutenant Colonel and commander of his unit. He worked hard to raised the Medium Regiment in the new army and commanded the first post of the artillery regiment.
 In 1950–54, he was promoted as Colonel and became the deputy director (Dy Director) at the Regiment of Artillery.
In 1955, his promotion was approved for one-star rank and was promoted as Brigadier to command the Medium Regiment. 
In 1962, Tikka Khan was promoted as Major-General and posted at the GHQ in Rawalpindi.
Between the wars19651971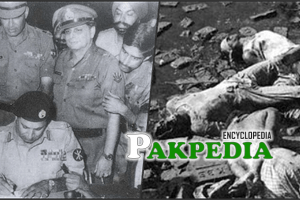 In 1965, Major-General Tikka Khan was the GOC of the 8th Infantry Division that was positioned in Punjab, Pakistan.  in April 1965, the 8th Infantry Division intruded into the Rann of Kutch from Southern Command. Hostilities broke out in 1965 between India and Pakistan and Tikka Khan's 8th Infantry Division engaged in the battle with the Indian Army. He witnessed the tank battle in Chawinda, Punjab that is remembered as one of the largest tank battles in history since the Battle of Kursk in World War II. During the 1965 war, Tikka Khan earned reputation as a victor of Rann of Kutch and credited widely by the print media over the victories he gained over the Indian Army. He made a bold stand against the Indian Army's encirclement in the Sialkot sector in 1965. In addition, he also led the 15th Infantry Division, also in the 1965 war. [1] wars  
Promotion to 3-star
 After President Ayub Khan handed over the presidency to his army chief General Yahya Khan in 1969, Tikka Khan was promoted to three-star assignment and made Lieutenant-General to command the IV Corps, stationed in Lahore. He was the martial law administrator of Punjab under President Yahya Khan who appointed him after replacing with Attiqur Rahman. His personality was well known in Pakistan as being tough and ruthless. In March 1971, Tikka Khan was sent to Dacca and left the post to Lt Gen Bahadur Sher in March 1971.
Governor of East Pakistan
President Yahya Khan after the resignation of Lieutenant-General Yaqub Khan appointed Tikka Khan as the governor of East Pakistan. In March 1971, Lieutenant-General Tikka Khan arrived in Dacca took over the governorship of East Pakistan and to command the unified Eastern Command. He has faced accusations of killing thousands of civilians. He succeeded Air Commodore Mitty Masud, and assumed the command of Eastern Military High Command on 26 March 1971. Acting on the instructions provided by President Yahya Khan's administration, Tikka Khan began preparations of "direct-wise military operation" against the Awami League on the evening of 25 March 1971. He ordered the arrest of Sheikh Mujibur Rahman and outlawed the Awami League and ordered the attack on the University of Dhaka at midnight. Lieutenant-General Tikka Khan was the architect and top planner of Operation Searchlight. Thousands were killed in this operation, including the academia and members of civil society the country was plunged into a bloody civil war. Tikka Khan followed the classical "Seek and destroy and Infiltration" method and captured all radio stations in the East Pakistan at the price of systematic killings of Bengali people. In Pakistan alone, he became to known as "soldier known for his eager use of force"; he also earned the notoriety and was nicknamed as "Butcher of Bengal". [2] bengal
Replacement of Tikka Khan
 In West Pakistan, the homegrown criticism grew much farther and Tikka Khan's action was widely disapproved that led to the President Yahya Khan replacing him with the populist civilian set-up. He was immediately called back to Pakistan, and relinquished the unified Eastern Command to Lieutenant-General Amir Khan Niazi. He was given the command of II Strike Corps based on Multan, Punjab. The II Strike Corps was based on two infantry brigades and an armoured regiment and commanded the II Strike Corps during the war with India in 1971. During the 1971 war, Tikka Khan's II Strike Corps casualties were very high: around ~3,000 soldiers were killed and nearly 50 tanks were destroyed by Indian Army. By the time, the ceasefire and surrendered was called, Tikka Khan had earned notoriety among his men and subordinates.
Chief of Army staff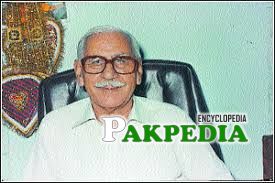 Under a reformed set-up, President Zulfikar Ali Bhutto approved the promotion papers of Tikka Khan to four-star rank and appointed him as Chief of Army Staff (COAS) in 1972. Tikka Khan was highly unpopular choice in military circles for the chief of army staff because it was felt strongly that he did not have any clue about his new assignment. The promotion was highly political and had political motives as Tikka Khan was known for his loyalty bestowed to President Zulfikar Ali Bhutto. In 1972, he supported the militarisation of Pakistan Atomic Energy Commission by supporting Munir Ahmad Khan to take over its chairmanship and directorship of clandestine atomic bomb programme. His role was implicated in the Hamoodur Rahman Commission but the responsibility issues concerning Tikka Khan were Classified. 
Butcher of Balochistan
In 1974, he planned out the military operations in Balochistan and approved the military operations that earned him notoriety once more as "Butcher of Balochistan" by his critics. In 1976, he provided his support to Ghulam Ishaq Khan and Bhutto to expand and support the clandestine programme. In 1976, Tikka Khan was set to retire from the military and send the proposals for his possible eight successors. Prime Minister Zulfikar Ali Bhutto asked for his opinion on Lieutenant-General Zia-ul-Haq's military career which Tikka Khan did not recommend supporting him as chief of army staff. Tikka Khan reportedly marked to Bhutto as: I thought, he was dull. In any case, he was the most junior of all eight serving lieutenant-generals." However, Bhutto by-passed his recommendations and approved Lieutenant-General Zia-ul-Haq to four-star rank and appointed him as army chief. 
National security advisor
Tikka Khan was appointed and elevated as National Security Advisor in 1976 with a status of federal minister by Prime Minister Zulfikar Ali Bhutto. However, his tenure was short and terminated when the martial law was imposed by army chief General Muhammad Zia-ul-Haq in 1977. General Zia ordered the military police to arrest both Bhutto and General Tikka Khan and placed them under house arrest. Bhutto was executed in 1979, after which General Tikka Khan emerged as one of the leaders of the Pakistan Peoples Party (PPP), becoming its Secretary General, during a time when many party stalwarts abandoned it. [3] governor
Governor of Punjab
In 1980–88, Tikka Khan faced imprisonment numerous times for his political activities until President Zia-ul-Haq died in August 1988 in an aircraft explosion over Bahawalpur. Despite Tikka's political inclinations, many of Tikka's army protégés such as Sawar Khan, Iqbal Khan and Rahimuddin Khan were promoted to four-star rank and remained on deferential terms with him. Tikka Khan participated well in the general elections held in 1988 from Rawalpindi constituency. He was appointed as the Governor of Punjab by Prime Minister Benazir Bhutto in December 1988. His governorship was terminated by President Ghulam Ishaq Khan after dismissing the government of Prime Minister Benazir Bhutto in August 1990, after which he retired from active politics.
Death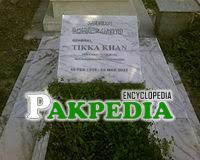 Tikka Khan retired from politics and lived a very quiet life in Rawalpindi, Punjab. Throughout the 1990s, he battled with his illness and hospitalised in CMH Rawalpindi for several years. He refused many television interviews on the course of 1971 episodes and died on 28 March 2002. 
Resting place
He was laid to rest with military honours in the Westridge cemetery in Rawalpindi. In his funeral attendance were the Chairman joint chiefs Aziz Khan, army chief, air chief, naval chief and other senior military and civil officials. Benazir Bhutto paid him a rich tribute in the television and directed a message to Tikka Khan's son, Colonel Khalid Khan, where Benazir Bhutto> noted that: "Tikka Khan, who had spent many years campaigning with the General ", remembered him as a person who, "rose to the highest offices of this country due to his hard work and respect for the rule of law." [4] death
Awards
He was a soldier's soldier and lived a humble civil life after his retirement. He has the unique distinction of being awarded the highest Military and Civilian award allowed for a non-Shaheed person. He was awarded the Military Hilal-e-Jural and the civilian Hilal-e-Quad-e-Azam awards.
Bravery and Dedication
He fought the enemies of Pakistan in Rann of Katch and surrounded more than 40,000 Indian Army. He was asked by name to take command of the Sialkot sector in 1965 War and successfully defeated the Indian in the Tank Battle of Chawinda. He was again ordered to East Pakistan to defend the motherland against Indian conspiracies and an active rebellion. Had he stayed in East Pakistan, the story would have been different but alas, under British/American pressure, he was transferred back only after 6 months.  Lastly, he fought the rebellion in Baluchistan and successfully put a stop to it with minimal loss. Those who murdered children and gouged the eyes of prisoners were sternly dealt with. Finally, General Tikka Khan also believed that Soldiers should only do Soldiery and NOT get into politics. As such he opposed Zia's dictatorship with resolve and led the movement for Restoration of Democracy (MRD) as Secretary General of PPP. May God Almighty rest his soul.