Iskander Ali Mirza was the first president of Pakistan according to the first constitution of the country. He was also the fourth governor-general of Pakistan who criticized for imposing the first martial law in the country and destabilizing the country's political system. He also selected as the governor of East Pakistan. Mirza was dismissed by Ayub Khan, who appointed as the Chief of Army Staff by Ayub Khan. This article has all the information about Ali Mirza, including Iskander Ali Mirza Biography.
| Title | Description |
| --- | --- |
| Personal | |
| Name: | Iskander Ali Mirza |
| In Urdu : | اسکندر علی مرزا |
| Famous As: | Former President of Pakistan |
| Nationality: | Pakistan |
| Residence: | London, England, United Kingdom |
| Education: | University of Mumbai Royal Military Academy |
| Religion: | Islam |
| Profession: | Politician |
| Awards : | Nishan-i-Lmar & Nishan-e-Pahlvi |
| Born | |
| Date: | 13th November 1899 |
| Place: | West Bengal, India |
| Family | |
| Spouse: | Naheed Begum (m. 1954) and Rifa'at Begum (m. 1922) |
| Children: | Shah Taj Imam Mirza, Enver Mirza and Humayum Mirza |
| Parents: | Fateh Ali Mirza and Dilshad Begum |
| Died | |
| Date: | 13th November 1969 |
| Rest Place: | London, England, United Kingdom |
| Career | |
| Political Party: | Republican Party |
| In Office | |
| Role: | President of Pakistan |
| Preceded By: | Republic proclaimed |
| Succeeded By: | Ayub Khan |
| Political Party: | Republican Party |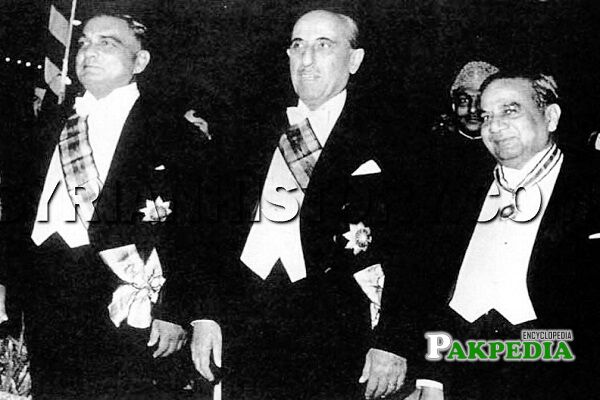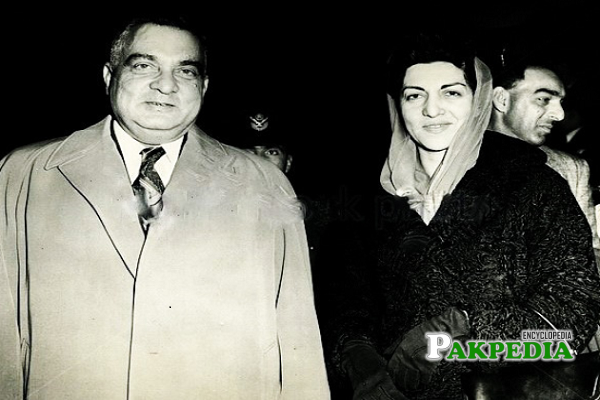 Iskander Ali Mirza Biography
Mirza joined the military before then establishment of Pakistan and had served in the British Indian Army. After the partition of India, he was appointed as the Minister of Defence of Pakistan by the prime minister and later appointed in Bengal during the Language Movement in 1952. In 1956, he elected as the first president of the country. During his governance, four prime ministers were dismissed in only two years, which resulted in his dismissal by his appointed Chief of Army Staff Ayub Khan.
Education of Mirza
Mirza got his early education in Bombay now Mumbai. He attended the Elphinstone College of the University of Mumbai but later quit it and joined Royal Military College after his selection by Governor-General for King's Commission. He joined the army as a 2nd lieutenant on 16 July 1920.
Iskander Ali Mirza Family
He was born to an aristocratic family. The family was entitled to Nawab of Bengal and Nawab of Murshidabad. The name Mirza was bestowed to the family to represent royalty. During British India, it was common that people are given names for their services. The family had close ties with the British monarchy. He was born to Fateh Ali Mirza and Dilshad Begum. Sikandar Mirza had two wives named Rifaat and Naheed Begum. They had 6 children.
Mirza date of Birth
Mirza was born on 13 November 1899 in Murshidabad, British India, and now West Bengal India.
Military Career
He was the first Indian graduate of the military college. After his attachment to the second battalion of Cameronians, he was promoted to lieutenant and assigned to command a platoon on 30 December 1921. Though he belonged to military police, he spent his most of his career in NWFP and participated in the Waziristan War. He was appointed as an Assistant Commissioner of Aligarh after he joined the Indian political Service.
Later, he posted as a political agent in Hazara. Soon he was promoted to the rank of Captain. From 1928 to 1933, he spent his career as a political agent in most of the tribal areas of NWFP. In 1933, he served as a Deputy Commissioner of Hazara and then assistant commissioner of Mardan. From 1938 to 1945, he served as a major and was appointed the Tribal belt political agent. His administrative skills made him the joint Defence Secretary of India in 1946.
Political career
Initial Career
Before the partition, he made relations with Liaquat Ali Khan and other politicians. Soon after the partition, he appointed as the Defence Secretary by Liaqat Ali Khan. He oversaw military affairs during the War against India in 1947. In 1950, he promoted to the rank of major general; after one year, he appointed as the director of the Department of Kashmir and Afghanistan Affairs. As a Secretary of defense, he also deployed the police in East Bangladesh during the language movement. He also lobbied for the promotion of Ayub Khan despite his juniority.
Governor of East Bengal
East Bengal saw political instability in 1954. Mirza appointed as the governor of East Bengal after the approval of Malik Ghulam. Soon he took over the East Bengal government, dismissed the legislative Assembly, and imposed Martial law. He announced that he would use force to establish peace and threatened Maulana Bhashani of shooting him and arrested more than 300 political activists with in the first week. He was soon relieved from his post due to public criticism and appointed as an interior Minister.
Governor-General
In 1955, the Governor-General Malik Ghulam survived a fatal Paralysis attack. He was unable to walk and talk Mirza was appointed only as acting governor-general. Still, he dismissed his government on 7th August and invited Muhammad Ali to take over the government as prime minister. After the first constitution was promulgated on 23 March 1956, he elected as the first president of the country by the Electoral College.
The Awami league built the pressure on him when he established his party under the name Republican Party. He was unable to deal with the pressure and invited Awami League to form the central government and appointed Husain suharwardy as the Prime Minister. Their partnership never established, and after pressure put by Mirza, Husain resigned from his seat in 1957. In 1958, he imposed Martial Law after pressure built for the electoral reforms.
In his speech on the radio, he announced that a new constitution would make as the country is not suited for democracy due to its 15% literacy rate. It was the first Martial Law of the country that lasted till 1971. In October 1958, Ayub Khan, the Chief of Army Staff asked the military to enter the president palace and sent Mirza in an airplane on exile to England
Iskander Mirza Exile and death
He spent the rest of his life in exile in England. Coming from an aristocratic family, Mirza suffered extreme financial problems and lived on a pension. It reported that he once asked his wife that they cannot pay for the treatment and let him die. On 13 November 1969, he died of a heart attack. His burial denied in Pakistan, but he buried in Iran. It is said that after the Islamic revolution, his grave desecrated.
Iskander Ali Mirza Medals
India General Service Medal
King George Silver Jubilee Medal
Pakistan Independence Medal
Queen Elizabeth Coronation Medal
Order of Supreme Sun, 1st class of the Kingdom of Afghanistan