Muhammad Tahir ul Qadri is a former politician and a Canada-based Pakistani Islamic scholar who formed Pakistan Awami Tehreek and Minhaj-ul-Quran International. He also taught international constitutional law at Lahore's Punjab University. He is also serving as the founding chairperson of several Minhaj-ul-Quran International sub-organizations.
He has written a thousand works, five hundred and fifty of which have been accepted for publication, including an "eight-volume, seven-thousand-page Quranic Encyclopedia covering all six-thousand plus verses of the Quran.
He has given approximately six thousand lectures on theology, Islamic jurisprudence, Sufism, law, Islamic philosophy. Islamic politics, seerah, hadith, and several other traditional sciences. The article contains all the details including Tahir ul Qadri Biography.
| Title | Description |
| --- | --- |
| Personal | |
| Name: | Tahir-ul-Qadri |
| In Urdu: | طاہر القادری |
| | |
| Famous As: | Shaykh-ul-Islam |
| Nationality: | Pakistani |
| Education: | Ph.D. in Islamic Law |
| Religion: | Islam |
| | |
| Alma Mater: | University of Punjab |
| Profession: | Scholar, politician |
| Website: | www.minhaj.org |
| Awards : | Peace Award 2006, Peace Award 2008 |
| Born | |
| Date: | 19 February 1951 |
| Place: | Jhang Pakistan |
| Family | |
| Ethnicity: | Punjabi |
| Children: | Hussain Mohi-ud-Din, Fatima Qurrat-ul-Ain, Aisha Qurrat-ul-Ain, Khadija Qurrat-ul-Ain |
| Career | |
| Political Party: | Pakistan Awami Tehreek (PAT) |
| Serve As: | Leader |
| Time Period : | 25 May 1989 – Till date |
| Political Party Website: | www.pat.com.pk |

Tahir ul Qadri Biography
Qadri is an intellectual leader and unparalleled scholar for all seasons. He embodies vast intellectual enlightenment, classical knowledge, practical wisdom, love, pure spirituality, humanism, and harmony. He is well-recognized for his zealous efforts to strengthen human relationships by bringing people together via tolerance, integration, education, and dialogue.
He successfully connects the past with his vision of the future and offers satisfying solutions for modern challenges. He has taught Hadith, Fiqh, Tafsir, Theology, Seerah, Islamic philosophy, Sufism, and several other traditional and rational sciences to hundreds of people in the west and east, including scholars, Ulema, Shuyukh, intellectuals, students, and academics.
Qadri Date of Birth
He was born on 19th Feb 1951 in Pakistan's Jhang district.
Education of Qadri
His father and some other Pakistani and foreign scholars provided him with both secular and Islamic education. He also earned a 1st Class degree, Masters in Islamic Studies, and a doctorate degree in Islamic Law from the Punjab University Lahore, where he first started working as a lecturer and later as a Professor of Law.
Tahir ul Qadri Family
His father ash-sheikh Dr Farida's al-Qadri was a great intellectual and spiritualist of his time.
Career
Political Career
In May 1989, he formed PAT (Pakistan Awami Tehreek). He stood in 1990 elections held and got elected to National Assembly. On 29th Nov 2004, he decided to resign from the National Assembly's membership in protest of then-President Pervaiz Musharraf's dictatorial counter-terrorism initiatives. He shifted to Canada in 2005.
Long March 2012
After spending 7-years in Toronto he moved back to Pakistan in Dec 2012 and launched his political campaign. He planned for a 'million men march to criticize the corruption of government. He asked for the establishment of an autonomous entity to carry out electoral changes that would create the way for fair and free elections and stated that if the constitutional conditions are not met, he will reject the future polls.
Criticism on Parliament
A crowd marched down the main avenue of the city on 14th Jan 2013. Thousands of individuals decided to sit there until their all demands were fulfilled. About 50,000 individuals joined him when he began the arduous march from Lahore. He addressed the crowd gathered in the front of Parliament that in our country Parliament has no existence; instead, there is a gang of criminals, looters, and swindlers. Our legislators are the ones that breach the law.'
Following a four-day sit-in, the Pakistani government and Tahir signed the Islamabad Long March Declaration, which promised election reforms and improved political transparency.
Long March 2014
A violent fight between the Punjab Police and PAT activists occurred on 17th June 2014, that took the lives of several demonstrators from police firing. Qadri stated that police officers refused to file a FIR (First Information Report). According to the Baqir Najafi investigation, police played a significant role in the massacre in order to demolish obstacles erected on High Court's orders.
Qadri's flight was scheduled to arrive at Islamabad airport, but Pakistani government rejected landing permission, forcing the plane to divert to Lahore airport.
Collaboration with Khan
He was personally accompanied by Punjab Governor's motorcade to his apartment in Lahore Model Town since he felt he might be attacked by the Punjab administration. The Inqilab March started in Sep 2014, with sit-in demonstrations in Pakistan's capital, Islamabad, with companion Imran Khan, founder and chairperson of Tehreek-e-Insaaf and organizer of the Azadi March 2014.
On 10th Aug 2014, Qadri officially declared that his Inqilab March would take place concurrently with Tehreek-e-Insaf's Azadi March.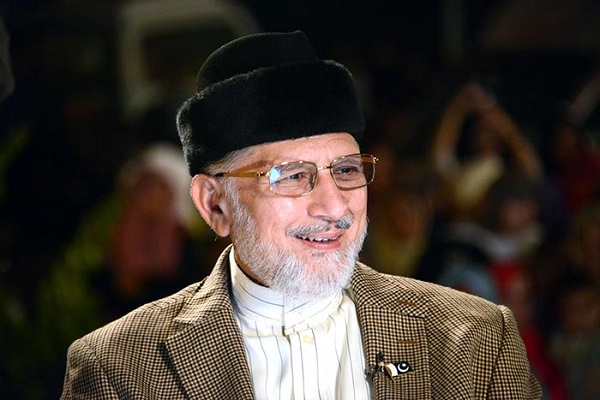 March by PAT & PTI
Both these marches were planned to take separate routes however they were closely paralleled which made it clear that these two parties share similar goals but differ in their plans and tactics. The launch of 2-parallel marches by opposition parties fueled suspicion that a partnership between the PAT and PTI was feasible.
The leaders of these two parties never explicitly stated that they would create a formal alliance, but an unofficial agreement to assist each other was reached. On 21st Aug, 2014, Qadri stated that the authorities were not permitting his workers to provide food and water to the sit-in participants.
Reports by Daily Dawn
According to Daily Dawn published on 31st Aug 2014, numerous people got injured in Islamabad as police clashed with masses of demonstrators headed by PAT and PTI. The PM of Pakistan, Nawaz Sharif, then appointed Chief of Army Staff Gen Raheel Sharif to serve as a negotiator.
To conclude the sit-in, Gen Raheel Sharif talked to Imran Khan and Qadri. The police complaint was logged as a result of Raheel Sharif's intervention. Tahir congratulated his people on their victory in the fight for justice.
Minhaj-ul-Quran by Qadri
The organization emphasizes religious moderation, good and effective education, harmony and inter-faith dialogue, and a balanced view of Islam allegedly based on Sufi practices. The UN Economic & Social Council gave Minhaj-ul-Quran a 'consultative status' at its 2011 session.
Participation in Different Events
Anti-Terrorism Camp
Qadri organized an anti-terrorism camp in Aug 2010 for Muslim youngsters at the University of Warwick in order to combat extremism in the United Kingdom.
WEF
He spoke at World Economic Forum in 2011 that held in Davos, Switzerland.
OIC
On 7th April 2019, he addressed the scholars present at Organization of Islamic Conference (OIC) held in Riyadh. He presented counter-terrorism syllabus of Minhaj-ul-Quran.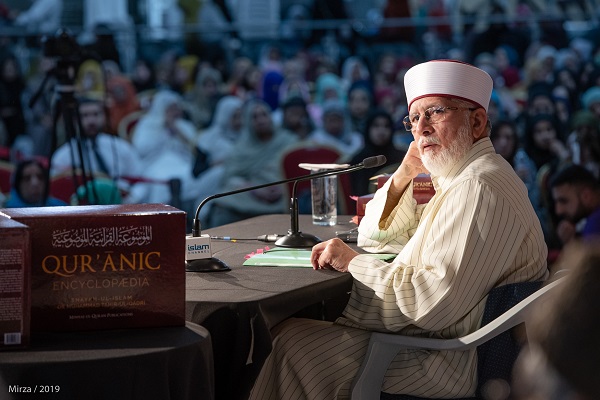 Public Gathering at Lahore
After seven days of gathering at Faisalabad, Tahir ul Qadri organized a public gathering on 19th Oct, 2014 in Lahore.
Lahore Clash
The Lahore Clash 2014, also known as Lahore massacre or Model Town Tragedy, was a deadly clash between PAT activists and Punjab Police occurred on 17th June 2014, leading to the deaths of numerous demonstrators by police's firing. Five policemen were detained. The anti-encroachment squad of police conducted an operation to break down barriers from the road heading to Minhaj-ul-Quran offices and the apartment of PAT founder Muhammad Qadri in Lahore Model Town which lasted about eleven hours.
The incident was live-streamed on several local TV networks, and there were contradictory descriptions of how this standoff started. The police report said they were assaulted by persons inside the PAT secretariat, which party president Qadri denied.
The police were observed shooting assault rifles and hurling teargas at the protesting crowds in live television footage, while the demonstrators started throwing rocks at the cops in defense. Qadri sharply condemned the act describing it as the most heinous kind of state terrorism.
Observance of Youm-e-Shahada
Qadri and his supporters observed Day of Martyrs (Youm-e-Shuhada) on 9th Aug, 2014, in the secretariat of the Tehreek-e-Minhaj ul Quran in Model Town. A nationwide battle erupted between police and PAT workers. Following the gathering of individuals, he guaranteed his followers and the authorities that rally on 10th Aug would be calm, while asking his supporters carry their prayer mats for Quran recitation.
Participation in Different Events
He delivered a lecture in July 2011 on integration and terrorism at the New South Wales Parliament in Australia, after being invited by Shaoquett Moselmane MLC, a member of the New South Wales (NSW) Legislative Council. He also spoke with Australian media about, terrorism, Islam, and probable troop departures from Afghanistan.
On 24th Sep 2011, Minhaj-ul-Quran organized the 'Peace for Humanity Conference' at Wembley Arena, where Qadri and gathered presenters issued a peace declaration on the behest of religious representatives of various faiths, politicians, scholars, and twelve-thousand participants from different countries.
Tahir ul Qadri Books
Fatwa on Terrorism
Peace, Integration & Human Rights
Muhammad The Merciful
Islamic Concept of Law
Islam on Mercy & Compassion
Relations of Muslims and Non-Muslims
Islam & Freedom of Human Will
The Ghadir Declaration
Fasting & Spiritual Retreat
Virtues of Sayyedah Fatima
Beseeching for Help
Islam & Christianity
Creation of Man
Divine Pleasure
Social Media Handles
His social media account include:
https://twitter.com/TahirulQadri