Rawal Lake is an artificial lake in Pakistan fulfilling the water needs of the people of Islamabad and Rawalpindi; the Rawal Dam's outlet stream is Korang River. The Korang River and some small streams from Margalla Hills (North Islamabad) have been assembled to create this unnatural lake that is spread on an 8.8 km2 area. This article has all the information about the lake, including Rawal Lake Hotels.
| Title | Description |
| --- | --- |
| Information | |
| Location: | Margalla Hills National Park |
| Nickname: | lake |
| Type: | Tourism point |
| Local Language Name: | Rawal lake |
| Coordinates : | 33°42′N 73°07′E |
| Type: | reservoir |
| Max. depth: | 102 ft (31 m) |
| Area: | 8.8 km² |
| Catchment area: | 275.2 km² |
| Surface area: | 8.8 km2 (3.4 sq mi) |
| Basin countries: | Pakistan |
| Details | |
| famous as : | lake |
| lake aptly named: | Rawal Lake |
| known as Rawal Park: | Lake View Park |
| The area around the lake: | planted with flowering trees and laid out with gardens, picnic spots |
| which offers different: | sporting facilities |
| Longitude: | 73° 7′ E |
| Lake covers an area: | 106.25 square miles (275 km²) |
| Rawal Lake nearby: | Rawal Dam and other nearby streams from Margalla Hills |
| Fishery : | are 15 fish species belonging to 11 genera that are present in Rawal Lake |

Recreation at Lake
The region around this lake is planted with trees and flowers and designed with secluded paths, gardens, and picnic points. The lake and terraced garden are visited by tourists and families for picnics, boating, and fishing. An elevated point is made in the garden to have a wide and unobstructed view of the lake, Murree, and Margalla hills.
Private clubs organize diving facilities, water skating, sailing, and boating. Islamabad club, located in the lake's west, offers several sports facilities.
Wildlife & Fishery
Mammals in the area include Pangolin, Fox, Jackal, Porcupine, Jungle cat, yellow-throated marten, and Wild boar. Reptiles include Russell's Viper and Asian Cobra. A variety of Islamabad's birds are seen here, making it an ideal site for watching birds.
There are fifteen species of fish belonging to eleven genera present in the lake. These species include Rahu, Doula, Thaila, carp fish, Talpia, and Mori.
Rawal Lake Features
Location- Islamabad Park Zone
Latitude-33° 41′ N
Longitude-73° 7′ E
Catchments Area-275 km2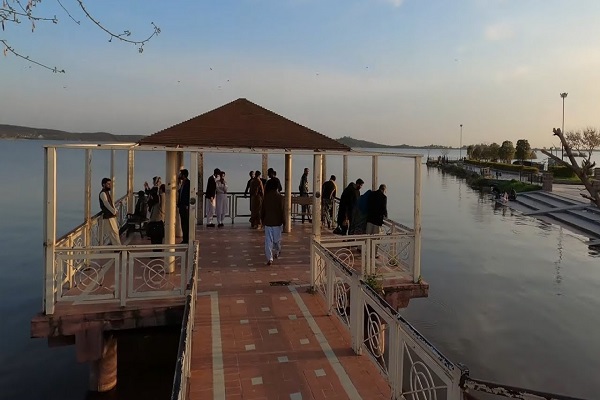 Rawal Lake Activities
Bird Watching
In the park of the Lake, one could enjoy bird watching, and it doesn't need any company or expenditure. And families could avail use this exciting activity to teach their children about nature and birds' species. Following birds are usually seen:
Falcons
Eagles
Hawks
Pheasants
Paradise Flycatchers
Spotted Doves
Pheasants
Yellow Vented Bulbul
Boating & Canoeing
The park offers several water sports, but canoeing and boating always remain at the top among families and children. It is a leisure activity to sail a boat, and it also teaches valuable skills to children.
Strolling & Walking
To take a breath in the fresh air and to observe nature closely, one could walk in a park. Walking barefoot on the grass would have a soothing effect.
Barbeques & Picnics
Tourists could also enjoy a picnic at the park and the best time to visit the park is before sunset as, after 5 PM, the park becomes crowded.
Family Games
In this modern era of technology, everyone is so involved in cell phones and other technologies that even family members rarely sit with each other to spend some quality time. Outdoor activities are also rare; in such a situation, the recreational sites offer a golden chance for families to spend some time with each other.
Demand to Stop Recreational Activities at Lake
In 2015, members of 'Senate Standing Committee on Climate Change' met to resolve the issue of pollution problems. PTI Senator Sameena Abid stated that there should be a ban on recreational activities at the lake because they are increasing lake pollution. PML-N Senator Nuzhat and ANP Senator Sitara also agreed with this suggestion.
Rawal Lake Timings
The lake opens from 08:00 am to 6:00 pm.
Attractions Near the Lake
Lal Masjid
Shakar Parian National Park
Art & Craft Village
Margalla Hills
Pakistan Monument Museum
Gallery 6
Lake View Park
Trail 5
National Heritage Museum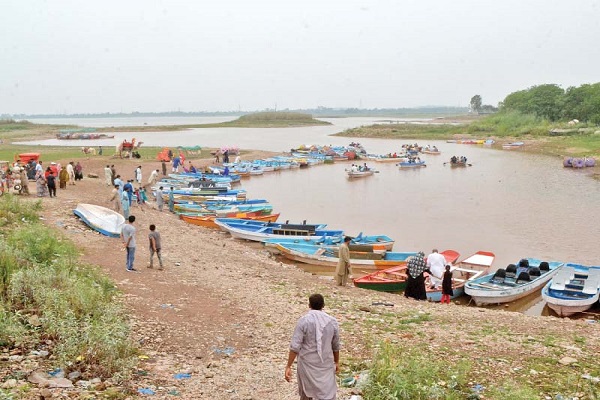 Rawal Lake Restaurants
The Warehouse
Zamana
Burning Brownie
Mocca Coffee
Chaye Khana
Pizza Party
La Maison
Kabul Restaurant
Hotspot
BBQ Tonight
Rawal Lake Hotels
Hotel Margala
Islamabad Serena Hotel
Dreamland Hotel
The City Lodge
Magnolia Guest House
Bilawal Lodge
Chalet Islamabad
Islamabad Marriott Hotel
Legend Hotel Islamabad