Daman e Koh, a hilltop and viewing point, is located in the center of Margalla Hills. The word Daman-e-Koh is a mixture of two Persian words that mean 'foot hills' when paired together. It's almost 2400 feet from sea level and about 500 feet from Islamabad.
People who visit Islamabad always visit this spot. Tourists pass through this spot on their route to the elevated view point 'Pir Sohawa,' which is situated at an elevation of around 3600 feet at the peak of the Margalla Hills. There are discussions to design a chairlift linking Daman-e-Koh and Pir Sohawa.
Over the winter, a lot of monkeys are seen here. During snowfall, cheetahs are said to be descending from Murree's higher hills. On 28th July 2020, Airblue Flight 202 crashed nearby this point. The article carries every piece of information about this spot, including Daman e Koh Height.
| Title | Description |
| --- | --- |
| Information | |
| Location: | Islamabad |
| Nickname: | Daman-e- Koh |
| Type: | Tourism point |
| Local Language Name: | Daman-e- Koh |
| Daman-e-Koh: | viewing point and hilltop garden north of Islamabad |
| visitors to: | capital. Daman-e-Koh |
| elevation of about: | 3600ft |
| Daman-e-Koh: | beautiful place |
| located in the middle: | Margalla Hills. |
| Nearby locations < 1 km : | Japenese Children Park Islamabad. Islamabad Zoo |
| Details | |
| Car parking: | yes |
| facility : | Northern Spot, where a cafe and some small tuck shops cater to the needs of guests. |
| | |

Daman e Koh Demographics
Latitude-33.73829
Longitude-73.056523
Barometric Pressure-93KPa
Elevation-2385 Feet
Daman e Koh Facilities
The main attraction is the southern site, which offers a panoramic and spectacular view of the capital city Islamabad. The tourists are provided with a stunning view of Faisal Mosque, Rawal Lake, and Islamabad's newly built Seventh Avenue. For passionate viewers, telescopes have been installed. A broad sign with Islamabad's original map has also been installed.
Redevelopment
The viewpoint was further developed in 2007 by CDA (Capital Development Authority), which renovated the restaurant, expanded the parking lot, and introduced other required services, such as electric-powered vehicles, to make it easier for visitors to travel between southern and northern points.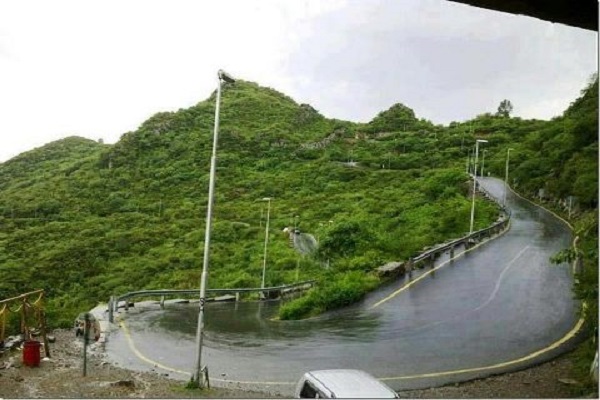 Daman e Koh Attractions
Faisal Mosque
Pir Sohawa
Saidpur Village
Pakistan Monument Museum
Tanzara Art Gallery
Safa Gold Mall
Margalla Hills
Trail Five
Flair Private Limited
Lok Virsa Museum
Trail Six
Shakarpariyan Hills
Saudi Pak Tower Building
Centaurus Complex
Rawal lake
Bird Aviary
Mega Zone
Exploria
Pindi Food Street
Daman e Koh Hotels
Royal galaxy Guest House
White House
Hill View Hotel
Hotel One Kohsar
Grace Guest House
Capetown
Larish residency
Amyls Garden
Margalla Lodge
Savvana Inn
Emyl's Garden
Dropinn
Star House
Daman e Koh Height
It is about 2400 ft and has a height of 500 ft from Islamabad. It is surely one of the worth visiting spots to visit in Islamabad.