The Margalla Hills is a mountain range that is part of Himalayan foothills situated within 'Margalla Hills National Park' in Islamabad's North. Area of Margalla range is twelve-thousand six-hundred and five acres. These hills are part of the Murree hills.
The range has many high mountains and valleys. On 6th Jan 2012, after 6-years, the highest tourist-spot of city Pir Sohawa received some snowfall. On 11th Feb 2016, another snow event happened were almost two inches of snow fell after 4-years. This article contains all the information about the article, including Margalla Hills Hotels.
| Title | Description |
| --- | --- |
| Information | |
| Location: | Islamabad Pakistan |
| Type: | Hill Range |
| Coordinates : | 33°47′53″N 73°7′00″E |
| Details | |
| Province: | Punjab |
| District: | Khyber Pakhtunkhwa |
| Elevation: | 1,604 m (5,262 ft) |
| Total Area: | 12,605 hectares |
| Country : | Pakistan |
| Hills are a part of: | Murree Hills |
| Snowfall: | In Winter |
| Highest Tourist Spot: | Pir Sohawa |
| Margalla Means a Place: | With a lot of Snakes |
| Margalla was Derived From: | Mar Galla |
| Hills' Rock Formations: | 40 Million Years Old |
| Excellent Place for: | Bird Watchers |
| A large Number of Birds: | robins, sparrows, kites, crows, larks, paradise flycatchers, black partridge |
| Popular Places: | Daman-e-Koh, Pir Sohawa, Gokeena, Mount Happiness |
| Margalla Hills National Park was Instituted: | 1980 |
| Range Coordinates : | 33°44′40″N 73°2′30″E |
| Peak : | Tilla Charouni |

Archaeology & Paleontology
According to archaeologists and scientists of the project entitled 'Post Earthquake Explorations of Human-Remains in the Margalla Hills,' Hills formation dates back to 1st geographical epoch 'Miocene epoch.' Margalla's dominant limestone is mixed with the sandstone (Clastic Sedimentary-Rock) and minor beds of the 'Shale.'
The archaeologists of this project also found 2-footprints of humans than 1-million years old, preserved in sandstone.
Flora & Fauna
There are almost 250-300 plant species on these hills. People use two-thirds of these plants for their medicinal value to cure or treat different diseases.
Wildlife Species
These hills are home to several wildlife species including exotic birds, monkeys, and carnivorous animals such as rare and jeopardized Margalla leopard. Leopards are less common and occasionally come there from Murree but mostly remain high in hills. The local villagers wandering in hills often report the sighting of these leopards.
Species of Birds
Several ecological components make these hills a unique place for different species of birds. No other location in Pakistan could be equal to these hills regarding a number of the species. It was found in park's faunal survey that thirty-seven fish species, fifty-four butterfly species, twenty reptile species, nine amphibian species, three-hundred and eighty bird species, twenty-one species of the small mammals, and fifteen large mammals' species. 
Margalla Hills Activities
An ideal spot for Bird Watchers
These hills are an ideal spot for bird watchers. This area serves as a house to a huge number of species of birds including shrikes, paradise flycatchers, robins, kites, sparrows, crows, pheasants, larks, Egyptian Vultures, hawks, kestrel, paradise flycatcher, Khalij pheasant, spotted doves, buntings, wheatears, collared dove, golden oriole, cheer pheasant, Indian-sparrow hawk, peregrine falcon, falcon, hawks, and black partridge.
The Cheer-pheasant is indigenous to NWFP and is reared in Margalla Hills as part of the conservation campaign.
Islamabad's Panoramic View
The most visited hill stations Pir Sohawa and Daman-e-Koh provide the visitors with a panoramic view of Islamabad's beautiful city. Visitors view Rawal lake, 7th Avenue, and Faisal Mosque from this spot.
Hiking & Trekking
The Margalla Hills offers an excellent hiking point for both occasional and serious hikers. Mostly hiked and the safest path is from Zoo-park to Daman-e-Koh. From Feb-April weather remains pleasant and rainfall is less so this weather is suitable for hiking.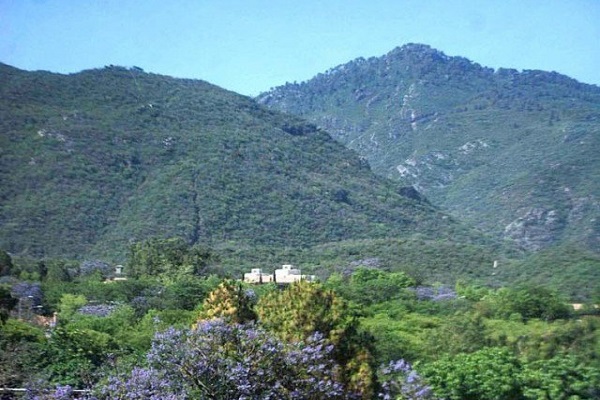 Hang-Gliding and Paragliding
Islamabad-based clubs provide facilities for Hang-Gliding and Paragliding.
Rock Climbing
Rock climbing is getting popularity among ISB and Rawalpindi youth, but only a few climbers can climb at heights.
Threats to Ecology of Margalla
The Margalla's ecology faces threats from deforestation, digging by the crush plants, poachers, and illegal buildings and encroachments. Crush plants grown in surroundings of hills near Taxila are eroding hills for drawing out building material. Illegal cutting of trees and fires is resulting in deforestation.
Objectives of Margalla Hills Society
The Margala Hills Society was founded in 1989 to conserve the natural environment of the 'Margalla Hills National-Park,' and to stop reduction of green zones, to foster the interest of the public in management, development, and conservation of natural resources, wildlife, and forests of Margalla Hills National-Park and also to spread information about this park including culture, geography, history, flora and fauna and its benefits to Islamabad's citizens.  
The collaboration of WWF with CDA
The 'Green-School Program' of WWF Pakistan in association with CDA (Capital Development Authority) organizes 'Eco-Adventure Activities' on these hills to create awareness in school students regarding the significance of being an environmentally responsible individual, and conservation of the natural environment.
Margalla Hills Roads
Margalla Road

GT (Grand Trunk) Road

Pir Sohawa Road
Margalla Hills Hotels
The Bentley Boutique Hotel

ISB Marriott Hotel

Chalet ISB

Hotel One-Super

Hotel de Papae International

Lavish Lounge Guest-House

ISB Serena Hotel

Grand Ambassador Hotel ISB

2nd Home Guest House

Grand Regency Hotel

Executive Travel and Lodges

King Alfred Residency

Magnolia Guest House

Serai Boutique Hotel

Dreamland Hotel

White House ISB

A Home Away from Home

Rio INN Guest House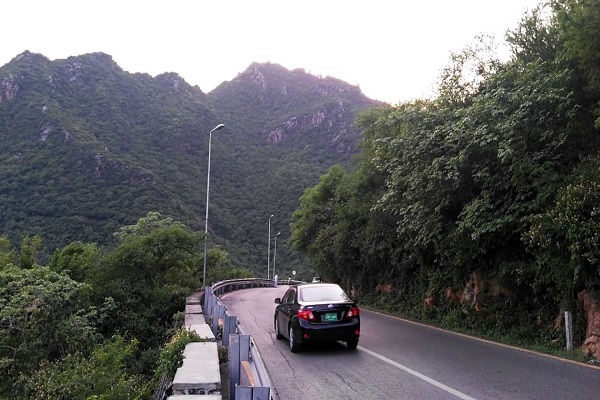 Beautiful Spots
Pir Sohawa

Daman-e-Koh

Faisal Mosque

Rawal Lake

Pakistan Monument Museum

The Centaurus 

Saidpur Village

Lok Virsa Museum

Trail 5

Bird Aviary

Flair Private Limited

Shahdara Valley

Safa Gold Mall

Shakarpariyan Hills

Centaurus Cineplex

Tanzara Art Gallery

Art & Craft Village
Margalla Hills Trails 
Trail-1
It begins behind the Sectors E-8 & E-9 and comprises of 3-interconnected sub-trails. Hiking could be started from small Mazar-complex in Kalinger village. The trail initially moves along the water-stream leading into mountains. It takes a considerable effort to find the path.
Trail-2
Among 6-officially marked trails, the Trail-2 that leads to Damn-e-Koh is shortest and has 2-distinct trailheads. 1st is situated at the narrow dirt-track astride the Marghazar-Zoo. Another trailhead is located at the start of Pir Sohawa Road.
Trail-3
It is the most visited hiking trail that is adequately maintained and well-marked. Trailhead is situated opposite to Sector F-6 on the Margalla Road, and parking-area is available. The foreigners frequently visit this trail due to several embassies in proximity. 
The difficulty level for hiking on Trail-3 is moderate, and the time required for hiking is 2 to 3 hours and evening time is recommended for hiking here. 
Trail-4
This trail starts from the parking area at the start of the Pir Sohawa Road and difficulty level for hiking on Trail-4 is challenging and time required for hiking is 3 to 4 hours and morning time is recommended for hiking here. 
Trail-5
The difficulty level for hiking on Trail-5 is moderate, and the time required for hiking is 3 to 4 hours and evening time is recommended for hiking here. 
Trail-6
The difficulty level for hiking on Trail-6 is moderate, and time required for hiking is 2 to 3 hours and morning time is recommended for hiking here.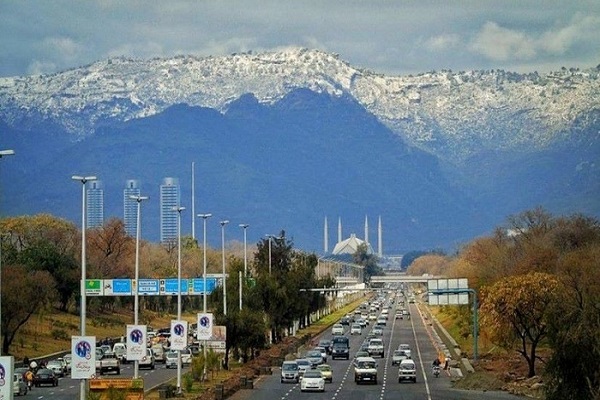 Events 
Airblue Flight-202 was crashed in Margalla Hills on 28th July 2010

Snowfall fell over these hills on 6th Jan 2012

Snowfall fell over these hills on 11th Feb 2016