Khanpur Dam is a KPK-based dam; it is situated on the 'Haro River' near Potohar, almost fifty kilometers away from Islamabad. It creates Khanpur Lake, a water reservoir that provides drinking water to Rawalpindi and Islamabad and water for irrigation to several of the industrial and agricultural regions around the cities.
The construction was completed in 1983 at an investment of Rs 1,385.1 million after a fifteen-year construction process. It is 51 meters high deep and reserves 79,980 acres feet of water. The article has all the information including, Khanpur Dam History.
| Title | Description |
| --- | --- |
| Information | |
| Location: | Khanpur, Khyber Pakhtunkhwa, Pakistan |
| Located: | Haro River near Potowar Plateau and the village of Khanpur |
| Distance: | About 25 miles (40 km) from Islamabad, Pakistan. And 15 km from Haripur. |
| Caters : | Domestic water supplies in Rawalpindi and Islamabad |
| Irrigation : | Agricultural and industrial areas surrounding the cities |
| Dam Completed : | 1983 |
| Construction Period: | 15-year |
| Construction Cost: | Rs. 1,352 million |
| Height: | 167 feet (51 m) |
| Total capacity: | 110,000 acre-feet (140,000,000 m3) of water |
| Event scheduled : | 9 and 11 April 2010 |
| Type: | Embankment dam |
| Local Language Name: | خانپور ڈیم |
| Coordinates : | 33.8018°N 72.9305°E |
| | |
| | |
| | |
| Details | |
| Entertainments: | Enjoy boating, fishing, swimming, adventure, water sports, Skiing, angling, Spelunking, Night Caving, Rock Climbing, Team Rappelling, Rap Jumping, and watching migratory birds. |

Khanpur Dam History
The dam's construction got completed in 1983 after a construction period of fifteen years. The amount invested in the dam is Rupees 1352 million. Then-President Ayub Khan ordered the construction of the dam. It was believed that Ayub started the construction of this dam to settle his political relations with the chief of Gakkhars Raja Erij Zaman.
During the 19th century, the British administration gave a huge area of local land to the forefathers of Gakkhar Rajas. The British government rewarded Ghakkars for their support in beating the Sikhs but took away the land of Awan and several other farmers.
When the dam construction was announced, Rajas tried to take compensation for the land, thus taking away the land rights of local residents. The inhabitants wanted to take new land or compensation in New Khanpur. Abdul Basheer Khan took the local inhabitants to KPK Parliament.
Despite the threats, they succeeded in convincing and uniting villagers. Abdul Basheer and his companions took their campaign to KPK Governor Hayyat Sherpao, and by camping outside the house of the governor, they got success in securing land rights for inhabitants of Khanpur.
Khanpur Dam Attraction
Blue-green dam water attracts thousands of visitors from all over the country. About forty-thousand and fifty-thousand tourists make a trip to the Khanpur Dam every week. Tour groups enjoy a wide range of water-based and ground events, including:
Wake tubing
Jet Skiing
Cliff Jumping
Camping
Kayaking
Family Boating
Zip-Lining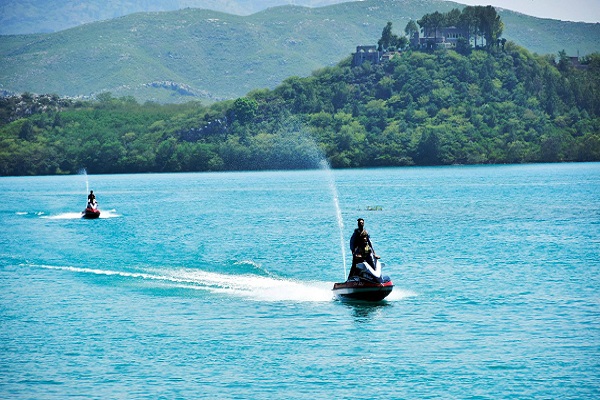 Bhamala Buddhist Complex
Heads and sculptures from the 2nd to the 5th century AD were found during the digging at the 'Bhamala Buddhist Complex' near Khanpur, famous as Bhamala Stupa. And during digging, valuable coins from the Kushan era were also discovered around the stupa.
The Bhamala Archeological Spot has declared a global and national Heritage Site situated close to the Khanpur Dam. The excavations traced back to the 4th century BC.
Rajgan Mosque
The Rajgan Mosque commonly called 'Rajon Ke Masjid,' is known to be hundred years old. People now pray only the Eid prayers in this Masjid as they pray in the mosques that are near their residence for everyday prayers. It consists of a wide prayer hall and a brick courtyard that needs rehabilitation and restoration.
Khanpur Dam Festivals
A spring festival is organized annually at Khanpur dam, and many people attend this festival. Many attractive and colorful events are arranged like folk dance, horse dance, and tones of pipe and drums, magic shows, air gliding, puppet shows, para-boat, a small zoo, camel and horse riding, and hot-air balloon ride.
Ideal Time to Visit Khanpur
The ideal time for visiting the dam is June-Oct and the winter season. People visit in the summer season too to save themselves from the summer heat.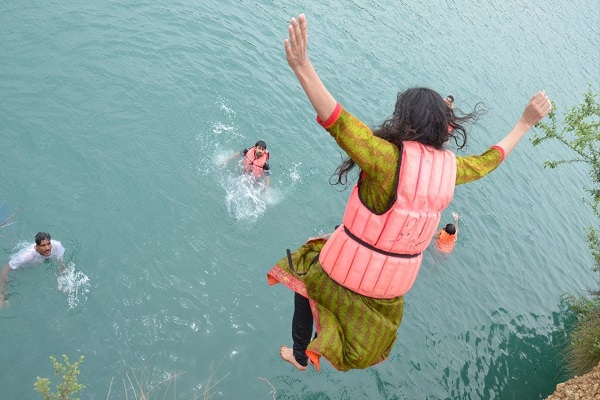 Khanpur Dam Distance
The distance from Islamabad to this dam is almost fifty-two kilometers through the motorway. The distance from Abbottabad to the dam is almost sixty-one kilometers, and only three hours are required to reach Khanpur from Abbottabad.
Condition of the Road
The carpeted road is constructed to reach Khanpur, and all the vehicles can be availed for traveling purposes.
Khanpur Dam Activities Rates
There are many activities that could be enjoyed at Khanpur, and different clubs provide these trip activities at different rates.
Boating-Rupees one-thousand
Cliff Diving & Swimming-Rupees five-hundred with the provision of life jackets
Zipline-Rupees five-thousand
Jet Ski-Rupees eight-hundred
Fly Board-Rupees sixty-six hundred for 0.5 hour
Parasailing-Rupees thirty-five hundred for ten to fifteen minutes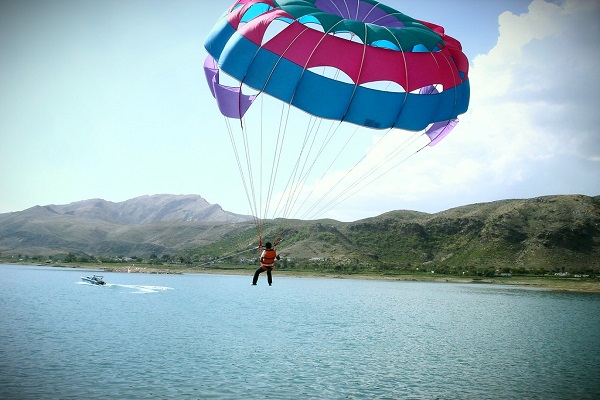 Khanpur Dam Hotels
Flicker Howff Hostel
Monarch Residency
The Hill View
Islamabad Back Pacers Hostel
Islamabad Inns
Serene Residence
Le Grand Residence
Gofas Lodge
Margalla Hills Apartment
Royal Galaxy Guest House
Delano Inn
Zaib Guest House
Apex Inn
Hotel De Palazzo
Makdi Backpacker
Social Media Handle
https://www.facebook.com/KhanpurDamOfficial/