Khanpur dam one of the most beautiful dams is constructed over River Haro which originates from Abottabad. It is situated near the town of Khanpur in Khyber Pakhtunkhwa Province around 48 km (25 miles) from the federal capital Islamabad, on Taxila Haripur Road. Every year a spring carnival is arranged at the Khanpur dam. This Khanpur Dam Festival attracts many tourists from Pakistan and from around the world and it has many colorful and attractive events to show off. For a day trip/picnic, it is an ideal place where you can enjoy boating, fishing, swimming, adventure, water sports, Skiing, angling, Spelunking, Night caving, Rock Climbing, Team Rappelling, Rap Jumping and watching migratory birds during winter.[1] most beautiful dams  constructed – over River Haro
| Title | Description |
| --- | --- |
| Information | |
| Location: | Khanpur, Khyber Pakhtunkhwa, Pakistan |
| Located: | Haro River near Potowar Plateau and the village of Khanpur |
| Distance: | About 25 miles (40 km) from Islamabad, Pakistan.And 15 km from Haripur |
| Caters : | Domestic water supplies in Rawalpindi and Islamabad |
| Irrigation : | Agricultural and industrial areas surrounding the cities |
| Dam Completed : | 1983 |
| Construction Period: | 15-year |
| Construction Cost: | Rs. 1,352 million |
| Height: | 167 feet (51 m) |
| Total capacity: | 110,000 acre feet (140,000,000 m3) of water |
| Event scheduled : | 9 and 11 April 2010 |
| Type: | Embankment dam |
| Local Language Name: | خانپور ڈیم |
| Coordinates : | 33.8018°N 72.9305°E |
| Tour Booking Site 1: | http://omartravels.com/khanpur_dam.aspx |
| Tour Booking Site 2: | https://www.eticketing.pk/venues/texila/khanpur-dam-tickets.aspx |
| Tour Booking Site 3: | http://www.emac.pk/tag/adventure-in-khanpur-dam/ |
| Details | |
| Entertainments: | Enjoy boating, fishing, swimming, adventure, water sports, Skiing, angling, Spelunking, Night caving, Rock Climbing, Team Rappelling, Rap Jumping and watching migratory birds |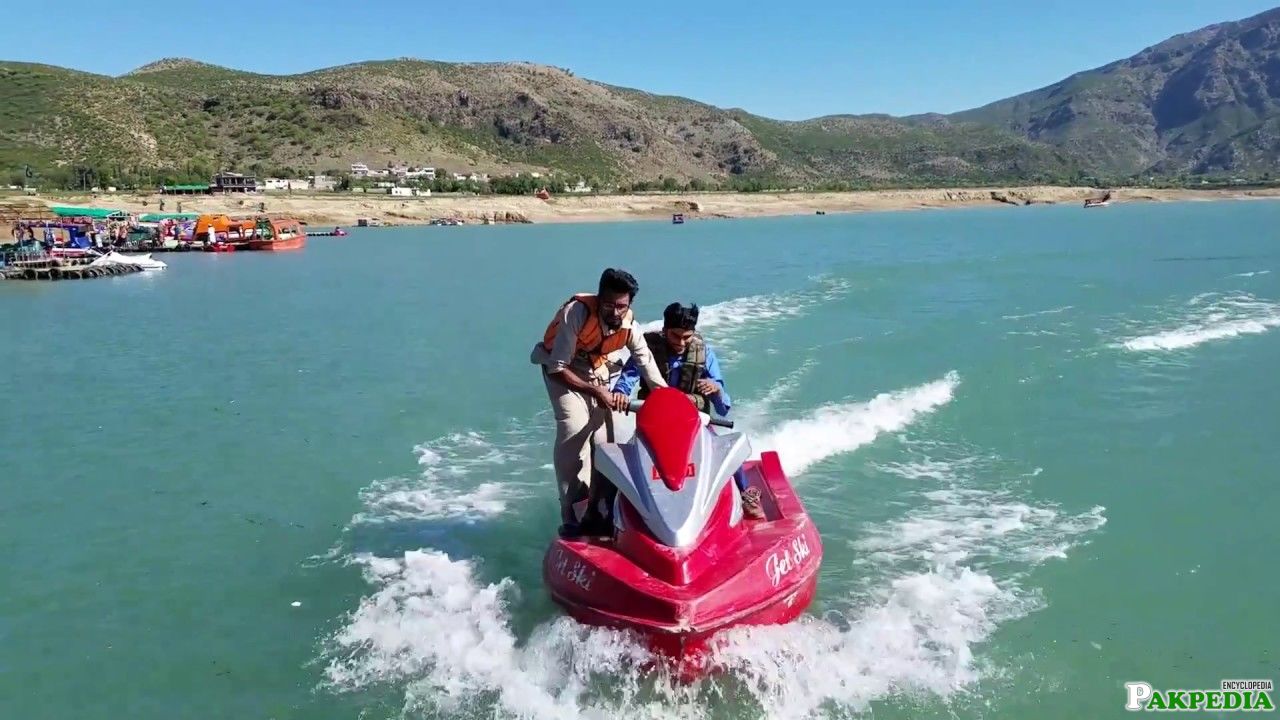 About

Khanpur Lake is a reservoir which supplies drinking water to Islamabad and Rawalpindi and irrigation water to many of the agricultural and  areas surrounding the cities.The dam was completed in 1983 after a 15 year construction period believed to have cost Rs. 1,352 million.
The dam was named after the former Khanpur village.  A new Khanpur town is located  in downstream of the Dam. It is 167 feet (51 m) high and stores 110,000 acre feet, 140,000,000 cubic meters of water.Known for its picturesque beauty, Khanpur Lake (the reservoir of the dam) has become a popular tourist destination and a picnic spot. The beautiful and serene environment is also a sanctuary for migratory birds during winter.[2] The dam was completed in 1983 after – a 15 year
History
Khanpur Dam is a dam located on the Haro River near Potowar Plateau and the village of Khanpur, Khyber Pakhtunkhwa, Pakistan, about 25 miles (40 km) from Islamabad, Pakistan. It caters to domestic water supplies in Rawalpindi and Islamabad, and irrigation water to many of the agricultural and industrial areas surrounding the cities.The dam was completed in 1983 after a 15-year construction period believed to have cost Rs. 1,352 million. It is 167 feet (51 m) high and stores 110,000 acre feet (140,000,000 m3) of water.The dam was built by Ayub Khan, former President of Pakistan. The dam was believed by many to be a way for Khan to settle political scores with the feudal chief of Gakhars Raja Erij Zaman Khan. The fore fathers of local Gakhars Rajas were given much of the local land by the British during the nineteenth century. The British rewarded the Gakhhars for their cooperation in defeating the Sikhs, but deprived the local Awan and other farmers of their land. When the decision to build Khanpur Dam was made, the Rajas wanted to receive compensation for all the land, thus depriving all the local inhabitants of their land rights. The residents desperately wanted to receive compensation or new land in the nearby New Khanpur.The local community, led by Abdul Bashir Khan (the father of Saeed Khan), the young secretary of Khanpur's WAPDA Union in the early 1970s, took on the Ghakhars and their friends in the Khyber Pakhtunkhwa parliament. Amid threats and intimidation, the campaign succeeded in uniting most local villagers, who had nothing but their land. Abdul Bashir and his fellow activists decided to take their campaign straight to then Khyber Pakhtunkhwa governor Hayat Sherpao by camping outside the governor's house for days. Abdul Bashir and his fellow activists left Peshawar only after they had succeeded in winning the land rights for the people of Khanpur. The locals were promised free water and electricity by WAPDA and the then provincial and federal governments, but are still waiting to this day.[3] Hayat Sherpao by camping –   governor's house
Views at Khanpur Dam
The area around the Khanpur lake has been planted with flowering trees and laid out with gardens picnic spots, and secluded paths. The terraced garden and the lake are used for picnics fishing and boating. The highest point in the garden offers a panoramic view of the Lake Margalla and Murree hills Rawalpindi and Islamabad.
Khanpur Dam Festival
Every year a spring carnival is arranged at the Khanpur dam. This Khanpur Dam Festival attracts many tourists from Pakistan and from around the world and it has many colourful and attractive events to show off.It is a three-day Khanpur Dam Festival which attracts thousands of tourists and people from different part of the country. The water sports includes: motor bike riding, sailing air boat, and boat riding. The people are also attracted toward folk dances, traditional horse dances of Punjab and tones of drums and pipe (doll-surna).Other attractions at the Khanpur Dam Festival includes Hot-air balloon rides, magic shows, puppet shows, air gliding, para-jumping, horse riding, camel riding, joy land for kids, para-boat, motorize gliding, and a small zoo attraction which is specially placed to augment the festivities.[4] Khanpur Dam Festival  attracts thousands – tourists
How to reach Khanpur Lake
The attractive lake is 48 kilometers from Islamabad. Located at a 15-minute drive from Taxila bypass on GT Road and about an hour from Islamabad, and two and half hour's drive from Khyber Pakhtunkhwa, to reach the Khanpur Lake.
Lake Importance
The lake is fed by waters of River Haro. It is an important water source for both agricultural and consumption needs in the region. Khanpur Lake is also a reservoir that supplies drinking water to some areas of Hazara Division. The lake along with view of Margla hills has become a popular tourist destination where families and individuals can enjoy boating, picnicking, speed boating and fishing. There is an island in the middle of lake that is good for spending picnic and enjoying the landscape. Boats are available for pick and drop to the island. An adventure club named Hawk Adventure Club, has recently created its camp near the lake shore. They provide facilities for adventure sports like rowing, diving and speed boating.[5] It is an important water source for – both agricultural
Khanpur Dam Tour Booking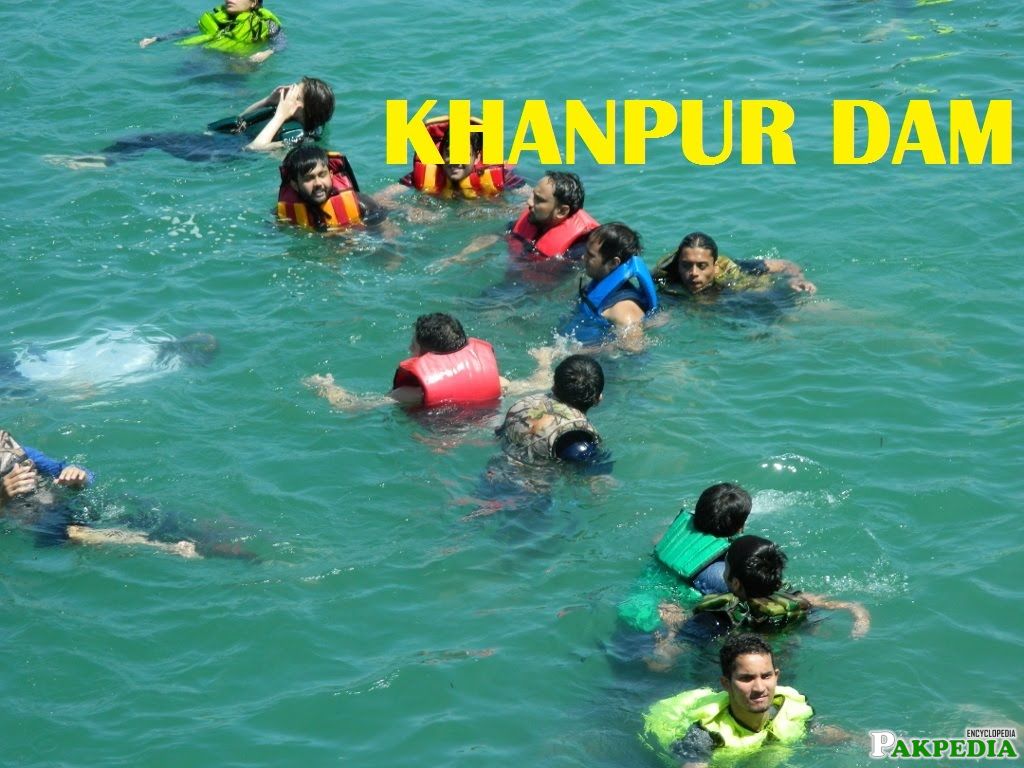 Khanpur dam one of the most beautiful dams is constructed over River Haro which originates from Abottabad. It is situated near the town of Khanpur in Khyber Pakhtunkhwa Province around 48 km (25 miles) from the federal capital Islamabad, on Taxila Haripur Road. Every year a spring carnival is arranged at the Khanpur dam. This Khanpur Dam Festival attracts many tourists from Pakistan and from around the world and it has many colorful and attractive events to show off. For a day trip/picnic, it is an ideal place where you can enjoy boating, fishing, swimming, adventure, water sports, Skiing, angling, Spelunking, Night caving, Rock Climbing, Team Rappelling, Rap Jumping and watching migratory birds during winter.
Our professional and highly trained officers are capable of preparing itineraries with different options, tailored to the exact travel requirements of our Clients to any destination around the globe [6] Khanpur Dam Tour Booking