Pakistan Army is a branch of the Armed Forces which came into existence after the Independence of Pakistan in 1947 which is responsible for ground-based military operations. General Qamar Javed Bajwa is the current general of the Pakistan army. It comprises 612,000 active military personnel and considered to be a professional and volunteer fighting force.
The motto of Pakistan Army is Emaan, Taqwa, Jehad Fi Sabeelillah. The general headquarters is situated in Rawalpindi. The army participated in many national and international wars, including the wars of India, Afghanistan, Arab-Israel war, Gulf War. Furthermore, they participated in many operations like Operation Black Thunderstorm, Operation Raah –e- Nijaat, Operation Zarb –e- Azab, etc.
They also helped in rescuing American hostages from Somalian Mogadishu in Operation Gothic Serpent in 1933. This article contains all the information, including Pakistan Army History.
| Title | Description |
| --- | --- |
| Details | |
| Abbreviation: | A follower of none but God |
| Motto: | إِيمَان, تقوى, في سبيل الله |
| Founded: | 14 August 1947 |
| Website: | Official Website |
| Agency overview | |
| Formed: | 14 August 1947 |
| Headquarters: | General Headquarters Rawalpindi, Pakistan |
| Employees: | 620,000 active troops & 500,000 reserves |
| Uniform Colour: | Green and White |
| Jurisdictional Structure | |
| Anniversaries: | Defense Day: September 6 |
| Engagements: | 1947 Indo-Pakistan War, 1965 Indo-Pakistan War , 1971 Bangladesh Liberation War , 1971 Indo-Pakistan War , Grand Mosque Seizure Soviet-Afghan War Siachen conflict Kargil War Global War , on Terror Siege of Lal Masjid War , in North-West Pakistan Balochistan conflict |
| Chief of Army Staff : | General Qamar Javed Bajwa |
| Operational Structure | |
| Overviewed By: | Commanders |
| Attack: | Bell AH-1 Cobra |
| Helicopter: | Bell 412, Bell 407, Bell 206, Bell UH-1 Huey |
| Transport: | Mil Mi-8/17, Arospatiale Alouette III, Bell 412 |
| Headquarters: | General Headquarters Rawalpindi, Pakistan |
| Executive: | General Qamar Javed Bajwa |
| Bases: | Karachi, Mangla, Lahore, Peshawar, Quetta, Rawalpindi, Bahawalpur |
| Main Battle Tanks: | Al-Khalid, Upgraded Tanks |

Pakistan Army History
Division of British Army
After the division of the British Indian Army, Pakistan Army came into existence on June 30, 1947. Pakistan was given eight artillery, six armored, and eight infantry regiments, while India was given 40 artillery, 20 armored, and 20 infantry regiments.
After the South East Asian treaty, many organizations feared that due to the irregular scouts in Kashmir, India could attack the region due to which many tribal groups entered Kashmir to oppose the Kashmiri Hindus, Sikhs, and Maharaja, but still Maharaja chose to join India which resulted in India-Pakistan war in 1947.
Economic and Military Aid
The Army received economic and military aid from Britain and the United States of America. Two mutual treaties, Baghdad Pact and (SEATO) southeast Asian Treaty Organization were signed in 1954 by the government of Pakistan.
Pakistani General Sir Frank Messervy was ordered by the founder Muhammad Ali Jinnah to move the Pakistani army to Kashmir against India but as a result, the Indian Army was more in numbers and the Pakistani army had to protect their part of Kashmir.
Operation Gibraltar
In 1965, the army started Operation Gibraltar. The purpose of this operation was to remove the Indian Army from the area of Kashmir they have occupied. As a result, Indian troops counter-attacked the Pakistani occupied Kashmir and Pakistani Army had to protect their own part of Kashmir, that's why they withdrew the army from attacking Indian Occupied Kashmir.
The era of Zulfiqar Ali Bhutto
In 1971, Zulfikar Ali Bhutto took over two positions in the President's House, including Chief Martial Law Administrator and Presidency. Therefore, in the history of Pakistan, he was the first civilian Chief Martial Law administrator as well as President.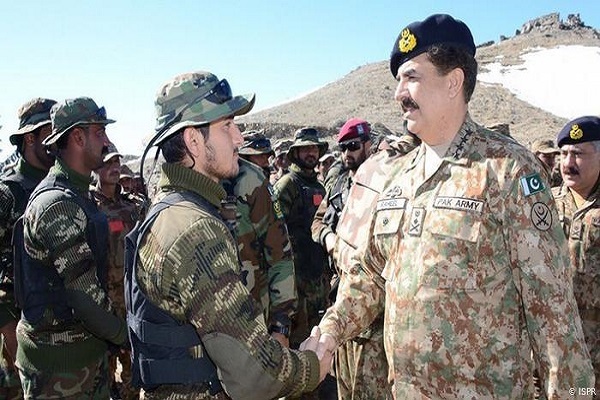 Emergency Imposed by Musharaf
After the conflict of Kargil, the Pakistani army was deployed from the peaks now Indian has occupied for unconditional reasons. Mian Mohammad Nawaz Sharif was the prime minister of Pakistan.
General Pervez Musharraf appointed himself as a General of Pakistan Army and landed in Karachi, imposed emergency while arresting the inspector general of police Karachi. According to the statement of Pakistan Supreme, the emergency imposed by General Pervez Musharraf was unconstitutional.
Pakistan Army Bases
Rawalpindi
Karachi
Lahore
Mangla
Quetta
Multan
Military Training Centers and Schools
Baloch Regimental Centre (ABBOTABAD)
Azad Kashmir Regimental Centre (ATTOCK)
Military Police Centre (DERA ISMAIL KHAN)
Punjab Regimental Centre (MARDAN)
Parachute School (SSG), Peshawar
Command and Staff College (QUETTA)
Military College of Engineering (Risalpur)
Sindh Regimental Centre
School of Army Education, Logistics and Intelligence (MURREE)
School and Centre of Armour, Artillery, Service Corps (NOWSHERA)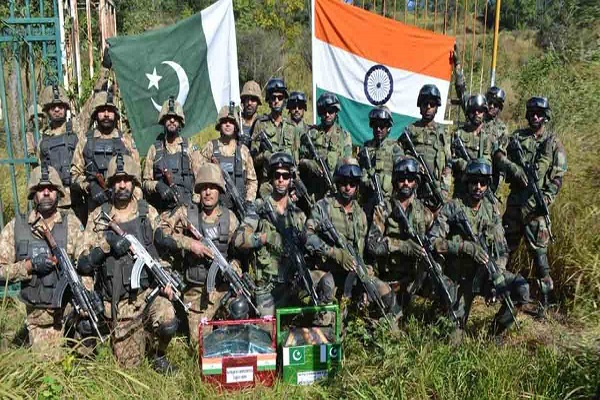 Pakistan Army Chiefs
General Frank Walter Messervy   1947 – 48
General Douglas David Gracey     1948 – 51
General M. Ayub Khan                 1951 – 58
General M. Musa                           1958 – 66
General M. Yahya Khan               1966 – 71
General Gul Hassan                      1971 – 72
General Tikka Khan                      1972 – 76
General M. Zia ul Haq                  1978 – 88
General Mirza Aslam Baig           1988 – 91
General Asif Nawaz Janjua          1991 – 93
General Abdul Waheed                 1993 – 96
General Jehangir Kiramat            1996 – 98
General Pervez Musharraf            1998 – 2007
General Ashfaq Pervez Kiyani      2007 – 2013
General Raheel Sharif                   2013 – 2016
General Qamar Javed Bajwa        2016 – Till Now
Army Battle Tanks
Pakistan has unique upgraded tanks used for battles and combats. Some of the advanced and upgraded tanks of the army include Al – Khalid and Al – Zarrar, which are upgraded with 125mm main gun, computerized fire control system with DNS 3 image intensifier, and ATCOP TR3 laser range identifier.
They have now ordered for four hundred upgraded tanks which include the upgraded Al –Zarrar and Al – Khalid tanks. Pakistan is now jointly working with China to produce the modern combat MTBs in the future. Among 400 ordered upgraded tanks, the first batch of eighty tanks was handed over to the army in 2004. Pakistan is now developing its own (AZAR) MLRS system, which will contribute to the defense system of Pakistan.
Carriers for Armored Personnel
The army has the world's advanced armored personnel carriers, which include;
The Maaz (Modified / ATGW)
Mouz (Modified / RBS 70)
Talha (Modified / M113 APC)
Saad (Modified / M113 APC)
Al – Hamza (25mm Cannon / Infantry fighting vehicle)
Sakb (Commond Post Vehicle)
Al – Qaswa (Logistic Vehicle)
Al – Hadeed (Modified Talha / Recovery Vehicle)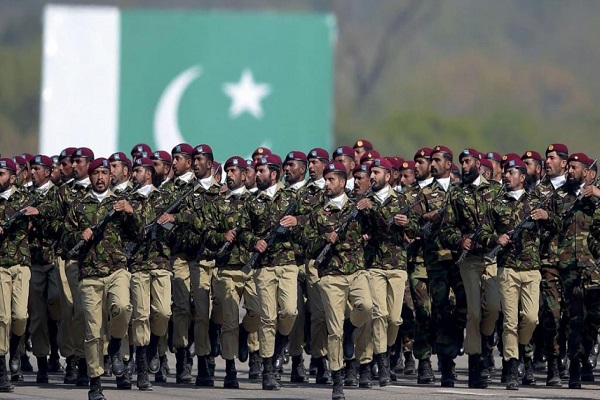 Pakistan Military Operations
In the past years, Pakistan Army initiated and completed many operations against terrorism which include Operation Raah –e- Haq, Operation Al – Mizan, Operation Sher -e- Dil, Operation Raah -e- Raast, Operation Koh -e- Sufaid, Operation Zalzala, Operation Raah -e- Nijaat, Operation Sirrat -e- Mustaqeem and Operation Zarb -e- Azb. They have completed all of these operations successfully against terrorism within the country and took control of the suspected areas.
Uniform
The Pak Army uniform has a principal color of greenish-brown, while the service uniform for the ground forces is Khaki. The uniform consists of a T-Shirt, Jacket / Blouse, trousers, sweater, and boots. It exhibits more information on qualification badges, awards, decoration, and rank.
Pak Army Corps
I Corps (Mangla): It contains two infantry divisions, six armored divisions, and eight armored brigades, and two mechanized divisions of infantry
II Corps (Multan): It contains a mechanized Infantry Division, an armored division, an independent armored brigade, and an infantry division.
IV Corps (Lahore): It has two independent infantry brigades and two infantry divisions, and one armored brigade group.
X Corps (Rawalpindi): It consists of a total of 12 brigades along LOC (Line of Control), three infantry divisions, and is responsible for local security.
XI Corps (Peshawar): It consists of only two infantry divisions responsible for Afghan Border and Khyber Pakhtunkhwa along with newly merged districts of Ex – FATA.
XII Corps (Quetta): It contains two Infantry Divisions and two independent armored brigades, responsible for defending the eastern front.
XXX Corps (Bahawalpur): It consists of two independent armored brigades and two infantry divisions, responsible for defending eastern front borders.
XXXI Corps (Gujranwala): It commands two infantry divisions and twenty-six mechanized divisions. It is available for exploitation and counter-attack as well as provides depth defense to the western borders.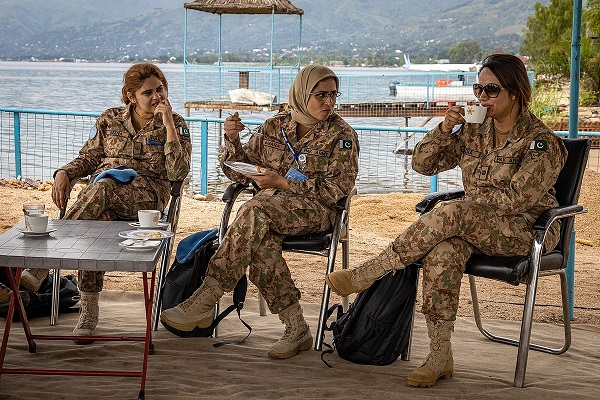 Nishan-e-Haider
It is the second-highest military award which means (Sign of the Lion). Many soldiers and officers received Nishan-e-Haider as a sign of honesty and respect. Pilot Rashid Minhas was the Pakistani pilot who also received the award of Nishan-e-Haider. The Army includes many recipients of Nishan-e-Haider, which are given below.
Captain Mohammad Sarwar
Major Tufail Mohammad
Major Aziz Bhatti
Sarwar Mohammad Husain
Major Shabbir Sharif
Captain Karnal Sher Khan
Major Mohammad Akram
Lance Naik Mohammad Mahfooz
Hawaldar Lalak Jan
Social Media Handles
https://www.facebook.com/OfficialPakArmy/