Qamar Javed Bajwa is the current Chief of Army Staff. He was appointed as the Chief of Army Staff when he was forth by seniority and superseded two generals who were senior to him. He is known for his pro-democratic stance and support of the civilian government. In 2018, Forbes magazine ranked him as 68th most powerful person in the world. This article has all the information about Bajwa, including Qamar Javed Bajwa Biography.
| Title | Description |
| --- | --- |
| Personal | |
| Name: | Qamar Javed Bajwa |
| In Urdu: | قمر جاوید باجوہ |
| Famous As: | Army Cheif |
| Nationality: | Pakistani |
| Residence: | Karachi |
| Education: | Graduation |
| Alma Mater: | Naval Post-graduate School in California |
| Religion: | Islam |
| Profession: | Army Personnel |
| Height: | 5 ft 11 inches |
| Website: | https://twitter.com/qamar_bajwacoas |
| Awards : | Hilal-i-Imtiaz, Nishan-e-Imtiaz |
| Born | |
| Date: | 11th November 1960 |
| Place: | Karachi |
| Family | |
| Spouse: | Ayesha Bajwa |
| Children: | Saad Bajwa and Ali Bajwa |
| Parents: | Muhammad Iqbal Bajwa |
| Siblings : | 4 Siblings |
| Relatives: | Ijaz Ahmed (Father in law) |
| Details | |
| Allegiance: | Pakistan |
| Service/branch: | Pakistan Army |
| Years of service: | 1978 – present |
| Rank: | General |
| Unit: | 16 Baloch Regiment |
| Commands: | 16th Chief of Army Staff |
| Battles/wars: | Operation Radd-ul-Fasaad |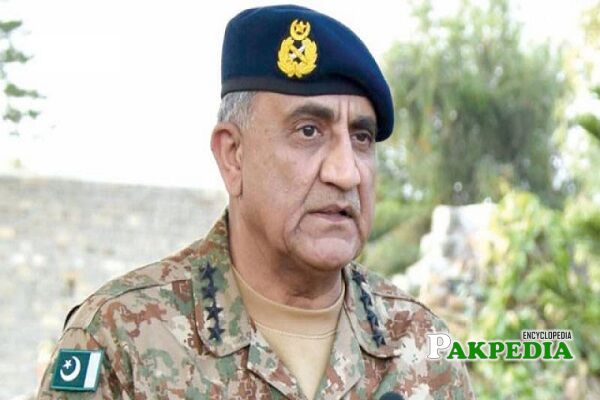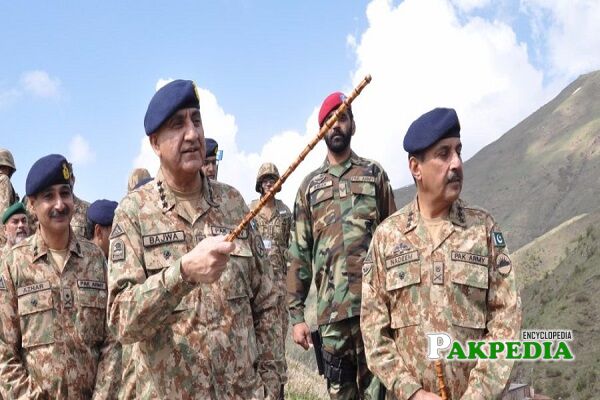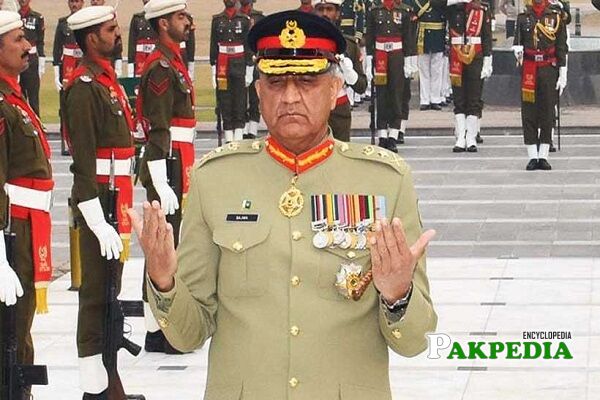 Qamar Javed Bajwa Biography
Javed Bajwa is considered to be the one supporting the government of Imran Khan. It is mainly due to his pro-democratic stance. He is also widely known for his understanding of the Indian Strategic aims in the region. He has also served in the 5th Northern Light Infantry Regiment in Kashmir. After promoting to one start rank, Bajwa served as Chief of Staff at the X corps. After serving as an Inspector General of Training and Evaluation, Bajwa was appointed as the Chief of Army Staff.
Bajwa date of Birth
He was born on 11th November 1960 in Karachi, Sindh. Currently, he is still living there.
Education of Bajwa
Bajwa got his Secondary and Intermediate education at Sir Syed College and Gorden College in Rawalpindi. After joining the Pakistan Army, he graduated from Command and staff in Canada. He has also attended Naval Post-graduate School in California where he graduated and then National Defence University in Pakistan
Qamar Javed Bajwa Family
Qamar Bajwa is the son of Iqbal Bajwa, who was an officer in the Pakistan Army. His father died during his service in Quetta when Javed Bajwa was only 7 years old. The responsibility was taken by his mother, who raised him along with his 4 siblings. He was the youngest son out of five siblings. He is married to Ayesha and has two sons Saad and Ali. His father-in-law, Ijaz Ahmad, was also a two start rank Army officer who retired as a Major general.
Professional Career
Initial Career
Bajwa started his career in the army in 1978. In two years, he was commissioned as 2nd lieutenant in Baloch Regiment in Sialkot after passing from Pakistan Military Academy Kakul. His father had also commanded this unit. After 8 years, he became lieutenant-Colonel and served in 5th Northern light Infantry in Kashmir. Later, he also served as a staff officer in the X Corps. After his promotion as a Brigadier.
One Star General
Bajwa became a one-star general and Chief of Staff at the X Corps. When he became the two-star general, he commanded a division in Northern Pakistan. In 2003 General Bajwa served under Indian major General Vikram Singh who, was the former Chief of Army Staff in the Indian Army from 2012 to 2014. Bajwa was commander of African Command of Pakistan Armed force that was attached to the UN peacekeeping mission in Congo. He was a brigade commander. Vikram Singh called his performance as Professional and Outstanding.
Two-Star Rank
In May 2009, Bajwa was promoted to two-star rank and became Major General. He was appointed to command the Force Command Northern Areas in Gilgit Baltistan. After two years, he was assigned to instruct the School of Infantry and Tactics in Quetta. Later, He became a course instructor at Command and Staff College and National defence University. In the same year in 2011, he was awarded Hilal-e-Imtiaz. 
Three-Star Rank
In 2013, Bajwa became a Grade-1 officer after he was promoted to three-star rank and appointed as Field Commander of X Corps. X Corps is the largest and important Corps that deals with the situation in Kashmir. It erupted in the news that Lieutenant General Bajwa had been appointed thrice as a field commander of X Corps. After serving for one year, Bajwa became Colonel Commandant of Baloch Regiment and then as an Inspector General of Training and Evaluation in General headquarters. There, he served as a Principal Staff Officer to Raheel Sharif
Appointment as an Army Chief
Bajwa was not in the race of appointment for the army chief. The news rumored about Zubair Hayat and Javed Ramdy, who were senior to Bajwa. However, Lt-Gen Zubair Hayat was appointed as Chairman Joint Chiefs Committee. Bajwa was only fourth by seniority when he was appointed as Chief of Army staff superseding two senior generals. He was appointed due to his low-key style and supporter of democracy. His understanding of Indian Strategic aims also helped him in his appointment in 2016. 
Extension of 3 Years
After two years of his service, when he was about to retire, he was given an extension for three years by Imran Khan. The extension was considered against the constitution and had no legal basis and was challenged in the Supreme Court. It was unprecedented as no other extension was heard in the Supreme Court. After the Attorney general called the extension important due to the security situation, the court responded saying it was the institution that tackles the situation and not the individuals. In the end, the Court gave him an extension of six months and asked the government to make the law in the parliament. On 7th January 2020, a bill was passed and General Bajwa was extended till November 2022. It said that his extension affected 20 generals in the Army.
Bajwa Doctrine
Bajwa doctrine is initiated by Qamar Bajwa. It is a realistic picture of the scenario and coming out of a chauvinistic picture about the neighbor. It focuses on the peaceful coexistence with the neighboring countries. Bajwa will be credited for the reshaping of the policies of the state that has harmed the country. In his several speeches, he has vividly clarified that the future of the country is in democracy. 
International Vision
He is probably the first to tell Afghan that Pakistan has no expansionist program about Afghanistan. It considered internationally that Pakistan considers Afghanistan as its 5th province. After Bajwa became the Army Chief, the issues with neighbor seems to reconcile slowly. 
The best example is the peace agreement in Afghanistan between the Taliban and America. America has also accepted the positive role of Pakistan. Bajwa also wants peace with India. He believes that India will realize the importance of peace for a growing economy and its stubborn attitude will fade away itself.
Financial management
The policies of Ishaq Dar that destabilized the financial situation of Pakistan were disliked by the professionals. He considers Zardari's economic policies better than Sharif's despite the oil crises. Bajwa wants the money should be spent on purposeful policies like education and financial emergency rather than wasting on metros and motorways.
Political Vision
Bajwa doctrine limits the role of the Army to its institution only. It believes that a strong democracy means strong institutions and that can only be achieved if the institutions are respected. He had told Nawaz Sharif that he would stand with the government in every situation except Panama Leaks. After several allegations against the Army, Bajwa wanted to write to Chief Justice to exclude military men from the JIT but did not do so as it would have been considered to jeopardize the proceedings of the court.
Notable Medals
He has achieved several medals based on his performance. These include:
Hijri Medal
Tamgha-e-Istaqlal
Democracy Medal
Independence Day Golden Jubilee Medal
Tamgha-e-Baqa
Resolution day Golden Jubilee Medal
He was also awarded twice abroad. They Include:
Order of Military Merit by Jordan
Legion of Merit by Turkey
Social Media Accounts
His social media accounts include