Pervez Musharraf is one of those rulers in Pakistan who is not only criticized but also appreciated widely. He is the 13th Chief of Army Staff and 10th president of Pakistan. He came into power after the takeover of the government in 1999. Musharraf was President of Pakistan for 7 years from 2001 to 2008. During his government, Pakistan saw an economic rise and stability. He is currently in Exile in Dubai. This article has all the information about Musharraf, including Pervez Musharraf Biography and Pervez Musharraf Family.
| Title | Description |
| --- | --- |
| Personal | |
| Name: | Pervez Musharraf |
| In Urdu: | پرویز مشرف |
| Famous As: | Army General |
| Nationality: | Pakistani |
| Residence: | Dubai |
| Education: | Graduation |
| Alma Mater: | Christian College Lahore |
| Religion: | Islam |
| Profession: | Ex Army General and Politician |
| Website: | https://www.facebook.com/pervezmusharraf/ |
| Awards : | He Bagged Various Awards |
| Born | |
| Date: | 11th August 1943 |
| Place: | Old Delhi, British India |
| Family | |
| Spouse: | Sehba Musharraf |
| Children: | 1 Son and 1 Daughter |
| Parents: | Musharrafuddin and Begum Zain |
| Siblings : | 2 Brothers |
| Relatives: | Asim Raza ( Son in law) |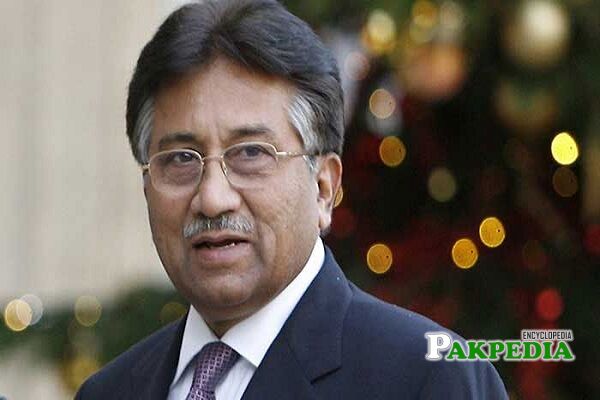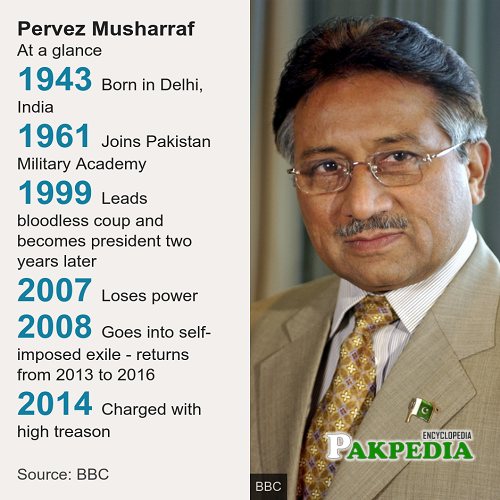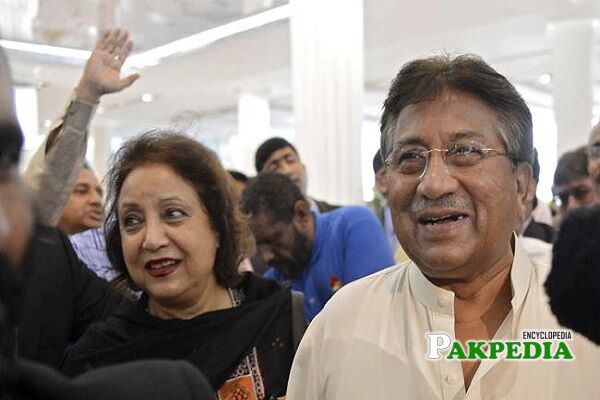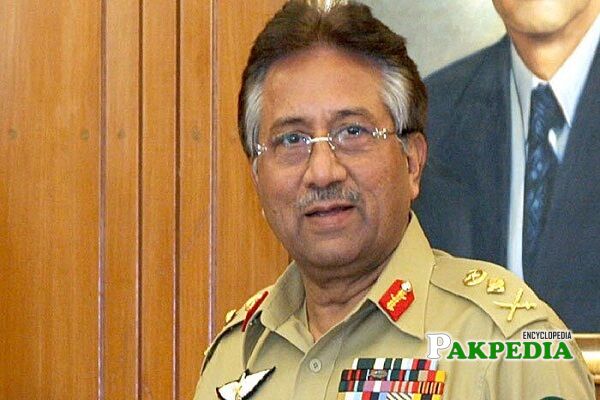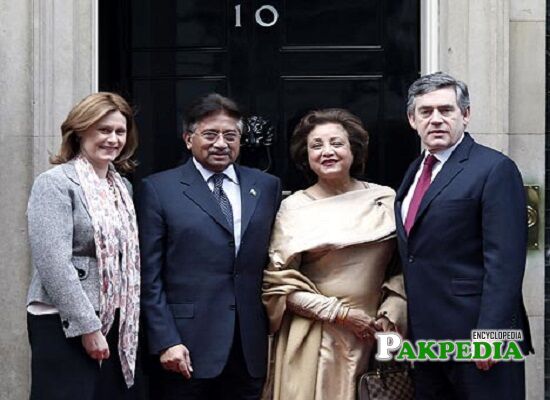 Pervez Musharraf Biography
The association of Musharraf with Pakistan is never questioned. It can be seen in his involvement in three major wars with India. He joined Pakistan Army in 1961 and was commissioned in 1964. He played a vital role in the Afghan Civil War. In 1998, he was made the Head of the Armed forces by Nawaz Sharif. In the army, he has served as major general, commanded SSG (Special Service Group), and director-general of military operations. After his takeover, Musharraf made Pakistan a key state in the War on Terror. Hus government ended dramatically. His decisions at the eleventh hour greatly affected Pakistan. He suspended the constitution. He paid it in the form of high treason case in Sharif's government. He also formed his Party, All Pakistan Muslim League (APML).
Musharraf date of Birth
Musharraf was born on 11 August, 1943 in British India. He is currently residing in Dubai in Exile with his wife.
Education of Pervez
He got his early education from Saint Patrick School in 1957 in Karachi.  Later, Musharraf joined Forman Christian College Lahore. He graduated in 1964. He has also passed various exams including Psychological, and officer Training. He likewise took deep interest in Socio economics
Pervez Musharraf Family
Musharraf was the second son of Musharrafuddin and Begum Zarin in all three children who were boys. His elder brother, Javed Musharraf is an economist and one of the directors of the International Fund for Agriculture. His younger brother is Naveed Musharraf. He is an anesthesiologist. He married Sehba in 1968. They have two children, one son and one daughter. His son in law Asim Raza is notable Pakistani Film Director.
Military Career
Initial Career
Musharraf joined Kakul academy in 1961 and was authorized in 1964 and was deployed on the borders and next year he participated in the 1965 war against India as a lieutenant. It was his first-ever battlefield experience. He participated in Kashmir, Sialkot and Lahore war zones. Musharraf became famous for staying in the prop under shellfire. It earned him the middle after the war. He also participated in the war of 1971. This time he was the Commander of SSG battalion.  
In 1974, he was proceded to the post of Lieutenant Colonel. When he became a Staff officer at NDU, he served as a deputy professor of political science and war studies. In 1987, Musharraf appointed as a Brigade Commander of a Brigade deployed in Siachen glaciers. In 1990-91, Musharraf spent time in Britain. He went to the Defense Royal College and wrote a thesis on " Impact of Arm Race in the Indo-Pak subcontinent". Based on his thesis, he was called one of the best students of his career by Antony Walker.
In 1993, he was promoted to the designation of major general and served in the district of Okara Military. From 1993-1995, he worked as a Director General of Military Operations with the Chief of Army Staff. It is said that Benazir was impressed by Musharraf's war philosophy and on the recommendations of Molana Fazal Rahman, he was promoted to Benazir's key staff. He used to visit Washington with her and was the one who held secret meetings with officials of Mossad and Israeli Premier, Yitzhak Rabin. 
In 1998, Musharraf was promoted to four-star general upon the recommendations of the civilian government.
Kargil War
The Kargil plan was first made by Pakistan but the leadership was reluctant to act. In March 1999, Kashmiri forces were infiltrating in Kargal. As it was discovered, India started the war. Nawaz Sharif as the Prime Minister withdrew the support due to the international pressure. It antagonized the Army and news of a possible coup erupted. Musharraf's reputation was on the stack and a court-martial of him was demanded. He was severely criticized and called responsible for human loss.
Military Coup
The relation between Musharraf and Nawaz Sharif were weak after the rumours of a coup. One day, Musharraf was on the way back from Srilanka when his landing was denied in Karachi. As the new came to the Army, the troops were mobilized for a possible coup. Sharif was placed under house arrest but he managed to send a message to Karachi airport to redirect Musharraf's plane to India. The Army had luckily taken control and on 13th October, the nation was addressed by Musharraf
Political Career
As a President
Soon after the coup, an emergency was imposed in the country. Different army officials were made the administration of the provinces. No organized protest was faced by Musharraf. Sharif, after the house arrest was exiled to Saudi Arabia on his request. The whole country was handed over to technocrats and beaurocrates. Many constitutional changes were made in the constitution under Legal Framework Order. In 2002, the general elections were held and Musharraf's backed PMLQ and MMA won the majority seats.
Developments
For the first time in the history of the country, new faces were brought to the national level who were considered liberal. He brought a cultural policy that developed the media and news channels were opened. He encouraged the cultural events
War on Terror
After 9/11, Pakistan became part of a war against terrorism. Soon he gave a speech against extremism that declared the policy of the state. The country also saw some developments for women after the women protection bill was passed in the assembly. Though it was criticized but it only proved to be a lip service and nothing more. In his governance, women seats in the assembly were increased from 20 to 60. During his government, many assassination attempts were made but failed every time. In 2003, two suicide bombers blasted themselves. Musharraf escaped the attack narrowly.
Musharraf Decline
At the eleventh hour of his government, the Laal Masjid operation and American support deteriorated his popularity. in 2007, he suspended the Chief Justice after he charged him with corruption cases. The whole country erupted and a movement started for the restoration of Chief Justice. The arrival of Nawaz Sharif and Benazir also sparked the issue. They accused him of putting the country into crises. 
When Benazir was assassinated, the situation for Musharraf worsened and resigned from his seat. When PPP and PMLN got the majority seats, Musharraf was forced to step down as a president. On 18 August, he finally announced his resignation and left for London. He also started his political party APML but it didn't work the way he had intended. Several cases were made against him that finally compelled him to leave the country.
Recently in 2020 in the High Treason Case, he was sentenced to death by Special Court for suspension of the constitution. It was the first case that a general was sentenced to death. He challenged the verdict and in 2020, the Lahore High court annulled the death sentence.
Musharraf Book
He has written a book "In the line of Fire" in 2006. It was translated to many languages. The book was named as "Agnipath" means "The Path of Fire" in Hindi.
Social Media Handles
His social media accounts include