Pakistan Navy is a branch of the Pakistan Armed Forces. It came into existence after the division of Royal Indian Navy equipment and personnel after the partition of the subcontinent in 1947. The division of personnel and equipment was not fair between India and Pakistan, same as Royal Indian Air Force. Pakistan was given the least amount of personnel and fleets which were not in action mode.
After some years of partition, it became the world's advanced navy equipped with a missile system that is able to hit enemy on land directly from the surface of the sea. Furthermore, it has the capability to hit the enemy's marine underwater. This article contains all the information about the Navy, including Pakistan Navy History.
| Title | Description |
| --- | --- |
| Details | |
| Abbreviation: | PN |
| Name: | Pakistan Navy |
| In Urdu: | پاکستان بحریہ |
| Motto: | Himmat ka aalam, Allah ka karam, Moujon pay qadam |
| Website: | https://www.paknavy.gov.pk |
| Founded: | 14 August 1947 – present |
| Website: | www.paknavy.gov.pk |
| Chief of Naval Staff : | Admiral Muhammad Zakaullah |
| Vice Chief of Naval Staff : | Vice Admiral Hasham Siddique |
| commanders : | Admiral Mohammad Shariff, Admiral Iftikhar Ahmed Sirohey, Vice-Admiral Syed Mohammad Ahsan |
| Battle honors: | Nishan-e-Haider |
| Decorations : | Military and Civil decorations of Pakistan |
| Engagements : | Indo-Pakistan war of 1965 Bangladesh Liberation War Indo-Pakistani War of 1971 Indo-Pakistani War of 1999 2004 Tsunami Relief Operations Operation Madad Operations Near the HOA War in North-West Pakistan Balochistan conflict |
| Anniversaries : | Navy Day is on 8 September |
| Agency overview | |
| Formed: | 14 August 1947 – present |
| Headquarters: | Islamabad, Pakistan |
| Employees: | Many |
| Legal Personality: | Pakistan Armed Forces |
| Uniform Colour: | Navy blue and White |
| Operational Structure | |
| Headquarters: | Islamabad, Pakistan |
| Executive: | Admiral Muhammad Zakaullah |
| Bomber : | Dassault Mirage VF |
| Electronic warfare : | Hawker 850–XP |
| Helicopter : | Westland Sea King, Aérospatiale SA-319B Alouette III, Harbin Z-9 |
| Patrol : | Lockheed P-3C Orion, Fokker F27-2000, Breguet Atlantique I, ATR-72-500 |
| Reconnaissance : | GIDS Uqab, Boeing ScanEagle, EMT Luna X |

Pakistan Navy History
The Navy came into being after the partition of the subcontinent in 1947 by Britain. About two-thirds of the naval personnel and equipment were given to India, and one-third of the rest were given to Pakistan. Although Pakistan has a great coastal area with Bangladesh and India, but Pakistan got only four harbor launches, two sloops, four minesweepers, two frigates, and two naval trawlers.
Furthermore, it got only two hundred officers and three hundred sailors. The most senior of them was Captain HMS Chaudhry. There was no electrical engineer in the entire navy personnel to take care of electrical issues. Moreover, only six officers were mechanical engineers, and the only Machinery of the navy (Naval Dockyard) was situated in Bombay.
On the other hand, Indians refused to share the machinery present on their land. They faced a lot of hardships due to untrained and inadequate personals, lack of resources and funds, as well as lack of operational bases and training institutes/academies.
Pak – India War 1948
During the first war between Pakistan and India, Naval actions remained absent as the war was limited aerial and land combats and missions. Control and command of the new navy were too difficult, due to which the administrator Liaquat Ali Khan extended the service of Royal Indian Navy personnel. He appointed the British Rear Admiral James Wilfred Jefford as Flag Officer Commanding who worked on Short Term Emergency Plane.
Directorate-General for Naval Intelligence was established after the end of the first war with India in Karachi in 1948. Lieutenant S. M. Ahsan was the first director-general of the Pakistan Navy. In 1950 Navy nationalism took place, and hundreds of army and air force officers voluntarily joined the Navy.
Opportunities were provided to the people of East Pakistan to join the navy at large. Pakistan announced to appoint native chiefs of the armed forces to include Commodore HMS Choudhri, Commander M.A. Alavi, and Commodore Khalid Jamil. In 1950, Pakistan awarded a project to the engineering corps for the construction of a naval dockyard in Karachi.
Pakistan – India War 1965
They got involved in the second war with India in 1965. Most of the naval operations were successfully completed against India under the command of Commander K. R. Niazi.
On 7 September 1956, one frigate, four destroyers, one cruiser, and a submarine were launched for attacking the radar facility in Dwarka used by the Indian Air Force under the command of Commodore S.M Anwar. The operation was successful, and all of the Navy marines, along with others, were reported safely.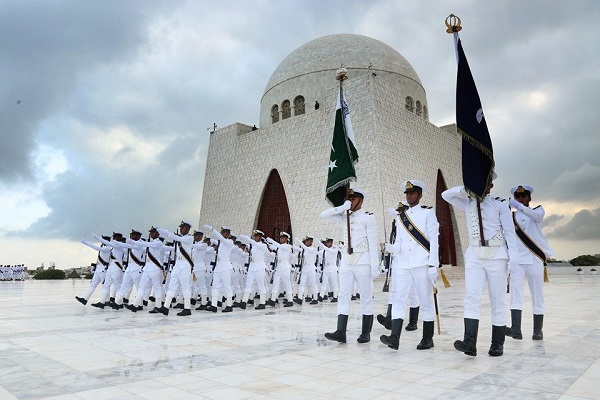 India – Pakistan War 1971
During the East Pakistan crisis, Pakistan Navy knew that they have no fast access to East Pakistan as India has. They left with controlling the borders of West Pakistan. Furthermore, a mission was conducted to attack the Indian Navy Fleet, which was entered in East Pakistan. PNS Khaiber, PNS Shahjahan, and PNS Muhafiz were sent to defend East Pakistan coasts.
Moreover, Indian launched the first missile attack on Pakistan and sunken. PNS Muhafiz and PNS Khaibar, and PNS Shahjahan were damaged badly. On Dec 8, 1971, our Navy launched an attack on Indian Warship and destroyed it while sinking it down in the water. It was the first sinking of a warship after World War 2, and as a result, eighteen Indian Navy Officers and one hundred and seventy sailors were killed in this attack.
A Pakistani Scholar, Tariq Ali, stated that half of the naval force was destroyed in the war against India in 1971, and as a result, Bangladesh's separation took place.
Pakistan Navy Commander
Chief of Naval Staff is the commander and a member of the Joint Chiefs. Their primary duty is to defend the sea line of Pakistan with the Arabian and Indian Seas and to built safe communication with headquarters about the sea lines. Moreover, they are a volunteer force and contains Marines, Naval Aviation, and a Maritime security agency.
The current Naval Chief is Admiral Amjad Khan Niazi, who is the 22nd naval chief of Pakistan after Zafar Mehmood Abbasi, selected by the Prime Minister of Pakistan on Oct 7, 2020.
Reconstruction of Pakistan Navy
After a huge loss in the Pakistan India wars, it started to reconstruct the modern capability of wars. Many defence deals between Pakistan, France, China, and the USA took place. In 1979, France sold out Agosta – 70A to Pakistan, which gave tremendous power to the Navy. In 1982, it obtained the Harpoon system, which was a plus point with Pakistan Navy, and therefore India objected to the deal but in vain.
In 1985 Pakistan bought Mirage – V aircraft with the capability of Exocet – A39 missile ranging the Indian coasts. Furthermore, it participated in the Iraq – Iran war and Libyan tension.
Special Services Group Navy (SSG (PN))
The unit of Special Services Group (N) was established in 1966. The purpose was to conduct special operations of the Navy. The member of SSG is passed through different and tough training and exercises. First of all, they are trained with the commissioned officers, Pakistan Air Force and are then send to join courses of water diving, seaborne and airborne.
They are trained with such a capability that they could face any type of attack. Moreover, they are able to stop offensive attacks on the navy. SSG carried out its first operation in 1971, which was later expanded. They are often sent to US Navy SEALs for completing their final training. The strength of SSG (N) contains 3 regiments which contain 1000 – 1250 SSG personnel each.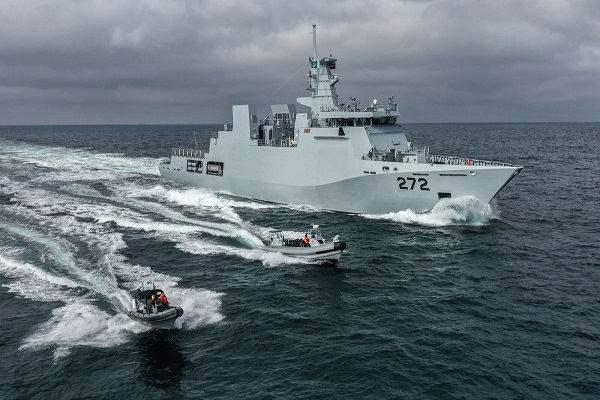 Marines
Marines were commissioned in 1990, equivalent to the marines of the United States of America. Around two thousand marines were drafted, which was expanded to forty-five thousand personnel by the year 2015.
The headquarters of marines is Qasim Marine Base, which is located in Karachi. They are specialized in Seaborne operations and are responsible for seaborne attacks and counter-attacks.
Coast Guards
The Navy has a separate branch of Coast Guards who are responsible for performing duty in the coastlines. They perform rescue operations and distribute assets to military personnel. The operations of Coast Guards are performed under the orders of the Maritime Security Agency who carry out the reinforcement of law in different operation.
Pakistan Navy Operations
They participated in many national and multinational operations, among which some of the most significant operations are given below.
Operation of Tsunami Relief
They were involved in relief operations of the Tsunami in 2004, which destroyed most of the areas of Bangladesh, Indonesia, Maldives, and Sri Lanka. PNS Nasr and PNS Tariq were sent to rescue the tourists and local people from the island of Maldives.
Two more Vessels, along with doctors and medical equipment, were sent to Sri Lanka in order to help the people of Sri Lanka, while the Navy also sent another Vessel to assist Indonesia. Besides doctors and medical equipment, other relief goods, including food, blankets, tents, and many more, were sent to the Tsunami affected countries.
Multinational Operations
The warships participated in the multinational exercise of Inspired Union in 2008. The warships, PNS Nasr, PNS Shahjahan, and PNS Badr, participated in the exercise held in the Arabian Sea. US destroyer Ross and Curt also participated in this exercise.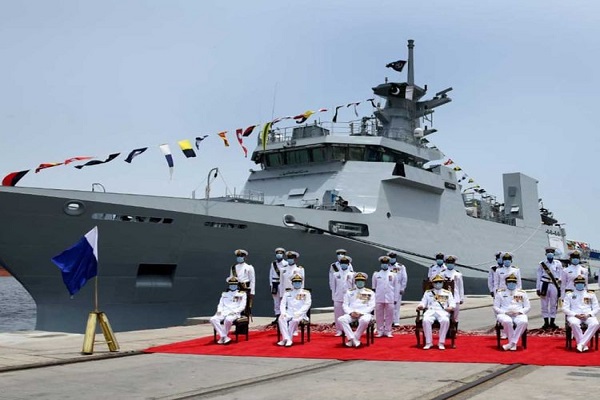 Operation Madad (Help)
They conducted the largest rescue Operation of Madad during the 2010 floods in Pakistan. The people of Pakistan were in great danger as their homes and shelters were destroyed by the fast-flowing water of the flood. Hence, they took the responsibility of helping them and rescued about 360,000 people from the flood.
Furthermore, the Air Arm dropped packages of more than 500 kilograms in the desert of Thar, including food and the supplies of relief. A total of 1000 kilogram dates, 6000 kilograms of cooked food, and 5000 kilograms of uncooked food were supplied to the people of Sukkur. Moreover, they constructed about 100 houses for the people in flood-affected areas under the scheme of PN Model Village.
Pakistan Navy Capabilities
The navy contains a number of submarine and auxiliary fleets which are capable of fighting and counter-fight against enemies and terrorist attacks. Some of the attacking submarine fleets contain;
Agosta-70 Class
Cosmos-class
Hangor Class
Agosta- 90B
SDV Marine
Destroyers of the Navy contain Tariq Class(Type-21) while the Frigates include:
Oliver Hazard (Perry Class)
F-22P (Zulfiqar Class)
Jinnah Class
Type 054AP class
Corvettes include:
Attack (missile) crafts include:
Jalalat Class
Azmat Class
Tuzla Class
Jurrat Class
Pakistan Navy Rankings
Admiral
Admiral of the fleet
Vice Admiral
Rear Admiral
Co mmodore
Captain
Commander
Lieutenant
Sub- Lieutenant
Lieutenant commander
Naval Headquarters Command
Vice Chief of the Naval Staff
Chief of Staff
Deputy Chief of the Naval Staff, Operations
Deputy Chief of the Naval Staff, Supply
Deputy Chief of the Naval Staff, Materials
Deputy Chief of the Naval Staff, Training and Evaluation
Deputy Chief of the Naval Staff, Projects
Deputy Chief of the Naval Staff, Administration
Deputy Chief of the Naval Staff, Welfare and Housing
Deputy Chief of the Naval Staff, Personnel
Chief Project Director
Naval Secretary
Director General Naval Intelligence
Director General Public Relations
Director-General Command, Control, Communication, Computers, and Intelligence
Administrative Branches
Naval Operations
Logistics
Judge Advocate General Corps
Weapons Engineering Branch
Aviation
Medical
Naval Intelligence
Navy SEALs
Special Branch
Administration Branches
Mechanical
Education
Naval Police
Marine Engineering Branch
Music
Supply
Chaplain Service
Marines Corps
Maritime Security Agency
Operational Commands
Commander Coast
Commander Pakistan Fleet
Commander Karachi
Commander Central Punjab
Flag Officer Sea Training
Naval Strategic Forces Command
Commander Logistics
Commander West
Commander North
Commander Naval Aviation
Commander Depot
Commander Submarines
Director of Procurement Navy
Educational and Training Centers
Education and training are provided in many schools, colleges, and Naval universities. Different technical teams and engineers are graduated with many other training diplomas, which help them in the advancement of the Pakistan Navy. Some of the Pakistani Naval Training and Educational Centers are given below.
School of Aviation, Karachi
Naval Polytechnic Institute, Karachi
PNS Karsaaz, Karachi
Navy Engineering College, Karachi
Navy School of Music, Karachi
Bahria College, Naval Complex, Islamabad
Submarine School, Karachi
PNS Iqbal, Karachi
School of Logistics and Management, Karachi
Naval Police School, Karachi
PNS Bahadur, Karachi
PNS Rahnuma, Karachi
Navigation and Operation School, Karachi
Underwater Warfare School, Karachi
Cadet College Petaro, Jamshoro
Communications School, Karachi
Bahria University, Islamabad
Surface Weapons School, Karachi
Bahria College Karsaaz, Karachi
Navy Hydrography School, Karachi
Naval Special Operation Training Centre, Nathia Gali
Pakistan Navy School, Karachi
Cadet College Ormara, Balochistan
Social Media Handles