Mall of Islamabad Overview
Mall of Islamabad is an exceptionally designed shopping mall that brings and integrates residential apartments, retail, hospitality, and offices all in one place. It has been expertly designed to address the needs of residents of Islamabad. The design offers a confident and bold future vision. The interior, which mixes heritage with a clearly modern sensibility, is defined by spaciousness, grandeur, and texture.
The color scheme is elegant. Being one of the biggest Malls in Islamabad it offers recreation and ease with a plethora of luxurious facilities like a spa, infinity pool, rooftop restaurant, top international brands, lavish office spaces, and suitable apartments.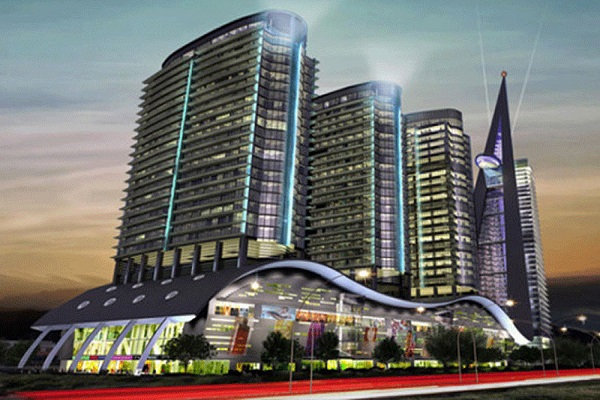 Mall of Islamabad History
After the approval of the CDA (Capital Development Authority), the construction of this mall started in 2014. The Mall has 20 floors and is 500 feet tall building. The tower will be among Pakistan's top ten tallest structures once it is finished. The Mall of Islamabad opening date is expected to be in the last of 2022.
Sections in Mall
There are four portions in the Mall. The first sector is designated for retail & commercial areas, the second for a food court consisting of cafes and restaurants, the third for corporate offices, and the fourth for residential apartments with picturesque views of Islamabad's greenery and Margalla Hills.
Sister Mall
The mall of Lahore situated on Aziz Bhatti Road, Lahore is the sister mall. It houses renowned food franchises and shopping brands.
Developer and Constructor
Bahria Town, a privately held real-estate business that builds housing communities is the developer and owner of this mall. The projects are designed under the guidance of their competent engineers. This Mall is also referred to as "Park Lane Tower."
ZKB Engineering and Constructors, a company with more than forty years of construction experience, is in charge of constructing The Mall. It has completed 152 projects, including the Metro Islamabad. ZKB completed the metro project in record time in Pakistan's history.
Mall of Islamabad Location
It is situated in Blue Area on Main Jinnah Avenue. Additionally, it is close to the city's main attractions, which are only a short drive away.
One minute away from Centaurus
Four 4 minutes away from PIMS Metro station.
Five minutes away from Faisal Mosque
Seven minutes away from the Serena Hotel
Project Details
Offices at Mall of Islamabad
No matter what kind of business you run, your location speaks volumes about you. Being present in the most dynamic mall in the dynamic city will help your business get where it needs to go faster. You simply need to glance out of your window to realize what may be accomplished with a bold vision and a persistent dedication to conquering new heights.
The boutique offices are equipped with the latest amenities, and all services from maintenance to security are expertly managed so you can concentrate on growth. Customers are instantly captivated by the large, triple-height fully air-conditioned reception and lobby.
Mall of Islamabad Apartments
Living at the Mall of Islamabad is more than just renting an apartment; it's a luxurious lifestyle that only a few people will be able to experience. From sitting at home, you can now enjoy the beauty of Islamabad and the Maragalla Hills without interruption. A venue where every day you will experience blissful and ideal moments with your loved ones.
Modern amenities like the rooftop restaurant, infinite sky pool, health club, and shopping malls offer the ideal environment for your evenings. Each apartment is carefully designed, with a functional arrangement, attractive aesthetics, and efficient use of space, all done according to the superior taste of individuals who will never settle for less than outstanding.
I.T Services at Mall of Islamabad
At this mall, the visitors are provided with internet, television, telephone, video conferencing, and fax services.
Mall of Islamabad Parking Space
Extra attention has been given to the parking in order to facilitate the people. The building's four basement floors have been allotted to parking, including valet services and parking guidance setup.
A loading bay on the building's rear side with access from Nizam-Ud-Din Road provides back-of-house (BOH) connections to freight elevators that serve the entire apartment area and offices.
Entrance Points
The Mall of Islamabad was strategically designed to offer convenience to everyone. The tower features separate entry points with access control for apartments, retail, and offices. Visitors have the facility to enter restaurants and health clubs from several entrance points.
Mall of Islamabad Security
Designed of the Mall ensures security
Guest check-in via concierge
Only inhabitants with cards can access the lifts
Each home's entrance door has a multi-locking arrangement.
CCTV monitoring of the building's ground-floor and entrance doors
Each home has an integrated central supply heat/smoke detection or warning system with a backup battery.
Lifestyle Facilities at Mall of Islamabad
1- Food Court
A large number of the restaurants located in the food court serve mouth-watering international and local cuisines. Customers could enjoy these cuisines with their family and friends to have some break from shopping. Rooftop hotels would further add joy to the dining experience. Enjoy great meals along with stunning views of the capital city.
2- Play Area for Kids
Enter the world of adventure and wonder with all the fun activities and arcade games in the designated play area. The collection of amusing games and activities keeps kids engaged and happy so their parents could shop comfortably and easily.
3- Health Club
The fitness club offers cardio and strength training equipment for those who care for their health and physique. A team of highly skilled gym instructors and a snack bar serving nutritious snacks and fruit juices add to the value of the health club.
4- Spa
The Spa is beautiful, comforting heaven of peace that welcomes locals to unwind in its contemporary settings. The total body rehabilitation is provided by spa treatments. With a wide range of beauty and holistic treatments provided by globally certified experts, even the most disturbed or stressed souls would find peace here.
5- Infinity Sky Pool
The Mall of Islamabad's infinity sky pool, the city's 1st of its kind, is an extravagant pleasure. Dive into the temperature-controlled, majestic pool and let your vision extend to infinity. Feel close to the boundless blue sky. Every time you watch the breathtaking panoramic views of Margalla Hills and Islamabad city, you will be in amazement.
6- Roof Top Restaurant
At the rooftop restaurant, delicious cuisines perfectly complement the breathtaking views of Margalla Hills and the vibrant city.
Mall of Islamabad Brands
Corporate Partners
Habib Bank Limited
Orient Advertising
LG
Nestle
Q Mobile
Bank of Punjab
Askari Bank
Samsung
Teka
Maersk Line
Mitsubishi Motors
Fatima Group
Silk Bank
Emerson
Qubee
Niche Lifestyle
Retail Partners
Subway
Crossroads
Lark and Finch
Stoneage
Café Grande
Outfitters
Sizzle n Spice
Teka
Elan
Minnie Minors
The Body Shop
CafeOle
Junaid Jamshed
Solitaire
Nike
Quiz
Accessorize
Cambridge
LeisureClub
Babyshop
Green Valley
Mall of Islamabad Apartments for Sale
Apartments for sale in the Mall of Islamabad are available in different sizes i.e., 1-bed apartments, 2-bed apartments, and 3-bed apartments. A three years installment plan with twelve quarterly installments is available. 30% percent down payment is required.
Mall of Islamabad Payment Plan
The price for the ground floor is Rs. 4 crores which can be paid in four installments and a 50% down payment.
The price for the 1st floor is Rs. 3.5 crores that can be paid in four installments and a 50% down payment.
The price for the 2nd floor is Rs. 3 crores which can be paid in four installments and 50% down payment.
The price for the 3rd floor is Rs. 2.5 crores that can be paid in four installments and a 50% down payment.
Frequently Asked Questions
Is Mall of Islamabad an approved Mall?
Yes, the Mall's construction was started after approval from Capital Development Authority.
Who is developer of Mall of Islamabad?
It is a project of Bahria Town Pvt. Ltd., the largest real-estate developer of Asia.
What is the location of Mall of Islamabad?
It is situated in Blue Area on Main Jinnah Avenue. Additionally, it is close to the city's main attractions, which are only a short drive away.
Mall of Islamabad Contact Number
Phone# 0314-4151673
Social Media Handle