The Mall of Lahore is a Lahore-based shopping mall. It is constructed on an area of sixty-thousand square meters and is house to more than seventy stores ranking it among Pakistan's largest shopping complexes. Bahria Town Private Ltd constructed this mall, and Ali Ahmad Riaz is working as CEO (Chief Executive Officer) of this mall. This article has all the information about the Mall, including Mall of Lahore History.
| Title | Description |
| --- | --- |
| Details | |
| Type: | Shopping and an entertainment complex |
| In Urdu: | لاہور کا مال |
| Industry: | Business |
| Founded: | Lahore Pakistan |
| Headquarter: | Lahore Punjab Pakistan |
| Key People: | Chief Executive Officer Ali: Ahmad Riaz Malik |
| Product: | Dress(male,female,children), |
| Revenue: | monthly(1500000 -200000) |
| Operating income: | 1500000 |
| Profit: | 2000000 |
| | |
| Brands: | 100+ |
| Gross Profit: | 2048.43 (31-2-2017) |
| Services: | 40+ |
| About Gul Ahmed Ideas: | Ideas by Ali Ahmad Riaz Malik |
| | |
| Owner: | Ali Ahmad Riaz Malik. |
| The number of employees: | 300+ |
| Company Profile | |
| Location: | Lahore Pakistan |
| Parking: | Separate Place for Parking |

Mall of Lahore History
From fashion outlets to delicious foods, MoL promises an exciting and wonderful shopping experience for families. One could find local and international brands under one roof. Be it a new, stylish, fashionable attire or simple accessories; everything is available here.
The mall provides an environment complete in all aspects from the parking area to prayer rooms to cash withdrawal facility to play areas that provides shoppers a peaceful and contended environment for shopping. The mall possesses attractive brand exposure for the elite class; some of the key features are:
Calm & Peaceful
Convenient & Secure
Accessible & Central
High Footfall
High Visibility
Central Location
Wonderful Brand Exposure
Counters for customers' information are made on the ground floor. These counters provide information related to lost and found items/articles, events in the mall, store information, finding the special gift.
Mall of Lahore Services
Mall has emerged as an ideal shopping center as it is providing the following services:
Air Conditioning
Bulk electric supply direct from prepaid meters and grid stations for central air-conditioning and consumers.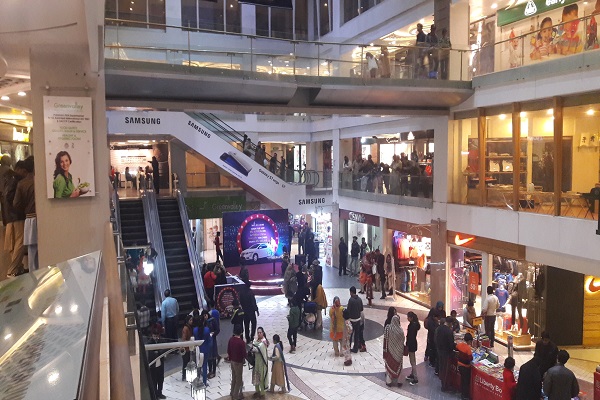 Elevators
Two escalators and ten elevators are installed to provide services to customers. Two passenger lifts are functional from basements to the mall; two capsule lifts functioning within corporate floors and commercial atrium, one lift for the corporate floor, two exclusive lifts functioning from the basement to the apartments, one lift for the food court.
Prayer Area
Prayer rooms are allocated for men and women on different stories.
Fire Security Setup
The mall building has been equipped with fire hoses, fire extinguishers, and fire detection alarms on every floor.
Smoking Area
Smoking is not allowed within mall premises; however, there is a special smoking area for shoppers.
WI-FI Availability
Free Wi-Fi service is available in the food court and upper ground.
24 Hour Security
Security personnel along with CCTV (Closed Circuit TV System) to view all the mall premises from every angle to avoid any mishap or tragedy.
ATMs
ATM machines are located in mall premises to provide cash withdrawal facilities to customers.
Management
A help desk is placed at the mall's entrance that registers complaints of the customers and also notes down their suggestions that are forwarded to the management of the mall.
Disposal System
Efficient disposal and sewerage system, disposal/garbage collection system, and maintenance services are available 24/7.
Parking Area
There is ample parking for cars with a space of keeping four-hundred cars at a time.
Emergency Service
There are two exits designed for escaping in case of any emergency. Besides this, a 24/7 ambulance service is also available.
Un-Interrupted Power Supply
One-hundred and fifty percent power back up to avoid blackouts.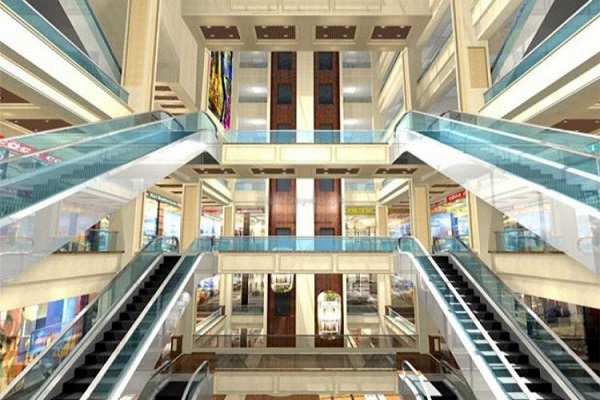 Shopping Zones
Ornaments and Jewels
Supermarket
Home Accessories
Hi-Fashion Boutiques
Fashion Accessories
Lifestyle Appliances
Mall of Lahore Brands
Artimmix
Scentsation
Promosing
ELC
Hub
Glamo
Osim
The Craft Company
Giorgenti
Tag Heuer
Saeed Ghani
Braggs Kids
Solitaire
The Shirts Bar
Nike
Outfitters
Sabeel
Levis
Amir Adnan
Humpty Dumpty
Zahra Ahmad
Next
Bonanza
Burger King
Guilty Pleasures
Paneera
Patari
Heritage
Mahfooz
Dockers
Kids Breakout
Ferozsons
Edenrobe Woman
Fit Flop
Ethnic
Chinyere
Charcoal
The Body Shop
Shirt and Tie Shop
Green Valley
Sun Sports
Askari Bank
Bata
Accessorize
BOP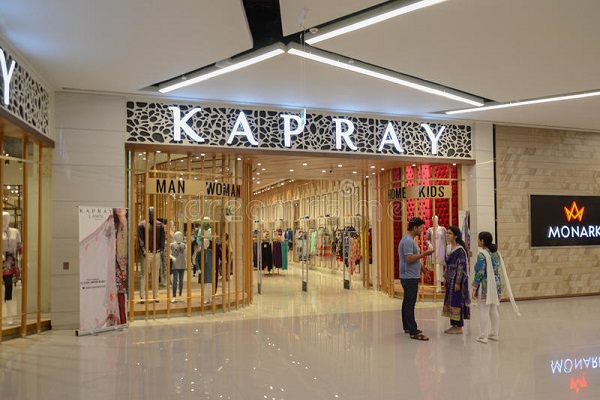 Mall of Lahore Timings
Opening Hours
Green Valley-10:00 am
Food Court-12:00 pm
Shopping Outlets
Mon to Sun-12:00 pm
Friday-3:00 pm
Closing Hours
Mon to Thu-11:00 pm
Fri to Sun-12:00 pm
Food Court-12:00 am
Shopping Outlets
Mon to Thu and Sunday-11:00 pm
Friday and Saturday-12:00 am
Contact Information
Address: Park Lane Tower, 172 Tufail Road, Lahore Cantt.
Phone # +92 42-111-111-980
Fax: +92 42 662 2449
Social Media Handles
https://www.facebook.com/malloflahoreofficial/