Abbottabad city is located in Khyber Pakhtunkhwa (KPK) province, Pakistan. It is the administrative headquarter of the Abbottabad district and is 151 km from the provincial capital, Peshawar, and 133.9 km. from Islamabad, the country's capital. The town is rich in natural beauty and resources.
The metropolitan, which is surrounded by sky-high magnificent and lush green pine abundant mountains, is also known as the city of pines. This Orash Valley situated region is a heaven for knowledge seekers and known as schools. Every year thousands of tourists visit this town to enjoy romantic weather and grandeur.
In 1904, the great poet, Sir Muhammad Allama Iqbal, visited here. He was so inspired and taken by the city's magnificence that he wrote his well-known poem the Cloud (Abr). This article carries every piece of information about the city, including Abbottabad History.
| Title | Description |
| --- | --- |
| Information | |
| Location: | Pakistan |
| City Council: | Government of KPK |
| Type: | The city located in the Hazara region of Khyber Pakhtunkhwa province |
| Local Language Name: | 92.32% Hindko 7.67% Pashto |
| Province: | Khyber Pakhtunkhwa |
| Coordinates : | 34°9'21 |
| District: | Abbottabad District |
| Website: | http://www.abottabad.gov.pk |
| Region: | KPK |
| Elevation: | 1,256 m (4,121 ft) |
| Union councils: | 6 |
| Language | |
| Official Language: | Urdu |
| Native Language: | Hindko, Potohari |
| Other Languages: | Urdu,Hindko,Potohari,English |
| Government | |
| Type: | Government of KPK |
| Area | |
| Total Area: | 1,967 km2 (759 sq mi) |
| Population | |
| Density: | 450/km2 (1,200/sq mi) |
| Total Population: | 1,430,238 |
| Time zone | |
| Time zone: | PST (UTC+5) |
| Codes | |
| Postal code: | 22010 |
| Dialing code: | 0992 |
| Vehicle registration: | Three letters beginning with A and random four numbers |

Abbottabad History
Historians describe that in 1818, Ranjit Singh invaded this region and seized control. Subsequently, in 1849 British army defeated Sikhs gained control of the entire area. The city is named after a British army officer Major James Abbott, who founded this city in 1853 for military purposes.
He was mesmerized by the beauty of the place that, before departing this town, he wrote Abbottabad, a poem in the affection of this city. In 1911, the first dispensary was opened in the town, and the town also became a sanitorium. In 1930, the first school was established in the town. 
Geography
The geographical coordinates on the political map of the city are 34°09′21′′N (latitude) and 73°13′10′′E (longitude), and its height above sea level is 4120.73 ft. (1256 m). The district's total area is 1967 km2 (759 mi2) in length, bound by the green hills of Pine and Sarban.
Abbottabad Weather
The climate of pleasant is pleasant throughout the year. The summers, which last for typically five months, are hot, humid, clear, and wet. The average temperature may rise as high as 25°C. Throughout the year, the temperature may fluctuate from -1.11°C to 31.66°C.  
Winters are short and commonly last for nearly 2.9 months, with an average temperature of 5.5°C. The rainfall continues throughout the year, making enough yearly rain of 167.64 mm.
Population
The city's population consists of 208,491 residents, as per the 2017 census, and is the 40th most crowded city by populaces in Pakistan and 6th in KPK. The population density of the district is 680/km² (1800/mi2).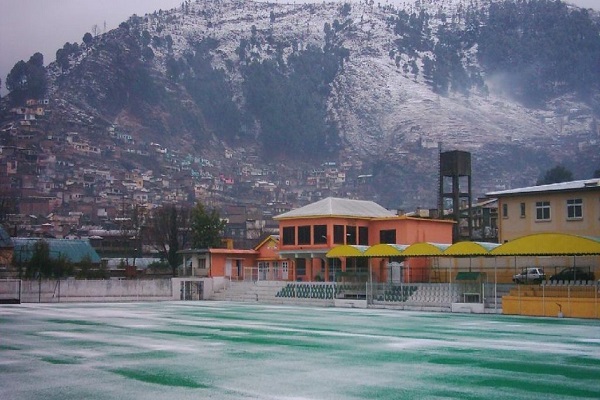 Abbottabad

Culture
The city observes a blend of traditional and modern culture and multicultural diversity because it is a tourist spot. People worldwide come here; locals' interaction with outsiders share various new things mutually. The people are friendly, cooperative, and hospitable.
The city is abundant in all types of food restaurants, local and western. Chicken Karhai, Chicken Korma, and Saji are popular. Visitors love to taste cuisine from:    
Daal Hotel Havelian 

Ilyasi Masjid Pokary

Lakh Patti Kabab

Red Onion 

Kaghan Café 
Abbottabad

Education
The city of schools has the highest literacy rate in KPK and the second highest in Pakistan. Many private, public, and military established educational institutes of repute in the city impart quality education. Their number is still increasing. List of some of the institutes offering primary, secondary, and tertiary level education include:  
Abbottabad Public School (APS)

Aligarh Public School & College

Al-Imtiaz Academy

Al-Noor Academic System (ALNAS)

Army Burn Hall College (ABHC)

Army Medical Corps (AMC)

Army Public College Kakul Campus (APC)

Ayub College of Dentistry

Ayub Medical College

Ayub School of Nursing

Ayub Teaching Hospital

Baloch Regiment (BR)

Banat Public School & Girls College

Beaconhouse School

Bloom Hall Public School

COMSATS

Comwave Institute Of Science & Information Technology

Concept School of Learning

Creations – Academy of Fine Arts

Emerson College of Technology

Fauji Foundation Model School

Frontier Force Regiment (PIFFERS)

Frontier Medical College

Gandhara Public School

GateWay School and College

Govt.College of Management Sciences

Govt.College of Technology

Govt.Commerce College & Management

Govt.Girls' College

Govt.Girls' High School

Govt.Postgraduate College

Green Valley Public High School

Hazara Hills Academy

Hazara University

Institute of Cost & Management Accountants of Pakistan (ICMAP)

Institute of Nuclear Medicine, Oncology and Radiotherapy

Iqra Academy

Kingston School for Special Needs Children

Leaps Grammar School Narrian Campus

Mishwani's College of Commerce & Accountancy (MCCA)

Modern Age Public School

Modern School System

Muslim College of Management Sciences

Nakhlah Academy

NIMS College of Medicine

Oregon Institute of Education

Pakistan Military Academy

Pakistan Public Academy

Peace Group Of Colleges

Pine Hills Public School

Progressive College of Sciences

Punjab Group of Colleges

Rahber Public School

Red Roses Islamic Academy

Regimental Training Centers of the Pakistan Army

Shama Public High School

Siddique Public School Narrian

Sikandria Public School

Tameer-e-Wattan Public School

The City School

The Creators School & College of Science and Commerce

The Educators School

The First Frontier School & College (FFNS)

The Muslim Education System

The Nice School and College

University of Engineering and Technology

University of Science and Technology

Urban School & College

Vertex School System

Women Medical College

Zawiya International Public School
Sports
The people of the city are sports lovers and enjoy playing and watching every kind of sport. First-class cricket and hockey stadiums are available for hosting national and international sports events. Following sports are fondly played and watched by the locals:
Economy 
Agribusiness and tourism are the two major contributors to the economy. The region is abundant in natural resources. There is enormous potential in the mining industry that could contribute a hefty amount share in Pakistan's economic development and GDP.
Industry
Abbottabad is rich in natural resources. Minerals like gypsum, granite, marble, limestone, soapstone, barite, dolomite, magnesite, red ochre, red oxide, and phosphate are abundant.
However, there is no big industrial estate in the town as of now. Some multinational companies are operating in the region and providing work opportunities to the locals as income and livelihood sources.  
Agriculture
The land and soil are fertile and favorable for cultivation. Approximately 48% of the land is being utilized for agriculture. The farmers heavily rely on rains in addition to simple irrigation infrastructure. The region vastly produces wheat, maize, apples, and potatoes. Livestock and poultry farming also supplement horticulture activities in the town.
Tourism
The city is rich in natural beauty, and tourists worldwide visit to enjoy its lovely scenery. The most visited sites include: 
Dahamtore Village

Harnoi River

Herarchy Gaming Lounge

Ilyasi Mosque 

Jalal Baba Auditorium

Lady Garden Public Park

Lodge of Civil Surgeon of Hazara

Miranjani Top

Mukeshpuri (Mushkpuri) Top

NathiaGali

Old Lockhart House

 

Pakistan Military Academy

Sajikot Waterfall

Shimla Hill/Park

St.luke's Church

Thandiani
Abbottabad
Languages
People of the region can communicate through: 
Hindko (mother tongue)

Pahari

Punjabi

Urdu

English
Travel 
Motorway M-15 connects the city with Islamabad, Peshawer, and Rawalpindi. A network of inland roads facilitates visitors to reach Abbottabab by road. Many private transport services such as buses and omnibuses operate for this region from all Pakistan's major cities. 
The city is linked to the outside world by a set-up of railroads. The railway station is located at Railway Road, Havelian, near the city's central part and serves as an interchange for inbound and outbound trains. Abbottabad Airport (AAW) is located near the city. Other airports nearest to the town include:
Muzaffarabad Airport (MFG), Muzaffarabad, 28 km

Tarbela Dam Airport (TLB), Haripur, 64 km

Rawalakot Airport (RAZ), Azad Jammu and Kashmir, 64 km
Abbottabad Postal Code
Postal Code: 22010
Area Code: 0992