Hamid Mir is a Pakistan-based journalist, author, and columnist. He started his journalism career with Pakistan-based newspapers. Later, with the support of many political leaders, most notably the PML-N, he gained prominence. Currently, he hosts a political show 'Capital Talk' on the most-watched channel 'Geo News.'
He contributes his columns to English and Urdu newspapers, both international and national. Mir conducted an interview with Usama bin Ladin following the 9/11 attacks. He also held interviewed several world leaders like Shimon Peres, Nelson Mandela, Colin Powell, Tony Blair, Hillary Clinton, John Kerry during his career.
He also got a chance to interview celebrities like Shah Rukh Khan. This article carries every detail about him, including Hamid Mir Biography.
| Title | Description |
| --- | --- |
| Personal | |
| Name: | Hamid Mir |
| Nationality: | Pakistani |
| Residence: | Islamabad |
| Education: | Masters in Mass Communication |
| Alma mater: | University of Punjab Government College University |
| Movies and TV shows: | Capital Talk, Meeting Osama Bin Laden |
| Religion: | Islam |
| Profession: | Journalist |
| Title: | Executive Editor Geo News |
| Notable work: | Interviewed Osama bin Laden three times |
| Employer: | Geo TV |
| Years Active: | 1987-present |
| Awards : | Hilal-i-Imtiaz |
| Born | |
| Date: | 23rd July 1966 |
| Place: | Lahore, Punjab |
| Family | |
| Children: | 1 son, 1 daughter |
| Parents: | Waris Mir |
| Siblings : | Amir Mir, Imran Mir, Faisal Mir, Huma Mir |
| Relatives: | Amir Mir (brother) |
| Voice of peace: | Mir became a voice of peace and objective journalism during the India–Pakistan tension created after the Mumbai attacks in November 2008. Der Spiegel declared him the most popular journalist in Pakistan |

Hamid Mir Biography
Hamid belongs to a family of journalists as his father was a renowned journalist, and his brother is also marking his name in the field of journalism. So, Mir adopted this field and has gained immense popularity owing to his competency and debating skills. Though his talk show is most-watched in Pakistan yet, he received a lot of criticism.
Some accused him of being a pro-Taleban; some consider him an Indian agent. He has received death threats several times owing to his coverage attempts of crucial events. In recognition of his services in the journalism field, the PPP government awarded him Hilal-e-Imtiaz on 14th Aug 2010.
The foundation of SAARC (South-Asian Association for Regional Cooperation) Writers & Literature nominated him on 26th March 2010 for SAARC 2010 lifetime achievement laurel. In March 2012, he received the award in the category of People's choice for most favorite current affairs anchorperson.
Hamid Date of Birth
He opened his eyes on 23rd July 1966 in Sialkot, Punjab.
Education of Hamid
He attended Government Central Model School and University Laboratory School for completion of his secondary education. He did his inter at Govt Science College and earned his graduation from Government College. In 1989 he received his Master's degree in Mass Communication from Punjab University.
Hamid Mir Family
He is the son of Waris Mir, who was a Pakistan-based academic, writer, intellectual, and journalist. He used to write columns for 'Daily Jang.' His brother Amir Mir is also a journalist and is working as CEO (Chief Executive Officer) of Google news. His spouse worked with private TV channels and PTV for several years. The couple is parents to two children. Due to security issues, Mir's wife and children mostly live abroad.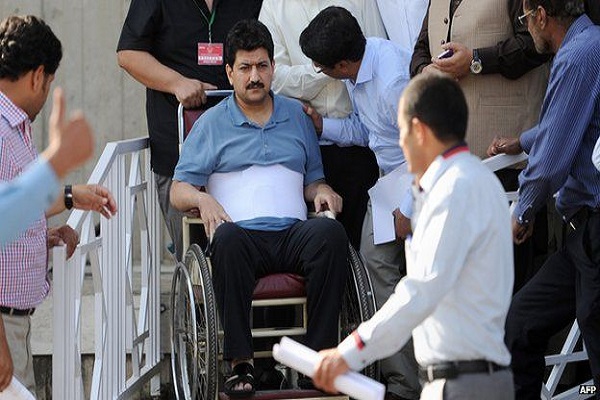 Career
Hardships Faced
In 1987 he began working for the Daily Jang as a sub-editor, feature writer, and reporter. He was kidnapped, tortured, and taken to a house in 1990, where his kidnappers demanded his sources for a controversial story he authored at a time when then-President Ghulam Ishaq intended to dismiss the government of Bhutto.
Exposed the Agosta Submarine Scandal
In 1994 he exposed the Agosta Submarine Scandal. Some very close friends of Zardari were engaged in this scandal along with few Navy officers. Following the publishing of his article, his job in Daily Jang was terminated.
As an Editor
In 1996 he became associated with an Islamabad-based daily newspaper, 'Daily Pakistan,' as editor, becoming the youngest editor of the national Urdu language newspaper in the journalism history of Pakistan.
In 1997 after writing an article in the newspaper 'Daily Pakistan' on PM Nawaz Shareef's corruption, he was suspended from his job. On 25th Dec 1997, he initiated an Islamabad-based Urdu newspaper as a founding-editor.
Interviewed Ladin
He was the 1st Pakistani anchor who interviewed Usama Bin Ladin. In 1997 he interviewed Ladin for the 1st time for Daily Pakistan in March 1997 in a cavern of Tora Bora (Black Cave) mountains situated in Eastern-Afghanistan. In 1998 he conducted an interview with Usama for the 2nd time in a shelter near Ahmed Shah Baba Intl Airport.
He is the 1st and last anchor/journalist who interviewed Laden after the 9/11 attacks. On 8th Nov 2001, he interviewed Laden for the 3rd time for English newspaper Dawn at a hidden place near Kabul.
Investigated Ladin's Escape
He visited Eastern-Afghanistan to investigate Ladin's escape from the mountains of Tora Bora in Dec 2001. During the USA bombing, he visited Laden's caves. He also claimed that Hazrat Ali, the Northern Alliance head with the U.S support, helped Ladin in his escape. According to the report by Mir, Ali received a huge bribe for this act.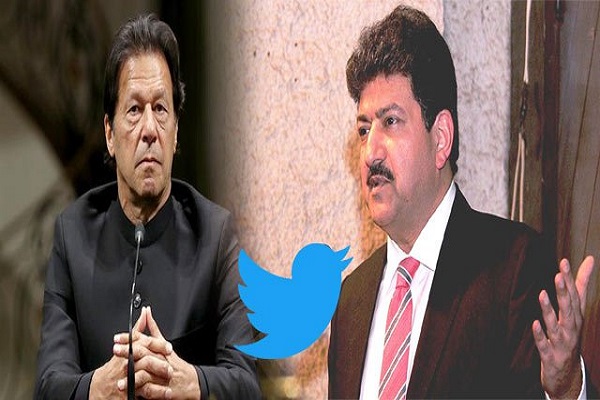 Joined Geo TV
He became associated with GEO TV in 2002 and started hosting a talk show named 'Capital Talk.' The increasing popularity of GEO TV led to an increase in his recognition and popularity because GEO became the most-watched TV channel where Pakistani political figures from both opposition and ruling parties used to debate on controversial topics and current events.
Famous Interviews
He also got the opportunity to interview several world leaders like Shimon Peres, Nelson Mandela, Tony Blair, L K Advani, Condoleezza Rice, Colin Powell, Hillary Clinton, and John Kerry. He also conducted interviews with legendary Bollywood star Shahrukh Khan.
Detention
Hezbollah arrested him in Beirut during the 2006 Lebanon war when he was doing the coverage of bombing by Israeli jets on Beirut. He got freedom from Hezbollah when they were assured that Mir is not an Israeli snoop. Only a few seconds after his escape, Israeli forces bombed the location, making him narrowly escape the situation.
Attacked by Police
On 16th March 2007, when he was covering the black coat's protests against Supreme Court Chief Justice Iftikhar Chaudhry's suspension, police attacked him at his office in Islamabad. After few hours of this attack then-President, Pervaiz Musharraf apologized to him on his talk show.
Ban on Mir's Anchoring
In Nov 2007, PEMRA banned him from appearing on TV for 4 months. He took to the streets after this ban and organized street shows, leading the 'Washington Post' to publish an article regarding his shows on roads. PPP Government again banned him in June 2008 on Geo News.
His investigative documentary made on former PM Benazir's assassination was broadcasted on GEO TV on 23rd Dec 2008. He is invited for analysis on Pakistan-related issues on Indian channels, BBC and CNN.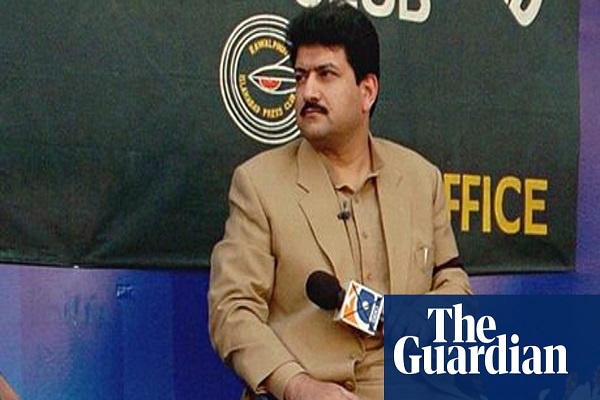 Interview with CFP
In his interview with CFP (Canada Free Press), he stated that Al-Qaida had obtained three backpack nukes from Russia and successfully smuggled those backpack nukes to Europe. He alleged that those weapons were in Al-Qaida's possession before the 9/11 attacks, and those weapons were intended to target California, Paris, and London.
He also claimed that Al-Qaida has twenty-three sleeper agents inside the USA and that those terrorists have a sufficient amount of radioactive materials for six radiological dispersal devices.
Leaked Recording Scandal
The conversation between Usman Punjabi and Mir was leaked in May 2010. Punjabi was the second in command of Zulfiqar Mehsud. In this conversation, Usman was discussing with Mir about kidnapped squadron leader Khalid Khawaja that Taliban-linked kidnappers should further interrogate him.
Khawaja's kidnappers killed him in April 2010. Rashid Rehman, the editor of an English newspaper, 'Daily Times,' stated that if the tape proves genuine, it implies that a journalist facilitated the assassination of a kidnapped. Mir, however, rejected this tape. Taliban later killed Usman Punjabi.
Compliments
According to a German magazine, Der Spiegel, Mir is a most liked Pakistani journalist. Washington Post declared him the most famous Television journalist in Pakistan.
Death Threats
In Dec 2011, he was threatened with death after hosting a Television show on the participation and dominance of ISI in the politics of Pakistan. He left his job on GEO TV on 10th Aug 2018 and became president of GNN News.
Murder Attempts
In Nov 2012, half kg explosives were put in his car; fortunately, the bomb disposal squad successfully disposed of it. Later Tehreek-e-Taliban claimed responsibility. On 19th April 2014, unknown gunmen fired on him, causing him 3-bullet injuries.
Before this attack, he has informed his co-workers that if anything happens to him, ISI and its chief Lieutenant General Zaheer would be responsible and also sent a video to CPJ (Committee to Protect Journalists) declaring ISI as a cause of his murder.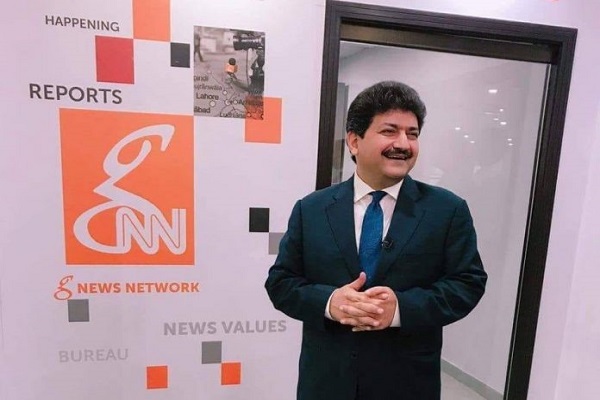 Criticism
People accuse him of being a pro-Taleban. Taleban sympathizers call him a CIA (Central Intelligence Agency) agent. The Taleban placed a bomb in his car as a result of covering Malala's assassination attempt. When he invited Pervaiz Hoodbhoy to his show, he was called an Indian agent.
Urdu newspapers delivered the next day published the statement that on Geo TV there were 2-Indian agents. He behaved in a very rude manner with Information Minister regarding the topic of US drone attacks. In Sep 2009, the US diplomat sent a letter to channel management complaining about him on wronged reporting.
Hamid Mir Controversies
He toured the Bajour area in Jan 2006 following the U.S. missile attack in 'Damadola village.' Mir claimed that these missiles had killed women and children only, not Al-Qaida militants.
General Pervaiz called him a Taleban sympathizer following the 2007 emergency rule and also banned him for four months from Geo TV. In his interview with 'Monthly Newsline Karachi,' he told his differences with Gen Musharraf.
After writing investigation reports on Taleban, he started receiving death threats.
Opinion About Hamas
He compared the Taliban & Hamas in 2009, saying that 'Hamas possibly seems to have more suicide bombers than the Taleban,' but they are not the same.' He wrote in an article entitled 'Hamas Builds While Taleban Bombs Schools' that both Taliban and Hamas were raised in refugee camps and were initially supported by the West.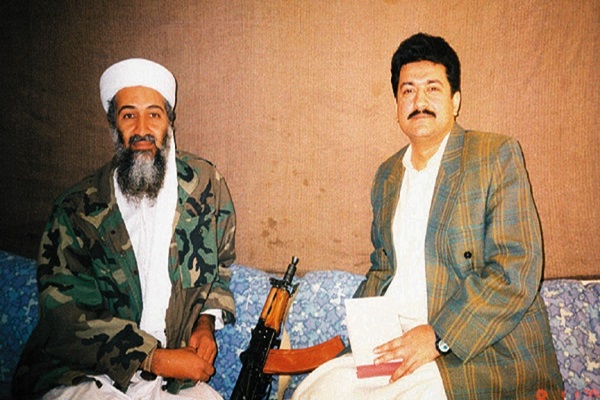 Hamid Mir Books
Qalam Kamaan: Pakistan Ka Mustakbil
Bhutto Ke Siyasi Paishan Goyyan
Social Media Handles
His social media account include
https://twitter.com/HamidMirPAK