Ghulam Ishaq Khan was a Pakistan-based bureaucrat and was elected for President of Pakistan's post in 1988 and served until 1993. He founded GIKI (Ghulam Ishaq Khan Institute of Engineering Sciences & Technology). He was raised in Banu and did his graduation from Peshawar University.
President Ayub Khan appointed him 1st chairperson of WAPDA (Water & Power Development Authority) in 1961. From 1966-1970 he served as a Finance Secretary. A year later President Zulfiqar Bhutto made him Governor of Pakistan State Bank and in 1975 was designated as Defense Secretary and assisted in atomic bomb program of Pakistan.
In 1977 President Zia-ul-Haq appointed him Finance Minister. He spent decades in power from 1955 to 1993 and was awarded Sitara-e-Pakistan and Hilal-e-Pakistan for his outstanding services. This article contains all the information about him, including Ghulam Ishaq Khan Biography.
| Title | Description |
| --- | --- |
| Personal | |
| Name: | Ghulam Ishaq Khan |
| In Urdu: | غلام اسحاق خان |
| Famous As: | Civil Servant and a Bureaucrat |
| Nationality: | Pakistani |
| Education: | Double BSc, in Chemistry and in Botany |
| Religion: | Islam |
| Profession: | Politician |
| Alma Mater: | University of Peshawar (BSc), Civil Services Academy |
| Born | |
| Date: | 20 January 1915 |
| Place: | Ismail Khel, North-West Frontier Province, British India (now in Khyber Pakhtunkhwa, Pakistan) |
| Died | |
| Date: | 27 October 2006 |
| Rest Place: | Peshawar, Khyber Pakhtunkhwa, Pakistan |
| Career | |
| Political Party: | Independent |
| In-Office | |
| Role: | Governor of the State Bank of Pakistan |
| Dates: | 22 December 1971 – 30 November 1975 |
| President : | Fazal Ilahi Chaudhry |
| Prime Minister: | Zulfikar Ali Bhutto |
| Preceded By: | Shakur Durrani |
| Succeeded By: | S. Osman Ali |
| In-Office 2 | |
| Role: | Defence Secretary of Pakistan |
| Dates: | 12 October 1975 – 5 July 1977 |
| President: | President Fazal Ilahi Chaudhry |
| Prime Minister: | Zulfikar Ali Bhutto |
| Preceded By: | Fazal Muqeem Khan |
| Succeeded By: | Ghulam Jilani Khan |
| Finance Minister of Pakistan: | In-office: July 5, 1977 – 21 March 1985 |
| President : | Fazal Ilahi Chaudhry Zia-ul-Haq |
| Preceded by : | Abdul Hafiz Pirzada |
| Preceded by : | Mahbub ul Haq |
| Chairman of the Senate: | In-office: 21 March 1985 – 12 December 1988 |
| Preceded by : | Habibullah Khan |
| Succeeded by : | Wasim Sajjad |
| 7th President of Pakistan: | In-office: 17 August 1988 – 18 July 1993 |
| Prime Minister: | Benazir Bhutto Ghulam Mustafa (Caretaker) Nawaz Sharif |
| Preceded by : | Muhammad Zia-ul-Haq |
| Succeeded by Wasim Sajjad (Acting): | Succeeded by Wasim Sajjad (Acting) |

Ghulam Ishaq Khan Biography
Ishaq Khan was a quiet personality of Pakistani politics. Born in a backward village, he emerged through several bureaucratic jobs to the presidential post. He didn't own democratic power, nor he was a powerful man like other generals who snatched power and authority in Pakistan.
Still, he dismissed elected Prime Ministers and appeared as the most powerful and authoritative man in Pakistan. As a bureaucrat, he was known as a moral, conservative and honest person. The silent oversight of Pakistan's nuclear program at a critical time and the formation of an institution like the Ghulam Ishaq Khan Institute of Science and Technology are symbols of his compassion and patriotism.
But at last, moment, when he tried to jump into a pool of politics, splatter fell not only on himself but also on some of his family members. And with all his joys, sorrows, successes and failures, he left quietly. 
Ishaq Date of Birth
He was born on January 20 1915, in the Ismail Khel area of ​​Bannu.
Education of Ishaq
After elementary education, he graduated from Peshawar with a degree in Chemistry and Botany.
Ghulam Ishaq Khan Family
He belonged to the Bangash tribe of Pashtuns. His family is also making his mark in politics. His son-in-law Anwar Saifullah Khan served as a federal minister and Irfan-Ullah Khan another son-in-law served at Sindh ministry and advisor's posts. Khan's one granddaughter got married to ANP's Haroon Bilour.
The other tied the knot with Umar Ayub Khan, grandson of ex-military dictator Ayub Khan and son of a political figure Gohar Ayub Khan.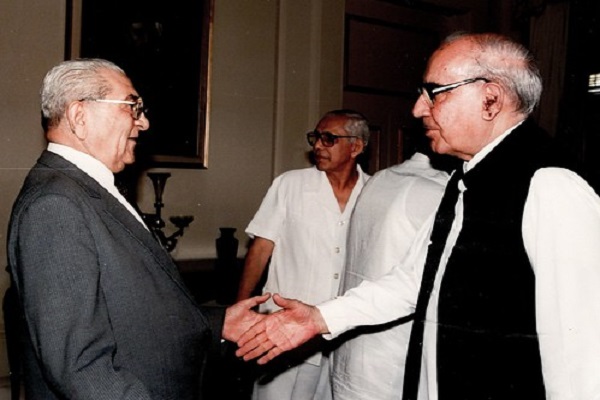 Career
He served in many government positions before entering politics. He joined the Indian Civil Service in 1940.
Appointment as Secretary Irrigation
In 1955, when two provinces were formed under West and East Pakistan under One Unit, Khan was appointed Secretary Irrigation of West Pakistan. In this capacity, he continued to provide government assistance in matters of Pakistan-India river water distribution. 
Head of WAPDA
In 1961, he became the head of WAPDA and held the post until 1965. He then served as Secretary of the Treasury for more than five years. 
Governor of State Bank
After the Bhutto government's formation, he continued to serve as the State Bank Governor until 1975. After that, he was given the portfolio of Secretary-General of Defense. He oversaw Pakistan's nuclear program and established direct relations with his army's top leadership. 
Services to Finance Department
When General Zia-ul-Haq overthrew the Bhutto government in 1970, Khan was first appointed Finance Adviser and then Finance Minister. He supported General Zia's plan of transforming the economy into an Islamic one.
Services as Chairperson of Senate
When the limited and cautious process of restoring democracy began in the late 1984 elections due to non-partisan elections, he was made chairman of the Senate, a constitutional successor to the President.
Announced Death of Zia-ul-Haq
Thus, when Khan, the acting President, officially confirmed on August 17, 1988, that President Zia-ul-Haq's plane had exploded in the air, the whole country was waiting to see when the army would take power. But that did not happen.
On the contrary, General Zia's non-partisan formula was put on hold. Three months later, as a result of the party-based general election, the PPP emerged as the majority party.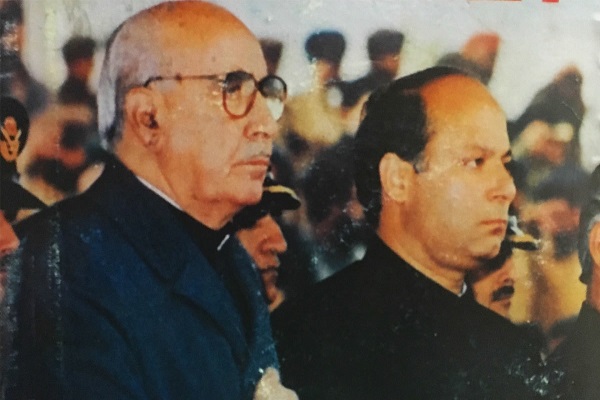 Appointment as President of Pakistan
But to balance power of PPP during this period, a force in the form of Islamic Democratic Alliance was set up with ISI's help. Power was conditionally transferred to the PPP. And under the deal, Khan, with the joint support of the PPP and the IJI, was elected the seventh president of Pakistan in December 1988 over Nawabzada Nasrullah Khan.
Removal of Nawaz
He had the power to dismiss the elected parliament and government under Article VIII of the Eighth Amendment and appoint judges of the armed forces' judiciary and heads.
The Supreme Court did not declare unconstitutional the Benazir Bhutto government's first dismissal by President Zia-ul-Haq in June 1988 and then by Ghulam Ishaq in 1990. However, the Nawaz Sharif government's removal was declared unconstitutional and ordered its restoration in May 1993.
Removal from Presidential Posts
As a result, the federal structure fell into a deadlock. Therefore, under the pressure of General Abdul Waheed Kakar, the Chief of Army Staff, the restored Prime Minister Nawaz Sharif and the late President Ishaq had to leave their posts.
After Khan's forceful retirement, he became so isolated in Peshawar that he neither wrote his biography nor gave any interviews.
Relationship with Nawaz Shareef
Before becoming the Senate's chairman, he held some such posts where the country's most prominent businessmen and industrialists tried to outdo each other in opening his car doors. In this regard, the Sharif family and the Ittefaq group had a long association with him.
The Sharif family also kept in touch with him regarding the manufacture and supply of military equipment. At that time, Mian Nawaz's humility and generosity were very pleasing to Khan. 
Favours to Nawaz Family
Former President did a lot of favours to this family when he was the Governor SBP. When he became the Federal Minister of Finance, his special attention was on this family, due to which CBR (now FBR) issued such SROs that benefited the Ittefaq Group. Relations between President Ghulam and PM Muhammad Nawaz Shareef have been cordial for at least a year.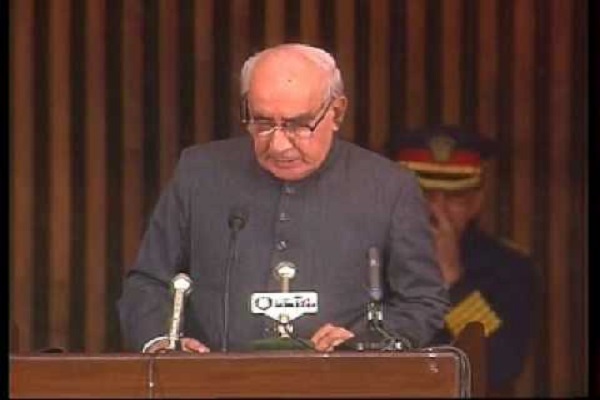 Conflicts Between Ishaq and Nawaz
In December 1991, for the first time, these ties started damaging. Addressing a joint meeting of the two parties, Benazir Bhutto was cursing the President. Following Benazir's example, the entire opposition was making similar moves.
Diplomatic representatives sitting in the gallery, navy, air force chiefs, national and international media representatives were all watching the scene. Still, Nawaz Sharif or his ruling party did not resist but became spectators.
Founder of GIKI
During his tenure as President of Pakistan, Ghulam Ishaq Khan founded GIKI (Ghulam Khan Institute of Engineering Sciences & Technology) in 1993. Since its foundation, this institute has attracted the most influential and competent scientists such as Dr Abdul Qadeer Khan, Shaukat Hameed, and Asghar Qadir.
They worked hard to elevate this institute the leading sciences and engineering institute of the world. The institute was founded when Ishaq realized the dependence of Pakistan on imported technology and foreign expertise. So, he decided to establish a leading and well-equipped institute of engineering and production technology in Pakistan.
Infaq Foundation and Benevolent Community Care donated about Fifty million rupees for transforming the idea of Khan into practical form. 
Ghulam Ishaq Khan Death
He passed away on October 27, 2006, due to pneumonia.