Centaurus Mall as we all know is the latest development in Pakistan. If you see it, no one will ever say that it is located in country with economic instability and problems. With breath taking view of Margalla hills draped behind, this 40 stories building is a master piece. Its initial concept is one seen in Dubai and Sharjah. It is 3 building connected to one another through 4 stories of shopping mall. Also this master plan on Centaurus Mall contains a "fun place" for children, a luxury cinema, hotel residence and an office. Doesn't it sound more like a concept for foreign country rather than in Pakistan!
| Title | Description |
| --- | --- |
| Information | |
| Location: | Islamabad, Pakistan |
| Type: | Hotel, Mall, Residential and Corporate |
| Local Language Name: | Urdu |
| Coordinates : | 33.7077°N 73.0499°E |
| Website: | http://www.thecentaurus.com/ |
| Basic Information | |
| Built At: | 2011 |
| Opening: | 17 February 2013 |
| Number of Rooms: | 500 |
| Floor Count: | 23 |
| Architectural: | 200 m (656 ft) |
| Owner: | Sardar Ali Nawaz |
| Completed: | 2011 |
| Construction Started: | 2005 |
| Type: | Hotel, Mall, Residential and Corporate |
| Status : | Complete |
| Open hours : | 10AM–11PM |
| Specification | |
| Floor: | 23 |
| Structural Engineer: | |
| Architect: | Atkins |
| Developer: | Pak Gulf Construction, Al Mahad Group of Companies (Saudi Arabia) and Sardar Builders |
| Height : | 200 m (656 ft) |
| Special Information | |
| Genre : | N/A |
| Cost: | USD $ 350 million |
| Current tenants: | Movenpick Hotels & Resorts |
| Address:: | Plot 1, Jinnah Avenue, Sector F-8, Islamabad, Pakistan.، Islamabad, Pakistan |
| Phone: : | +92 51 111 154 154 |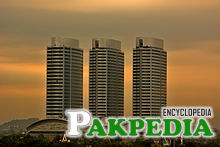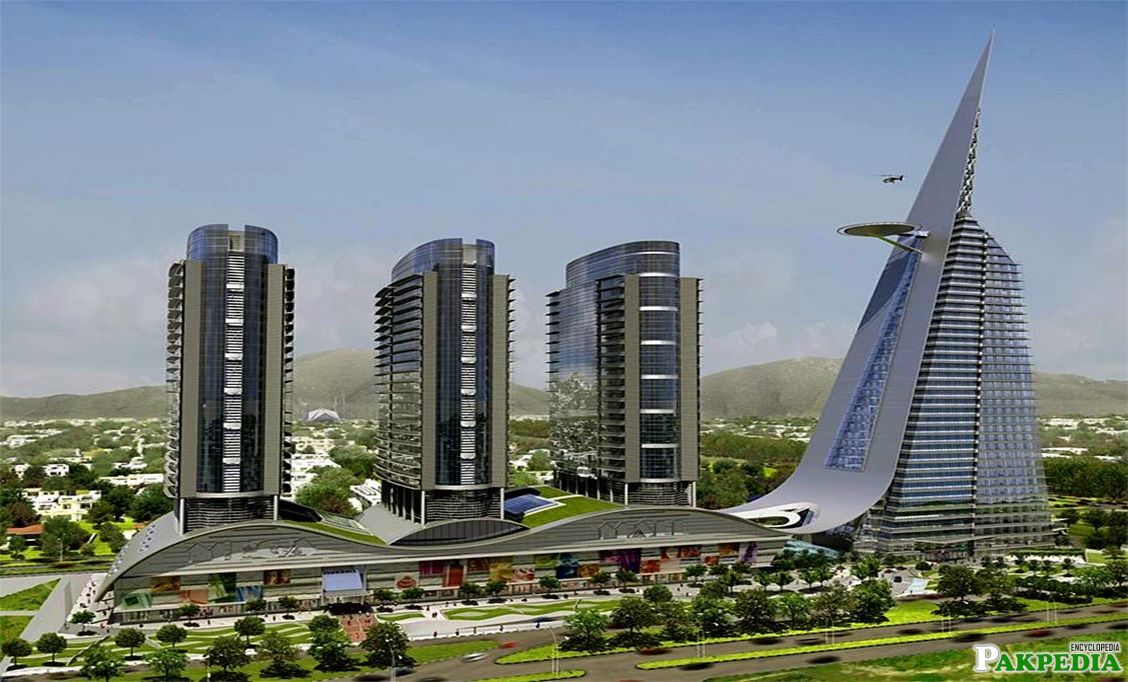 Overview
The Centaurus is a mixed use real estate development in the most prime and central location of Islamabad, which has rapidly taken its shape to be one of the most desirable addresses in Pakistan. The Centaurus has pioneered the concept of a contemporary modern, luxurious master-planned community that integrates residential amenities with a world class shopping mall, a 5 Star Deluxe hotel, and a Corporate tower, to bring premium lifestyle to Pakistan.[1]  Overview 
About Centaurus Mall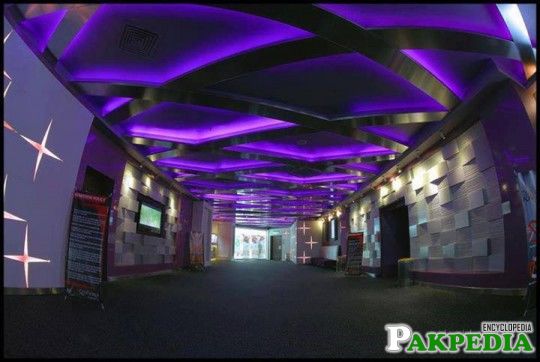 Design for Centaurus Mall is made by AW Atkins, the same firm that designed large malls of Dubai like Burj ul Arab, Twisting Tower and Jumeirah Beach hotel. Likewise they have put up a lot of efforts for making of Centaurus Mall. Else than being symbols of status and a proud moment for people of Islamabad this mall is also source of foreign income and popularity of local brands. 4 stories of Mall that are occupied with shops are almost 80% booked. High costs are charged for each shop as they will earn high revenues. There is no controversy in fact that along with locals shopping at Centaurus Mall there will also be foreign visitors. This type of mall will depict good picture of Pakistan to the outer world.
Centaurus Mall gives people of Islamabad and tourist a place to have a safe shopping environment. Now Islamabadites also have their source of identity and satisfaction of sense of recognition. This mall is also a sign of prosperity. Despite of all circumstances, Pakistan is able to facilitate 5 star quality hotel and shopping mall with huge budgets and revenues. [2] About Centaurus Mall
Five Storey Shopping
The Centaurus Mall is a five-storey shopping mall that features retail shopping, entertainment and lifestyle showcase. This mall is full of facilities and it is built on globally popular "One Stop Shop" concept. The shopping environment is full of leisure and convenience and the quality of the shopping might also drive the customers towards this architectural marvel. The structure itself can be a visitor's spot that come to see what it looks like? It is located strategically in such a manner that it is easily accessible from all over the capital city and the adjacent twin city. The Centaurus Mall will also feature 5-screen Cineplex having 3D technology and DTS surround sound system, fun city for the kids and food court consisting of international fast food chain outlets. 4 levels of parking are also available in basement. Almost every kind of shopping is made available in the mall including Supermarket, Fashion, Home Furnishing, Consumer Electronics, Accessories, Gold Souk, Designer and Wedding lounge, Leisure, Family Entertainment and much more. [3] The Centaurus Mall is a five-storey shopping mall
Centaurus Mall Parking
Centaurus Mall Islamabad has two parking places one is in the basement and other is next to it.The basement parking is only for cars while the other parking is for both bikes and cars. [4] Centaurus Mall Islamabad
About Corporate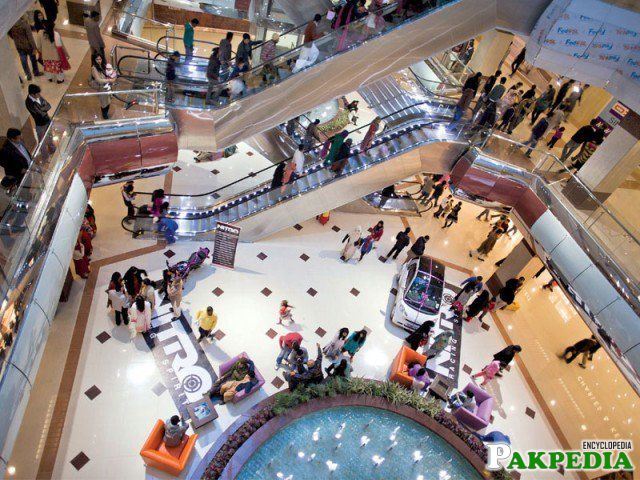 Destined to become a new business and commercial hub and fast taking its shape, The Centaurus Corporate tower will provide an ideal environment and infrastructure for businesses from Pakistan and around the world. Let your business ventures soar with The Centaurus Corporate. These modern flexible office spaces are ideally located in the heart of Islamabad. Special attention to on-site facilities includes raised flooring, central air conditioning, express elevators, security, and exclusive parking facilities. Quality and innovation come together to create a pleasant work environment at The Centaurus Corporate.
Corporate Tower
Live, shop, and work in a community that inspires you. The Corporate tower will offer an outstanding environment for businesses, with boutique offices, wonderful surroundings and none of the congestion and stresses usually associated with work in the city. The Centaurus will offer excellent opportunities for retailers and business ventures, with a captive audience of well-to-do consumers right on your doorstep. This is truly where work and leisure meet! [5] Take Your Business to New Heights
Power to Centaurus
The city managers have allocated a piece of land in Fatima Jinnah Park for installation of a grid station to provide electricity to the under-construction Centaurus Tower in Sector F-8, Blue Area commercial centre and some residential sectors.
"We have allocated land for the grid station and asked Iesco to start work on the project," said CDA spokesman Ramzan Sajid.
Whatever cost is required for the grid station would be paid by the CDA, he added.
Negating an impression that the CDA's poor financial condition did not allow such a project, the spokesman said: "The financial position of the CDA is not so bad that it cannot bear the cost of a grid station." [6] Power to Centaurus CDA allocates land for grid station
Centaurus Mall Ticketing

Centaurus Mall, has come under fire after it announced on Thursday that some visitors will be required to purchase entry coupons.
In what it called a move to avoid 'overcrowding', Centaurus Mall in a public notice said visitors will have to buy a Rs100 coupon to enter the mall. However, some people are exempt from the scheme which goes into effect on July 3.
The public notice listed 23 types of people who will not have to purchase the entry coupons. Those exempted include all women and children under 12, senior citizens, lawmakers and executives, diplomats and foreigners, journalists and lawyers, members of country clubs, doctors and teachers. Further, the notice said, "famous players of hockey, cricket, football and golf" and "celebrities" do not have to purchase the entry coupon. [7] Islamabad's biggest shopping mall
About The Centaurus Residencia
Islamabads Most Enviable Address
The Centaurus Residencia is set to open its doors for a new style of living and lifestyle for people in the heart of Islamabad. This is their opportunity to have all that they have ever wanted in their ideal home – breathtaking views, exceptional architecture and design, the finest entertainment and leisure facilities all within a secure environment.
From their home in The Centaurus Residencia they are close to everything yet far from the usual. Exceptional apartment homes providing ease, peace of mind, and total comfort with mesmerizing views of Islamabad and the Margalla Hills. They will be prepared to experience unsurpassed features, amenities, and superlative lifestyle facilities. Whether their residential requirements range from a one, two, three or four bedroom apartment, or a lavish penthouse complete with a private pool, we have the perfect place for everyone.
Features and Amenities
Two luxurious towers with 23 floors of sheer luxury
Studio, 1, 2, 3, 4 bedroom apartment homes and Penthouses.
Dedicated entrances
Uninterrupted power supply
Spectacular views of the city and Margalla Hills
High quality finishes and fittings
Visitors lobby with complete access control for residents & intercom facility
High speed broadband internet and Digital cable TV
Dedicated car parking for the residents
Underground reservoir tanks for constant water supply
Drying areas, storage & maid's room
VRV/Central Air-conditioning system
Double glazed glass with aluminum cladding
Exclusive Health Club and Spa Facilities
High Speed Elevators and Service Lifts
Contact Us
Tower A Lobby
Phone: +92 51 8483070
Email : [email protected]
Tower B Lobby
Phone: +92 51 8483098
Email : [email protected]