The eye-popping Shah Faisal Mosque, nestled at the foot of the Margalla Hills, is one of Asia's largest and reflects an eclectic blend of ultramodern and traditional architectural design styles. Topped by sloping roofs (a stark contrast to the traditional domes found on most mosques), the main prayer hall and courtyard is said to hold around 100,000 people. Most of its cost (pegged at about US$120 million today) was a gift from King Faisal of Saudi Arabia.[1] The eye- popping 
| Title | Description |
| --- | --- |
| Information | |
| Location: | Pakistan |
| Type: | Mosque |
| Local Language Name: | فیصل مسجد |
| Coordinates : | 33°43'48″N 73°02'18″E |
| Basic Information | |
| Architectural Style: | Contemporary Islamic |
| Date established: | 1987 |
| Construction cost: | 120 million USD |
| Capacity: | 74,000 within the main areas,approx. 200,000 in adjoining grounds |
| Open hours : | 24 |
| Specification | |
| Interior area: | 5,000 m2 (54,000 sq ft) |
| Minaret(s): | 4 |
| Minaret height: | 90 m (300 ft) |
| Funding Date: | 1975 |
| Grant From: | Saudi King Faisal |
| Design By: | Turkish architect Vedat Dalokay |
| Foot Hills: | Margalla Hills |
| Situated : | North end of Faisal Avenue Of Islamabad |
| Structural Engineer: | Vedat Dalokay |
| Porticoes: | 24,000 |
| Worshipers : | 10,000 |
| Courtyard: | 40,000 |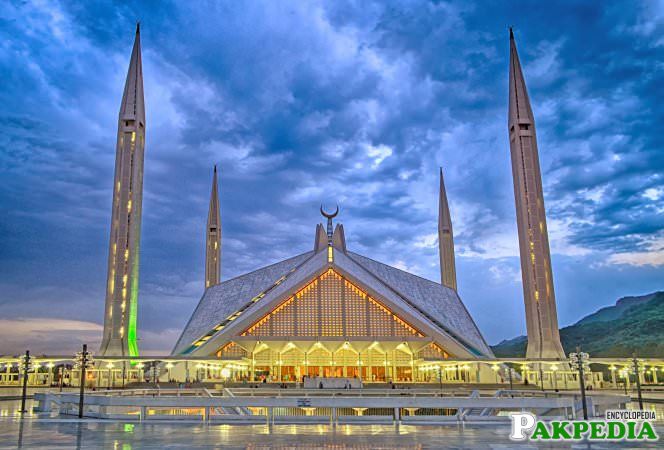 Detail
Basic Information
Faisal Mosque in Islamabad, Pakistan is the biggest mosque of South Asia and the sixth largest mosque in the world with covered area of 5000 square meter (54,000 square feet), and room for containing as many as 300,000 worshipers in its main prayer hall, porticoes, courtyard and adjoining grounds. It is considered as the National Mosque of Pakistan. Shah Faisal Mosque was remained the biggest mosque in the world from 1986 to 1993 when taken over in size by the completion of the Hassan II Mosque in Casablanca, Morocco.[2] Basic Imformation 
Situated
Sited at north end of one of Faisal Avenue, the Shah Faisal Mosque is positioned at the northern-most end of the Islamabad on an elevated area near Margalla Hills. This positioning enables the mosque to be seen from miles around with a beautiful background of the Margalla Hills. It represents great importance of the Faisal Mosque.[3] Situated –  Situated 
History
The mosque was named Shah Faisal Mosque due to the late King Faisal bin Abdul-Aziz of Saudi Arabia who suggested building a national mosque in Islamabad during his visit in 1966 and later largely supported funding for the construction. The government Saudi Arabia provided 130 million Saudi Riyals donation for the mosque. Work on mosque was started in with an international competition held in 1969, in which architects from 17 different countries submitted 43 designs for the Mosque. The accepted design was created by a Turkish architect, Vedat Dalokay who recieved the Agha Khan Architectural Award for this assignment. The construction work for the mosque under supervision of Azam Khan was started by National Construction of Pakistan in 1976. It was completed in 1986 at a cost of 130 million Saudi Riyals and is designed similar to a desert Bedouin's tent.[4] History –  History 
Design
The design made by Turkish architect Vedat Dalokay not only reflects modern but also the basic Islamic principles of design. This unique mixture of traditional Islamic construction style and modern building principles has made Shah Faisal Mosque very popular throughout the world.[5] Design –  Design  Instead of using traditional domes Vidat Dalokay designed an eight sided main hall that looks like an Arab Bedouin's desert tent. Additionally he added four minarets all of 90 meters (300 feet) on all four corners of main hall. The main structure of building is a main prayer hall and four minarets. The giant structure of 40 meters (131 feet) high hall is supported by four concrete girders.
Entrance of Mosque
At the entrance of mosque there is a small courtyard containing a small round water pond with fountains and introductory plaque inside it. Next to this courtyard, on the left hand are stairs leading to main courtyard of mosque and going straight leads to another but comparatively larger water pond with fountains. On the left side of this pond is ablution place for worshipers. This second water pond looks very beautiful. Stairs goes to main courtyard from all four corners of this pond. There is an adjoining ground on east of mosque that contains mausoleum of a former president Gen. Zia-ul-Haq of Pakistan. Another ground is located at front side of mosque but it is a smaller one. There is also a water pond with fountains at frond side of the building.[6] Entrance of Mosque 
Instructions for Visitors

Mosques are holly places for Muslims. Anyone is free to visit the Faisal Mosque but there are some restrictions and rules one need to follow when visiting the mosque.
Leave your shoes at entrance
Avoid eating, dancing, singing or making noises
Dress properly (especially ladies), otherwise you wouldn't be allowed to enter
Capacity
The Faisal Mosque has covered area of 5,000 m2 (54,000 sq ft). It can accommodate 10,000 worshipers in its main prayer hall,[7] Archnet Digital – Library 24,000 in its porticoes,  40,000 in its courtyard, and another 200,000 in its adjoining grounds . Although its covered main prayer hall is smaller than that of the Hassan II Mosque in Casablanca (the world's third largest mosque), Faisal Mosque has the third largest capacity of accommodating worshipers in its adjoining grounds after the Masjid al-Haram (Grand Mosque) of Mecca, the Al-Masjid al-Nabawi (Prophet's Mosque) in Medina . Each of the Mosque's four minarets are 80 m (260 ft) high (the tallest minarets in South Asia) and measure 10 x 10 m in circumference.[8] sacred – destinations
More Imformation aboutFaisal Masjid
The main courtyard of building presents a beautiful picturesque view of Margla Hills. You are free to visit all areas of the building and take photographs. Some restrictions are for the inside of main prayer hall that is opened only at the times of prayers and photography is not allowed in it. This place is very peaceful. Although the mosque is not a picnic place but still it is open for families, students, tourists, delegations and foreigners to visit. There are no charges for anyone to enter but you can give donation for mosque if you want.[9] More Imformation about  Faisal Masjid