Benazir Bhutto International Airport is founded by Royal Air Force in 1930. It is located in Chaklala, Punjab, and was previously known as Islamabad International Airport. It was renamed by Shahid Khaqan Abbasi after Late Benazir Bhutto in 2008. Furthermore, it is the third-largest airport in Pakistan which can handle all types of aircraft.
The airport provided traveling services to all national and international destinations through many airlines, including PIA, Shaheen Air, and Airblue, till the establishment of a new International Airport in Islamabad. The airport is merged with Islamabad International Airport and stopped for civil traveling.
It is now serving as a Base of the Pakistan Air Force under the name of PAF Base Chaklala. The article has all the information, including Benazir Bhutto International Airport History.
| Title | Description |
| --- | --- |
| Information | |
| Location: | Rawalpindi |
| Country: | Pakistan |
| Name: | Benazir Bhutto International Airport |
| In Urdu: | بینظیر بھٹو بین الاقوامی ہوائی اڈا |
| Type: | Public / Military |
| Local Language Name: | Islamabad International Airport |
| Coordinates : | 33°36?59?N 073°05?57?E |
| Latitude: | N 33° 37′ 00.36 |
| Longitude: | E 73° 05′ 55.46 |
| Elevation: | 1668′ |
| Longest Runway: | 10700′ |
| Magnetic Variance: | E 2.0° |
| Fuel Type: | 100 Low Lead (LL) octane fuel is available JET A-1 fuel is available |
| Oxygen: | Oxygen facilities are unavailable. |
| Repair Facility: | Minor airframe repairs are available. Minor engine repairs are available. |
| Landing Fee: | There is a landing fee. |
| Jet Start Unit: | A starting unit is not available at the airport. |
| Precision Approach: | One or more charts for the airport support precision approach |
| Beacon Light: | Beacon light is not available. |
| Customs Facilities: | Customs are available without restriction |
| Usage Type: | Airport/Heliport is open to the public |
| Time Zone Conversion: | -5:00=UTC |
| Daylight Savings: | Airport observes daylight savings time |
| Passengers: | 4,767,860 |
| Website: | http://www.islamabadairport.com.pk |

Benazir Bhutto International Airport History
Benazir Bhutto Airport was founded in 1930 by Royal Air Force before the independence of Pakistan. It started operations during Second World War. It was used by Royal Air Force to defeat Germany and many other countries and used for RAF facilitation.
After the independence of Pakistan, it came under Pakistan Civil Aviation Authority (PCAA) and started domestic and international operations through Shaheen Air, PIA, and Airblue. By the year 2009, a total of 3 million passengers traveling were recorded, with a total of 34 thousand flights to national and international destinations.
After the inauguration of IIA (Islamabad International Airport), BBIA stopped public traveling services and came under the power of PAF. The last flight of the airport was recorded in 2016 from Chaklala to the United Kingdom.
Facilities
Facilities of the airport include the following.
Cargo Terminal
Ticket Booking Office
Waiting Area
Lounges
Car Parking Area
Canteen
PCO
Shops
Mosque
Construction
Islamabad International Airport was constructed in district Attock at a distance of 20 km from Islamabad and Rawalpindi. The airport was established to replace BBIA in order to increase the load of passengers and air – traffic.
The airport has been constructed and considered to be the 1st Green – Field airport of Pakistan which has the capability of handling A380 – Airbus. It has covered a total area of 3300 acres.
New International Airport Project
The project of the new International Airport was handed over to the civil aviation authority of Pakistan while designed by two companies, including the company of Aeroports de Paris of France and Singapore's CPG Corporation. In order to assist GT AASR, a Pakistani firm in management service, PCAA signed an agreement with the American Louis Berger Group.
Inauguration
The construction of the airport was inaugurated by the former Prime Minister of Pakistan, Shaukat Aziz, who laid the foundation of the airport on May 1, 2008.
Construction
Islamabad International Airport has been constructed under a project which includes the following.
Construction of ninety Checks – INS
6 Taxiways
42 Immigration Counter
Terminal including15 gates
Two Runways
Parking for Aircrafts
ATC Tower
Fuel Farm
10 Remote Gates
Car Parking Area
4 – Star Hotel
Shops
Mosque
Rescue facility
Canteen
Lounge for domestic passengers
Food Court
Capability
Islamabad International Airport has two runways that have the capability to handle jets and wide-bodied aircraft, including Airbus – A380 and Boeing – 747. Both of the runways are 12 thousand feet each and can handle many aircraft at a time. Furthermore, the airport is capable of handling nine million passengers per year, which will increase to twenty-five million passengers per year in the future.
Total Cost
The airport is administered by the Civil Aviation Authority of Pakistan and fully funded PCAA with a cost of 2.5 billion Pakistani Rupees.
Location
IIAP is located on New IIAP, Islamabad, at a distance of six miles from Benazir Bhutto International Airport.
Air Lines
Many national and international airlines provide traveling facilities to passengers, which include the following.
PIA
Air – Blue
Emirates
Shaeen Air
Serene Air
Virgin Atlantic
Saudi Gulf Air Lines
AirSial
Gulf Air
Saudia
Air China
Oman Air
Air Arabia
Turkish Airlines
Qatar Airways
Kuwait Airways
Flynas
Thai Airways
Kam Air
British Airways
Etihad Airways
Traveling Destinations
A number of airlines provide traveling facilities to destinations all over the globe, among which some of the international destinations are as follow.
Dubai
Jedda
Riyadh
Beijing
London
Abu Dhabi
As Al Khaima
Wuhan
Kunming
Bahrain
Guangzhou
Kabul
Birmingham
Manchester
Istanbul
Beijing
Dammam
Doha
Kaula Lumpur
Medina
Tokyo
Toronto
Bangkok
National Destinations
Airlines, including PIA, provide traveling services to many local destinations, which include the following.
Bahawalpur
Chitral
Gilgit
Lahore
Skardu
Rahim Yar Khan
Saidu Sharif
Sujjur
Sialkot
Quetta
Karachi
Services
Both traveling and Cargo services are provided by the airport. It serves nine million passengers per year and will be extended to twenty-five million travelers per year by the end of 2024.
Cargo – Service
It also provides cargo services with a capacity of 80 thousand tons per year. The services are offered by the airlines of TCS Courier and YTO Cargo to Dubai, Urumqi, and Karachi.
Facilities
The airport is designed in a modern way, and a huge area is allocated for commercial purposes in order to fully facilitate its passengers. Facilities of the airport contain the following.
Duty – Free Shops
Business Center
Food Courts
Cinema
Restaurant
Convention Center
Lounge for domestic passengers, international passengers, and VIP Personnel
Banking ATM
Internet
Ticket Booking Office
Mosque
Waiting Area
Car Parking Area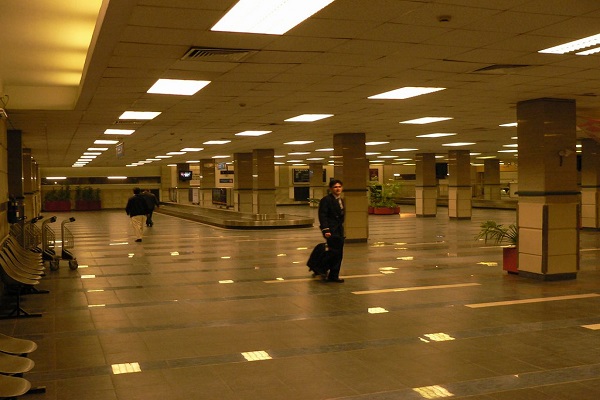 Ticket Booking Office
An office for booking tickets of national and international airlines is available in the airport, which facilitates the passengers to buy tickets of any airline easily.
Contact Information
Phone # +92 – 51 – 9555 – 0703
Fax # +92 – 51 – 9555 – 0702
Flight Inquiry # 114
Email # [email protected]
Social Media handle
http://www.islamabadairport.com.pk/
https://www.facebook.com/NEWBBIAI/