Shaukat Aziz is a Pakistani economist and financier  who served as Prime Minister of Pakistan from 20 August 2004 to 15 November 2007, as well as the Finance Minister of Pakistan from 6 November 1999 to 15 November 2007.[1]  Shaukat Aziz 
| Title | Description |
| --- | --- |
| Personal | |
| Name: | Shaukat Aziz |
| In Urdu: | شوکت عزیز‎ |
| Nationality: | Pakistani, United States, United Kingdom |
| Residence: | RH6 7AF Surrey London United Kingdom |
| Born | |
| Date: | 6 March 1949 |
| Place: | Karachi, Sindh, Pakistan |
| Family | |
| Spouse: | Rukhsana Aziz |
| Career | |
| Political Party: | Pakistan Muslim League (Q) |
| In Office | |
| Role: | Minister of Finance |
| Dates: | 12 October 1999 – 15 November 2007 |
| Prime Minister: | Zafarullah Khan Jamali, Chaudhry Shujaat Hussain |
| Preceded By: | Ishaq Dar |
| Succeeded By: | Salman Shah |
| In Office 2 | |
| Role: | Prime Minister of Pakistan |
| Dates: | 28 August 2004 – 15 November 2007 |
| President: | Pervez Musharraf |
| Preceded By: | Chaudhry Shujaat Hussain |
| Succeeded By: | Muhammad Mian Soomro |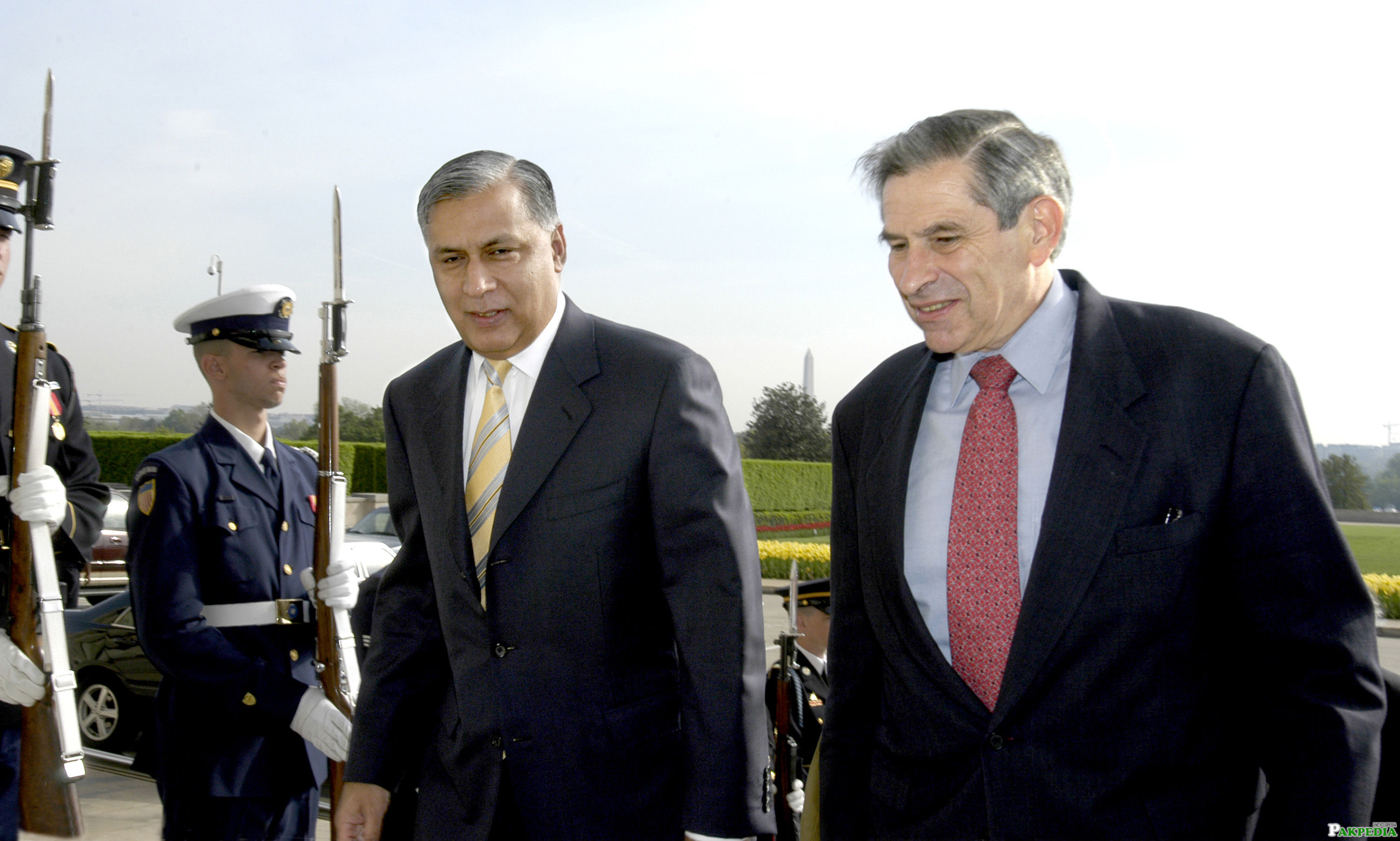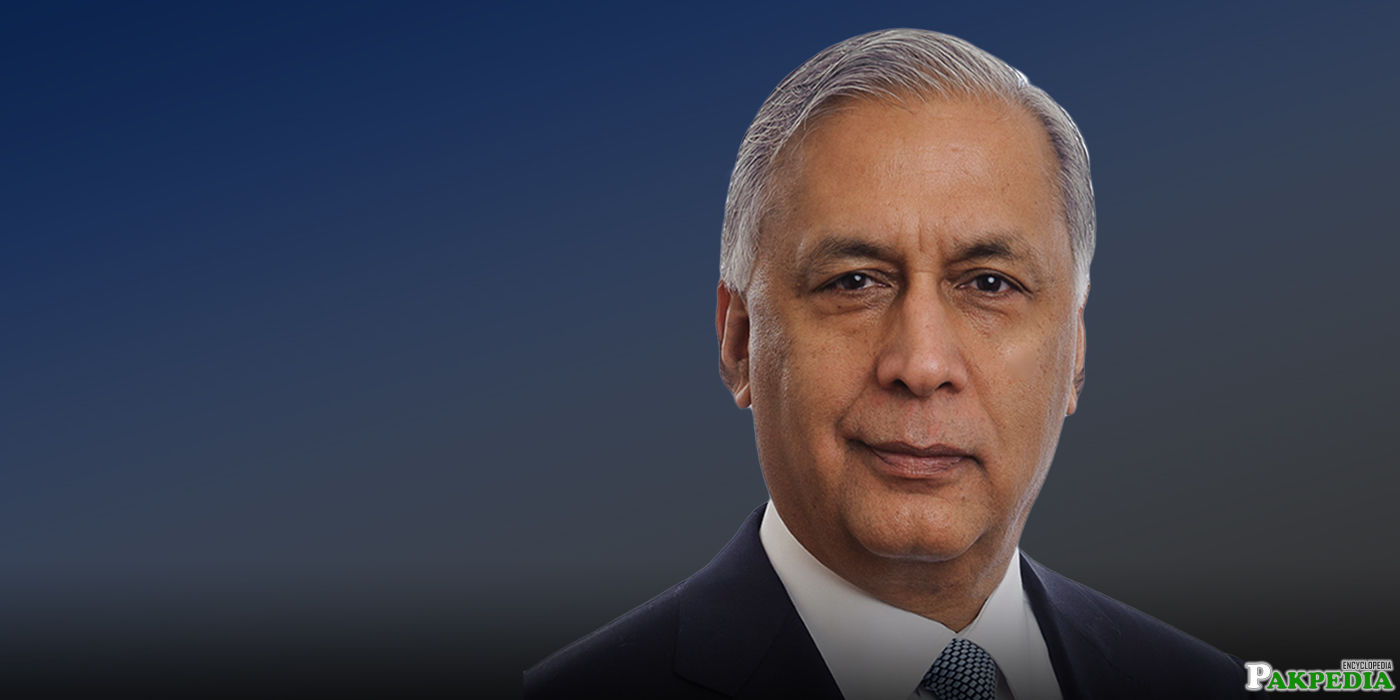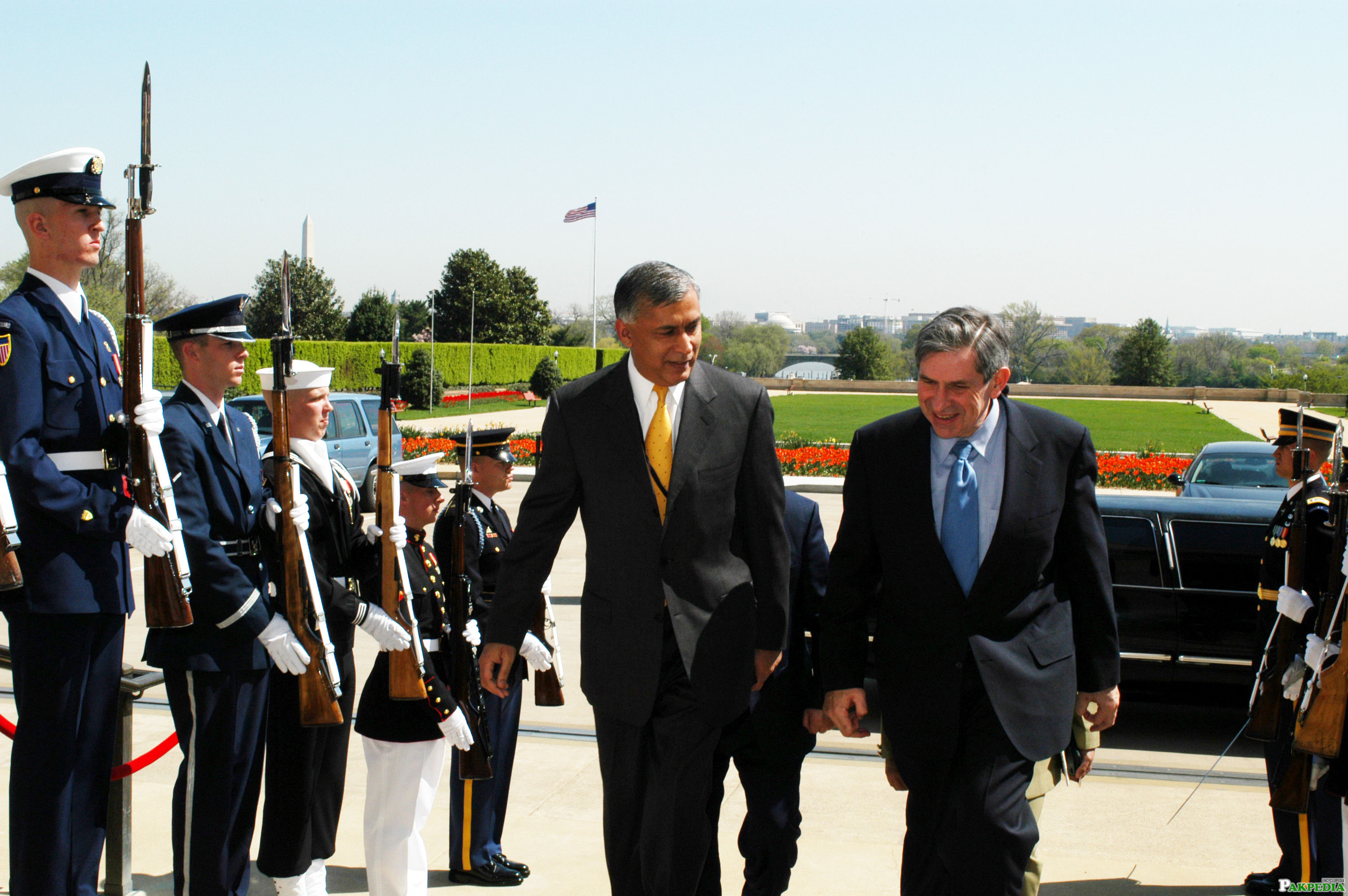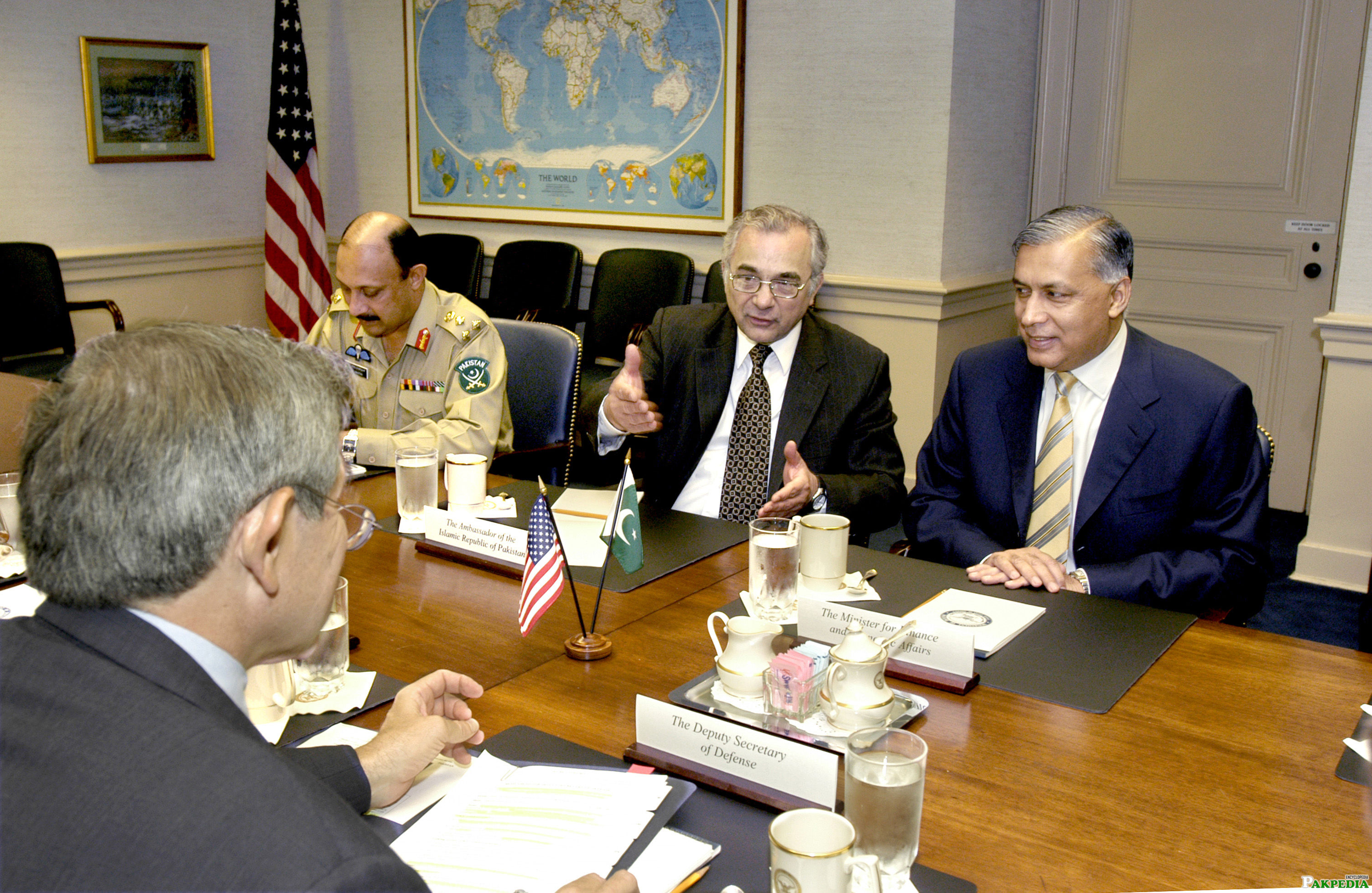 History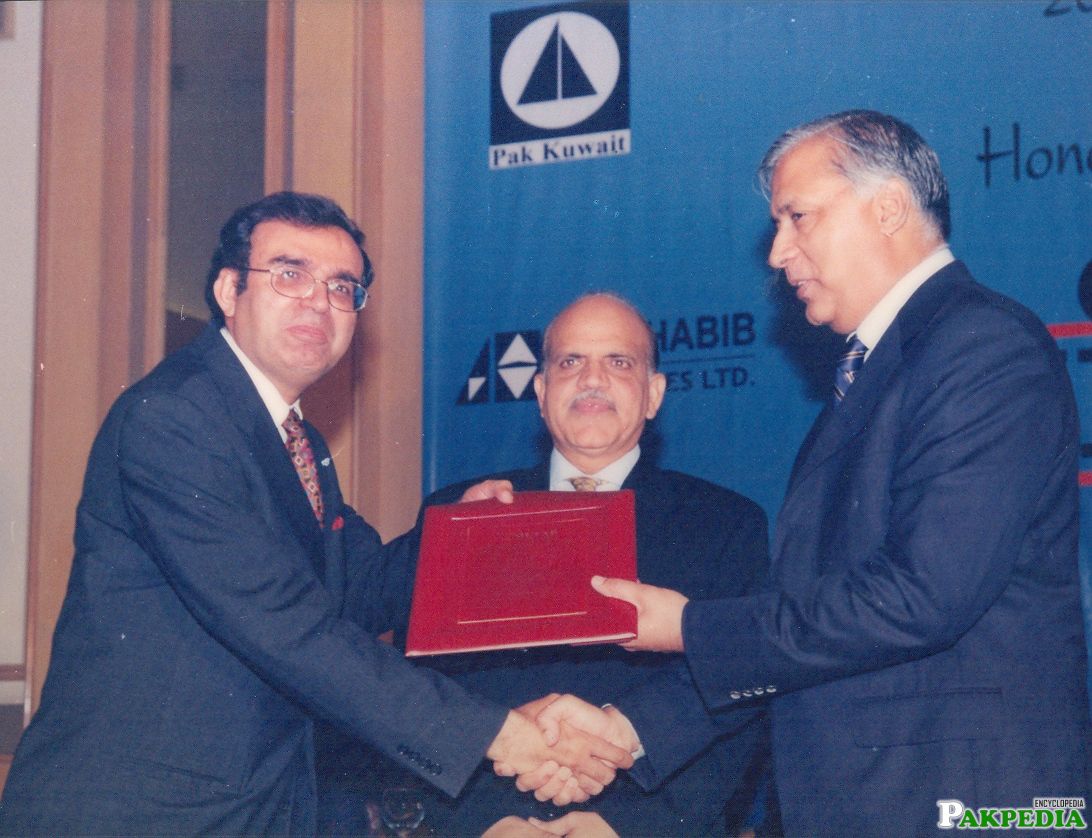 During his childhood he studied from St Patrick's High School, Karachi. Aziz graduated from the Institute of Business Administration in Karachi, and joined the corporate staff of the CitiBank Pakistan in 1969. He served in various countries' governments as CitiBank financier, and elevated as executive vice-president of Citibank in 1999. After accepting a personal request by General Pervez Musharraf, Aziz returned to Pakistan from the United States to assume the charge of the Finance Ministry as its Finance minister while taking control of the country's economy. In 2004, Aziz was nominated by the Musharaf loyalist government led by Pakistan Muslim League (Q), for the position of Prime Minister after the resignation of Zafarullah Khan Jamali on 6 June 2004.
Azizs Macroeconomics Policies
Aziz's macroeconomics policies oversaw political stability and economical progress in Pakistan, subsequently ending the "era of stagflation" in 2001. Intensified privatisation and economic liberalisation programmes were personally initiated by Aziz, privatising state-owned corporations and strengthening the country's economic base, which led the improvement of the country's growth rate by 6.4% per year. Reduction of poverty and inflation rates dropped to 3.5% in the last 3 years, compared to 11–12% in the 1990s.For the first time in Pakistan's history, all goals and revenue collection targets were met in his tenure, and allocation for development has increased by about 40%. Moreover, despite a series of internal and external distresses, economic situation of Pakistan improved significantly and reserves increased to US$10.5 billion on 30 June 2004, compared to US$1.2 billion in October 1999. As prime minister, Aziz oversaw the large-scale expansion of military reforms and police reforms, and significant investment in the country that led to the boom of the automotive industry, energy megaprojects, nuclear industry, and the port industry, and presided the unprecedented GDP growth. Aziz's policy expanded the internet and telecommunication services, and liberalised the private media of Pakistan as his vision to internationalise the image of the country.[2] Aziz's Macroeconomics Policies 
Childhood Early Life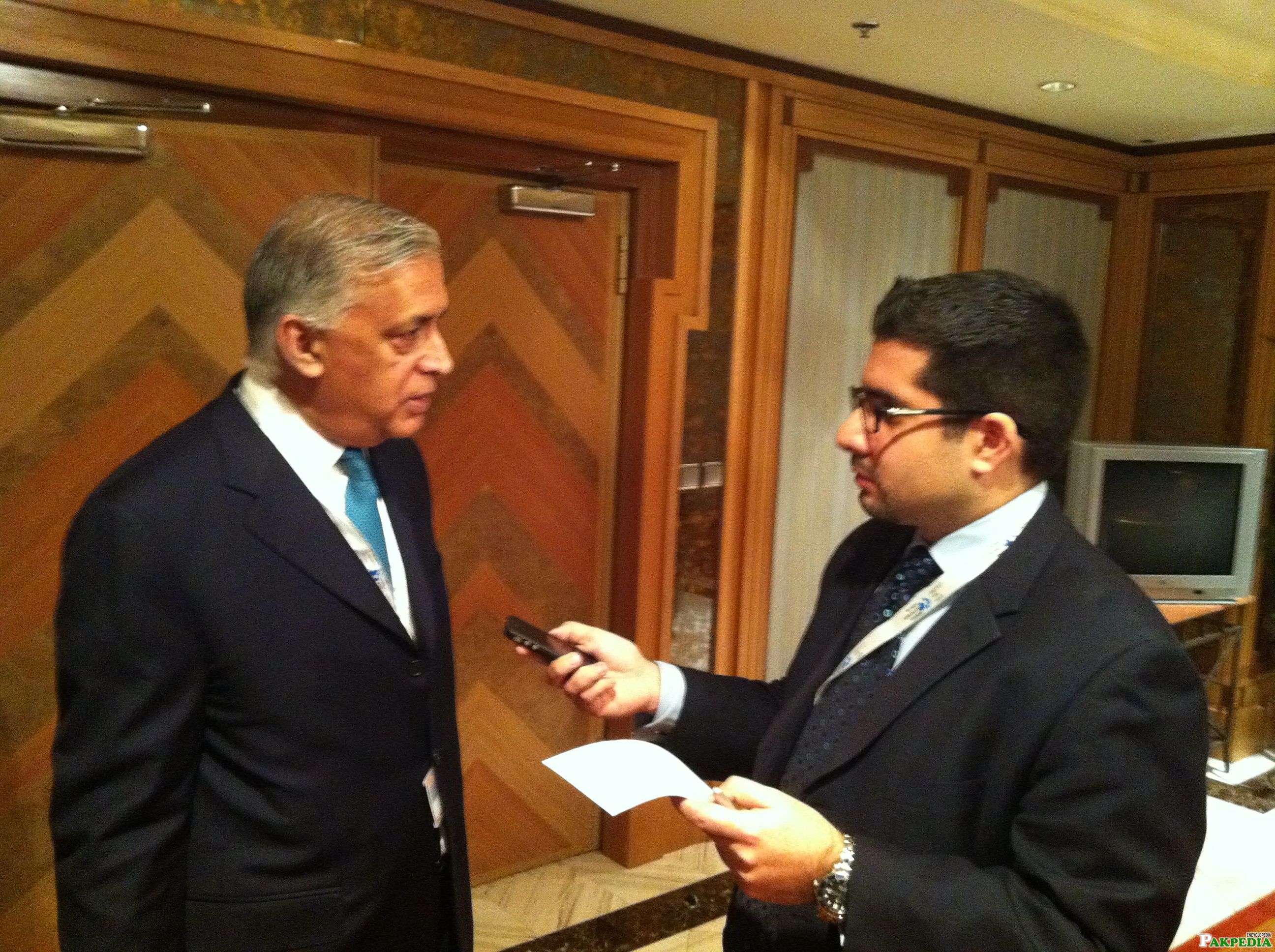 Shaukat Aziz was born on 6 March 1949 in Karachi, Sindh Province of Pakistan into an Urdu-speaking family. His father S.A. Aziz was a prominent radio engineer noted for making singular contributions in the development of Radio Pakistan for which he was conferred with several honors by the Government of Pakistan.He received his primary education from the Abbottabad Public School and graduated from Saint Patrick's High School. A good student, he joined the Gordon College of Rawalpindi in 1965 and earned a BS degree in Economics in 1967.
He furthered his education at the Institute of Business Administration (IBA) in Karachi and obtained his MBA in 1969. Intelligent and hard-working, he secured an internship in U.S.-based Citibank while at IBA. After completing his degree, he travelled to the U.S. for his internship.[3]  Childhood & Early Life 
Education

Shaukat Aziz was born in Karachi, Sindh Province of Pakistan on 6 March 1949 to an Urdu-speaking family originating from Aurangabad Bombay Presidency British India. He was the student of Syed Muhammad Ali Mukhtaar Naqvi grand Father of Syed Muhammad Waseem Naqvi. His father, S.A. Aziz (sometimes Abdul Aziz) was a radio engineer employed in the state-owned Pakistan Broadcasting Corporation (PBC) as chief engineer. His father, S.A. Aziz was noted for making singular contributions in the development of Radio Pakistan and was the architect of its external services; for this his father was conferred with state honours by the government of Pakistan in the 1950s. S.A. Aziz was one of the pioneers who nurtured Radio Pakistan in its days of infancy, and chartered the future roadmap for expansion of its network and technological advancement and growth.[4]  Education 
Family
The PBC moved his family to Abbottabad, North West Frontier Province and attended the Abbottabad Public School, and later the family moving back to Karachi. Aziz matriculated and obtained high-school diploma from Saint Patrick's High School and proceeded to St. Patrick's College In Karachi where he passed his university-level Intermediate courses and ascended to attend the Gordon College of Rawalpindi, Punjab province in 1965. Aziz obtained BS degree in Economics  in 1967 from Gordan College and moved back to Karachi the same year to enroll in a master's programme. Aziz attended the master's programme of the Institute of Business Administration (IBA) in Karachi and obtained MBA in business administration in 1969. While at the IBA, Aziz secured the internship of U.S.-based Citibank, and after his master's degree, Aziz was called to join the executive senior staff of the Citibank, based in the United States.
Shaukat Azizs Career
Shaukat Aziz began his career at the corporate branch of Citibank Pakistan as its credit officer in 1969. He was a diligent employee who quickly rose through the ranks in the organization. Over the ensuing years he worked in several nations around the world including Greece, U.S., Malaysia, Philippines, Saudi Arabia and Singapore.
During his extensive career with the Citibank group, Aziz held numerous positions across several divisions including Corporate and Investment Banking (CIB), Corporate Planning Officer (CPO), Chief Financial Officer of Citicorp, Managing Director of Citibank Singapore, and Corporate Director of Asia Pacific global finance operations.
He visited Pakistan many times as a part of his job with Citibank. In the 1990s he was instrumental in bringing multinational banking industries into Pakistan by expanding Citibank branches throughout the country.
As Citibank's influence in Pakistan grew, he began to work closely with the governments of Benazir Bhutto and Nawaz Sharif on issues related to economic relief packages and aid to Pakistan. During this period his international stature was also growing as he established many prominent contacts within the U.S. administration.
In 1999, Shaukat Aziz was made the Finance Minister of Pakistan, and was entrusted with the responsibility for finance, economic affairs, statistics division, planning and development, and revenue divisions.
During his initial weeks as the Finance Minister he faced considerable difficulties as he was not an experienced politician. However, soon he began implementing radical economic reforms that would earn him much acclaim in the coming years.
He worked closely with the U.S. in the wake of the 11 September attacks and was able to garner U.S. support for his new economic reforms on the domestic front. In 2001 he activated privatization and liberalization in Pakistan which led to rapid economic development in the nation. While lauded for his efforts, he also faced criticisms from his detractors for some of his policies.
In 2004, he was elected Prime Minister of Pakistan by parliament with strong support from General Pervez Musharraf, and was sworn in on 28 August 2004. He also retained his position as Minister of Finance. His government had highly qualified members including Hina Rabbani Khar (economic ministry), Hafeez Shaikh (investment ministry), and Khurshid Kasuri (Foreign ministry).
His tenure as the prime minister brought about a period of economic growth in Pakistan and boosted the country's international image. Taking forward his policies of liberalization, deregulation and privatization, he helped to bring an increase in per capita income, reduction in poverty, and an upsurge in investments.
He stepped down from his post on 15 November 2007, becoming the first Pakistani prime minister to complete a full term in the office. He currently resides in Dubai and serves as a member of several boards and advisory boards of various commercial and non-profit entities around the world.
Major Works
Following the 11 September attacks in the U.S., Aziz worked closely with the U.S. Secretary of the Treasury to devise a plan on how to remove Taliban from Afghanistan. He also negotiated debt relief to Pakistan and solicited direct support from U.S. Aid for national public development.
During his tenure as the prime minister, all goals and revenue collection targets were met for the first time in Pakistan's history. His macroeconomics policies ushered in unprecedented economical progress in the nation, bringing about improvement in the country's growth rate and reduction in poverty.
As the prime minister he diversified Pakistan's nuclear energy policy and presided over the initial construction of major hydroelectric power plants project in the nation. He also approved the developmental work of CHASNUPP-II reactor at the Chashma Nuclear Power Complex.
During his tenure he strengthened Pakistan's foreign relations with the U.S., European Union, Russia, India, China, and Saudi Arabia. He implemented a foreign policy that strongly focused on building friendly ties with the international community.
Awards Achievements
In 2001, Shaukat Aziz was named "Finance Minister of the year" by 'Euro Money' and 'The Bankers' magazine.
In 2013, he was honored with the Global Islamic Finance Leadership Award for the leadership role that he played during his tenures as Finance Minister and Prime Minister of Pakistan.
Personal Life Legacy

He is married to Rukhsana Aziz and has three children.[5]  Personal Life & Legacy 
Citibank Career 1970 1999

Aziz joined Citibank straight after finishing his MBA and began a 30 year global career. As Executive Vice President, he held several senior management positions in Citibank including being head of institutional banking for Central and Eastern Europe, the Middle East and Africa and later for Asia Pacific, and finally Chief Executive of Citibank's Global Wealth Management Business. He worked on the corporate and investment side of the business throughout. One of Aziz's legacies was spearheading the effort to clean up Citibank's private bank, a subject he was later invited to share insights on by US Treasury Secretary Paul O'Neill at the G20 Finance Ministers' meeting.
Worked Countries
During his time in Citibank, he lived and worked in nine countries – Pakistan, Greece, United States, United Kingdom, Malaysia, Philippines, Jordan, Saudi Arabia and Singapore – which provided him with a world view. His career at Citibank also allowed him to interact with global leaders including Margaret Thatcher, George HW Bush, Lee Kuan Yew and Dr Mahathir Mohamad, among others.[6]  Worked Countries 
Finance Minister of Pakistan 1999 2004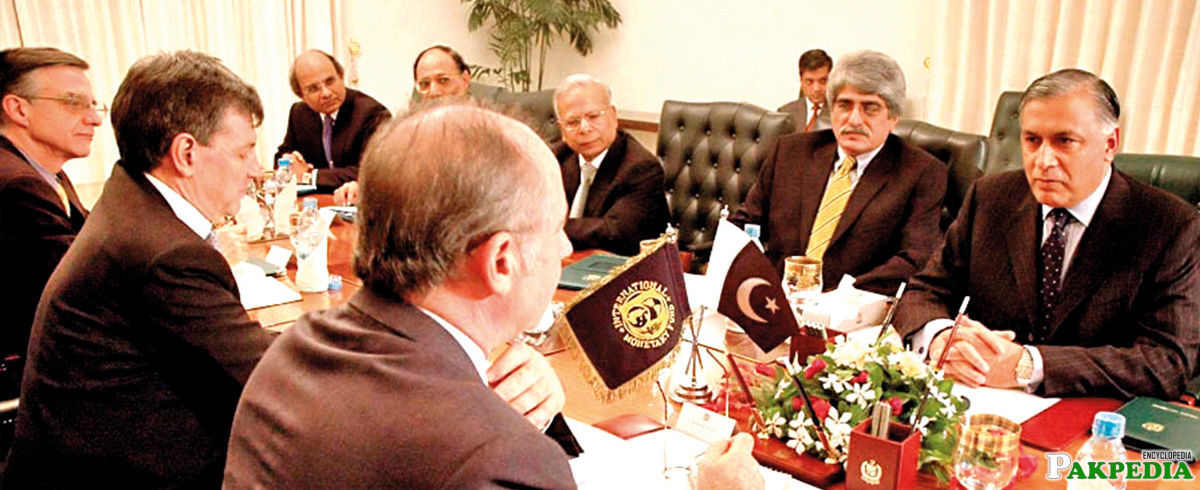 Shaukat Aziz left Citibank to join the government as Finance Minister in Pakistan, following a military takeover in 1999. Two years later, 9/11 made Pakistan a vital strategic ally in the War on Terror and Aziz negotiated the vital aid package from the United States.
United States and the Paris Club
Aziz carried out broad-based structural reform and negotiated an unprecedented debt relief initiative, helped by the United States and the Paris Club. This eventually helped free the country from its draconian IMF programme and gave it economic sovereignty. Pakistan's GDP growth rocketed to 7.7% in 2005, averaging 4.9% during Aziz's time in power, and poverty levels declined from 32.1% in 1999 to 17% in 2007.
Microfinance in Pakistan
He was also recognised for building the first regulatory framework for microfinance in Pakistan, which gave millions of people access to loans for the first time.
His Success
His structural reform agenda, based on the principles of liberalization, deregulation and privatization, and his success in rescheduling Pakistan's debt, allowed Pakistan to exit its IMF programme and gained him international recognition. In 2001 Aziz was named named 'Finance Minister of the year' by Euromoney magazine.[7]  His Success 
Prime Minister of Pakistan 2004 2007

While campaigning to be Prime Minister, Aziz survived a suicide bombing by Al Qaeda. His driver died in his arms while they were leaving an election rally in Fateh Jang, a town in Attock, in 29 July 2004. The incident reinforced Aziz's desire to serve his country.
27 August 2004
He was elected Prime Minister on 27 August 2004, and sworn in on the following day.As Prime Minister, Aziz took a key role in Pakistan's dealings with Afghanistan, as well as expanding its ties with the United States, China, Russia and the Middle East.He retained his portfolio as Finance Minister throughout, and continued to steer the country's structural reform programme and economic revival.
2007
In 2007 Aziz was appointed by UN Secretary-General Kofi Annan to co-chair a High-level Panel On UN Systemwide Coherence, along with Prime Minister Jens Stoltenberg of Norway and Prime Minister Luisa Diogo of Mozambique.It aimed to bring together serving public figures, as well as former leaders and technical experts, and investigate how all UN agencies and programmes can develop a more efficient approach.
First Prime Minister of Pakistan
Aziz left office on 16 November 2007, having completed his parliamentary term – becoming the first Prime Minister of Pakistan to do so.[8]  First Prime Minister of Pakistan 
After Office 2007 Present

Aziz is a senior visiting research fellow at Green Templeton College, Oxford University, and an Honorary Doctor of Laws at the Institute of Business Administration, University of Karachi, where he had received his MBA. In 2014, Mr. Aziz received an Honorary Doctorate in Business Administration from the East Asia University, Bangkok Thailand.
Member of Several Boards and Advisory Boards
Aziz is a member of several boards and advisory boards of various commercial and non-profit entities around the world.
Frequent Speaker
He is a frequent speaker on a wide range of global, geopolitical and economic issues.[9]  Frequent Speaker 
Foreign Relations

On foreign fronts, Aziz closely collaborated with Musharraf while working to develop the geostrategy in the region. Aziz took initiatives steps to strengthen the relations with United States, European Union, Russia, India, China, and Saudi Arabia. Under his government, the state's relations with the United States were extremely cordial and friendly. His foreign policy strictly pursued and followed a "Balance Foreign Policy (BFP)" programme with an initial goal to keen to forge robust friendly ties with international community, US and European Union (EU).[10]  Foreign Relations 
Aziz Travelled to Iran in 2006
Accompanied with Recep Tayyip Erdogan of Turkey, Aziz travelled to Iran in 2006, and privately told Iranian President Mahmoud Ahmadinejad he must change course regarding its nuclear program, as the current direction was neither in Iran's nor the region's interest. Aziz urged Ahmadinejad to immediately place a moratorium on uranium enrichment while on the other hand Erdogan described the EU-3 proposal, with Russian enhancements, as a very attractive offer for Iran. Both Aziz and Erdogan condemned Ahmedinejad's statements attacking Israel as completely unacceptable and serving no purpose. Aziz's tenure considerably improved relations with Japan and after visiting Japan, Aziz welcomes the investment in the manufacturing sector and Pak-Japan joint ventures in steel manufacturing as an excellent symbol of cooperation in expanding steel production between two countries.
Aziz paid a Farewell Visit to South Korea
Aziz paid a farewell visit to South Korea to strengthen and enhance the relations with Pakistan. Aziz cautiously supported South Korea's stance while refrained to criticised North Korea. On a three-day state visit, Aziz and his counterpart Lee Hae Chan signed two agreements on cultural exchange and providing human resource management, and improving trade and cultural ties between South Korea and Pakistan. Aziz strongly allied with the United States in the fight against terrorism, and in a meeting with the American journalist, Aziz maintained that: "Pakistan is now ideally positioned to "work with cooperation rather than confrontation as a force for peace, stability and prosperity..". During his tenure, the relations with the United States strengthen and progressed. In 2006, Aziz quoted: "Pakistan-American are based on mutual trust and respect and are long-standing.". During his repeatedly visit to United States, Aziz worked and deliberately approached to U.S. administration build a strategic partnership with the United States, and put efforts to build "robust-broad-based strategic relationship.". Aziz's economical, domestics, and internal reforms, focused on enriching a longer-term sustainable Pakistan-U.S. relationship and contribute immeasurably to both countries joint struggle against extremism.
Relations with Israel
Relations with Israel were considered important by Shaukat Aziz's government, and supported Musharraf's policy on Israel. At foreign fronts, Aziz maintained a "Telephone Policy" on diplomatic engagement with Israel, whilst keeping Saudi Arabia and Turkey in tacit contact. During his tenure, bilateral relations with the United Kingdom were enhanced and reached to a new level after meeting with British Prime Minister Tony Blair in 2005 and tightened the economic and defence relations with British counterpart Gordon Brown in 2007. Brown thanked Aziz for the successful launching of $500 million Eurobond, which was oversubscribed four times. After assuming the office of prime minister, Aziz left for China, as his foreign state visit as prime minister in 2004. In 2007, Aziz made his final state visit as Prime minister to China to proceed to sign a Free Trade Agreement (FTA) with China, and regarded the country as "strategic partner" and a "time-tested friend," whilst China regarded the FTA agreement as "a historic development". Aziz built closer economic ties with India while alleviating the territorial conflicts and after meeting with Indian counterpart Manmohan Singh, a confident measuring building process was initiated by Prime minister Aziz.
2006 Aziz Invited State-Run and Private-Media of Russia
Aziz pushed his foreign policy to Russia, and calling Russia as "global Superpower". In 2006, Aziz invited state-run and private-media of Russia where he repeatedly stressed for the need to enhance cooperation between Pakistan and Russia in the fields of education, science and technology, energy, defence and trade and investment. Finally, in 2007, Russian prime minister Mikhail Fradkov paid a three-day-long visit to Pakistan, becoming the first Prime minister as well as first Russian leader to visit the country in 38 years. During this trip, Aziz and Fradkov pledged to boost economic ties and signed two co-operation agreements yesterday during the first visit to Pakistan by a Russian prime minister.
Economic Policy

Under Shaukat Aziz's government, the country's national economic growth improved at the rate range by 6.4% to 9.0% a year. All revenue collection targets were met on time for the first time in the history of Pakistan, and allocation for development was increased by about 40%. However, this economical success is attributed largely to debt reduction and securing of the billion dollars worth US aid to Pakistan in return for the support in the US-led war on terror. Moreover, despite a series of internal and external distresses, economic situation of Pakistan improved significantly and reserves increased to US$10.7bn on 30 June 2004 as compared to US$1.2bn October 1999. Exchange Rate became stable and predictable; the inflation rate dropped to 3.5% last 3 years as against 11–12% in 1990.[11]  Economic Policy 
Aziz Aggressively Promoted the Privatisation Deregulation and Economic Liberalisation Programme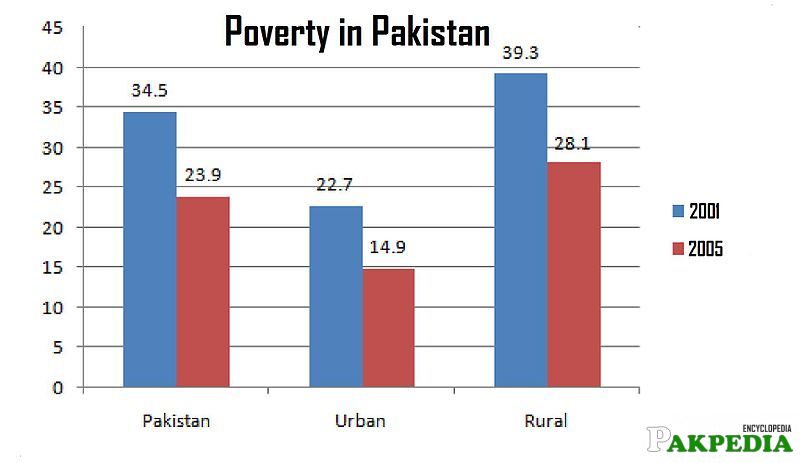 After taking control of the economy, Aziz aggressively promoted the privatisation, deregulation and economic liberalisation programme and open the large heavy mechanical industries, petroleum companies, electropetroleum and chemical enterprises and state-owned corporations to private sectors. His tenure as finance minister and prime minister, the agriculture production and construction well increased, whilst aggressively and forcefully implementing his policies to liberalise the trade, and eliminated the non-tariff barriers. Under his regime, the maximum bound tariffs were brought down to high as 300% to 25% whilst the applied tariff averages falls in the range of 5% to 10%.
GDP Growth
The GDP growth which was at 3.9% in October 1999, stood between 6.6%—9% and successfully privatised all state-owned corporations and state enterprises before completing his term. However, Aziz's strategy failed deal with underlying problems deeply in country's economy. The global financial crises in 2008 led the sharp dropped in country's economy while acute electricity shortage in the country revealed the incompetence by the Peoples Party's government, but also the failure of his government to developed the necessary energy infrastructure on time.[12]  GDP Growth 
Political Economist
Political economist, however, gave other side of story by arguing the fact that his policies were not aimed at alleviating poverty as he seldom offered relief to the poor sections of the society. Shaukat Aziz is roundly criticized for his policy of downsizing in the public sector and disintegrating the effects of nationalization policies of Benazir Bhutto as early as the 1990s but Aziz defended as he points out that his policies made these institutions viable while they were on the verge of collapse. Political economist dr. S. Akbar Zaidi argues that his policies mastered Pakistan's economy but such indicators are misleading and unsustainable because his policies do not examine or explain the particular, perplexing economy of Pakistan.
Energy Policy

After assuming the office, Aziz announced a controversial "New 25-year energy plan", aiming to raise Pakistan's dependence on imported oil for power generation to 50% by 2030. His government pushed for the renewable energy, and put efforts to established the solar energy and wind power sector in the country.
New 25-Year Energy Plan
Prime minister Aziz's "New 25-year energy plan" remains extremely controversial and met great public criticism by media and energy experts. Energy experts rendered Aziz's programme as "bigger disaster" in a view when even oil rich Gulf countries were reducing their share of oil in their power production. Prime minister Aziz approved the constructional, and approved the developmental work of CHASNUPP-II reactor at the Chashma Nuclear Power Plant in Chashma city, Punjab Province of Pakistan. A 325 MW commercial nuclear power plant was built with Chinese assistance at the close vicinity of Chashma nuclear power complex. Aziz termed this project as "milestone" in the history of nuclear technology in Pakistan.[13]  New 25-Year Energy Plan 
Aziz Approved the Constructional Development of KANUPP-II and the Nuclear Reprocessing Site
 In 2007, Aziz approved the constructional development of KANUPP-II and the nuclear reprocessing site, the Nuclear Power Fuel Complex in Islamabad. Aziz oversaw to increase the capacity building of the Pakistan Nuclear Regulatory Authority, a governmental nuclear safety authority, to meet the safety requirement of nuclear power plants. In 2007, Aziz further diversified his nuclear energy policy, terming it as "criteria based nuclear technology" while continued financing the nuclear power projects. Aziz presided initial construction of major hydroelectric power plants project in Pakistan, such as approving the Diamer-Bhasha Dam. Its foundation was laid by his successor Yousaf Raza Gillani in 2011. In 2004, Aziz directed the Ministry of Water and Power and Planning Commission to prepare an integrated energy plan for the country. Aziz approved the "Vision 2025″ programme" of Water and Power Development Authority (WAPDA) to produce power through water. The programme was intended to be launched with the help of private sector and private funding through the international megaproject. However all projects were cancelled or either put on hold by the upcoming government of Yousaf Raza Gillani due economic distress, lack of capital and investment and continuing economic declines, leading an increasing circular debt.
Controversies and Criticism
In spite of supervising and presiding the successful economic growth at an unprecedent level, his privatisation and energy policies remains extremely controversial in public circles. Critics argued that Aziz's privatisation policies and privatised energy sector did not fully tackle with full force in country's economy. Aziz defended as he points out that his policies made these institutions viable while they were on the verge of collapse.
An unsuccessful attempt to privatise the Pakistan Steel Mills was also thwarted by trade unions and pro-nationalization elements who took the case to Supreme Court of Pakistan in 2006. But Aziz said that his privatisation program produced "the second fastest growing economy in the world."
Aziz Directed a Letter
On 30 October 2011, Aziz directed a letter sent from Dubai to the Provincial Police Office to Balochistan High Court stating "he had been mentioned in the FIR registered at the Dera Bugti Police Station on 13 October 2009, which alleged that then president Pervez Musharraf used him as part of Akbar Bugti case in which the latter committed suicide during a military operation.". Aziz maintained that he was informed of "unfortunate event" through the televised media. Aziz later stated in television that Akbar Bugti died in a military operation during the night of 25/26 August 2008.[14]  Controversies and Criticism