Shahid khaqan Abbasi is the former Prime Minister of Pakistan. He has been associated with Pakistan Muslim League Nawaz for long and served in different ministries. He is also a businessman and expert in aviation. Abbasi is said to be the owner of Air Blue, which was founded in 2003, but he has denied it several times. He has a land business, restaurant business, and many more. He is reserved by nature and shy from the media. This article has all the information about Abbasi, including Shahid Khaqan Abbasi Biography and Shahid Khaqan Abbasi Family.
| Title | Description |
| --- | --- |
| Personal | |
| Name: | Shahid Khaqan Abbasi |
| In Urdu: | شاہد خاقان عباسی |
| Famous As: | 21st PM of Pakistan |
| Nationality: | Pakistani |
| Residence: | Rawalpindi |
| Education: | Electrical engineering |
| Alma Mater: | George Washington University |
| Religion: | Islam |
| Profession: | Professional Engineer, Businessman and Politician |
| Website: | https://twitter.com/SKhaqanAbbasi |
| Born | |
| Date: | 27th December 1958 |
| Place: | Murree |
| Family | |
| Ethnicity: | Asian |
| Spouse: | Samina Abbasi |
| Children: | 3 sons |
| Parents: | Muhammad Khaqan Abbasi |
| Siblings : | Sadia Abbasi and Zahib Abbasi |
| Career | |
| Political Party: | Pakistan Muslim League (N) |
| Serve As: | Prime Minister of Pakistan |
| Proceeded by: | Nawaz Sharif |
| Time Period : | 1 August 2017 – 31 May 2018 |
| Old Political Affiliations: | Pakistan Muslim League (N) |
| Member of the National Assembly | |
| Constituency: | NA-124 Lahore |
| Preceded by: | Hamza Shahbaz Sharif |
| Assumed office: | 14 October 2018 |
| In Office | |
| Role: | Minister for Petroleum and Natural Resources |
| Dates: | 23 November 2017 – 31 May 2018 |
| Prime Minister: | Nawaz Sharif |
| Preceded By: | Ishaq Dar |
| Succeeded By: | Shamshad Akhtar |
| Political Party: | Pakistan Muslim League (N) |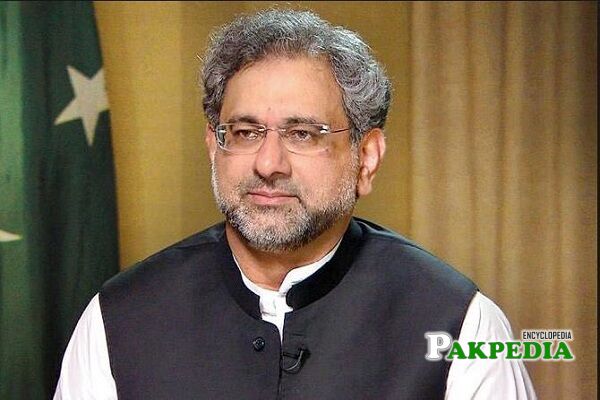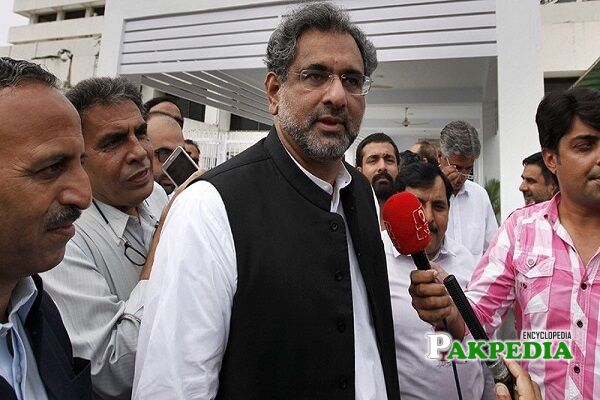 Shahid Khaqan Abbasi Biography
Khaqan Abbasi is a senior politician and former Prime Minister of Pakistan. He served as the 21st Prime Minister of Pakistan, preceded by Nawaz Sharif. He has been in politics for the last three decades. Currently, he is the Senior Vice President of Pakistan Muslim League N. In his political career, Abbasi has worked as a Minister of Finance Acting, Minister of Petroleum and Natural Resources and Minister of Commerce. He was also appointed as the Chairperson of Pakistan international Airlines.
Khaqan Abbasi is also known as an Engineer, Entrepreneur, and a successful businessman. Abbasi has worked as a professional engineer in America and the Middle East. His political career started in 1988. He has an immense passion for skydiving and is the first Pakistani Prime Minister who has participated in the Air Force mission and flew in an F-16 jet.
Abbasi date of Birth
Shahid Khaqan was born in Murree, district Rawalpindi on 27 December 1958. Currently, he is residing in Rawalpindi.
Education of Abbasi
Shahid Khaqan got his early education from Lawerence College Murree. To pursue his career in Electrical Engineering, he went to the University of California and got his degree in Bachelor of Science. He moved to Washington University and obtained a Masters's degree in Electrical Science. It helped him to develop his career as a professional. He worked in different projects in America and later moved to Saudi Arabia and worked in its oil industry.  
Shahid Khaqan Abbasi Family
Abbasi was born to Khaqan Abbasi, who was Air Commodore in Air Force and a politician. He died in 1988 when a missile hit the car in Orji Camp. His brother, late Zahib Abbasi, was injured in the attack and died after being bedridden for 17 years in 2005. His sister, Sadia Abbasi, is a senator. Sadia got her education in Law and Political Science from the UK and the USA. Shahid Khaqan married in 1986 to Samina Khaqan Abbasi. They are blessed with 3 Sons. 
Political career
Initial Career
Abbasi started his political career after the death of his father in 1988. He won his first seat in National Assembly against two of the toughest candidates; Raja Zafar from Islami Jamhori Ithehad and Raja Anwar from PPP by a narrow margin. Soon after his election, he joined Islami Jamhori Ittihad. In 1990 General Elections, Khaqan was re-elected receiving 85305 votes against Raja Anwar of PPP, who got only 54011 votes. Looking at his promising political start, he was assigned the Federal parliamentary Secretary for Defense. 
In 1933, he contested the election on the ticket of PMLN. It was his first election as a candidate of Muslim League Nawaz. Abbasi won the election for the third time and became the Chairman of the Standing Committee of National Assembly on Defence. After the dissolution of the government in 1996, new elections were called off. Abbasi won it again and his party got the majority seats and made its government. He was made as the Chairman of Pakistan International Airlines. It was the first time that he was assigned a duty that would match his professional potential. That was the reason that Pakistan International Airlines was taken out of debt. 
Sacrifices
In 1999, the government denied the landing of Musharraf's plane that was coming back to Pakistan from Srilanka. When the plane landed, Nawaz Sharif was overthrown, and the government was dissolved in 1999. Abbasi was named along with Nawaz Sharif in serious charges of the plane hijacking of Musharraf that was claimed to be the reason of the Martial law imposed. Immense pressure was put on Abbasi to turn against Nawaz Sharif and submit a testimonial statement, which he refused. It cost him in the form of two years in jail. He was also accused of corruption charges, but he was discharged in 2008. 
In 2002 Elections, Abbasi lost to Ghulam Murtaza of PPP. Despite the deteriorated image in public, he achieved 63797 votes from NA-50 Rawalpindi. In 2008, Nawaz Sharif came back after an exile of 8 years. Abbasi became active again and contested election from NA-50 and beat Ghulam Murtaza and got 97987 votes. His party made an alliance with PPP which resulted in the induction of Abbasi as Federal Minister of Commerce. This tenure lasted shortly due to the separation of PMLN from the government.
As a Petroleum Minister
When PMLN made its government in 2013, Abbasi was appointed as Minister of Petroleum and Natural resources. He had already won his seat from NA-50 Rawalpindi. His ministry faced the challenge of Energy crises and was assigned the task to find a solution to the problem. As a minister, he suggested the government to avoid expensive oil and coal energy and use liquefied natural gas (LNG). It led the government to make a deal of 16 billion dollars with Qatar gas. It would save $US 1 billion annually. Khaqan was also accused of corruption charges of issuing illegal contracts of 220 billion rupees. He was confident of his transparency and confidently denied the allegations. The false case was closed soon in December 2019
Khaqan Abbasi as a Prime Minister
A major shift came in his career after the disqualification of Nawaz Sharif in 2017. The party decided to make Abbasi the Prime Minister for 45 days. It will give time to Shahbaz Sharif to become MNA and then Prime Minister. He was chosen purely because of his least controversial career and loyalty to the party.  He announced to be working hard and not setting only on the seat. In his tenure, he brought Education, Tax, and Agriculture reforms. He also worked on the energy sector that was a part of the 2013 Election manifesto. 
Abbasi was also appointed the first Foreign Minister of the tenure. To give strength to diplomatic relations, he visited many countries like Saudi Arabia, the USA, Russia, and many more. Soon after taking the oath, Abbasi decided not to set only and wait for things to happen. He promised to widen the tax net, saying that people living in a luxurious style must pay the tax. 
Challenge of Energy Crises
The major concern for Abbasi Administration was energy crises. To address the issue specifically, the Ministry of Water and Power and Ministry of Petroleum was merged into a new ministry; Ministry of energy. He held the office for better observation. The use of LNG was preferred over Thermal power plants. New LNG terminals were inaugurated at Port Qasim. It took the overall supply of LNG to 1200 million cubic per daily. He also imposed a ban on the import of furnace oil.
Merger of FATA
The major development that happened in Khaqan's government was the merger of FATA. First, the bill to extend the jurisdiction of the Supreme Court and High Court to FATA was passed. Khaqan called it a historic day for the people of FATA.
Foreign Policy of Khaqan Abbasi
Khaqan inherited a government that had not appointed the Foreign Minister after it took charge. America had also announced its new policy for Afghanistan and Pakistan. Khaqan soon visited America that had recently accused Pakistan of supporting state terrorism. He first visited Saudi Arabia to discuss the strategic situation with Prince Salman. On 23rd August, he chaired a meeting of the national security Council and rejected the allegations of America calling it to scapegoat Pakistan. It resulted in withholding US$225 million military aid to Pakistan on 30 August. 
In September 2017, he visited America and met with Vice-President Mike Pence and Donald Trump. Both officials agreed to work together to eradicate terrorism from the region. Khaqan made a much clearer policy and openly criticized the steps taken by America. When America declared Jerusalem as the Capital of Israel, Khaqan attended the emergency conference of the Organization of Islamic Cooperation on Jerusalem on 12 December. He openly condemned American policy and demanded that America should revisit its strategy.
He also visited Russia on 1st December. In his visit, he attended the Shanghai Cooperation Organization and met with Russian Prime Minister, Dmitry Medvedev and many other officials. This visit was a message to America not to under-estimate Pakistan in the region.
Adventurous Khaqan Abbasi
Abbasi has shown a passion for sky diving. He is the first Prime Minister to fly Turkish helicopter T-129. He is also the first Prime Minister to sail Submarine and has remained a part of Air Force Mission and Flew in F-16
Shahid Khaqan Abbasi Business
He is reported to be the owner of the Air Blue but he has denied it several times. His assets include Restaurant business and land property in Murree. Abbasi is known to be the richet parliamentarian of Pakistan with maximum net worth.
Social Media Handles
His social media accounts include