Pakistani U-19 Cricket Player
With Irfan Pakistani crickter
During Practice Ground
Youth Asia Cup Man of the Match
Pakistani All Rounder
Biography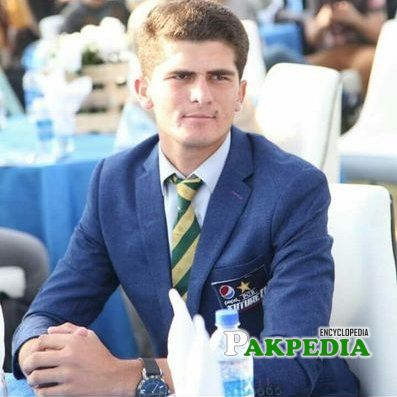 Afridi is the youngest of seven brothers and belong to a family where his father is a retired government officer from
Khyber Agency
. His interest in cricket from a very early age was driven by the fact that their eldest brother, Riaz Afridi, was a Pakistan Test cricketer and he was his inspiration from a very young age. He taught him the basics of cricket including how to bowl and he will always be indebted to him for that help. Due to his success, there was no opposition to his choosing
cricket
as a career at home but he have also kept up with his education where he have recently completed the matriculation stage (Year 10).
[1]
Biography
Selected for FATA Under-16
Incredible as it may seem, he had only played tennis-ball cricket until he appeared for
FATA
Under-16 trials in 2015. This was the first time he was handed a hard ball to bowl with and he was selected for the FATA regional team.He did not disappoint the selectors and picked up 12 wickets and was the highest wicket taker for FATA in PCB's regional Under-16 tournament later that year.
Under-16 Tour of Australia
As a result of his performance in the Under-16 tournament, he was asked to appear in a High-Performance camp in
Karachi
in 2015 in respect of selection for the Under-16 tour of Australia which took place in November 2015. This was a camp consisting of 20 players and they were all put through their paces in practice games as well as fitness tests.He was picked as part of the 16-man squad for the tour which consisted of three One-Days and three Twenty20 games. As one can imagine, this was a great experience of playing in alien conditions and he feel that he did not disappoint the selectors for their trust on him. In the six games they played, he claimed four wickets which helped them win both the One-Day and Twenty20 series 2-1 apiece.
Selection for the Pakistan Under-19
The period following their return from the Under-16 tour for Australia was a crucial one for them as in this time he continued to impress everyone with some good performances in PCB's Cricket Stars Under-16s Tournament 2016. By taking 19 wickets during this tournament, his name came under the scanner for selection for the important ACC Under-19 Cup which was to be held in Sri Lanka towards the end of 2016. After his fine performances in the regional Under-16s, he received a call to join the camp for the ACC Under-19s Cup selection camp. This was incredible as he was still at the Under-16 level and had played no regional or district Under-19 games. At that point, he felt that to be even called-up for an Under-19 camp for such a prestigious tournament was an achievement in itself. Once at the camp, he was given valuable advice and guidance by the likes of Mudassar Nazar, Mushtaq Ahmed and Mansoor Rana and after performing well in the practice games, he was named in the 19-man squad for the upcoming tournament.
ACC Under-19 Cup in Sri Lanka
He was slightly fortunate that despite not playing any Under-19 cricket at that point, he had some experience of a foreign tour due to his involvement in the Under-16 tour of Australia. As a team, they also had the very useful advice given to them by
Mohammad Hafeez
who had spoken to them during their training stint at the NCA in
Lahore
. He had advised us about conditions which they could expect in Sri Lanka and the strategies the bowlers and batsmen could adopt for success in the tournament. He believe that this advice proved useful for the team and for me personally. He took five wickets in the three games he played against Singapore, Afghanistan and Bangladesh and was also able to contribute with the bat with 48 runs off just 33 balls in one of the matches. It was disappointing that they did not win the tournament but playing in an international setting was a great experience for all of them.
PCBs Regional Under-19 Tournament in 2017
With the ACC Under-19 Cup experience under his belt, he was much more confident when he played the Inter Region U-19 One Day Tournament 2017/18. It was great to see that he topped the bowling charts in this tournament with 21 wickets to his name in 8 matches whilst he was also the third-highest scorer for FATA region with 154 runs. Later, he also participated in the Regional Inter District U-19 Tournament 2017-18 and took 29 wickets in four matches.
Role Model
Wasim Akram
is a legendary cricketer for Pakistan and whilst he was inspired to take on cricket due to his eldest brother Riaz Afridi, Wasim has always been his idol and he has always looked to copy his style by watching video clips of his bowling. Although he has not had a chance to discuss his bowling with him, he has had the honour of meeting him at an airport. They did not speak for too long as he was on his way to catch his flight but he was with
Rashid Latif
who knew of his bowling and he told Wasim about his as well.
Bowling strengths and batting abilities
His out-swing has been the main reason for taking wickets in the past especially in my Under-16 days. Later on, he has developed in-swing also which he feel has given him more options to take wickets. Of course, watching Wasim Akram's bowling videos has also allowed him to fine-tune his bowling even further. As
Hasan Ali
has shown recently, having variation in one's bowling is also important and he also bowl with variety but as always, all that depends on the match situation as well as the bowling conditions. Whilst bowling is a core strength for him, he also consider himself an all-rounder and always play each game with the intention of excelling in bowling, batting and fielding.
The road ahead
As a player, one is always looking to improve oneself and also setting challenging targets in the future. He is no different in that sense and his top target is to represent Pakistan in the ICC Under-19 World Cup in 2018 which will be held in New Zealand. There can be no greater honour than to represent one's country and he will do what he can to ensure that he is selected for this tournament,at a personal level, to play in the
PSL
is another goal he has set himself as well. Before he can achieve any of these targets, he know that a lot of hard work is needed to show the world what he is capable of. He is currently taking part in the FATA Regional Under-19 cricket camp in
Islamabad
under the supervision of Coach Ayaz Akbar Yousafzai and Saqib Faqeer where they are putting in a lot of work on all skills. The
PCB
in this regard has done a tremendous job to provide players like them great opportunities to prove their self by creating tournaments such as the One-Day Pentangular Cup which is scheduled sometime after
Eid
. It will be a dream come true if he can book a place in the Pakistan Under-19 ICC World Cup squad and achieve something for His country as well. After that milestone, he would love to take part in the PSL and then work towards representing Pakistan at the senior level as well.
Rejected BPL Offer
Afridi rejected a contract offer from Bangladesh Premier League (BPL) to play for his U-19 national side. This is Shaheen Afridi we are talking about, probably not the Afridi you were expecting but the young gun surely is a prodigy. He isn't even related to the popular Shahid Afridi.Shaheen Afridi joined Pakistan's Under 19 team to prepare for the U-19 World Cup instead of going for easy money at the BPL.
[2]
Rejected BPL Offer
Pakistan Rout Ireland in U-19 World Cup
Shaheen Shah Afridi's display of traditional fast-bowling saw him claim a six-wicket haul as Pakistan put their ICC Under-19 World Cup campaign back on track with a nine-wicket win over Ireland.Back in action for the first time since when Afghanistan shocked the 2004 and 2006 champions by five wickets, Pakistan put up a clinical performance to keep alive their Super League aspirations.Afridi's incredible return of six for 15 in just 8.5 overs, including three maidens, was the best ever return for Pakistan in a World Cup, as Ireland were bundled out for 97 at the Cobham Oval.
[3]
U-19 World Cup
Afridi Impresses Rahul Dravid
Pakistan's young pacer, Shaheen Shah Afridi impressed Indian batting legend and their U-19 coach Rahul Dravid, who praised him in front of Pakistan U-19 team manager, Nadeem Khan."Shaheen has been outstanding in the tournament and he has helped Pakistan claim crucial wins before that too," Nadeem Khan said in a media report.Though Pakistan U-19 team suffered a nightmarish defeat against India in the semi-final of U-19 World Cup by 203 runs while chasing 273 runs, the left-arm fast bowler caught the eyes of cricket fraternity."Many legends of the game and team managers came to me during the tournament to applaud Shaheen's skills," he said."Even Indian coach Rahul Dravid came to me after the match and said Shaheen has all it takes to be a future star and become a real asset to the national side," he added.
[4]
 Afridi Impresses Rahul Dravid 
ICC Announces U-19 Team
International Cricket Council (ICC) has announced 12-member Under 19 squad which includes Pakistan's Shaheen Afridi as well.World Cup winners India's five players have been picked in the ICC squad who are Prithvi Shaw, Anukul Roy, Manjot Kalra, Shubman Gill and Kamlesh Nagarkoti.South Afric's Raynard van Tonder, Wandile Makwetu and Gerald Coetzee have also been selected in the team, and one player each from New Zealand, Afghanistan and West Indies complete the 12-man team.Interestingly, no player from Australia has been included in the ICC squad which were the runners-up of the tournament. Same is the case with England.
[5]
ICC Announces U-19 Team
ICC U19 Cricket World Cup 2018 Wickets
Anukul Roy (India) – 14 wickets
Kamlesh Nagarkoti (India)– 9 wickets
Gerald Coetzee (South Africa) – 8 wickets
Qais Ahmad (Afghanistan) – 14 wickets
Shaheen Afridi (Pakistan) – 12 wickets
Lahore Qalandars Pick Shaheen Afridi for PSL
Pakistan Super League franchise
Lahore Qalandars
have roped in young sensation Shaheen Afridi for the third edition of the popular league, which will be this next year. The 17-year-old has played just two first-class matches so far. In his debut match for Khan Research Labs, Afridi scalped figures of 8/39 in the second innings of the match. In the first innings of the match, he picked a lone wicket after bowling 19 overs.His efforts though went in vain as
Rawalpindi
won the match by 105 runs. Afridi's side were bowled out for 77 runs in the second innings. It was the best ever figures for a Pakistani cricketer on debut.
[6]
Lahore Qalandars Pick Shaheen Afridi for PSL