Amna Buttar is a poet and politician who works as a physician with New York University (NYU).She is a Pakistani Medical Doctor and a Member of Provincial Assembly of the Punjab.
| Title | Description |
| --- | --- |
| Personal | |
| Name: | Amna Buttar |
| In Urdu: | آمنہ بٹر |
| Famous As: | Medical Doctor |
| Nationality: | US and Pakistani |
| Education: | postgraduate from University of Wisconsin, and from University of Michigan |
| Religion: | Islam |
| Profession: | Medical Doctor and Politician |
| Website: | http://www.pap.gov.pk/index.php/members/profile/en/19/756 |
| Awards : | 1 |
| Born | |
| Date: | 9 February 1962 |
| Place: | Lahore, Pakistan |
| Family | |
| Spouse: | Mr Khawar Mahmood Khatana |
| Relatives: | Uncle Sardar Saghir Ahmad |
| Career | |
| Political Party: | Pakistan People Party(PPP) |
| In Office | |
| Role: | Member of Provincial Assembly of the Punjab |
| Dates: | 2008 |
| Prime Minister: | Yousaf Raza Gillani |
Biography

Dr Amna Buttar wife of Mr Khawar Mahmood Khatana was born in Lahore.Amna Buttar is the member of the Faculty, Department of Medicine.She did American Board of Internal Medicine (Geriatric Medicine), 1999 and American Board of Internal Medicine – Internal Medicine, 1998.[1] Biography Amna Buttar is the member of Population Welfare , Housing, Urban Development and Public Health Engineering and affiliated with the Pakistan's political party Pakistan Peoples Party (PPP).Her husband's uncle, Sardar Saghir Ahmad served as Member, Punjab Assembly during 1972-77 (Minister for Law and Parliamentary Affairs, Revenue & Labour).
Education
She obtained the degree of MBBS (Medium Surgery) from Fatima Jinnah Medical College, Lahore. She then went to USA. During her stay in USA, she completed her postgraduate from University of Wisconsin, and from University of Michigan.[2]  Education 
Training
Fellowship, University of Michigan, Geriatric Medicine, 1997
Residency, Aurora Sinai Medical Center, Internal Medicine, 1993
Served as

She served as Medical Director, Sinai Samantan Hospital, Milwaukee Wisconsin, USA during 2004-07, as Associate Professor of Medicine, University of Wisconsin during 2004-07, as Member, Advisory Committee, Secretary Department of Health and Human Seminars, USA during 2005-08,Founder President, Asian American Network against Abuse of Human Right, US Based Human Rights Organization, and founder Synergy International and has been serving it since 2007.
Award
Recipient of Prestigious Genetics Academic Career Award during 2002-07.
Author
She is an author of Seven Books Chapters in Multiple US text books, ten Research Papers in Multiple US Medical journals including JAMA, one of, the most prestigious medical journal of the USA.[3] Author
General Election 2008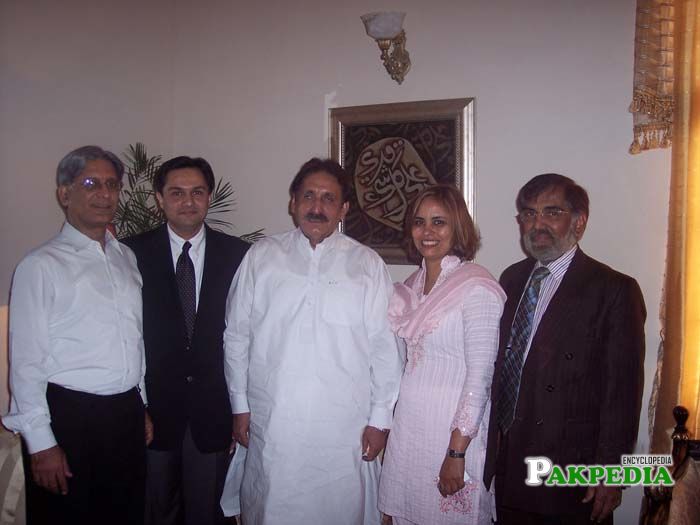 A physician, who has been elected as Member, Provincial Assembly of the Punjab in general elections 2008.
Publications
A Novel Geriatric/Cardiology/Nursing Partnership to Assess Inpatient Falls (Bogomolskiy, D; Buttar, A; Gonzalez-Stark, L; Ho, R; Perskin, M; Zweig, Y)
Geriatric care management for low-income seniors: a randomized controlled trial(Counsell, Steven R; Callahan, Christopher M; Clark, Daniel O; Tu, Wanzhu; Buttar, Amna B; Stump, Timothy E; Ricketts, Gretchen D)
Geriatric Resources for Assessment and Care of Elders (GRACE): a new model of primary care for low-income seniors(Counsell, Steven R; Callahan, Christopher M; Buttar, Amna B; Clark, Daniel O; Frank, Kathryn I)
A national study showed that diagnoses varied by age group in nursing home residents under age 65(Fries, Brant E; Wodchis, Walter P; Blaum, Caroline; Buttar, Amna; Drabek, John; Morris, John N)
Six-month cognitive improvement in nursing home residents with severe cognitive impairment(Buttar, Amna B; Mhyre, Jill; Fries, Brant E; Blaum, Caroline S)
Caregiver attitudes and hospitalization risk in michigan residents receiving home- and community-based care(Shugarman, Lisa R; Buttar, Amna; Fries, Brant E; Moore, Tisha; Blaum, Caroline S)
Dual Nationality Case

Pakistan Peoples Party (PPP) MPA Dr Amna Buttar prayed to the Supreme Court that despite her US citizenship, she was loyal towards Pakistan.Dr Buttar, who is also the sister of the Supreme Court's retired judge Justice Javed Buttar, asked the court to dismiss the petitions that questioned her loyalty towards her motherland- Pakistan.
A three-member bench of the apex court, headed by Chief Justice Iftikhar Muhammad Chaudhry, recently suspended Dr Buttar's Punjab Assembly membership for holding American citizenship. Dr Buttar, in response, submitted a concise statement to defend her loyalty towards Pakistan. She also submitted her detailed CV, achievements and her voice against drone attacks in Pakistan.
Familys Political Struggle
Dr Buttar also highlighted her family's political struggle and role in the struggle for the independence of judiciary in Pakistan. She said that being a student of medical sciences, she obtained the US citizenship in 1992 but she is a Pakistani national by birth.She further told the court that being the founder of Asian American Network Against Abuse, she led protests against General Pervez Musharraf in New York City and Washington DC subsequently. She and her family in Pakistan were harassed and threatened by military establishment through Brigadier Ijaz Shah, Dr Buttar added.
In Court – April 2007
Dr Buttar, in her concise statement, stated that Brigadier Shah personally met her in 2005 and made a direct death threat to her. But, she said, these tactics and harassment only strengthened her resolve to continue being the voice for the oppressed in Pakistan. Dr Buttar also told the court that in April 2007, she participated in the lawyers rally in Islamabad and was targeted and brutally assaulted by the Elite Police inside the premises of the Supreme Court of Pakistan.
Act 1951 and Article 631c
She said that her name was highlighted in the list of dual nationality holders with prejudice to target her. She told the court that she has not violated the Section 14 of the Pakistan Citizenship Act, 1951, and Article 63(1)(c) is not applicable at this stage because no objections were raised at the stage of scrutiny of nomination papers and her election was never challenged before any election tribunal.
General Election
Although, the Supreme Court seeks proper arrangements for overseas Pakistanis to vote in general elections, this week it made it clear that it would not allow dual nationals to be a part of the assemblies citing constitutional restraints.
Other Citizen Holds Dual Nationality
Senator Wasim Sajjad, the counsel for MNA Farah Naz Ispahani (who holds citizenship of both Pakistan and the US) told the bench that it was unrealistic to question someone's loyalty on the basis of nationalities they held and to suspend their assembly membership.The court has suspended memberships of Ispahani and then federal interior minister Rehman Malik for holding the US and UK nationalities respectively. Ispahani's lawyer asked the court to refer this matter to the parliament or interpret the Constitution in the supreme national interest.[4] Dual Nationality
Permanent Contact Info
Address:235-L, Model Town, Lahore.
Phone #:+92 42 37313073 (Off), +92 42 35164318 (Res), +92 333 4000879