Lahore Qalandars is Pakistan's cricket franchise performing in PSL (Pakistan Super League). Qaddafi Stadium in Lahore is the home ground of this team. The team comprises Lahore city in PSL and is owned by QALCO (Qatar Lubricants Company Limited).
Aqib Javaid, the former cricketer, coaches the team, and Sohail Akhtar is serving as captain. The Pakistani entrepreneur Rana Fawad owns LQ and is 2nd in the budget, and among those few teams handed over to an International firm.
Unfortunately, the team remained at the bottom position in the point table in 1st 4-seasons of the league, but in the 2020 edition, it succeeded in reaching the final. This article has all the information about the team, including Lahore Qalandars Owner.
| Title | Description |
| --- | --- |
| Details | |
| Type: | T20 |
| In Urdu: | لاہور قلندرز |
| Location: | Pakistan |
| Information | |
| Captain: | Brendon McCullum (New Zealand) |
| Coach: | Paddy Upton (South Africa) |
| Owner: | Fawad Rana (Qatar Lubricants Company Ltd) |
| History Information | |
| Wins: | 0 |
| Website: | http://www.lahoreqalandars.com/ |
| Team Information | |
| Team: | Lahore Qalandars |
| Founded: | 2015 |
| Lahore Franchise was Sold: | Qatar Lubricants Company |
| Leading Wicket-Taker of Team: | Sunil Narine |
| Leading Run-Scorer of Team: | Umar Akmal |
| City: | Lahore, Punjab, Pakistan |
| Home Ground: | Gaddafi Stadium |
| Capacity : | 27,000 |

Lahore Qalandars Owner
PCB (Pakistan Cricket Board) announced in 2015 that the inauguration ceremony of PSL would happen in UAE in Feb 2016. On 3rd Dec 2015, PCB revealed owners of 5-franchises. Qatar Lubricants Firm purchased Lahore Qalandars at the cost of 25.1 million US dollars, making it the league's 2nd most expensive squad.
1st most expensive team is Karachi Kings sold out at 26 million US dollars. Currently, Fawad Rana owns this team.
Trials under PDP
Under PDP (Players Development Program), LQ arranged 'Jazz Rising Stars' performance trials in 8-Pakistani cities searching for young talents. It was announced that shortlisted players would go to Australia to train with Australia's professional cricket team, 'Sydney Thunder.'
Two high performing youngsters would have a chance to play for LQ. During these trials, Aqib Javaid identified a fast and ambitious bowler Yasir Jan. 
Pakistan Super League Seasons
Season 2016
For Season 2016, star players Yasir Shah, Azhar Ali, Dwayne Bravo, Umar Akmal, and Chris Gayle were selected for the LQ team, but the team faced 2-consecutive defeats against Peshawar Zalmi and Karachi Kings. The team's 1st victory was against Quetta Gladiators, and it won only 2-matches out of 8-matches.
There was a chance to reach the tournament's playoff section by winning the final group match against Islamabad United, but the team lost by 5-wickets and ranked last in the league's 1st edition. Umar Akmal played only 7-matches but was declared the highest scorer of this tournament and the secured award for being 'Best Batsman,' making 335 runs with four half-centuries.
LQ has conferred the Fair-Play Award and 'Spirit of Game' for displaying the best sportsmanship in the tournament.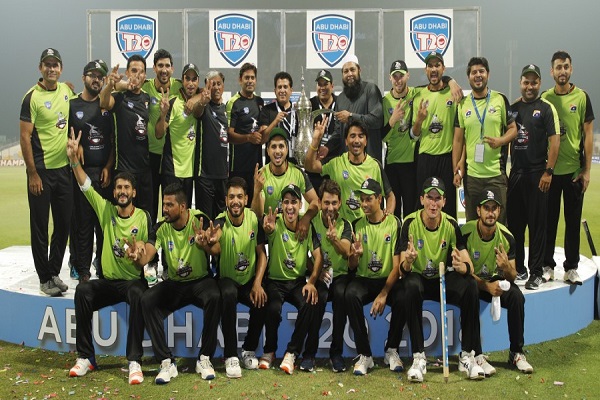 Season 2017
The player's trading occurred in season 2017; Sohaib Maqsood was traded for Amir Yameen Chris Gayle for Sohail Tanveer. In Sep 2016, former New Zealand Captain Brendon McCullum was added as the new captain.
During the players' draft for PSL 2017, LQ signed several new cricketers, including Sunil Narine and Yasir Shah, while Dwayne Bravo, Azhar Ali, and Umar Akmal were retained. Later, James Franklin and Jason Roy replaced Anton Devcich and Dwayne Bravo, while Chris Green replaced Shaun Tait.
Lahore Qalandars Defeat
Defeated by Quetta Gladiators
In season 2017's opening match, LQ lost a match to Quetta Gladiators. The team made a score of one-hundred and twenty-eight in pursuit of one-hundred and thirty-seven. The team reached the next match by defeating Islamabad United. Umar Akmal and Jason Roy made seventy-one runs in their partnership that set-up LQ's chase of one-hundred and fifty-nine runs. 
Defeated by Zalmi
In the next match against Peshawar Zalmi, LQ collapsed to fifty-nine runs in 11-overs, the 2nd brief inning in the history of Twenty20 cricket. Yasir took four wickets for seven runs in defense to take his squad to the victory before Peshawar Zalmi dominated by three wickets.
Sharjah Tournament
In the tournament held in Sharjah, LQ made their 2nd victory against Karachi Kings. A challenging match between these two teams before LQ prevailed by seven runs in the final over. Fakhar Zaman was concluded 'man of the match' made a target score of one-hundred and eighty via his innings of fifty-six (thirty-six), but unfortunately, in the next match, Qalandars failed to pursue a target of 201 runs.
However, after this defeat, the team won against Islamabad United in a critical situation when the audience saw the LQ chasing one-hundred and forty-six scores in 19.3 overs. Umar Akmal made sixty-six runs of forty-two balls.
Defeated by Zalmi and Karachi Kings
The team suffered defeats against Karachi Kings and Peshawar Zalmi in the tournaments held in Dubai. The team failed to chase a target of one-hundred and sixty-seven runs after getting out at 38-1 and 43-6. After this match, LQ lost the match against Karachi Kings by five wickets.
The defeat in 2-matches placed the team at the bottom and knocked out from 'Playoff' proceedings for 2nd consecutive year.
Season 2018
Got Defeated by Sultans, Gladiators, and Kings
The team lost 1st 3-matches in season 2018 against Karachi Kings, Quetta Gladiators, and Multan Sultans and suffered significant battling collapses in every match. A game against the Multan Sultan team made only one-hundred and thirty-six runs and failed to chase a score of one-hundred and eighty runs.
And in a match against Quetta Gladiators, they failed to retain the splendid start they took, and at sixty runs, there were two out but later couldn't manage to make fifty-nine runs in fifteen overs. This failure led to the success of Gladiators by nine wickets.
In a game against Karachi Kings, LQ set a target of one hundred and sixty runs. They took a splendid start and made sixty-eight runs in six overs but lost several tickets towards the match's middle. 
Tournament in Sharjah
When the league transferred to Sharjah, the team's fortune remained the same and lost a match against Islamabad United. In chasing one-hundred and twenty-two runs, LQ made seventy-seven runs with two players in the pavilion, but as the match progressed, the team ended up at 115-9.
Batting 1st in the 1-over eliminator, LQ made a target of sixteen runs that United secured through a six at last-ball. The defeat o Qalandars continue in the next match against Zalmi. They did bat 1st and suffered a vast battling collapse, and all players went to the pavilion at hundred only.
The Zalmi playing quickly chased the target without losing a single wicket, the 1st such case in PSL history. This defeat led to the elimination of Qalandars from the 2nd tournament.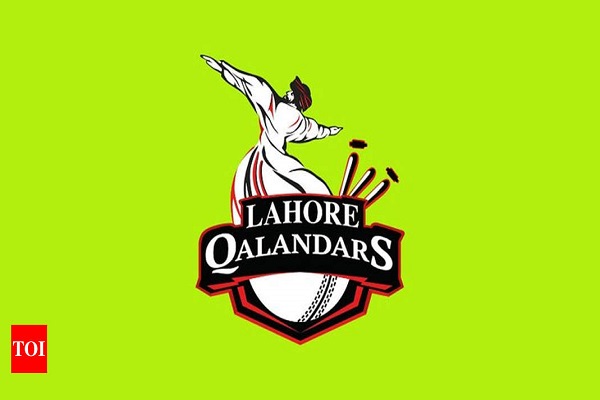 Performed for Abu Dhabi Twenty20 Trophy
They were invited along with six other teams in July 2018 to play in the 1st edition of 'Abu Dhabi Twenty20 Trophy.' The tournament started in Oct, and on 6th Oct, Qalandars won this tournament by defeating Titans in the final match. 
Season 2019
The team administration selected 12-players for season 2019, including International cricketers like Carlos Brathwaite, Brendon Taylor, Sandeep Lamichhane, David Wiese, Corey Anderson, AB De Villiers, and Muhammad Hafeez, and Haris Sohail.
Initially, Muhammad Hafeez was selected for captaincy, but he suffered an injury during 2nd fixture of the team, he withdrew his name from the team. After Hafeez's removal from the squad, AB De Villiers was selected for captaincy. The team finished again at the bottom, just like previous seasons, and won only 3-matches out, often resulting in elimination.
Season 2020
In PSL-5, LQ reached the final and playoffs for 1st time in the history of PSL. In the final, it lost KK (Karachi Kings) by 5-wickets.
Lahore Qalandars History
Fawad Rana launched the Lahore franchise on 12th Dec 2015. The alphabet Q in 'Qalandars' represents QALCO and Qatar, and Fawad stated that the word Qalandar is added to represent the Sufi-Culture of the city. In Pakistan word, Qalandar is commonly used to describe saints or mystics whose tombs draw millions of tourists and devotees.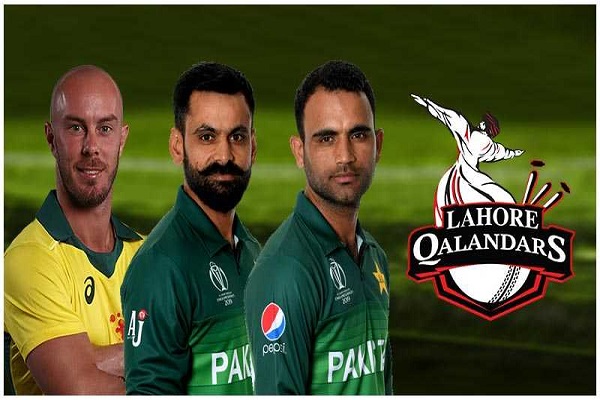 Lahore Qalandars Logo
The team's logo displays a Sufi saint performing Sufi turning with 3-stumps to the right and the cricket ball as a base. This logo is a representation of the region's Sufi culture.
Kit Color
In the 1st season, the color of Qalandar's kit was black and red, while in the 2nd season, the red color switched to green at a musical event. Mobilink became the 1st sponsor of this team and sponsored shirts and titles. The textile mill Alkaram was another sponsor, while Geo TV is a media partner of LQ. The team's hospitality partner is Royal Palm.
Anthem
In season 2016, Nabeel Shaukat and Asrar sang the team's anthem 'Dama Dam Mast.' Shafqat Amanat Ali sang the official song 'Dama Dam Mast Lahore Qalandars' for season 2017. For season 2017, Shaan was the brand ambassador of the team. 
Rival Team
Lahore Qalandars have an exciting and severe rivalry with KK, and due to cultural and economic rivalry between the two cities, they are the biggest rivals in PSL. In season 2020, both rivals played ten matches against each other, and Qalandars won four out of those ten.
These expensive teams have a huge fan following, making their matches exciting and intense to watch.
Awards & Recognitions
PSL 2016
Umar Akmal was declared the best batsman of PSL 2016 with three-hundred and thirty-five runs in seven matches.

Made 2nd highest score of 1st edition of the tournament with two-hundred and one run in twenty overs

LQ won the 'Spirit of Cricket' award. 
PSL 2017
Made 2nd highest score of 2nd edition of the tournament with two-hundred runs in twenty overs

Performed in Abu Dhabi Twenty20 Trophy of 2018 and defeated Titans in final.
Social Media Handles
https://twitter.com/lahoreqalandars