Khawaja Saad Rafique is one of the most popular and senior leaders of Pakistan. He is Pakistan politician and a conservative activist and currently he is working as Minister of Railways in Pakistan. He was appointed on 7 June 2013 as Minister of Railways in Pakistan by Nawaz Sharif. He started his political career on PML-N platform in 1980's, after that, he is also the provincial general secretary of the party since 2002. He belongs to Islam religion and has a good impact in the entire country.
He was born on November 4, 1962, into a politically oriented family in Lahore, Punjab, Pakistan. His father Mr. Khawaja Muhammad Rafique was a mainstream politician of Pakistan. He passed his matriculation from Local high school; he completes his graduation in BA in political science in 1984 and latter MA in Political Science in 1986. He was appointed as Railways Minister of Pakistan on 7 June 2013 by Nawaz Sharif and took oath on 8 June 2013. After that, he announced implementation and modernization of Pakistan Railways and new international standard in railways.[1] Khawaja Saad Rafique Biography
| Title | Description |
| --- | --- |
| Personal | |
| Name: | Khawaja Saad Rafique |
| Famous As: | Politician |
| Nationality: | Pakistani |
| Education: | Punjab University (BA and MA) |
| Religion: | Islam |
| Province: | Punjab |
| Constituency: | NA-125(Lahore-VIII) |
| Contact Number: | +92 300 4021242 |
| Permanent Address: | H.No. 86, Block-D, DHA, Lahore Cantt. |
| Local Address: | H-204, Parliament Lodges, Ibd. |
| Minister for Railway Incumbent Preceded by: | Ghulam Ahmad Bilour |
| Minister for Railway Incumbent Prime Minister: | Mian Muhammad Nawaz Sharif |
| Minister for Railway Incumbent President: | Ghulam Ahmad Bilour |
| Minister for Railway Incumbent Assumed office: | 7 June 2013 |
| Minister for Culture In office: | 31 March 2008 – 13 May 2008 |
| Minister for Youth Affairs In office: | 31 March 2008 – 13 May 2008 |
| Profession: | Politician |
| Born | |
| Date: | 4 November 1962 |
| Place: | Lahore, Punjab, Pakistan |
| Family | |
| Spouse: | Ghazala Saad |
| Parents: | Khawaja Muhammad Rafique |
| Siblings : | Khawja Salman Rafique |
| Career | |
| Political Party: | PML(N) |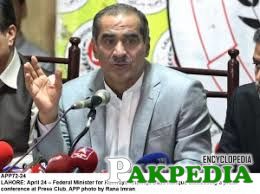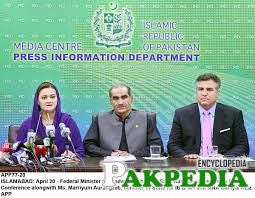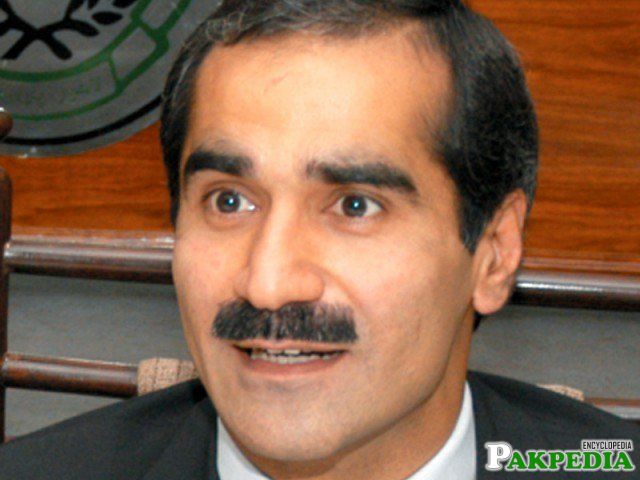 Background

Rafique was born into a politically oriented family in Lahore, Punjab, Pakistan, on 4 November 1962. He is of Kashmiri–Punjabi descent. His father, Khawaja Muhammad Rafique, was also a mainstream politician of Muslim League, and an activist of the Pakistan Movement in 1940s. Muhammad Rafique participated well on Pakistan Muslim League platform during the general elections held in 1970. Over the years, Muhammad Rafique became a great critique of the Prime Minister Zulfikar Ali Bhutto's left-wing policies. He brought a great condemnation of Prime Minister Bhutto's strategies and alliances. In 1972, his father was assassinated while leading a PML rally in Lahore. On annual basis, a commemorative seminars are held by the PML(N) in Lahore to highlight the services of Muhammad Rafique.
After matriculating from a local high school, Rafique enrolled at the M.A.O College and made a transfer to Punjab University in 1982. He graduated with an BA in Political science in 1984, and later attained MA in Political science in 1986. His master's work was primary based on the comparative politics.
Career in national politics

 
In 1989, Rafique began to built political relationship with the PML-N due to similar ideology, and worked on party's national conservative programme. In 1997, he participated well in the general elections on a PML(N)'s ticket for NA-119 constituency and became member of Punjab Assembly. During this time, he was appointed as Special Assistant to Prime Minister for Youth Affairs by Prime Minister Nawaz Sharif, but his tenure was terminated by General Pervez Musharraf after the latter self-coup in 1999. He was eventually arrested and imprisoned after calling for Musharraf's removal.In 2000, he began his political activism on PML(N) platform and successfully ran for NA-119 constituency in the general elections held in 2002. During this time, he was appointed provincial general secretary of the party. From 2002–07, he worked on party's mainstream conservative programme and the public image of the party. Among PML-N's central leaders, Saad is one of the few activist who kept the party alive during the Musharraf regime.
In 2008, Rafique was allotted a party's ticket for NA-125 constituency and successfully ran for NA-125 against Humayun Akhtar Khan in the general elections held in 2008. He briefly tenured as Minister of Culture and Youth Affairs in Prime Minister Yousaf Raza Gillani's cabinet but resigned after PML-N's went onto lead the Lawyer's movement to restore the judiciary.In May 2009, Rafique became a staunch critic of Prime Minister Yousaf Raza Gillani and his government over its strategy on Swat, blaming the military and Gillani's ministry for the "mess" that had been created in Khyber-Pakhtunkhwa province. In his condemnation of the government over the matter, he also termed the session of the National Assembly a "debating club" where people only came to polish their public speaking skills and that decisions were being made elsewhere.In 2013, Saad Rafique and his wife, Ghazala Saad, were allotted PML-N's ticket. During the general elections held in 2013, Saad Rafique successfully defended his NA-125 constituency against leftist PPP and the PTI. Saad Rafique secured ~123,416 votes with a percentile of 51.90%.[2] Career in national politics
Pakistan Railway Minister Khawaja Saad Rafique

Pakistan Railways Minister Khawaja Saad Rafique has said the Pakistan Railways (PR) would progress at double speed, if the people gave Pakistan Muslim League-Nawaz (PML-N) another chance, to serve them, in the next elections.Addressing the media at the closing ceremony of the 62nd Pakistan Railways Inter-Divisional Athletic Championship, organised at the Railway Stadium here on Saturday, he said the PR has achieved several accomplishments under his ministry but accepted that there was still a long way to go for PR to reach its potential.He said that some people say the PR minister plays politics, "I tell them, 'yes', I practise politics, as a political worker I should do it, but I do not compromise on the work of the railways," he added.He appreciated the efforts of PR Chairperson Parveen Agha and CEO Javaid Anwar Boobak and said that PR made progress under these officers. The minister also commended other railways workers.The minister announced an increase of Rs 5 million in the PR budget for sports by taking the total budget to Rs 350 million.He also ordered the decoration of the Railways Stadium.Earlier, he distributed prizes among the winning players of the championship.[3] PR to Progress at double speed if PML-N is given another chance
Minister of Railways 2014

On 7 June 2013, Saad Rafique was appointed as Minister of Railway by the Former Prime Minister Nawaz Sharif and took oath on 8 June 2013.Upon becoming Minister of Railway, Saad Rafique announced the implementation of modernization of the Pakistan Railways, and to bring it up to the par to the international standards. In 2014, Saad Rafique visited the Lahore University of Management Sciences' Suleman Dawood School of Business (SDSB) where he delivered a lectures on business leadership in locomotive industry. At LUMS, he announced that the SDSB's faculty are currently working with him to improve organizational efficiency and the infrastructure of Pakistan Railways.[4] Pakistan Minister of Railway
Khawaja Saad Rafiq calls on Shehbaz
Federal Minister for Railways, Khawaja Saad Rafiq met Punjab Chief Minister Muhammad Shehbaz Sharif. Speaking on the occasion, the chief minister said that Pakistan Muslim League-N (PML-N) believes in politics of values, and added that the government is taking all out steps for the welfare of the masses.
Shehbaz Sharif said that new records of public service will be set in the next two years. He said that today's Pakistan is more safe, peaceful, prosperous and leading on the road to progress as compared to that of the past. Saad Rafiq congratulated Shehbaz Sharif on recovery of Prime Minister Muhammad Nawaz Sharif after a successful operation.[5] Khawaja call on shahbaz
General Elections 2018
Khawaja Saad Rafique contested the General Elections 2018 from NA 131 against Imran Khan but unfortunately got defeated by few thousand votes. Imraan Khan received 84,313 votes while Khawaja Saad obtained 83,633 in the closely-contested elections. After the official results, the former railway Minister Saad Rafique requested to recount the votes from his Constituency but it didn't affect his defeat and Imran Khan remained at the top.
By-Elections 2018
Khawaja Saad Rafique who lost his seat of NA 131 in the General Elections 2018 from Imran Khan has won his seat back in the by-Elections 2018 which held on 14th October 2018. He is succeeded to secure 60352 votes while his opponent Hammyun Akhtar of Pakistan Tehreek-e-Insaf lost this seat by securing 50155 votes. As many as 28 independents were also vying for the seat which fell vacant after Imran Khan, who had won on July 25, decided to retain his Mianwali constituency.
Grants Interim Bail
Khawaja Saad Rafique (who won yesterday's election) and his brother had filed the petition of an interim bail which has been accepted by the Lahore High Court today on 15th October 2018. Saad Rafique along with his brother appeared before the court earlier today and stated that NAB is harassing them and wants to arrest them. The petitioners requested the court to allow them their basic right to present their case. 
Khawaja Saad and his brotherarrested in Paragon Housing Scam
Former development Minister Khawaja Saad Rafique of PMLN and his brother Salman Rafique who were facing the hearings of the court from a long time have been arrested today on 11th December 2018 in Paragon Housing Scam by the NAB. The Khawaja Brothers had expressed that NAB was bugging them and needed to capture them. The two siblings said that they had given all records in regards to the charges leveled against them. The counter debasement body had propelled a test against Saad Rafique and his sibling in the Paragon Housing Society trick.
NA speaker issues Khawaja Saad Rafiques production order
The production orders have been issued against the Khawaja Saad Rafique and his brother Salman Rafique by the National Assembly speakers on 20th December 2018 who are in the police custody in Paragon Hosing case. The police arrested them after the Lahore High Court (LHC) rejected their request for an extension in their pre-arrest bail in the case. The production order has been armed under the National Assembly's rule number 108, as per which a speaker can summon an under-custody lawmaker to appear before the assembly.