Ahsan Iqbal Chaudhary  is a Pakistani politician. Ahsan Iqbal is a popular Pakistan Politician who serves as the Minister of Planning, National Reforms and Development since June 2013. He is member of parliament and serves as its Deputy Secretary General and member of its Central Executive Committee. He belongs to Pakistan Muslim League political party. He is also one of the senior members of PML-N and has good impact in Pakistan. He is so close to Nawaz Sharif.Ahsan Iqbal parents were activists of Pakistan Movement, his mother Nisar Fatima was elected by General Zia UL Haq as MNA of the Parliament. He matriculated from PAF Public School in Sargodha; He completed his MBA from University of Pennsylvania. In Pakistan he has good fan following and he achieved many things during his political career. He is one of the leading politicians in PML-N.
| Title | Description |
| --- | --- |
| Personal | |
| Name: | Ahsan Iqbal |
| In Urdu: | احسن اقبال |
| Famous As: | Politician |
| Nationality: | Pakistani |
| Deputy Chairman of the Planning Commission of Pakistan Succeeded by: | Dr. Shahid Amjad Chaudhry |
| Deputy Chairman of the Planning Commission of Pakistan Preceded by: | Hafeez Pasha |
| Deputy Chairman of the Planning Commission of Pakistan In office: | 13 August 1998 – 12 October 1999 |
| Minister for Minorities In office: | 31 March 2008 – 13 May 2008 |
| Minister for Planning and Development Incumbent Assumed office: | 7 June 2013 |
| Minister for Planning and Development Incumbent President: | Mamnoon Hussain |
| Minister for Planning and Development Incumbent Prime Minister: | Nawaz Sharif |
| Minister for Planning and Development Incumbent Preceded by: | Naveed Qamar |
| Deputy Chairman of the Planning Commission of Pakistan Incumbent Assumed office: | 8 June 2013 |
| Deputy Chairman of the Planning Commission of Pakistan Preceded by: | Dr. Nadeem Ul Haque |
| Minister for Education In office: | 31 March 2008 – 13 May 2008 |
| Citizenship: | Pakistan |
| Religion: | Islam |
| Alma mater: | University of Engineering and Technology, Wharton School of the University of Pennsylvania |
| Province : | Punjab |
| Constituency: | NA-117(Narowal-III) |
| Contact Number: | 0542-414440, 051-4860059,0300-5012345 |
| Permanent Address : | Iqbal House, Opposite Rangers Headquarters, Jassar Bypass, District Narowal |
| Local Address: | H. # 81, St. # 59, I-8/3, Ibd. |
| Profession: | Politician |
| Born | |
| Date: | 1958 |
| Place: | Lahore, Punjab, Pakistan |
| Family | |
| Parents: | Apa Nisar Fatima |
| Career | |
| Political Party: | Pakistan Muslim League (N) |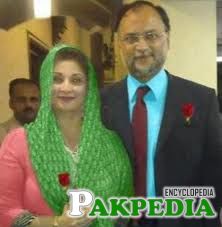 Life and education
Ahsan Iqbal was born to Iqbal Ahmad Chaudhary and Apa Nisar Fatima. His mother, Apa Nisar Fatima, was a Member of the National Assembly on reserved seats for women (1985–1988) and daughter of Chaudhry Abdul Rehman Khan, a Member of the Legislative Assembly from Jalandhar, Punjab in India, before the independence of Pakistan.He attended Cantt Public School Karachi, PAF Public School, Sargodha and the Government College, Lahore. He then studied mechanical engineering at the UET Lahore (1976–1981), where he was elected President of the Students Union (1980–81). He worked briefly in the private sector with Millat Tractors (manufacturers of Massey Ferguson in Pakistan) before moving on to the Wharton School of the University of Pennsylvania for an MBA degree (1984–1986). He has also attended executive and mid career programs at universities including the School of Foreign Service at Georgetown University (1989), the University of Oxford (1992) and Harvard University (2004).[1] Life and education Ahsan iqbal
Political career

Iqbal entered the political arena as a student leader. In 1988, he joined Pakistan Muslim League (PML) then a key member of Islami Jamhoori Ittehad which later became PML-N.
In the 1993 election, Iqbal was elected as an MNA from NA-90 Narowal (now NA-117). He was re-elected from the same constituency in the 1997 election.Iqbal also served as Policy and Public Affairs Assistant to the prime minister in 1993.When PML-N formed its government after the 1997 election win, Iqbal played his role in several key government positions. He served as deputy chairman Planning Commission and chairman Pakistan Engineering Board and was also a chairman for the National Steering Committees on Information Technology and IQM and Productivity.
Iqbal has to his credit Pakistan's first national IT policy which was formulated upon his initiative. He also taught Management at the Mohammad Ali Jinnah University in Islamabad (2000-2007) and chairs a think-tank called Better Pakistan Foundation.The PML-N leader also served as federal minister for education with an additional charge of minorities' affairs for a short period of time before his party pulled out of the Pakistan Peoples Party-led coalition government in 2008.Iqbal, like fellow party leaders, has been an advocate of a sovereign foreign policy and is of the opinion that post-9/11 US policies have fuelled anti-American sentiment among the Pakistani public. He is also in favour of the Nawaz government's 1998 policy on ties with neighbouring India.A party stalwart, Iqbal was also made part of  PML-N's parliamentary board tasked with selecting candidates for the 2013 election. The board mostly comprised of Nawaz loyalists who kept the party alive during the Musharraf regime.[2] Political Career Ahsan iqbal
Economic reforms
Ahsan Iqbal had initiated and authored Vision 2010 for Pakistan in 1998, and was responsible for country's long term economic planning and management as Deputy Chairman, Planning Commission/ Minister of State. On his initiative, Pakistan's first National IT Policy was formulated. His leadership was instrumental in starting several knowledge, good governance, and reform programs in the country through extensive stake-holder's dialogue and partnership. He was also a Professor of Management at Mohammad Ali Jinnah University, Islamabad (2000–07). He heads a development think tank, Better Pakistan Foundation, as Chairman.
Appointments to executive posts
His appointments include Chief Coordinator / Minister of State, Pakistan 2010 Program (1997–99), Deputy Chairman, Planning Commission (Pakistan) (1998–99); Chairman, Good Governance Group, Government of Pakistan (1997–99); Chairman, Pakistan Engineering Board, and Chairman, National Steering Committees on Information Technology and TQM and Productivity (1998–99). He earlier served as Policy and Public Affairs Assistant to the Prime Minister of Pakistan (1993). He served as Senior Advisor, Al-Madinah Al-Monawarah Digital Economy Project of the Madina Government, Saudi Arabia from September 2004 to April 2006. Ahsan Iqbal was a part of the turn around team of Ghee Corporation of Pakistan (appointed 1986) before it was privatized and served as the first Managing Director of the Tourism Development Corporation of Punjab (1988–1990) before joining politics.[3] Appointmetns to executive posts
Strongly disapprove of Javed Latifs statement Ahsan Iqbal
ISLAMABAD: Senior PML-N leader and Minister for Planning and Development Dr Ahsan Iqbal refused to stand by Javed Latif's comments on PTI's Murad Saeed which ignited a scuffle outside the National Assembly.A couple of incendiary speeches and some uncalled for remarks led to PTI MNA Murad Saeed punching PML-N's Javed Latif outside the National Assembly on Thursday. Javed Latif's personal comments afterwards were uncalled for and generated condemnations from journalists, politicians and even his own party colleagues, so it seems.
PTI chairman Imran Khan had earlier condemned Javed Latif's statement and said that had he been in Murad Saeed's place, he would have dealt with Javed Latif more strictly and in an even more offensive manner.Federal Minister for Planning and Development Dr Ahsan Iqbal tweeted that he 'strongly condemned' Latif's statement and urged his followers to maintain decency.[4] Strong disapprove of javed latif statement
Minister of Planning Development Reforms – Pakistan Official Message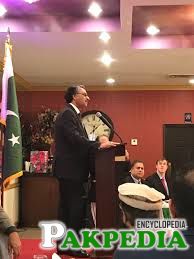 The China Pak Economic Corridor is a fusion of multiple developments in the global, regional, bilateral and domestic contexts. The ultimate objective is peace, prosperity and well being of the people of the two countries, the region and the world. The global economic landscape has changed dramatically. The main drivers of this change have been technology, trade liberalization, free capital movements, advances in communication and transportation infrastructure, and creation of cross border supply chains. The centre of gravity of the world economy has shifted to the east with the emerging economies growing at a much faster pace than the developed economies. Their share of GDP doubled in the last 50 years or so. In the last decade 70 percent of global growth is ascribed to the emerging economies. These shifts reflect changes in global governance. The integration of the global economy has enveloped all areas of trade, service and movement of capital. Regional cooperation agreements have proliferated and strengthened in recent times to capture this change especially in the global economic landscape. Pakistan's prosperity is no more a long journey as the current leadership is working diligently on such projects whose outcomes would be visible and bright in a short period of time.Recently, both the Pakistan & China Governments have made a conscious effort to focus on expanding the economic dimension of the relationship and bring it up to par with the excellent cooperation between the two countries at the strategic and political level. This impetus towards enhancing economic and trade cooperation has gained strength since the near-simultaneous change of leadership in China and Pakistan. The new Governments in both countries have signaled their commitment to strengthening Pakistan-China relations very early in their terms of office.China-Pakistan Economic Corridor (CPEC) Pakistan's Vision 2025 seeks to position itself from a lower middle income country to high middle income country by achieving the target per capita GDP of $4200.Pakistan-China corridor is win-win for both states. Through this mega project Pakistan will become the hub of business and trade in Asia, and Western China will penetrate into Asian and European markets. It will cater to the needs of all federating units of Pakistan through proper rail and road network and multiple projects on energy within the next three years.
The current regime is making the right move by strengthening its economic ties with China and that this is one of the most significant agreements signed between Pakistan and China till now, and it would stretch the depth of their bilateral strategic relations.This project is not a game-changer but a fate-changer for Pakistan and for the prosperity of three billion people of the region. We are doing it for socioeconomic benefit of the people of Pakistan and China. The Chinese President in his upcoming visit to Pakistan would give a road map about how China would pump $50 billion up to 2017 into host of projects that would ultimately generate billions of dollars besides creating numerous job opportunities. The economic corridor will not only connect Pakistan and China, but will prove beneficial in connection Pakistan with its neighboring countries in the Western border area. Functioning of the corridor will open new vista of development prosperity as a result of which the national economy will grow fast, lead to creation of new job opportunities, poverty reduction, and development of transportation sector and boost industrial growth. CPEC is a comprehensive package of cooperative initiatives and projects, which covers key areas including connectivity, information network infrastructure, energy cooperation, industries and industrial parks, agricultural development, poverty alleviation, tourism, financial cooperation as well as livelihood improvement including municipal infrastructure, education, public health and people-to people communication.With the experience to be gained in the process of project construction and improvement of local economy and security conditions, CPEC will not only benefit the entire Pakistan but will also contribute to regional peace, stability and prosperity It is estimated that about 3 billion people from China, South Asia and Central Asia, would be benefited from the economic corridor. It has the potential to empower half of the world's population living in Asia, by developing special trade routes between China and Pakistan. Economic Corridor is the most important agreement signed between Pakistan and China till now.
The Governments of both the countries are keen to help with planning and providing an enabling environment but the actual success of this Corridor will happen when people of China as well as Pakistan own the development process relating to the Corridor and work with each other for opening up all the cooperation fields . I am personally very grateful to the Chinese investors and other stakeholders including Pakistani private sector who have taken a very positive active role in steering forward the vision of our leaders and materializing this grand dream which I am very certain shall prove to be a game changer for future of our countries and is our common goal.
Soon after assuming power, Former PM Nawaz Sharif paid a visit to China where the historic MoU for China-Pakistan Economic Corridor (CPEC) was signed on 5th July 2013 in the presence of the Prime Ministers of both countries.This MoU kick-started a series of economic activities which can prove to be a game-changer for the entire region and uplift the lives of about 3 billion people across China, Central Asia, South Asia and the Middle East.[5] Prof Ahsan Iqbal official message
Attack
Interior Minister Ahsan Iqbal was shot and injured at a corner meeting in his constituency Narowal here on Sunday 6th May 2018. The assailant, Abid, shot at the interior minister at his right shoulder from a distance of 15 yards as he was sitting in his vehicle to leave the rally ground in Kanjrur, confirmed DPO Imran Kishwar.  Workers of Pakistan Muslim League – Nawaz (PML-N), standing near the assailant, tackled the man after he opened fire at Iqbal, said Punjab Government Spokesperson Malik Ahmed Khan. He further said the suspect was stopped from firing a second shot.  A 30-bore pistol was recovered from the arrested suspect, aged between 20-22 years, confirmed DPO Kishwar. Abid is reportedly a resident of Narowal.  [6] Attack Attack
Winner of NA 78 Narowal
Ahsan Iqbal who is the member of Pakistan Muslim League N and was also the Ministry of Interior has won the General elections 2018 by securing 126385 votes. While his competitor Abrar u Haq who is the top class singer of Pakistan couldn't gather the seat from Narowal by securing less votes and like previous Elections of 2013 he lost that seat. Ahsan Iqbal was very confident about his victory from Narowal and he managed to won again this time too.