Emporium Mall is a Lahore-based shopping center located southwest of the International Expo Center in Lahore. The eleven-story mall spans 2.7 million sq. ft and consists of a 5-star hotel and more than two hundred stores. It is the 2nd biggest Pakistani mall after Karachi's Lucky One Mall and also among the world's largest shopping centers by leasable space. Nishat Group owns this mall.
According to the website of the mall, almost forty-five thousand people visit this mall daily. It offers all the brands under a single platform. This article serves all the information about the Mall, including Emporium Mall History.
| Title | Description |
| --- | --- |
| Details | |
| Founded: | June 30, 2016 |
| Location: | Lahore, Pakistan |
| Developer: | Nishat Group |
| Owner: | The Nishat Group |
| No. of stores and services: | 200 |
| No. of anchor tenants: | 6 |
| Total retail floor area: | 2,700,000 sq ft (250,000 m2) |
| No. of floors: | 11 |
| Emporium Mall: | largest shopping malls of the world by gross leasable area |
| Mall also uses: | Solar panels for backup power |
| | |
| | |
| | |
| Emporium Mall: | Gigantic project of countries largest group Nishat |
| Location: | International Expo Center in Johar Town Phase 2 Lahore |
| Phone: | (042) 32592000 |
| Address: | Abdul Haque Rd, Johar Town, Lahore, Pakistan |
| Website: | nishatemporium.com |
| Email: | [email protected] |

Emporium Mall History
AHR Architects (international architectural company) and AHR Ali Naqvi Architects (Local Architectural Company) developed the architecture of the mall. It is situated in Johar Town North-West of International Expo Center Lahore and accommodates more than two hundred stores like Universal Cinemas, Hyperstar supermarket, and a 5-star hotel.
Aedas was recruited in early 2013 and late 2012 to design this shopping center with food courts, cinemas, wedding facilities, retail space, and a hotel. In March 2013, its construction began with an investment of almost twenty-five billion rupees. Nishat Group owns this mall with the structural engineers Bilal and Mushtaq. On 29th June 2016, the mall was opened for the public.
Almost six months before the mall opening, Hyperstar was opened. In 2016 this shopping mall got the status of Pakistan's biggest shopping mall. When Lucky One Mall was founded in Karachi, Emporium became the 2nd biggest mall.
Architecture 
Emporium is a 13-story shopping center with 3-story parking decks underneath the mall, with space to park two thousand cars. The mall is founded on an area of 250000 m2, almost three-fifths as large as 'Mall of America,' or around half as large as The Vatican.
Emporium Mall Attractions
The Emporium Mall Lahore consists of more than two hundred local and international brands. It has Universal Cinemas, the largest Pakistani cinema, and a nine-screen multiplex cinema. Furthermore, the food court in the mall has an area that could accommodate three thousand people. Other attractive features include The Bounce, Fun Factory Park, restaurants, banquet halls, eateries, Hyperstar, and a 5-star hotel with one hundred and ten rooms. For backup power, solar panels are installed.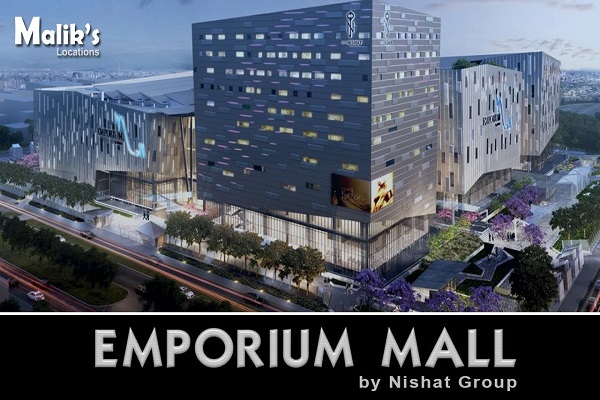 Emporium Mall Stores
Afghan Carpet
AKS Silver
Adidas
Al Karam Studio
Andy Birds
Aroshi
Arcadian Café
Babyshop
Bata
Bay's Lingerie Studio
The Body Shop
Bonanza/Satrangi
Borjan
Bounce
Breakout
Bundu Khan
Burger King
Caanchi & Lugaari
California Pizza
Charcoal
Charles and Keth
Chen One
China Town
Claire's
Coffee Planet
Coral,
Cotton & silk,
Cougar,
Cross Stitch,
Decor Fashion
Dermalogica
Dynasty
East Breakout
Eden Robe
Equator
Essence D'Arabia
Fat Burger
Generationd
Hang Ten
Hashtag
Hobo by Hub
HOPSCOTCH
Howdy
Hush Puppies
Hyper Star
Gul Ahmed
Inglot
Insignia
Interwood Mobel
Italian 5
Jafferjees
Jane Iredale
Jockey
Johnny Rockets
KFC
Khaadi
Kids Breakout
Kross Kulture
Lawrencepur
Lifestyle
Limelight
Logo Shoes
Magnum Café
Makeup City
Maria B.
Mastana
MCB Bank
McDonalds
Men Italia
Mocca
Mocciani
Monark
Nike
Nishat Linen
Opium
Origins
Osim
Outfitters
Pepperland
PEL
Platter Junction
Reebok
Rollover
Royaltag
Sam's Grill
Samsonite
Sapphire
Sarar
Sensation
Second Cup
Shamraf's
Shirt and tie Shop
Shoe Planet
Slazenger
Splash
Stoneage
Stylo
Nail Bar
Subway
Texas Chicken
Threads and Motifs
Triumph
Uniworth Black
Urban Outfitters
S Poli Assn
Vincci, Warda
Zara Shahjahan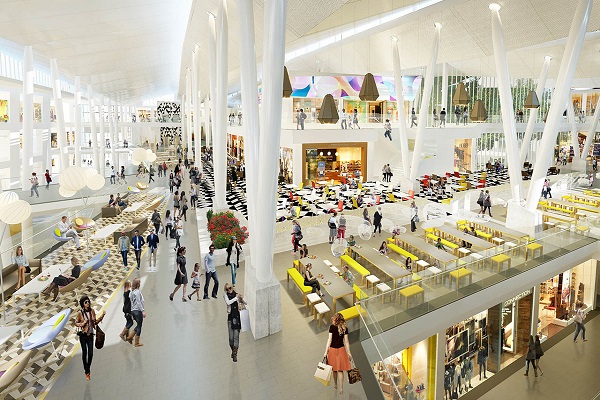 Tragic Incident at Emporium
On 3rd Jan 2018, Mohammad Usman, a nineteen years old electrician, passed away during repairing work. He was on the 4th floor to repair wires when the ceiling fell on him. He fell from the top on the 2nd floor.
Social Media Handles
https://www.facebook.com/nishatemporium
https://www.instagram.com/nishatemporium/
Contact Information
E-mail: [email protected]
Telephone # 92 42 3259 2000
Address: Adjacent to International Expo Centre Lahore, Abdul Haque Road, Johar Town, Lahore