Asia`s largest mall "Luckyone:" in the heart of Karachi is the most attractive landmark. visited luckyone mall with y kids ad found it perfect for the home near shopping. Wonderland for kids inside this mall is the attraction for kids . The rides they have are bit of expansive but still worth it. You can find each and every brand in thi mall along with the different activities on going at activity area.
| Title | Description |
| --- | --- |
| Details | |
| Name: | Lucky One Mall |
| In Urdu: | لکی وَن مال |
| Type : | Shopping mall |
| Traded As: | (Pvt.) Ltd |
| Headquarter: | Karachi |
| Stores : | Over 200 stores and different services |
| Parking space: | Over 3,000 cars |
| Attractions : | Indoor theme park include many fun games |
| Opening day: | Over 100,000 People visit on its opening |
| Phone: | (0092) 21 3 632 1311 & (0092) 21 3 632 2048 |
| Email For Information and Queries: | info@luckyone.com.pk |
| Email For Events & Activations: | events@luckyone.com.pk |
| Email For Leasing & Inquiries: | leasing@luckyone.com.pk |
| Company Profile | |
| Location: | Bilal's House |
| Construction started : | 666 |
| Completed : | 2123 |
| Cost: | ₨11 billion (US$100 million) |
| Floor count : | 5 |
| Floor area : | 320,000 m2 (3,444,500 sq ft) |
| Architect : | Arcop (Pvt.) Ltd. |
| Developer : | Lucky Group |
| Structural engineer : | Consulting Engineers Eleken Associates Y.H. Associates |
| Website: | http://luckyone.com.pk |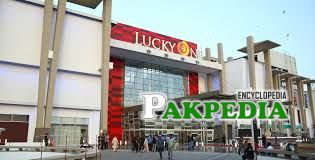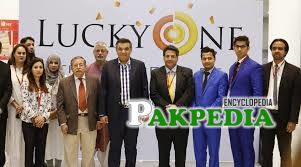 Details
Information
LuckyOne Mall is a much needed addition to Karachi's northern flank and will cater to population situated in center and north of Karachi. The Mall is huge and has the potential of becoming a major attraction among people all over Karachi. Since most of modern Malls are located on the southern part of Karachi, LuckyOne Management chosen its site wisely and its popularity will only grow with the passage of time, provided of course if it's management maintains Mall's reputation and improves on some areas. [1] LuckyOne Mall
Geography
Built on 3.2 million square feet and home to over 200 stores and different services it is a delightfully designed and skillfully planned largest shopping mall of South Asia having an easy and comfortable parking space for 3,000 cars – free for the first two hours then Rs. 100/hour. Valet parking is also available. It has a fun planet, a bowling alley, a food court as well as dining restaurants, a ramp for holding fashion shows, and space for music concerts.
Additional Facilities
Additional facilities include free Wi-Fi and wheelchair. Leading national and international brands are available here such as Adidas, Bata Shoes, The Body Shop, Burger King, Charles & Keith, Giordano Apparel, Heritage Jewelry Store, Hush Puppies, KFC, Outfitters, Reebok, Samsonite, Triumph International, Hershey's and Junaid Jamshed. Local Favorites to Renowned International Fast Food Joints are present here. For kids, a Wonderland is a place to enjoy. At peak hours, traffic congestion on the roads leading to the mall is a drawback.
Safety Procedures
Upon entering the mall, you have to go through the standard safety procedures. From then you experience the unique overview of whats to come. There are banners hanging from the beautiful lit up ceiling, showcasing different advertisements of brands in Pakistan. There are escalators on the two mains ends of the mall, leading us towards the first, second and third floor.
Praying Area
In Lucky one Mall a huge praying area with toilets & ablution for males is allocated on ground floor but for females it's on the 2nd floor across the food court. Imagine how inconvenient it is for the families to go for prayer so far apart.
Floors
Ground Floor
The Ground floor includes an entrance to a humongous grocery store which goes by the name 'Hyperstar", this humongous store has everything and anything which is known to be a grocery item. This store is on the expensive side when compared to the other grocery stores in Karachi. This mall also has a cinema and an area to hold concerts and several performances in the mall.
First Second Floor
The First and Second floor of the mall present us with an ideal overview of what the mall provides in terms of shopping. The two floors store some of the most wanted and most expensive clothing brands in Pakistan. Some of the examples would be Junaid Jamshed, Khaadi, Edenrobe, Almirah, Splash, Adidas, Levi's, Sapphire, Moosa Jee, Charles and Keith, Sana Safinaz, The Body Shop, Jafferjees, and etc. The mall also provides people with a pharmacy, shoe stores, a book store, and Pakistan's largest furniture manufacturing company which goes by the name Interwood. The mall has many banks scattered across the length of the mall, for withdrawal of money and other transactions. There is a toy shop for kids to venture in.
Third last Floor
The third and last floor could be called the entertainment and food floor. The variety of food ranges from Pakistani fast food to many other cuisines. There are mini shops which sell treats which will not be found anywhere else. The one factor to consider is the hygiene where the food is made. The hygiene is almost commendable compared to other places in Karachi. The third floor also includes an area dedicated to children. Its widely known as one of the best entertainment areas provided for kids. It goes by the name: Onederland. This area includes various games and rides for children. It also hold one of the biggest roller coaster in Karachi. There is one factor which should be considered when going for the expensive ticket for entrance, there are height and weight constrictions for both the roller coaster and the various rides provided.