Located in the Karachi city's heart, the Lucky One Mall commenced its operations for the public on 6th May 2017 and ranks among Pakistan's largest malls, and has over two-hundred retail outlets. The Mall provides exceptional retail space and includes Food Court, Banking Enclave, Wedding Galleria, and Health and Wellness Avenue. The article contains all the information about the mall, including Lucky One Mall Services.
| Title | Description |
| --- | --- |
| Details | |
| Name: | Lucky One Mall |
| In Urdu: | لکی وَن مال |
| Type : | Shopping mall |
| Traded As: | (Pvt.) Ltd |
| Headquarter: | Karachi |
| Stores : | Over 200 stores and different services |
| Parking space: | Over 3,000 cars |
| Attractions : | The indoor theme park includes many fun games |
| Opening day: | Over 100,000 People visit on its opening |
| Phone: | (0092) 21 3 632 1311 & (0092) 21 3 632 2048 |
| Email For Information and Queries: | [email protected] |
| Email For Events & Activations: | [email protected] |
| Email For Leasing & Inquiries: | [email protected] |
| Company Profile | |
| Location: | Bilal's House |
| Construction started : | 666 |
| Completed : | 2123 |
| Cost: | ₨11 billion (US$100 million) |
| Floor count : | 5 |
| Floor area : | 320,000 m2 (3,444,500 sq ft) |
| Architect : | Arcop (Pvt.) Ltd. |
| Developer : | Lucky Group |
| Structural engineer : | Consulting Engineers Eleken Associates Y.H. Associates |
| Website: | http://luckyone.com.pk |

Lucky One Mall Services
It is 1st in the marketing industry to have Food Street in an open-air environment and International FEC (Family Entertainment Center) Onderland. It always satisfies its customers through all means. The mall further facilitates its customers by offering baby feeding areas, free wheelchairs, separate mosques for females and males, ample parking space sufficient for fifteen-hundred cars, and valet parking.
To ensure a secure and safe environment, well-equipped and trained faculty can handle any unpredicted event. The Mall recognizes the importance of providing a shopping experience; the Mall continuously expands, renovates, and offers innovation and expertise to its customers, making it a happy, trendy, foody, entertained site.
Vision
Mall's vision is to be such a committed and dedicated place to serve Pakistani people and enable the individuals to have a lavish lifestyle.
Mission
Mall's mission is to give its customers an involving shopping experience, strengthen and nurture their workforce to create value for investors.
Values
Transparency and Integrity
To be open, sincere, and ethical in all transactions.
Excellence and Fairness
Their services and teams are striving to improve the standards continually and to become the best.
Customers Value and Tenants
To surpass expectations of Customers and Tenants consistently.
Lead by Example
To set and implement standards in every action and become a good mall for the industry.
Food Court
The Mall accommodates several restaurants from local ones to renowned Intl fast food, Oriental, Continental, Thai and Mediterranean cuisines and Chinese. Following food brands are offering their delicious food products in Lucky One Mall:
KFC
Burger King
Broadway Pizza
Taskim Square
Baskin Robbins
Burger Lab
Salto
Pizza Hut
California Pizza
McDonald's
OPTP
Dunkin Donuts
Subway
Dip Shop
The Burger Shack
China Grill
Chacha Jee
GreenO
Del Frio
Dixy Chicken
Mirchi 360 Degrees
Vintage on the Go
HeyDay Ice Cream and Cones
Hardees
Kababjees Express
Broccoli Pizza and Pasta
Fibbi Café
Yelo Kulfi
Desi Chaat Corner
Gola Ganda
Bond Street Waffles
Caffe Praha
Gloria Jeans
El Nacho Grande
Freshly Freeze
Lucky One Mall Events
Mall Inauguration Ceremony
It was held on 5th May 2017.
World Laughter Day
A day spent without laughter is a wasted day.
Father's Day
They celebrate Father's day every year with love.
Independence Day
Lucky One Mall celebrates Independence Day with great enthusiasm.
Eid Festival
The Mall celebrates Eid and gives its customers different gifts.
World Chocolate Day
The Mall celebrates 'World Chocolate Day' at South East Asia's Biggest Atrium.
Back to School
The Mall makes back to school easy for school-going children.
Spring Shopping Festival
A special Spring shopping festival is held.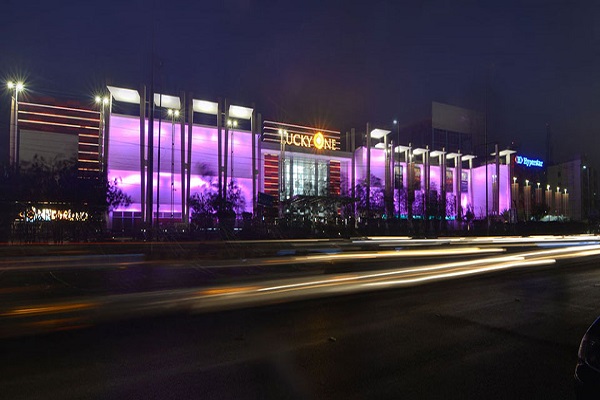 Lucky One Mall Brands
Miniso
Hobnob
Tabba Heart
Travel Mate
Carrefour
Bata
Happy House
Kashif Dental Clinic
Insignia
Servis
Stylo
Kausar Medico
1st Step
Nadia Hussain Salon
Mumuso
Unze London
Make-up City
Interwood
Dynasty Distributions
Kids and Kids
Samsung Mobiles
Essence D'ARABIA
Casio
Saeed Ghani
JafferJees
Beauty and Fragrances
Sweet Touch
Walkeaze
Dermalogica
Heritage
Afghan Handicrafts
Regal
Sulafah
Heels Fashion
Urban Sole
Shoe Planet
Magnet Home
Hush Puppies
Gree
Essence De Paris
KZ Pro
Time Zone
Opitic Gallery
BLS-British Lingerie Studio
Outfitters
HBL
Allied Bank Limited
Royal Exchange Co.
Habib Qatar Exchange Co.
Breakout
Splash
WB By Hemani
Andy Birds
Diner's
Levi's
Skecher
Pen World
One Life
Susan International
Shahzeb Saeed
Tudors
Adidas
Royal Tag
Cambridge
Furor
Oxford
Almirah
Moosa Jee
Cotton and Silk
Giordano
Saya
Speed Sports
Bank Alfalah
Bonanza
Charles and Keith
Khaadi
BeachTree and Pepperland
Orient Lawn
Safina Safinaz
Almas
Al-Karam Studio
Ego
Agha Noor
Sapphire
Edenrobe
Ethnic by Outfitters
Ideas
The Body Shop
Sheep
Change
Zeen
Nishat Linen
Chinyere
Limelight
Cross Stitch
Minnie Minors
Rang Ja
Kayseria
Hopscotch
Dhanak
Huawei
Ruby Jewellers
Aisha Hassan
Leisure Club
Code of Conduct
All visitors, shoppers, employees, and merchants have to follow all these instructions:
Personal bodyguards and weapons aren't allowed on the premises of the Mall. Offending others, abusing, yelling, shouting, threatening, harassing, and fighting are forbidden.
Littering Mall premises isn't allowed. It is a criminal act to damage, destroy, defaces, and steal mall property.
If any unpleasant incident occurs, customers are advised that instead of taking the matter in their hand, report the Customer-Service Representative present at the Information desk.
Don't block access to entrances of Mall, store, corridors, elevators, and parking areas, gathering in such a way that may disturb the peace of public.
When using mall benches and chairs, prefer handicapped and elderly.
Accompany children and elderly on escalators and elevators, control children, and stop them from running in Mall and don't allow them to use trolleys.
Don't bring pets inside Mall.
It is mandatory to observe all Provincial & Federal rules.
Smoking and alcohol consumption are not allowed inside the Mall.
The mall administration isn't responsible for customer belongings' theft and misplacement.
Videography and photography, literature distribution, demonstration, solicitation, surveys, special promotions, sale or purchase of things from customers to customers, and free sampling aren't allowed without management's permission.
Sunday is fixed for families.
Car parking for the whole night isn't allowed.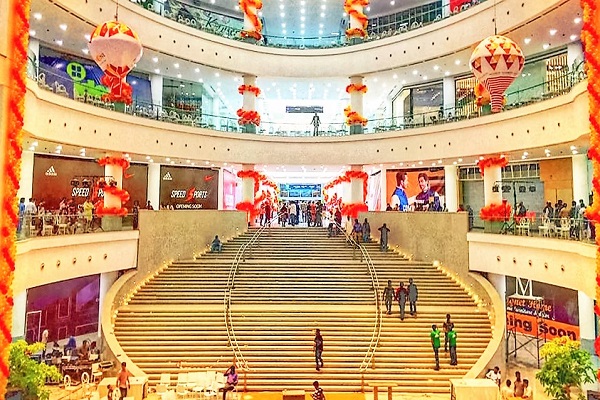 Timings of Mall
Retail Outlets and Kashif-Dental
Saturday to Thursday 10:00 AM-08:00 PM (Closes on Friday)
Carrefour
Monday-Sunday 09:00 AM-08:00 PM
HBL
Monday-Friday 09:00 AM-05:00 PM
Saturday 10:00 AM-05:00 PM
Kausar Medico and Hobnob
Monday-Sunday 10:00 AM-08:00 PM
ABL
Monday-Friday 09:00 AM-05:00 PM
Saturday 10:00 AM-02:00 PM
Food Street
Monday-Sunday 10:00 AM-10:00 PM
Friday Break
12:30 PM-02:00 PM
Notifications by Mall
Gates of the Mall would be closed at 07:30 PM for the retail outlets.
Customers could order food from the Food-Court & are allowed to eat till 10:00 PM at open-air food street situated on the ground floor.
Contact Information
For Queries and Information
Phone # +92 2136321311
Email: [email protected]
Marketing Department
Phone # +92 21 36322048
Email: [email protected]
Social Media Handles
https://www.instagram.com/luckyonepk/
https://www.facebook.com/Luckyonepk/