As a young girl, Malala Yousafzai defied the Taliban in Pakistan and demanded that girls be allowed to receive an education. She was shot in the head by a Taliban gunman in 2012, but survived and went on to receive the Nobel Peace Prize.
| Title | Description |
| --- | --- |
| Personal | |
| Name: | Malala Yousafzai |
| Nationality: | Pakistani |
| Details | |
| Location: | Pakistan |
| Native name: | ملاله یوسفزۍ |
| Born : | 12 July 1997 |
| Place: | Mingora, Swat, Pakistan |
| Awards: | Nobel Peace Prize Sakharov Prize Simone de Beauvoir Prize Honorary Canadian citizenship National Youth Peace Prize Sitara-i-Imtiaz |
| Residence : | Birmingham, England, UK |
| Nationality : | Pakistani |
| Education : | Edgbaston High School |
| Occupation: | Student, humanitarian, former blogger for BBC Urdu and Activist |
| Organization : | The Malala Fund |
| Known for: | Activist for the right to education, especially female education |
| Parent(s) : | Tor Pekai Yousafzai (mother) Ziauddin Yousafzai (father) |
| Website: | https://www.malala.org/ |
| Skin Color: | Fairy |
| Married: | No |
| Education: | Edgbaston High School |
| Sun Sign: | Cancer |
| Religion: | Sunni Islam |
| Famous As: | Youngest Nobel Laureate |
| Also Known as: | Gul Makai, |
| Also listed in: | Women's Rights Activists, Children's Rights Activists |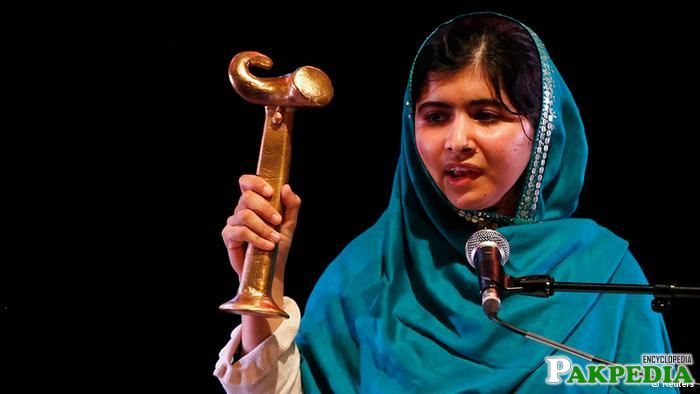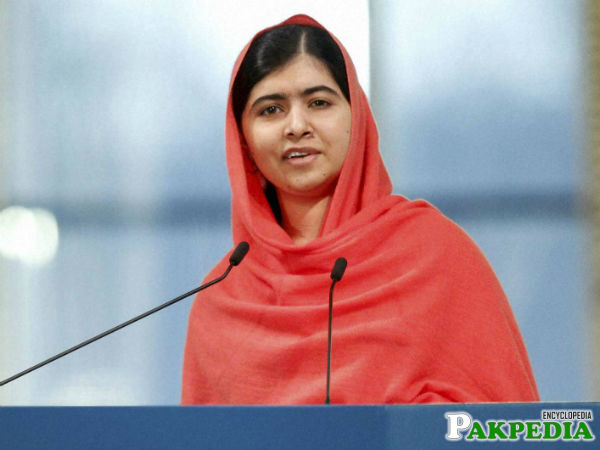 Biography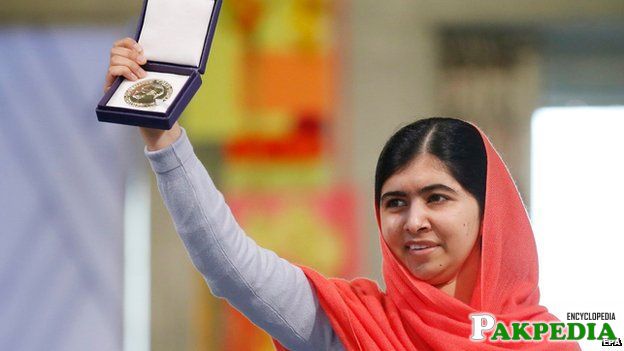 Malala Yousafzai is a Pakistani education advocate who, at the age of 17, became the youngest person to win the Nobel Peace Prize after surviving an assassination attempt by the Taliban. Born on July 12, 1997, Yousafzai became an advocate for girls' education when she herself was still a child, which resulted in the Taliban issuing a death threat against her. On October 9, 2012, a gunman shot Malala when she was traveling home from school. She survived and has continued to speak out on the importance of education. In 2013, she gave a speech to the United Nations and published her first book, I Am Malala. In 2014, she won the Nobel Peace Prize. For the first few years of her life, her hometown remained a popular tourist spot that was known for its summer festivals. However the area began to change as the Taliban tried to take control. [1] Biography Biography
Work
Much of the world's population, especially in poor countries, is made up of children and young people. To achieve a peaceful world, it is crucial that the rights of children and young people be respected. Injustices perpetrated against children contribute to the spread of conflicts to future generations. Already at eleven years of age Malala Yousafzai fought for girls' right to education. After having suffered an attack on her life by Taliban gunmen in 2012, she has continued her struggle and become a leading advocate of girls' rights.[2] Malala works
After the Attack

She was in the United Kingdom, Yousafzai was taken out of a medically induced coma. Though she would require multiple surgeries—including repair of a facial nerve to fix the paralyzed left side of her face—she had suffered no major brain damage. In March 2013, she was able to begin attending school in Birmingham.
In October 2014, Yousafzai received the Nobel Peace Prize, along with Indian children's rights activist Kailash Satyarthi. At age 17, she became the youngest person to receive the Nobel Peace Prize. In congratulating Yousafzai, Pakistani Prime Minister  Nawaz Sharif  said: "She is (the) pride of Pakistan, she has made her countrymen proud. Her achievement is unparalleled and unequaled. Girls and boys of the world should take lead from her struggle and commitment." U.N. Secretary-General Ban Ki-moon described her as "a brave and gentle advocate of peace who through the simple act of going to school became a global teacher."[3] Mlala Yousafzai biography
For her 18th birthday on July 12, 2015, also called Malala Day, the young activist continued to take action on global education by opening a school for Syrian refugee girls in Lebanon. Its expenses covered by the Malala Fund, the school was designed to admit nearly 200 girls from the ages of 14 to 18. "Today on my first day as an adult, on behalf of the world's children, I demand of leaders we must invest in books instead of bullets," Yousafzai proclaimed in one of the school's classrooms.
Back at School
She began attending Edgbaston High School in March and her father has been given a job with the Pakistani consulate in Birmingham for three years.
But she has continued her campaign and taken it around the world.
A fund set up in her name helps children in education around the world. Among other trips, she has travelled to Nigeria, meeting President Goodluck Jonathan to press for action to free the 200 girls held by Boko Haram Islamist militants.[4] Back at school
United Nations Petition

On 15 October, UN Special Envoy for global education, Gordon Brown, visited Malala whilst she was in hospital and launched a petition in her name – 'In support for what Malala fought for.'
Using the slogan "I am Malala" the petition contains three demands
We call on  Pakistan  to agree to a plan to deliver education for every child.
We call on all countries to outlaw discrimination against girls.
2013 Establishing the Malala Fund
Malala became a global advocate for the millions of girls being denied a formal education because of social, economic, legal and political factors. In 2013, Malala and Ziauddin co-founded the Malala Fund to bring awareness to the social and economic impact of girls' education and to empower girls to raise their voices, to unlock their potential and to demand change.
[6] Establishing the malala fund
2014 Nobel Peace Prize
Malala accepted the Nobel Peace Prize on 10 December, 2014 with Indian children's rights and education advocate Kailash Satyarthi. Malala contributed her entire prize money of more than $500,000 to financing the creation of a secondary school for girls in Pakistan.
Documentary
In October 2015, a documentary about Yousafzai's life was released. HE NAMED ME MALALA, directed by Davis Guggenheim (An Inconvenient Truth, Waiting for Superman), gives viewers an intimate look into the life of Malala, her family, and her commitment to supporting education for girls around the world.
Awards and Honours
Yousafzai has been awarded the following national and international honours:
2011: International Children's Peace Prize (nominee)
2011: National Youth Peace Prize
Anne Frank Award for Moral Courage, January 2012[7] The girl who  wanted to school 
Sitara-e-Shujaat, Pakistan's third-highest civilian bravery award, October 2012
Foreign Policy magazine top 100 global thinker, November 2012
2012: Time magazine Person of the Year shortlist[8] Its shorlist for the person of the year 2012
Mother Teresa Awards for Social Justice, November 2012[9] Teresa award given away
Rome Prize for Peace and Humanitarian Action, December 2012[10] Malala yousafzai got mumbai award
2012: Top Name in Annual Survey of Global English, January 2013
Simone de Beauvoir Prize, January 2013
Memminger Freiheitspreis 1525, March 2013 (conferred on 7 December 2013 in Oxford)[11] Memminger Freiheitspreis
Doughty Street Advocacy award of Index on Censorship, March 2013
Fred and Anne Jarvis Award of the UK National Union of Teachers, March 2013[12] The Fred and Anne jarvis award
Vital Voices Global Leadership Awards, Global Trailblazer, April 2013
One of Time's "100 Most Influential People in the World", April 2013
Premi Internacional Catalunya Award of Catalonia, May 2013
Annual Award for Development of the OPEC Fund for International Development (OFID), June 2013
International Campaigner of the Year, 2013 Observer Ethical Awards, June 2013
2012: Tipperary International Peace Award, Ireland Tipperary Peace Convention, August 2013
Portrait of Yousafzai by Jonathan Yeo displayed at National Portrait Gallery, London (2013
Ambassador of Conscience Award from Amnesty International
2013: International Children's Peace Prize, KidsRights Foundation 
2013: Clinton Global Citizen Awards from Clinton Foundation
Harvard Foundation's Peter Gomes Humanitarian Award from Harvard University
2013: Anna Politkovskaya Award – Reach All Women in War
2013: Reflections of Hope Award – Oklahoma City National Memorial & Museum
2013: Sakharov Prize for Freedom of Thought – awarded by the European Parliament
2013: Honorary Master of Arts degree awarded by the University of Edinburgh
2013: Pride of Britain (October)
2013: Glamour magazine Woman of the Year
2013: GG2 Hammer Award at GG2 Leadership Awards (November)
2013: International Prize for Equality and Non-Discrimination
2014: Nominee for World Children's Prize also known as Children's Nobel Prize
2014: Awarded Honorary Life Membership by the PSEU (Ireland)
2014: Skoll Global Treasure Award[13] Clinton global citizen award
2014: Honorary Doctor of Civil Law, University of King's College, Halifax, Nova Scotia, Canada[14] Mala Teen shoot by Taliban
2014: Philadelphia Liberty Medal
2014: One of Time Magazine "The 25 Most Influential Teens of 2014"
2014: Honorary Canadian citizenship
2015: Grammy Award for Best Children's Album
2015: Asteroid 316201 Malala named in her honour.
2016: Honorary president of the students union of the University of Sheffield
2016: DAWN newspaper reported that Yousafzai's biography page on Wikipedia was the most read of the year amongst Pakistani personalities.[16] Malala yousaf Zai award
2017: Youngest ever United Nations Messenger of Peace
2017: Received honorary doctorate from the University of Ottawa
Returns To Pakistan
Nobel Peace Prize winner Malala Yousafzai has returned to Pakistan for the first time since being shot by Taliban militants. Ms Yousafzai, now aged 20 and a vocal human rights activist, was shot in the head by a gunman for campaigning for female education in 2012. She is expected to hold meetings with Prime Minister Shahid Khaqan Abbasi. Details of the trip have been kept secret "in view of the sensitivity", an official told AFP news agency. Pakistani television broadcast video that appeared to show her with her parents at Islamabad's Benazir Bhutto International Airport under tight security. The trip is expected to last four days and she arrived with officials from her Malala Fund group, local media report. It has not been confirmed if she will visit her family's hometown of Swat in the country's rural north-west during her visit. [17] Returns to pakistan